The curious and disgusting case of Claire Goodier
Why are the media referring to this dog-abusing pervert as a woman?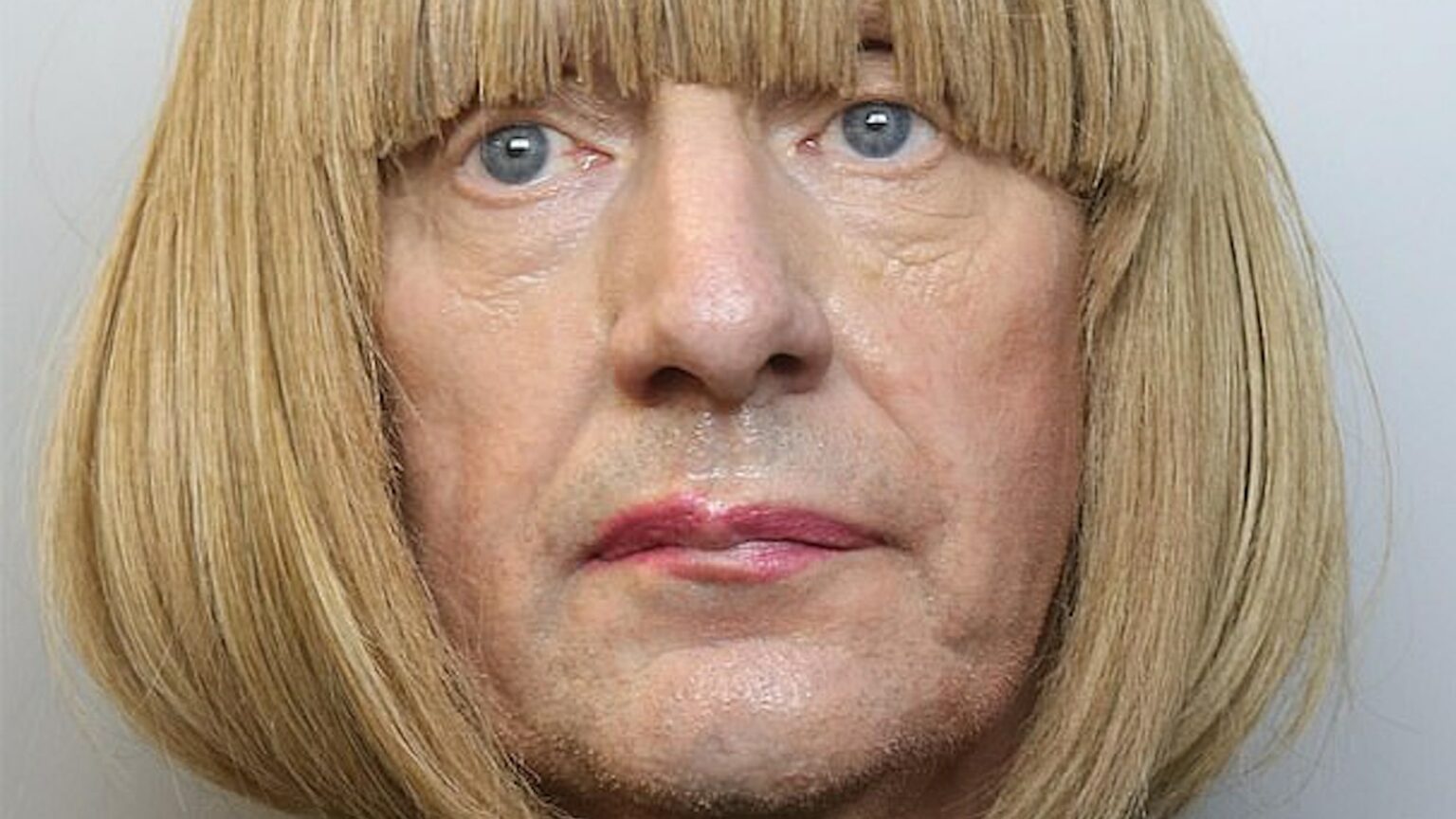 Are you a regular spiked reader? Then please consider making a Christmas donation. You can do so here. Thank you!
Reflecting back on 2021, I realise I've spent a large part of it writing about perverts in dodgy wigs doing abominable things. For covering the crimes of men who identify as women I'm often accused of transphobia, but such smears don't stop the stories flooding in.
The latest creep is particularly charming: a lovely be-penised lady who, having previously downloaded images of child abuse, was found to have engaged in group sex acts with a dog. Footage of the crime was discovered on a memory stick alongside a stash of cocaine, both of which were stored in the most ladylike of places – the offender's handbag.
The crimes came to light when 60-year-old Claire Goodier, who previously went by John, was subject to a routine police check, as he was already listed on the sex offenders' register. Judge Steven Everett called Goodier's crimes 'despicable', 'disgusting' and 'depraved' as he jailed the pervert for 20 months and handed him a 10-year Sexual Harm Prevention Order.
Goodier's crimes are highly unusual, even within the male population of offenders, but such acts are even more vanishingly rare among women. Indeed, men comprise 98 per cent of those convicted of sexual offences.
But despite the very male nature of his offences, a note was added to the court documents advising those present to refer to Goodier as 'Claire', and he was referred to as 'she' throughout the trial. This is in accordance with the 'Equal Treatment Bench Book', the guidance to which judges refer on matters of equality. The book cites research by transgender lobby groups and advises: 'It is important to respect a person's gender identity by using appropriate terms of address, names and pronouns.'
At present, it is unknown whether Goodier will spend time in a male or female prison. Either way, thanks to the tireless work of organisations like Stonewall, he can be assured that fellow inmates who decline to use his preferred pronouns can be sanctioned. He will also have access to 'gender-affirming' items, such as lipstick and foundation to cover his stubble.
Despite Goodier being obviously male, several newspapers have referred to him as 'her', with some making no mention of his male sex. With the exception of the Guardianista clique, this is less a case of woke journalists seeking to spare the feelings of a repeat sex offender and more a case of adhering to guidelines. Guidance published by the Independent Press Standards Organisation (IPSO), which many major publications are signed up to, asks 'have you used the pronouns the individual uses to describe themselves in your story?'. Journalists are all too aware that their words could be eagerly eyed by circling lawyers and trans activists.
It is not just the press and judiciary who pander to the delusions of men like Goodier. Earlier this week, Caroline Nokes MP, chair of the Women and Equalities Select Committee, was asked on the Today programme whether it was important to know what sex people are. She responded by saying: 'Why on Earth would we want to… be that intrusive?'
But pretending that we don't know, and that it's impolite to be honest about an individual's sex, is dangerous. Whether Goodier serves his sentence in a male or female prison, those locked up with him will be left in no doubt that he's a dangerous and perverted man.
Jo Bartosch is a journalist campaigning for the rights of women and girls.
Picture by: Cheshire Police / Andrew Price.
To enquire about republishing spiked's content, a right to reply or to request a correction, please contact the managing editor, Viv Regan.