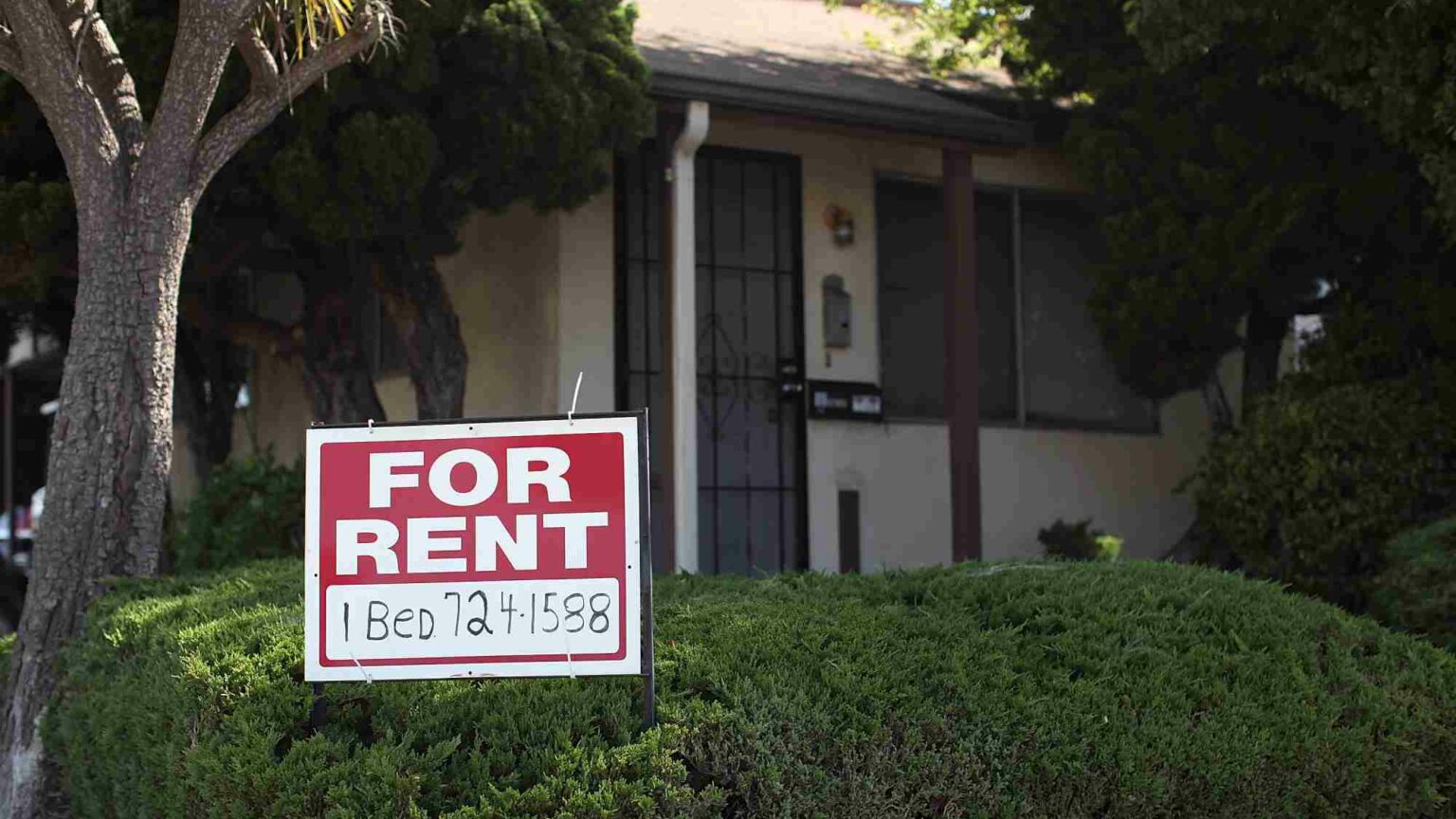 The dystopian future of housing
Affluent progressives want us all to live in tiny, cramped apartments. And if you object, they'll call you racist.
Recently, it has become standard media gospel that the most 'progressive' way to solve the housing crisis in America is to build over the hitherto leafy suburbs of property hotspots with smaller, more tightly-spaced 'living units'. This is known as 'urban infill', or, in a twist that would do political term-coiner-in-chief Frank Luntz proud, 'upzoning'. In the course of 'upzoning', what was once a single-family suburban home could, for example, be subdivided into apartments or reorganised as a 'co-living' arrangement with 'secure bedrooms' (previously known as 'a boarding house'), while the backyard could host 'a tiny… home on wheels' (previously known as 'a trailer') or, under some proposals, a yurt.
These 'dwellings' (as well as the backyard duplexes, triplexes and fourplexes that property deregulation in several states now permit) are primarily geared at the rental market. And organisations championing such development are calculating how crowded a lot must become, how high the rent needs to be and how easy the permitting process should be before a developer decides to buy and build.
Unsurprisingly, upzoning turns out to be very easy and very profitable.
One developer in the upzoning industry was perfectly happy to explain his business model to the New York Times. He said that he could have purchased an older home for $700,000 in Los Angeles, made minor renovations and rented it out for $3,300 a month. Assuming a cash purchase, this would have meant a full recuperation of outlay within about 17 to 20 years (depending on repairs, vacancy, etc). That's already very profitable, but upzoning it ain't. Instead, the developer bought a $700,000 house and spent $400,000 splitting it into smaller units and building new units in its backyard. He estimated the property was now worth about $1.7million and that it would generate $9,000 to $10,000 in rent across its units. That translates into a $600,000 (or 35 per cent) immediate profit, or a full recuperation of outlay within about nine to 10 years (after which the owner clears $10,000 a month minus operating costs, and owns almost $2million worth of property) (1). As American advertisers might say: for that price you'd be crazy not to do it! Especially when investors, on the run from low returns and negative interest, are happy to provide the initial cash.
Thus, what is billed as a saintly progressive effort to 'provide affordable housing' is also a giveaway to developers rushing to build 'em cheap and stack 'em high on land that was, until recently, off-limits to them, because it was zoned for low-density residential living.
Dismayed residents and affordable-housing organisations have been vocal in their condemnation of 'upzoning'. But, in a consummate example of woke-jacking (that is, subverting woke concepts for one's own selfish ends), they have been dismissed as racists. The sheer efforts that have been made here, show how much is at stake.
So, according to Vox, home-ownership 'could be turning you into a bad person', worries about 'high-rise slums' run by drug dealers are expressions of racism, and talk of 'neighbourhood character' and 'historic preservation' is 'participating in structural white supremacy'. Bloomberg claims that 'the advantaged' dominate 'local housing politics' because, 'men, longtime residents, local voters, and homeowners are much more likely to participate' while those who 'oppose new housing are also whiter'. Those concerned that high-density housing will lead to traffic congestion, crime, over-crowded public schools, 'or even too much shade' are just using a 'sophisticated vocabulary' to further an 'anti-growth' agenda.
While one can undoubtedly find selfish racists everywhere, these blanket-accusations are often thin and rely on ignorance to work. Checking whether a structure will cause 'too much shade', for example, can sound unhinged taken out of context. However, it's actually a standard part of planning procedure, as you are generally not allowed to build in a manner that cuts off your neighbour's free, environmentally friendly sunlight, forcing them to live in Victorian dinginess.
Nevertheless, if we give the benefit of the doubt to champions of upzoning and try to think these accusations of covert and / or structural racism through in a far more articulate manner than they are actually made, we may imagine a scenario something like this:
The year is 1970. A black family and a white family are looking to buy a home in San Francisco, neither of them with much of a clue as to just how hot the city's property market will someday become. The white family takes out a mortgage and buys a house, but, due to discrimination, the black family is not able to get a mortgage and is thus unable to purchase. They end up renting.
Fast forward 50 years.
The grim reaper is zeroing in on the original adults and their Gen X children are about to end up in vastly different positions. The white Gen Xers will shortly inherit a property worth astronomically more than what their parents paid for it, whereas the black Gen Xers will go empty handed. The millennial / Gen Z children of both families are in an even more differentiated position, as this wealth-status ripples on into their lives through private education or help with home deposits of their own.
One could tamp down this unfairness in many ways: high inheritance tax; good quality public education; limiting foreign investment in property; or fining financial institutions for racial discrimination and giving the proceeds to those discriminated against, just to name a few. One could also let the heirs try to sell to the limited pool of potential buyers able and willing to purchase a ridiculously expensive single-family home. After all, the moment more people want to sell than can afford to buy such a property, prices will go down. This is a possibility in many a leafy suburb as its geriatric inhabitants meet their inevitable fate, because often the actual houses, with their tiny rooms, outdated plumbing and shag carpeting, aren't actually worth that much. It's the land that's valuable, and allowing more units to be built on it makes it even more valuable.
So, instead of allowing those properties to meet a natural price point in a market of limited buyers faced with high property and inheritance taxes and preferably cut off from foreign investment, it has been decided that actually immigrants and people of colour love living in cramped, multi-generational households, up to and including 'affordable' duplexes built behind these same postwar bungalows that have been transformed into the equivalent of a highway motel for tech workers. By those lights, it's practically anti-racist to deregulate in a manner that allows multiple families to inhabit the same property previously occupied by one, paying, as they do so, more money to receive less value (according to some calculations up to $919 for a room in a boarding house in Portland).
Deregulating to increase the value a developer can suck out of a given parcel of land ensures that property prices remain high. This in turn means that the Gen X heirs of privilege, possibly white, who may otherwise have had to lower their expectations to find a buyer, walk away with hundreds of thousands of dollars they never earned. It's hard to think of a policy that could better achieve the opposite of redress for past discrimination.
In reality, making crammed rentals the norm is the property equivalent of making precarious, underpaid work the norm. In a world with fewer good, permanent jobs, the obvious answer, apparently, is to make sure there is less good, permanent housing.
Perhaps it's no surprise that housing deregulation has been helped on its way by 'advocacy groups' like California YIMBY (Yes, In My Backyard), co-founded by tech executives Nat Friedman and Zack Rosen, and a recipient of millions in donations from Big Tech. Deregulation has also repeatedly been endorsed by developer and realtor associations, as well as by prominent Silicon Valley tech executives in the name of creating 'lower-cost, higher-density housing' in order to make 'economic progress'.
Tech companies (to the extent that they aren't planning to simply house their own serfs on-site) want lower-cost options for their employees and for the workers who serve them (nurses, teachers, hairdressers); developers and real-estate companies squeeze a profit from building more on the same land; banks and investors finance the operation; and politicians avoid the short-term pain of wage inflation and property price decreases.
Because this unholy alliance insists on high immigration to generate high growth and to keep wages down, as well as a pristine environment and an end to urban sprawl, packing people more densely into urban hubs is really the only possible solution.
Other options are comparatively neglected: for example, stronger rent controls; tighter real-estate regulation and punishing unscrupulous practices like blind bidding; decentralising jobs to depopulated rural areas and Rust Belt cities like Detroit or Cleveland (easily done in an era of remote work, and to some extent happening anyway with the tech rush to Texas); expanding outwards by creating new business parks and residential areas on the outskirts of existing ones; or slowing down immigration (the birth rate in America has generally been below replacement rate since the mid-1970s, so moderate immigration is necessary just to keep the population from decreasing in the long-term).
To be sure, there are other factors contributing to housing shortages such as land hoarding, and a lack of tradespeople (partially caused by the frenzy for university degrees over apprenticeships). Environmental regulations on materials as well as 'frills' like marble countertops and double-height living rooms have also played their part in edging prices up at the top end of the market.
And it's not as if high-density building is always inappropriate.
But it is negative when it involves trying to shove residents out of the planning process, and when it ignores inequality in general on the understanding that most people must simply downgrade their expectations, potentially all the way down to yurt. The New York Times, in its upzoning feature, simply referred to America-past as 'a more middle-class country' than America-present, accepting social stratification and lifetime unfairness as a given. Perhaps, as the World Economic Forum once infamously and ill-advisedly put it, in the future, 'you'll own nothing and be happy' (2).
And if you're not happy, you're a racist.
Roslyn Fuller is the author of In Defence of Democracy (Polity, 2019) and Beasts and Gods: How Democracy Changed its Meaning and Lost its Purpose (Zed Books/Bloomsbury Academic, 2019).
(1) Initial figures were provided by the developer. Rough return-on-investment estimates were calculated by the author.
(2) This statement was actually based on this equally incoherent set of predictions by a Danish MP.
To enquire about republishing spiked's content, a right to reply or to request a correction, please contact the managing editor, Viv Regan.