No, both sides of the culture war are not as bad as each other
The woke oppose freedom, the anti-woke champion it. There is no moral equivalence.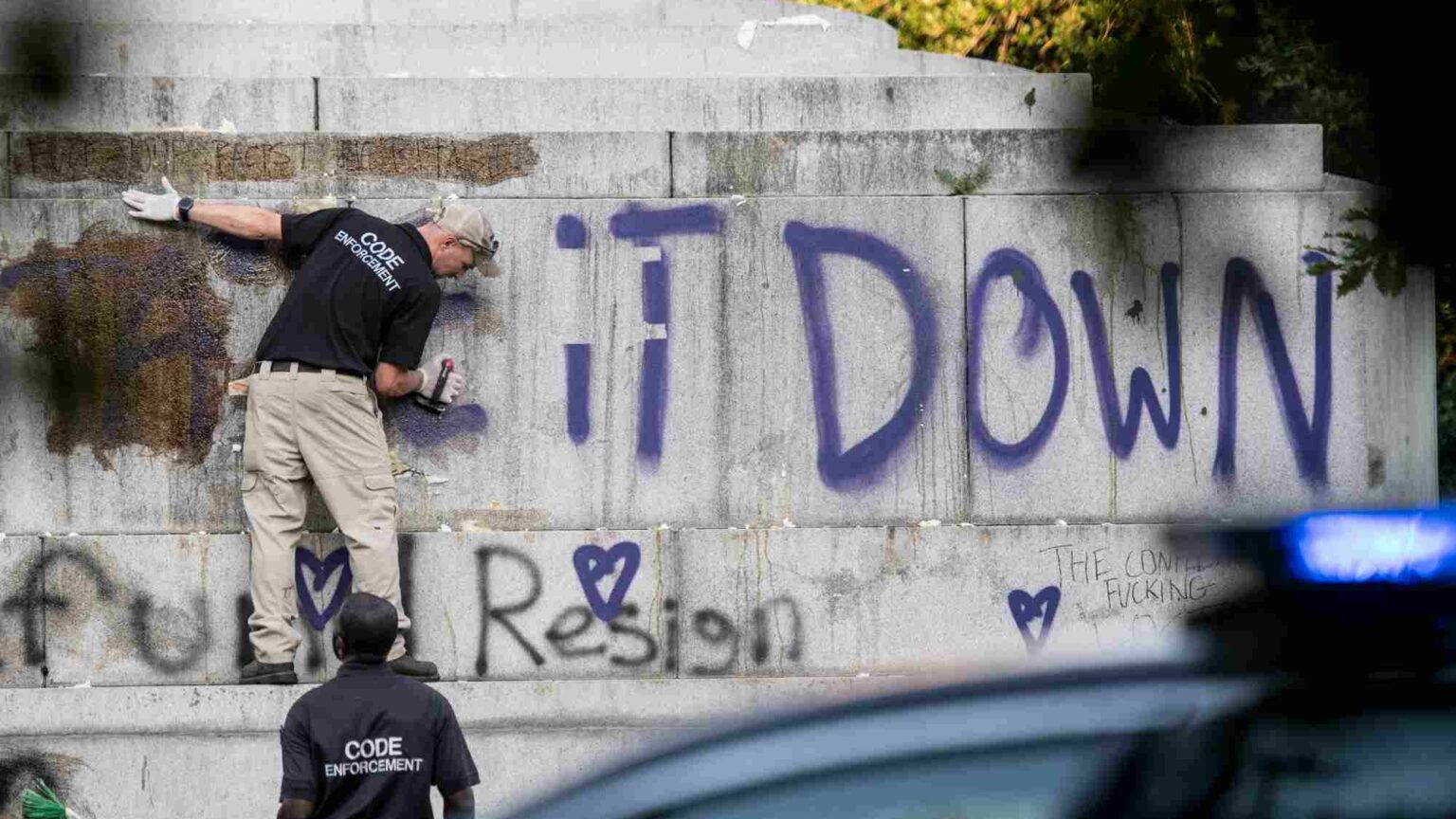 Amid all the rancour generated by today's culture wars, there is an emerging consensus that the advocates of woke and its detractors are as bad as each other. As Vicky Bingham, the headteacher of South Hampstead High School in London, told The Times last week: 'The woke-finder generals are as guilty of "cancel culture" as those they accuse of promoting it.' While challenging the myth that all young people are 'woke', she also criticised the 'free-speech brigade' for persecuting those with woke views.
This sentiment was also expressed in The Times earlier that week by columnist Hugo Rifkind, who put 'woke warriors' and 'conservative colonels' on the same base plateau. He said that they were each driven by the same intolerant impulse to destroy opinions they find objectionable. His colleague, Matthew Parris, also agreed that the two sides seem as bad as each other.
In any conflict between two sides, it's always tempting for an observer to conclude there's no difference. It allows one to appear superior, as if your nuanced mind transcends such petty dichotomies. This thinking was common in the Cold War, when some concluded that the Soviet Union and the US were as bad as each other, both being imperialist, warmongering states. Back then, that opinion – called 'moral equivalence' – was favoured by those on the soft left or limp middle who didn't want to lose face by admitting that life in the democratic and capitalist West really was much better.
This latest nascent bout of moral equivalence is just as dubious. Woke warriors and their detractors are not 'as bad as each other'. Fundamentally, one side opposes freedom, the other champions it.
Whether it be through cancelling dissenting voices, tearing down statues, censoring academics and journalists, banishing books from schools and universities, or even prohibiting words we use in everyday life, wokery is about control and constraint. This now dominant philosophy even considers free speech itself a dangerous concept. Contrarily, wokery's counterparts do the opposite, in the UK at least. Rather than seek to censor, they expose and give air to bogus and dangerous woke ideas, often through satire and mockery.
Whether they be traditional conservatives with a suspicion of idealism in the spirit of Edmund Burke, or empiricists and liberal humanists in the spirit of Locke and Mill, the critics of woke hold dear the Enlightenment, Western culture and its civilisation. Extreme wokery is the political embodiment of anti-Enlightenment postmodernism. It exhorts a nihilistic Year Zero mentality that would seek to debase 'civilisation' (those contemptuous inverted commas are now mandatory), purify the past and start all over again.
Britain's chief woke-taunters, notably Julie Burchill and Rod Liddle, can be brusque and cantankerous, and their belligerent rhetoric is at odds with today's delicate and dainty sensibilities. Their invective and tone may bear a superficial resemblance to those of their targets. But these so-called woke-finders are neither puritanical nor dogmatic. And it's worth keeping in mind that both of these journalists began their political journey on the old left. If they appear conservative, it's mostly because society has changed, not them. Consider also that JK Rowling used to be a progressive pin-up, before culture took a weird turn and she didn't.
The woke-finder generals only exist today in reaction to this deranged ideology and the powerful new clerisy that promotes it – much like religious reformers of the 16th century emerged because of the existence of a decadent clergy. In both cases, we're talking about revolts against the elites.
It's not 'woke-finder generals' or 'conservative colonels' who are censoring others. It's people with unfashionable views who are being disciplined and punished. It's the likes of Liddle who get 'cancelled'. It's austere academics such as Kathleen Stock who are hounded out of jobs. No ultra-progressive journalists, professors or authors are maltreated in this way. No blue-collar worker has been sacked for being woke. No one has been forced to publicly apologise for tweeting woke opinions.
There is no moral equivalence.
---
Nature can't teach us about morality
Homosexuality and gender diversity are not immoral or unnatural, according to a new science exhibition in Bern, Switzerland. Entitled 'Queer – Diversity is in our nature', the exhibition explains that same-sex relationships have been observed in at least 1,500 species.
Same-sex relationships are an everyday occurrence and generate social cohesion, according to biologist Christian Kropf, the scientific curator of the exhibition. 'Many people think that homosexuality and being queer are marginal and perverse phenomena. They say they are unnatural', Kropf says. 'But this is nonsense!'
Homosexual behaviour in animals has been well known for years. The attempt to draw moral lessons from animal behaviour is also age-old. This was evident with the popularity of the film, The March of the Penguins (2005), which to the delight of some showed that it was male penguins who looked after the unhatched offspring, and it was female penguins who went out 'to work'. Ergo, penguins are progressive feminists.
But drawing moral lessons from nature is a perilous endeavour. The same film also showed that these penguins were monogamous and straight. How bourgeois and heteronormative. Whoops!
Who cares what animals do, anyway? Lots of animals do despicable, cruel and horrific things to each other and to other species. The most obvious and common transgression being that they kill and eat each other. This doesn't make murder or cannibalism desirable among humans.
We need no lessons from nature. Humans employ reason to devise our own morality. And appealing to nature is no argument in itself. Parasites, plagues and viral pandemics are evidence of nature in action, red in tooth and claw.
---
Expressions of our times – and what they really mean
Unconscious bias: I can't find any actual evidence.
Systemic inequality: I can't find any actual evidence here, either.
Equity: Enforced equality with an iron fist.
Diverse: Not diverse.
Inclusive: Inclusive of different faces, not opinions.
That's unhelpful: Shut up.
That's problematic: No, really, shut up.
The wrong side of history: I think the calendar dictates morality.
I think you'll find that…: I'm smug and condescending.
It really is that simple: I'm exceptionally smug and condescending.
Brave: Conceited.
Transwomen are women: Wouldn't it be great if all this Monopoly money was real?
I'm empowered: I write about myself. And my tits.
Being woke just means being polite: Shut the fuck up, you fucking fuck.
Patrick West is a spiked columnist. His latest book, Get Over Yourself: Nietzsche For Our Times, is published by Societas.
To enquire about republishing spiked's content, a right to reply or to request a correction, please contact the managing editor, Viv Regan.