Barry Humphries was joking, you fools
His brilliant appearance on This Morning seems to have sailed over the media's heads.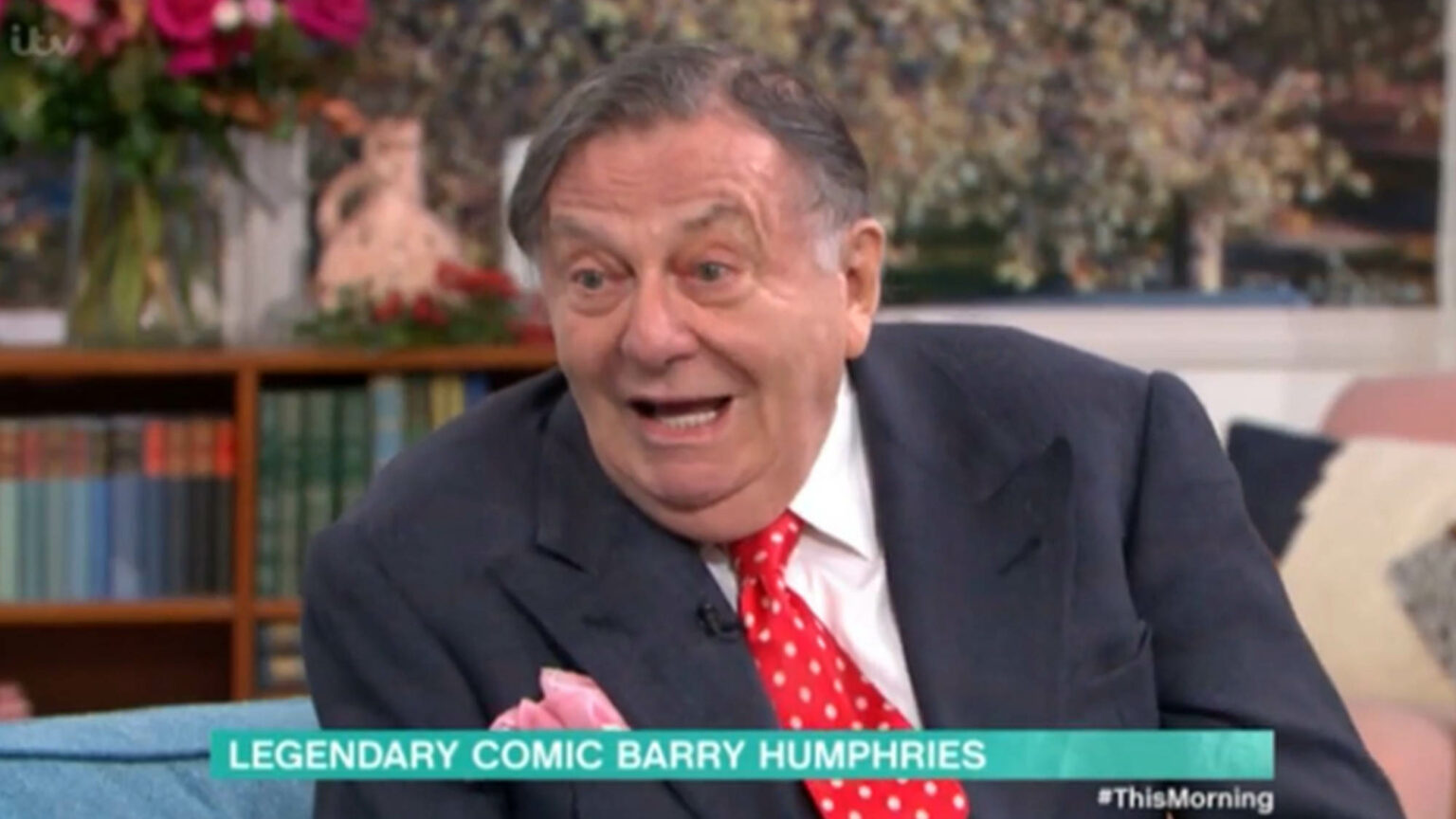 One could, I suppose, choose to regard it as yet further incontrovertible evidence of the spectacular collapse of Western civilisation, calving absurdities daily now like an overheated Antarctic glacier calves icebergs. Or, one can simply roast one's hands over the bonfire of the vanities of the young, who mistakenly think to have caught their elder, and on this occasion incomparably better, in a moment of Biden-esque seniority.
Either is justified, and sustainable, but the fact remains that on Friday an 87-year-old man – whom one might reasonably suppose had made enough of a career over the past 50 years, as jester to the court of celebrity, to warn the little scamps not to take his seemingly innocent remarks at face value – effortlessly handed the Huffington Post and its liberal, humourless, progressive ilk their arse in a cut-glass vase.
Eighty seven. If that were the only fact that one knew about Barry Humphries – for, as one of his more brazenly pompous characters might put it, it is he – one might worry for the sanity, at that age, of his embarking on a national theatre tour next year. Well, I doubt anyone who watched him on This Morning's sofa on Friday will remain much worried on that score. It was game, set and match to the old timer.
This Morning is the show that is usually presented by Phillip Schofield and Willy Holloughby. It is, I should say right now, not my usual morning TV tipple, at least not if there is a fresh coat of emulsion handy, that I can watch expel its surplus moisture. But even I was aware that about 18 months ago, to no one's great surprise, Schofield revealed live on air that he is gay.
On Friday, This Morning was hosted by two sit-ins, however, Dermot O'Leary and Alison Hammond, and it was these two who welcomed Barry on to the sofa.
Now, Humphries – every right-thinking person's Greatest Living Australian, and even that central qualifier is only there to acknowledge a single other, recently departed candidate for the GAOAT – is one of those people whose very presence enlivens the mood even before he has even opened his mouth. Those 87 years have not dimmed his twinkle and if you have any sense you will start paying attention. It didn't take long before his first little game was afoot.
First, he played a little underarm delivery to warn everyone what was coming, by announcing, curiously apropos of nothing, that his memory was good. Very good, he emphasised. If this didn't tip you off that he was setting something up, you really have no business breathing this air.
'And incidentally, I want to congratulate you', he told Dermot, 'on your courage'. Hammond, to her enormous credit, began to cackle with hilarity. Possibly performative hilarity, but still, she got it, she was inside and safe. Dermot meanwhile was briefly caught offside. 'Your courage', continued the Master, to clarify. 'Last year, when you came out and told us about your sexuality.'
The look of utter innocence on Humphries' face as the trap closed was the widest you will find this side of a Manga heroine. It had taken barely two seconds but O'Leary was held fast in the web and had suddenly found he had lost the use of his arms. He could only drop his head and try to minimise the shame.
It was immaculate, joyful and pure Dame Edna. And the presenters – again to their enormous credit – seemed to grasp this and to enjoy it every bit as much as I did, once the clip started circulating on social media.
Yet others did not. The Huffington Post, for one, did not quite seem to understand what it was seeing. 'Barry Humphries mistakes Dermot O'Leary for Phillip Schofield, praises him on coming out', ran its gleeful headline. The Independent, fresh from getting the race of Kyle Rittenhouse's victims absurdly wrong only last week, also waded in without checking its boots.
These were, of course, the very titles that had so enjoyed amplifying Humphries' genuine discomfort a short while ago, when he trod on the landmine of the trans issue and found himself wearily embroiled, as have many before him, in some of the least humorous and edifying conversations taking place on the planet. Clearly, they thought they had him again.
Instead they were flourishing not a scalp but one of the most famous comedy toupès in the biz. They were unable to hide their delight that they had caught the clumsy old fool, like children that have trapped a heavy, whirring stag beetle that has been rebounding off the window – not realising that it was they who were in the trap and Humphries who was laughing at them. And if anything could have enhanced the sweet tang of the original joke, this idiotic self-own by his bêtes noires was surely it.
Was it forgivable, this error? I mean, as one tweet put it, 'He's only been faux-naively ridiculing pomposity, cant and celeb worship for about 60-odd years, after all'.
It is tempting, too tempting perhaps, to ascribe this wilful blindness to the sense many of us have been nourishing for some time about the young and opinionated: that at bottom, wokeness – there is no better shorthand for it, sorry – is what rushes into the cavity left when one loses one's sense of humour. Woke is what happens, ironically, when we are not, at heart, okay.
Regardless of the deeper malaise, to not get Humphries is pretty damning. He is, and has been for half a century now, the Nabokov of live comedy – dazzling in his superior command of a second language, his first of course being Strine.
In his Dame Edna Everage persona, Humphries created some of the most ruthless satire on the affectations of celebrity, ever to be poison tipped and sent unerringly into the jugular of an unsuspecting Person of Fame. Every single extemporising comedy interlocutor of the past 30 years, from Ali G, Alan Partridge and Mrs Merton to Nick Robinson and Beth Rigby (from Sky), owes a debt to Humphries, in much the same way that word processors owe a debt to the alphabet. You'd think that just because he wasn't on this occasion wearing the lippy and the glamourous glasses, he might still be handled with care. But no.
Chinese legend tells of an executioner, loyal to the emperor, whose blade was so sharp and whose swing so sure that his victim would remain briefly standing and apparently whole after decapitation, before, in a final gesture of redemptive obeisance, grasping his own top knot, lifting his head from its severed neck and falling down dead.
This was often the sense one had watching Dame Edna skewer, eviscerate and dismantle a guest who had willingly plonked themselves down on her sofa. But this might be the first time the execution was of an entire, remote media class.
And if any tickets remain unoccupied for his tour next year, after this, one can only assume they were initially earmarked for certain sections of the press. Their absence, all things considered, would very likely be for the best.
Simon Evans is a spiked columnist and stand-up comedian. He is currently on tour with his show, Work of the Devil. You can buy tickets here.
Picture by: ITV
To enquire about republishing spiked's content, a right to reply or to request a correction, please contact the managing editor, Viv Regan.