Why England players won't take the knee against Qatar
They're happy to bash America and Britain. But criticise an Islamic country? No way.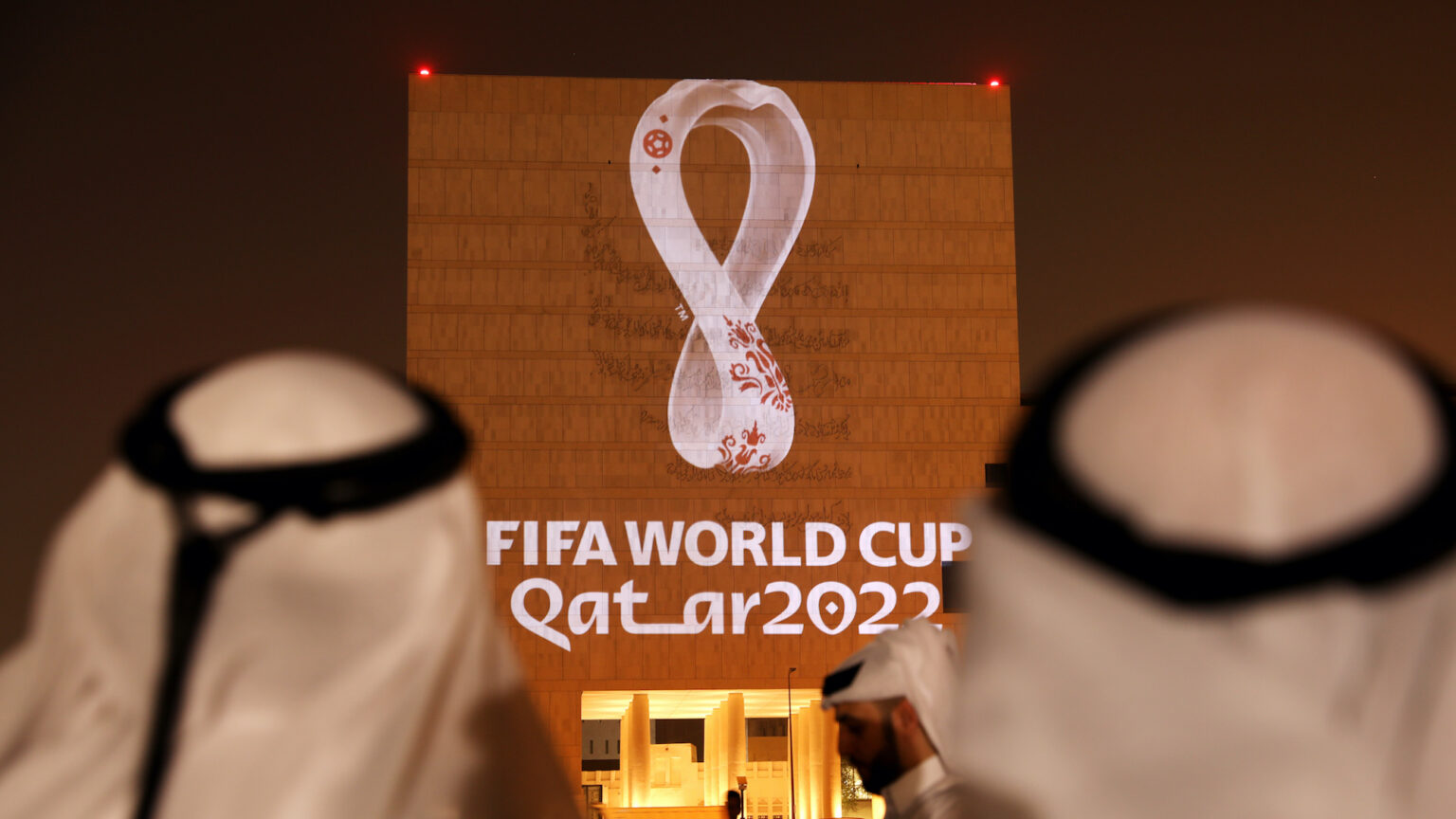 So, we finally have an answer to the largely rhetorical question of whether England's oh-so-woke football players will take the knee against Qatar during the World Cup there next year. Whether these hyper-aware, rainbow laces-wearing, injustice-hating sportsmen will make some kind of physical gesture to register their concern about Qatar's institutionalised misogyny, homophobia and mistreatment of migrant workers. The answer, in essence, is: 'Maybe. We're not sure. It's complicated. And also the UK does a lot of business with Qatar, so we don't want to piss them off too much.' So principled!
Yes, it seems that England players who've spent the past 18 months kneeling down at the start of every game to 'raise awareness' about racism won't do very much to raise awareness about the crushing of women's rights, gay rights and migrants' rights in an Islamist state where they'll be playing football next year. At least that's what we can fairly deduce from the tortured answer England manager Gareth Southgate gave to the question of whether players would be permitted to stage protests against Qatar's repressive and discriminatory form of government. '[It's] a very complicated situation for us', he said. We will have to take some time to 'educate ourselves', he continued, cleverly deploying woke parlance to deflect attention from what seem to be staggering double standards on the part of the England team.
Gone is Southgate's old bombast on why it is essential that his players stand up – or kneel down – against injustice. 'We feel more than ever that we are determined to take the knee throughout this tournament', he said in June, frankly and directly, after some England fans had the temerity to boo the knee-taking during a Euro 2020 warm-up game. And yet now Mr Conscience of the Nation, the manager who got Guardianistas all hot under the collar with his enthusiastic endorsement of woke politics on the pitch, has gone curiously cagey. It's 'hugely complex', he says of Qatar. And there are 'cultural differences' between Britain and Qatar to factor in, too. What's more, '[We], as a nation, do a lot of business with Qatar… I was reading about Rolls Royce [working with Qatar], 10,000 new jobs', Southgate says. Never mind gay rights, we need cars for rich people!
Some are even wondering if we pesky Westerners have any right to criticise a country like Qatar. There's a hint of that in Southgate's comment on 'cultural differences'. Mark Bullingham, the chief exec of the FA, put it more plainly. 'The first point we always make is we are not perfect ourselves as a country and we have to establish that early on when we talk about other countries', he said. So it's all guns blazing and all knees bending when it comes to criticising the US and the UK – knee-taking is entirely aimed at the racism that is allegedly endemic in these two nations – but it's all meek, self-doubting utterances of 'Who are we to criticise?' when it comes to potentially taking a stand against a country with an Islamic system of government. The cockiness of wokeness is washed away by a wave of moral relativism the minute anyone mentions the i-word – what a sign of the times.
It shouldn't take long for Mr Southgate to 'educate himself' about Qatar. After all, he's already found out, presumably via Google, about the Rolls Royce / Qatar partnership for business, education and the development of climate technology. If he digs a little deeper he might discover that it is illegal in Qatar to have same-sex relations. Homosexual men can be jailed for up to three years. He might also find out how few rights women have. That, as a result of the male guardianship law, women are denied the right to 'make many key decisions about their lives', in the words of Human Rights Watch. He might even happen upon an article or two spelling out why these things happen in Qatar – it's because in Qatar, as in Saudi Arabia, Salafi Islam is the state religion and the underpinner of political life. Cultural differences, indeed.
Unless we are to disappear entirely up the fundament of moral relativism, we must surely say that Qatar is a less free, more discriminatory and more socially unjust country than the US. And yet England players were more than happy to bend the knee for George Floyd – that's how it all started – and to join in the woke bashing of America as a white supremacist country. But when it comes to Qatar? 'It's complicated…' This is 21st-century woke preening summed up. It's anti-American, sniffy about the West, and obsessed with the idea that everyone's racist, but it will stare at its feet if someone points out that an Islamic country is locking up same-sex lovers and forcing women to ask permission from a man before they get married or travel abroad. What message does it send to Qatar's beleaguered gay community or its migrants who work in punishing conditions that famous footballers will take the knee for Floyd but not for them?
The problem here is not Southgate. He's only realising that, even under woke capitalism, there are limits to how far you can go with virtue-signalling. Sure, you can take the knee as a 'screw you' to working-class fans who dare to boo your players, but you can't rock the boat with a super-rich friendly nation, and you certainly can't say: 'Maybe government by Islam is not a great idea?' No, the problem is the double standards, the shallowness and the outright annoyingness of virtue-signalling. The woke will lecture us inhabitants of Brexit Britain, Neanderthals that we are, but they'll stay schtum in Qatar. They'll wear rainbow laces to show how cool they are with same-sex relationships, but they'll say 'It's complicated' about a country where a same-sex relationship could land you in the slammer. It's amazing people still believe there is any real virtue behind all this signalling. It seems pretty clear that the knee-bending in the Euros was less about drawing attention to injustice and more about hectoring the football-watching masses for being insufficiently socially aware, insufficiently 'like us'.
Here's my preference: footballers should stop taking the knee altogether. I don't want them protesting in Qatar any more than I want them gesturing on pitches in England. I don't want them to boycott Qatar, either. Just play football for God's sake. Give us goals, not thin, boring, hypocritical lectures.
Brendan O'Neill is spiked's chief political writer and host of the spiked podcast, The Brendan O'Neill Show. Subscribe to the podcast here. And find Brendan on Instagram: @burntoakboy
To enquire about republishing spiked's content, a right to reply or to request a correction, please contact the managing editor, Viv Regan.