The EU has brought the border crisis on itself
Belarus has only been able to 'weaponise' migrants because the EU fears them so much.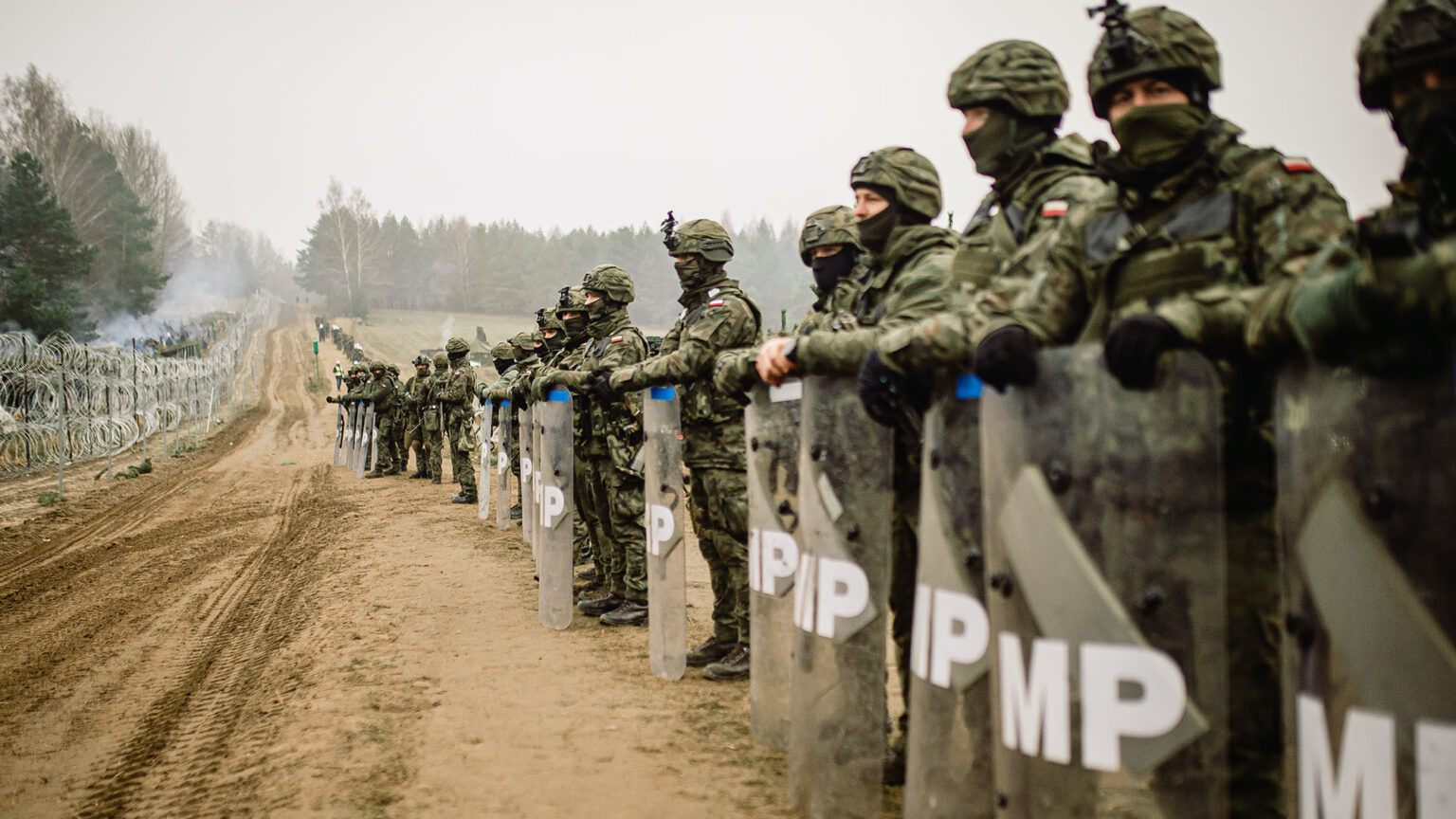 Right now, there are an estimated 2,000 to 4,000 migrants languishing on Poland's border with Belarus. Said to be mainly from the Middle East and Africa, they had hoped to cross from Belarus into Poland before heading towards the EU's wealthier west. But Poland, its border guards now bolstered by riot police and other security forces, is refusing them entry. So there they wait without shelter, in deteriorating weather conditions. Eight, so far, have died.
Why is the EU treating them like this? Because the EU does not see them as migrants at all. In the EU's eyes, they're a weapon – a tool of Belarus and its dictator, Alexander Lukashenko, who is said to be using them in his battle against the EU's sanctions regime. These sanctions were imposed on Belarus after the fraudulent 2020 elections. And they were ramped up following the repression of opposition figures and activists, and the forced landing of a Ryanair flight in Minsk in May.
'We are facing a brutal hybrid attack on our EU borders', said EU Council president Charles Michel on Thursday. Polish prime minister Mateusz Morawiecki this week accused Belarus of 'state terrorism'. Even US secretary of state Antony Blinken joined in the chorus of condemnation, calling this attempt to 'weaponise migration' 'profoundly objectionable'.
There's no doubt Lukashenko is a brutal and cynical operator. He has ruled Belarus for over a quarter of century, by suppressing dissent, disappearing critics and, as last year's dodgy ballot showed, rigging elections. That he would be willing to use migrants in the way the EU alleges should surprise no one.
Yet, in many ways, the EU has brought this crisis on itself. Lukashenko has only been able to 'weaponise' migrants because the EU has for decades always treated them, especially dark-skinned ones, as a threat. What is happening right now on the EU's eastern borders is not just the outcome of Lukashenko's own scheming. It is also very much a product of the EU's own cruel and dysfunctional approach to migration.
The EU has always been determined to keep non-European others out – at virtually any cost. You wouldn't necessarily think that, given the EU's delusional self-image as a bastion of openness and tolerance. But that's because, for much of its existence, it has outsourced the dirty work of migration control to the periphery – that is, to those EU member states in the east and south, such as Poland and Hungary, and Greece and Italy. This allows the likes of France and especially Germany to continue to pose as friends of refugees while leaving their poorer, EU-dependent neighbours to deal with the incoming migrants, and take the blame for their mistreatment, too.
Even crueller still are the EU's efforts to keep migrants from reaching Europe's borders in the first place. It does this by effectively paying some of the most despotic regimes in its African and Middle Eastern backyard to prevent migrants from leaving.
In 2004, for instance, the EU lifted all economic sanctions from Colonel Gaddafi's Libya in return for him blocking the major Mediterranean migration routes into southern Europe. In 2008 Italy promised to invest a further $5 billion in Libya over 20 years, as long as Gaddafi kept Libya's 1,100-mile Mediterranean border with Europe well policed. This is why the collapse of Gaddafi's dictatorship in 2011 contributed to the 2015 migrant crisis.
Then there's Egypt, home to the military dictatorship of President Al-Sisi. In the brutality of this regime, the EU identified a useful instrument of migration control. And so since 2018 the EU has struck several multi-million dollar aid deals and, in return, Egypt has stemmed another potential migration route into Europe. As one EU source admitted in 2018: '[Egypt] is a partner which is taking its responsibility seriously, a partner we can work with in the context of migration even more.'
And of course, there is Turkey. In 2016 the EU was keen to avoid a repeat of the migrant crisis the year before. So it struck a bilateral deal, worth $3.3 billion, with President Erdogan. This meant Turkey was paid handsomely to sequester millions of migrants away in huge camps, safely away from the conscience of Brussels.
It seems there are few regimes, no matter how oppressive, the EU will not strike a deal with. Anything to keep non-Europeans from its door. It is precisely this fear and loathing of the Other that has made it possible for Lukashenko to 'weaponise' migrants against the EU.
So far the EU's response has been combative. EU officials are expected to impose yet more sanctions on Minsk. Council president Michel has even mentioned building 'physical infrastructure' on the EU's eastern borders, although EU Commission president Ursula von der Leyen has said 'there will be no funding of barbed wire and walls'.
Whatever the EU's leaders say, Lukashenko knows the depths of the EU's fear of migrants. He knows that the EU strikes deals with those willing to do its dirty work. He has seen it relax sanctions against the dictatorship of Colonel Gaddafi. And he has seen it pay Erdogan's illiberal regime billions to manage migrants out of Europe's sight and mind. Russian foreign minister Sergei Lavrov made Lukashenko's case for him this week. 'Why when refugees were coming from Turkey did the EU provide financing so that they stayed in the Turkish republic?', he asked. 'Why is it not possible to help the Belarusians in the same way?'
Of course, any deal the EU might strike will only really help Lukashenko, not Belarusians. But then when has the EU ever worried about backing a despot if he's willing to keep migrants from the EU's door? That is Lukashenko's wager – and the EU's shame.
Tim Black is a spiked columnist.
Picture by: Getty.
To enquire about republishing spiked's content, a right to reply or to request a correction, please contact the managing editor, Viv Regan.