How the French establishment betrayed Samuel Paty
David Di Nota on the brutal Islamist beheading of a school teacher, one year on.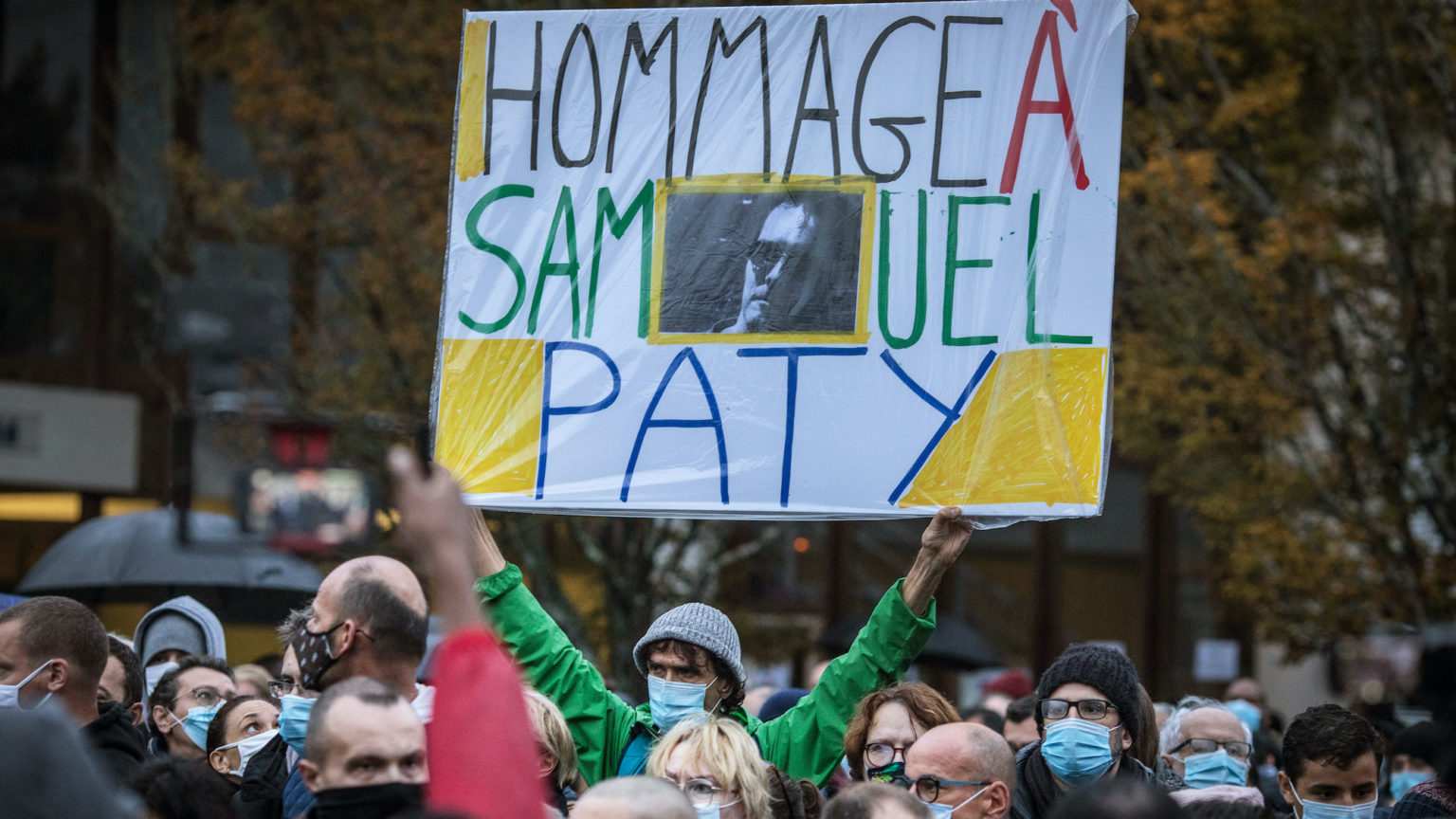 In a quiet suburb of Paris, in broad daylight, 47-year-old teacher Samuel Paty was decapitated. His murderer, Abdullah Anzarov, posted a picture of the severed head on social media, with a message from 'Abdullah, the servant of Allah' addressed to 'Macron, leader of the infidels'. 'I executed one of your hellhounds who dared to belittle Muhammad', Anzarov boasted.
Paty had shown his pupils some cartoons of Muhammad in a class discussion on freedom of expression. Hearing of the story, a girl at the school claimed she was in the room, and that Paty had asked the Muslim pupils to leave. This particular detail was a lie. But it was this version of events that attracted the attention of Islamists and which then led Paty's life to be brutally, violently extinguished.
While the ultimate responsibility for the killing rests with Anzarov, the murderer, and the Islamist ideology that motoviated him, Paty's murder was also made possible by an establishment that was prepared to throw him under the bus. That is the contention of David Di Nota, author of J'ai exécuté un chien de l'enfer (soon to be translated into English as I Executed a Hellhound), which traces each step that led up to the murder. Di Nota is also an award-winning writer and playwright. spiked caught up with him to learn more about the betrayal of Samuel Paty.
spiked: How did we get from Samuel Paty showing the Muhammad cartoons in the classroom to his assassination?
David Di Nota: It all starts with a lie, a tall tale told by a schoolgirl about a class she hadn't even attended that paints the teacher, Samuel Paty, as an Islamaphobe.
The lie spreads across social media – the girl's father and notorious Islamist Abdelhakim Sefrioui see to that. And it attracts the attention of Abdoullah Anzorov, the assassin. By offering them a few hundred euros, Anzorov is able to persuade some pupils at the school to point out his victim. Then, with a basic butchers' knife, he slices off his head.
spiked: Could more have been done before the murder to protect Paty?
Di Nota: French teachers find themselves in a catch-22 situation. On the one hand, they are expected to respect the religious sensitivities of their pupils; on the other hand, they are bound to adhere to the core French principle of secularity, which demands absolute neutrality vis à vis religion.
Leaders in the education establishment chose to give into the demands of a few outraged parents and instructed Paty to apologise. They ignored the fact that the accusations of Islamophobia being made against him were false and were being spread online by a known Islamist. The initial handling of the affair led them to fatally underestimate the seriousness of the threats against Paty.
spiked: What does the case tell us about France's battles with Islamism?
Di Nota: Self-censorship in schools and colleges across France has reached record levels, proving that crime does pay. People are frightened and this fear leads them to say and do absurd things.
Let me give you one example that really stood out for me while I was researching the book. Shortly after the murder, the mayor of a town in the Var, in the south of France, suggested renaming the small local school after Samuel Paty. Many people objected. Among them was a teacher, who argued that since a street in the town was already named after a man who had been killed in an Islamist attack (a police officer called Arnaud Beltrame), there was no need to commemorate Paty in the same way. And why not? Because Paty's story was too sad to associate with a place of education for children.
Can you imagine if our parents' generation had held the same view, and decided that we could not speak of the resistance fighters who were killed fighting the Nazis, for fear of upsetting the children?
spiked: What does the Paty case tell us about how race is talked about in France?
Di Nota: Just as the education authorities threw Paty under the bus, two of his colleagues also condemned his teaching, without taking the time to confirm whether or not the rumours about him had any basis in truth. This gave extra weight to the false accusations of Islamophobia that eventually killed Samuel Paty. Virtue-signallers were more interested in positioning themselves publicly as 'anti-racists' than in taking a stand against the real aggressors.
spiked: How has the Paty case affected French politics?
Di Nota: Every party knows that it must be seen to take a strong stance in relation to Islamism, but their various statements and strategies are contradictory. There are too many inconsistencies to list.
One thing seems certain: the decapitation of Samuel Paty has not forged any kind of consensus. It has failed to bring together the major French political parties to speak with one voice against the rise in radical Islam.
Politically, we remain divided on this critical question of how to deal with Islamism – just as France's intellectuals and educators continue to argue over what it means to be a truly secular state. It seems that among all this division, only the Islamists know what they truly want: to control what can be said in our classrooms, to eradicate satire, and to erase the memory of their own crimes.
David Di Nota was talking to Fraser Myers.
J'ai exécuté un chien de l'enfer, by David Di Nota, is published by Cherche Midi. It will soon be translated into English as I Executed a Hellhound.
To enquire about republishing spiked's content, a right to reply or to request a correction, please contact the managing editor, Viv Regan.