Masks must not return to schools this winter
We have to stop treating children as mere vectors of disease.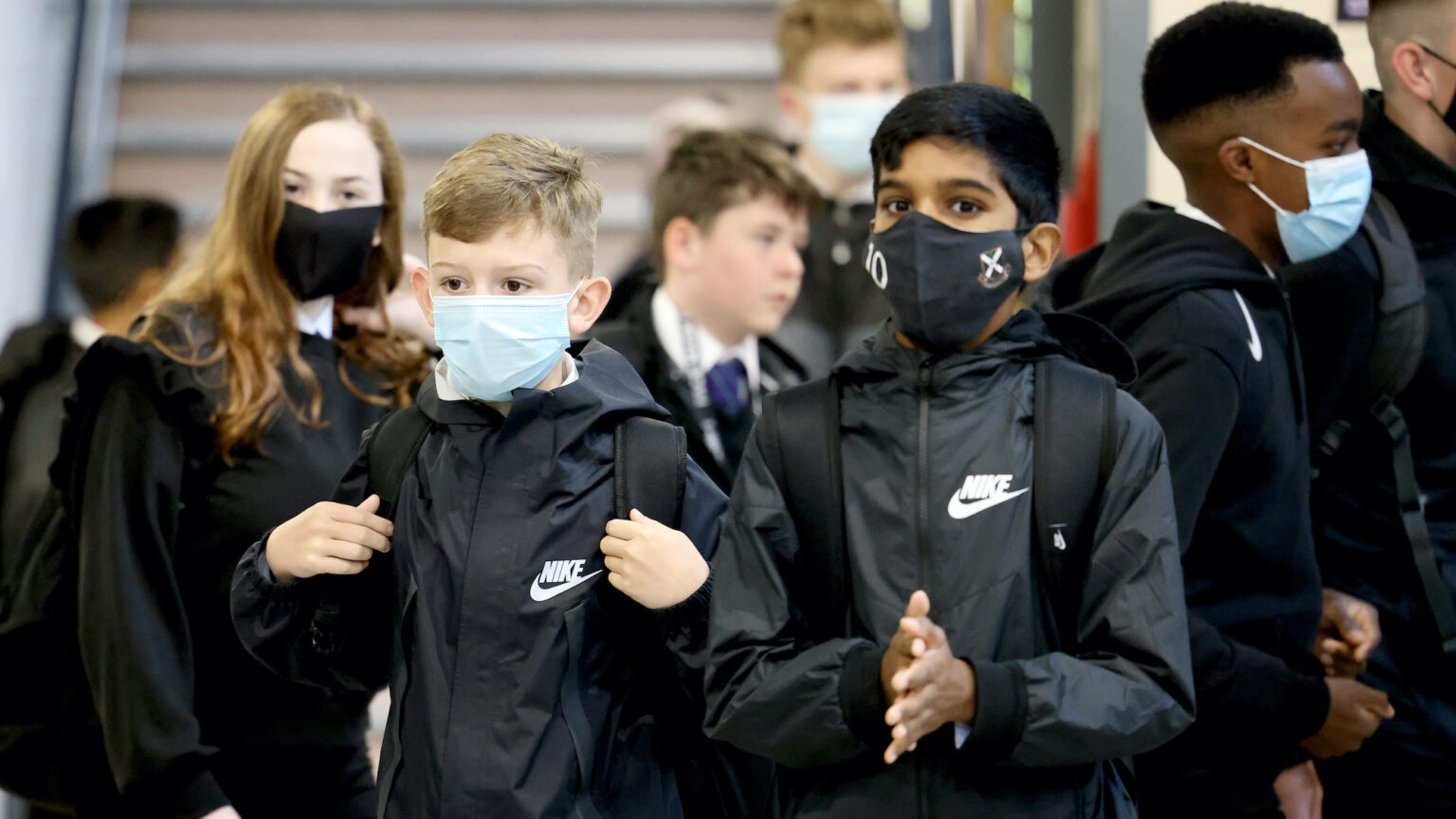 The sight of masked children in schools epitomises everything that is wrong with our response to the pandemic. It feels almost futile at this stage to point out that there is scant evidence that masking young people is particularly effective, and that there is mounting evidence of multiple harms. Nevertheless, according to reports, ministers are considering bringing back mandatory masks in schools this winter.
In the context of schools, the lack of evidence for their effectiveness was acknowledged by the Department for Education (DfE) in correspondence with UsforThem, the parents' group of which I am a co-founder. Back in April the DfE said that it was 'not possible to assess' the effectiveness of its face-masking policy because it was implemented at the same time as its testing regime.
As for the broader community, the evidence around masks has always been hotly contested. Earlier this month, the Health Security Agency published an expert review of the evidence on face coverings. It found that the evidence base for masks preventing the spread of Covid in the community is poor.
When assessing the evidence, the DfE made only a minimal effort to understand the harms from mask mandates in schools. It mainly relied on limited surveys from stakeholders that were skewed heavily towards the views of teaching staff.
To introduce a measure on this flimsy evidential basis once is bad enough. To bring it back now is beyond dispiriting.
The mandatory masking of children is no small measure. Masks make communication harder, creating obvious impediments to socialisation, interaction, speech and language development. They can also damage mental health. They are especially problematic for vulnerable children, in particular those who are deaf or have special needs.
Children have never been as severely socially and educationally impeded as they have been during the pandemic. Measures that further restrict their ability to learn or to grow up should have no place in our public-health playbook.
If mandatory masks do return to schools, then when will all of this end? In attempting to justify masks in schools last spring, the DfE said this would only be a short-term, emergency measure. Yet six months later this apparently temporary measure could return.
This comes at a time when the Office for National Statistics estimates that over 92 per cent of the adult population in England now have Covid antibodies. Cases are falling, too. If we can't say goodbye to masks now, then when can we? Yet just as the threat posed by Covid recedes, new justifications for masks have emerged.
Unfortunately, the education establishment seems to think that strict measures are the only way to keep schools safe. Last week, the National Education Union called for the Covid restrictions for English schoolchildren to reflect the stricter measures in place in Scotland. This is a race to the bottom in which children are the losers.
The potential return of masks in schools points to a wider failure in our handling of the pandemic. The vast majority of children do not get seriously ill from Covid. Instead of taking this fact as a blessing and allowing children to get on with their lives, we have treated children as mere vectors through which adults might be infected. On this basis we have asked children to bear burdens that are in many respects greater than those suffered by the adult population. Now that adults, for the most part, have their lives back and are largely free of mandatory restrictions, the pressure to mask children feels even more cowardly.
There is no higher duty of a parent than to protect his or her child from harm. A government that allows, encourages or mandates measures that impede children's development or cause them harm will one day wake up to find the trust and confidence of parents has evaporated.
While I greet the reports about masks in schools with dismay, I hope parents will now feel emboldened to resist a policy that puts their children second to adults' fears. One thing UsForThem has learned after a bruising 18 months of campaigning is that no one will speak up for children apart from us, their parents.
If you're a parent who thinks masking your children goes against what it means to be a parent, then you can and should peacefully refuse to comply.
Molly Kingsley is one of the founders of the parents campaign group, UsforThem.
Picture by: Getty.
To enquire about republishing spiked's content, a right to reply or to request a correction, please contact the managing editor, Viv Regan.