#MeToo puritanism comes to Germany
The New York Times has got a popular German journalist fired for having affairs with colleagues.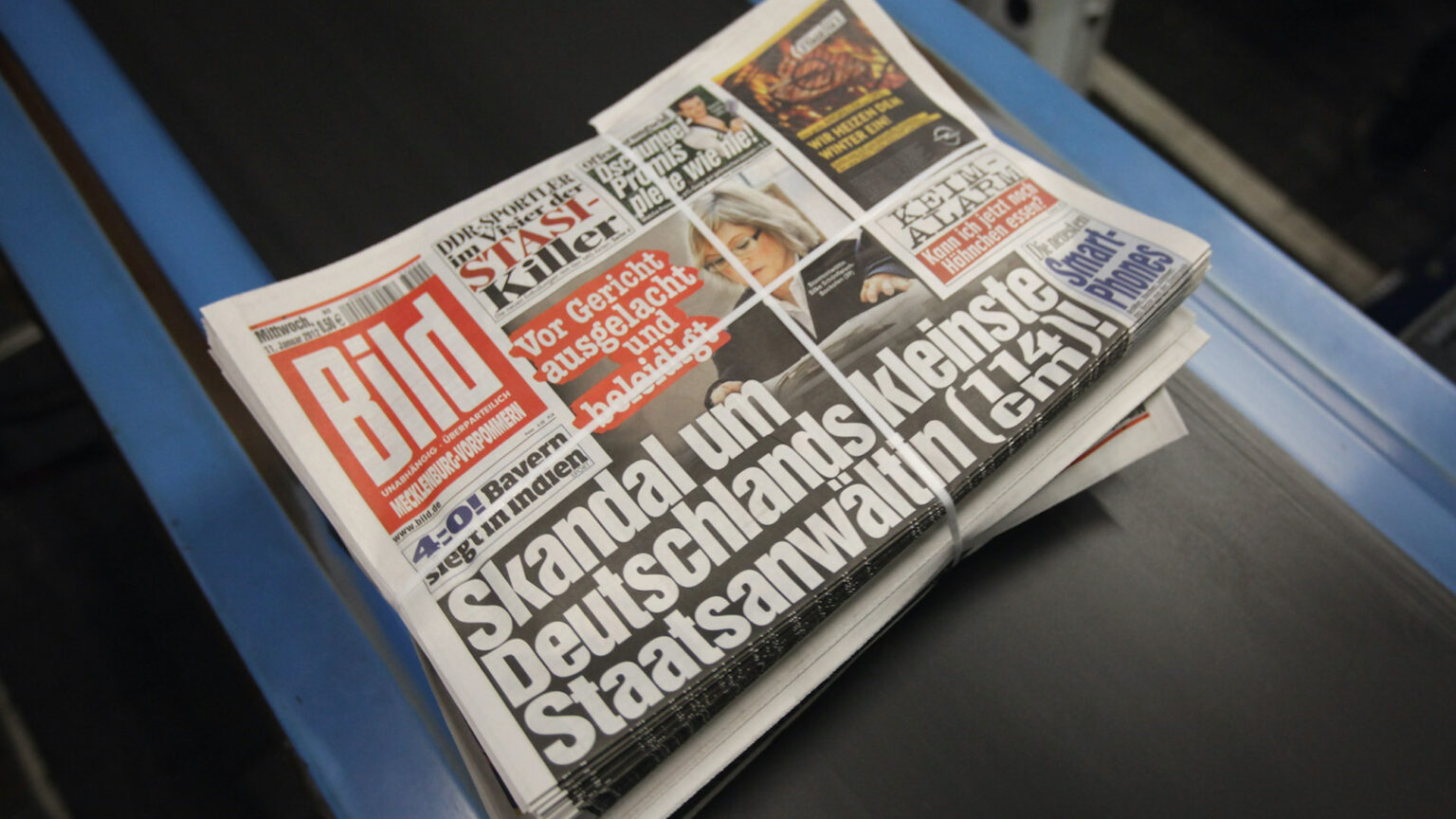 'Julian Reichelt is dethroned.' So cheered the Berliner Zeitung last week after it was revealed that Bild, Germany's biggest tabloid newspaper, had been forced to sack its editor.
Forced is the right word here. Reichelt, one of the most colourful and polarising characters in German media, lost his job following allegations of adultery made in a New York Times article. The piece alleged that Reichelt, who married in 2016, has had affairs with junior colleagues. It also suggested that Axel Springer SE, the publishing house which owns Bild, is out of touch with today's woke, #MeToo values and is 'stuck in the past when it comes to the workplace'.
The allegations against Reichelt were made anonymously by several young women, one of whom was later promoted by him. 'That's how it always goes at Bild', one of Reichelt's accusers told the New York Times. 'Those who sleep with the boss get a better job.'
Springer clearly did not want to lose Reichelt – he is Bild's most popular journalist. Springer boss Mathias Döpfner, in a leaked private exchange with a friend, praised him for standing up to Germany's governing elites. He said Reichelt was 'the last and only journalist in Germany who still courageously rebels against the new GDR authoritarian state'. All other journalists, Döpfner said, were propagandists for the establishment. Unsurprisingly, Döpfner, who is also president of the Federal Association of Digital Publishers and Newspaper Publishers, has now come under fire himself.
So why did Springer feel it had to sack Reichelt? Some claim it was all to do with money. The allegations threatened to cost Springer advertising deals and lower its share price. Bettina Gaus, writing in Der Spiegel, downplayed the allegations – pointing out they were consensual relationships between adults – and called Reichelt's sacking the 'nasty face of capitalism'.
Moreover, Springer has been massively expanding into the American market recently. Only a few weeks ago, it announced it had purchased the US journalism publisher, Politico, for $1 billion.
As a result, Springer has been under pressure to adopt the considerably more woke values that now dominate American capitalist culture. And that meant Reichelt, whose behaviour might otherwise have been tolerated in Germany, had to go. As Ben Smith, the New York Times journalist whose article cost Reichelt his job, put it, an American manager would have been fired for as little as five per cent of the allegations Reichelt faces – such is the prevalence of #MeToo puritanism in the American workplace.
So it appears that Springer has sacrificed a popular journalist, and Döpfner a personal friend, at the altar of woke capitalism.
Reichelt will be missed. He really was one of the few journalists in Germany prepared to stand against the elite. He started his career as a war reporter in Afghanistan, where, as his colleagues attest, he risked his life more than once. And from that point on he was never afraid of causing controversy. In 2015, for example, he published unpixelated photos of alleged ISIS terrorists while they were standing trial in Germany.
During the pandemic Reichelt riled the establishment more than ever. No one criticised the lockdown as sharply as he did. He was even prepared to do battle with star virologist and government adviser Christian Drosten, who was worshipped like a god by many others in the media.
Reichelt was not only a thorn in the side of the political elite – he was also immensely popular with readers. This is what the media jubilation over his dismissal exposes above all – the elites' hatred of the tabloid press and those who read it. Reichelt's sacking has been claimed as a victory in a long-standing culture war against Bild and its readers.
This fight has been going on for quite a while. Since Bild was founded in 1952 there have been countless attempts to discredit it, and numerous court cases brought against it. In the late 1970s writer and journalist Günther Wallraff published a book called Der Aufmacher ('the lead story'). In it, he described his dubious experiences as an undercover reporter at Bild in an attempt to dissuade people from buying it. Back then Bild was attacked for lacking journalistic standards. Now it is being attacked for falling short of today's woke sexual etiquette.
With Reichelt's sacking we can expect Germany's media landscape to become even more tame and dull. It is quite possible that Reichelt was an unpleasant boss and did not treat his staff particularly well. But he was a popular, challenging and fearless journalist. A media full of well-behaved journalists who stick to the rules is good news for the establishment, but terrible news for the rest of us.
Sabine Beppler-Spahl's Brexit – Demokratischer Aufbruch in Großbritannien is out now.
Picture by: Getty.
To enquire about republishing spiked's content, a right to reply or to request a correction, please contact the managing editor, Viv Regan.