Why is Insulate Britain being allowed to cause so much disruption?
The police have treated these eco-loons with kid gloves and the public has had enough of it.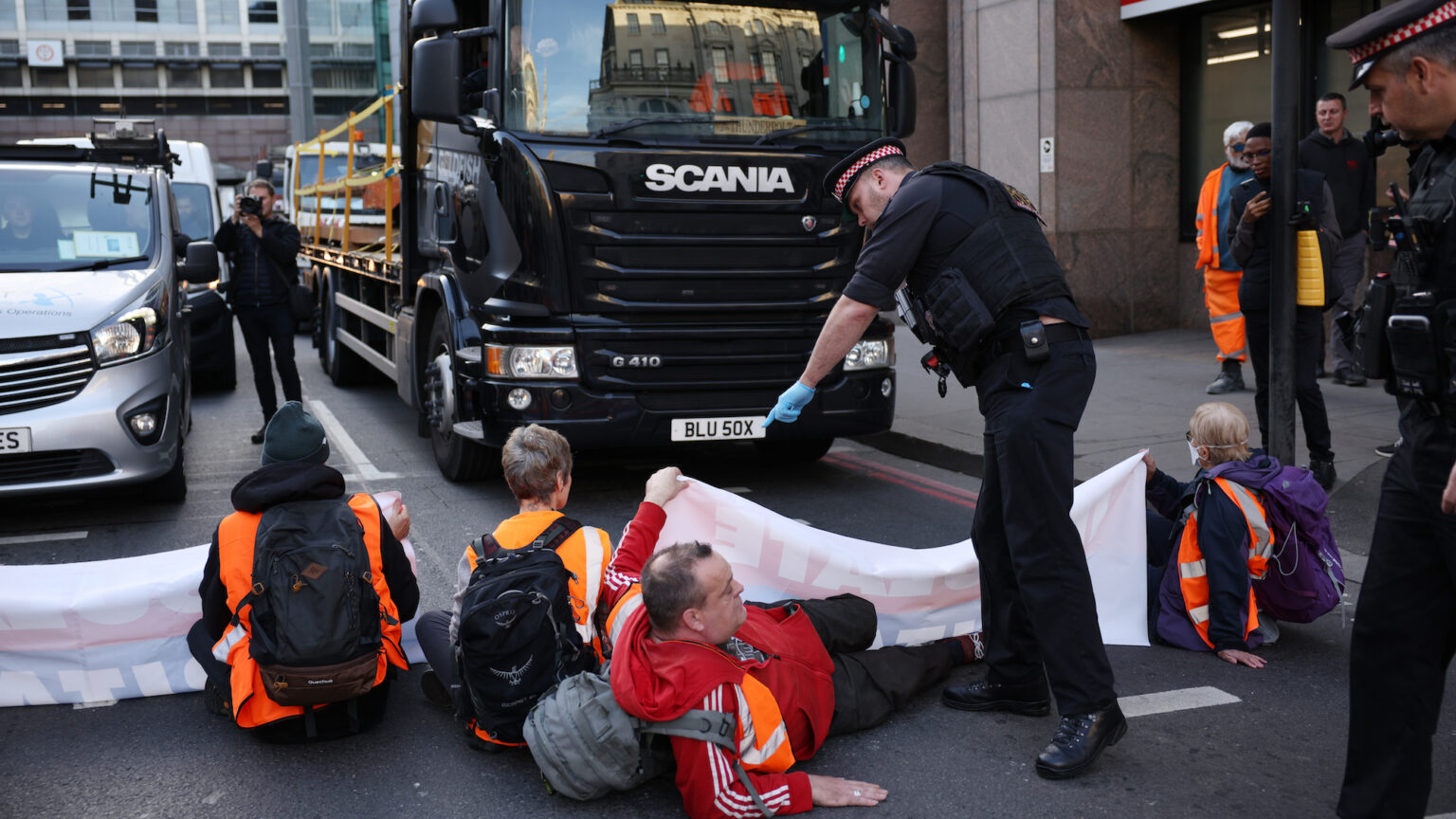 Finally, Insulate Britain has raised a good point. Why aren't we in prison, the protest movement is asking itself? Apparently the road-blocking middle-class irritants are in a state of 'absolute disbelief' that they have been allowed to cause so much disruption without being banged up. You and me both, lads. 'We assumed that we would not be allowed to carry on disrupting the motorway network to the extent that we have been. We thought that people would basically be in prison', a gobsmacked spokesman said. That sound you can hear is millions of people murmuring in agreement that it is truly bizarre that these eco-loons have been able to break the law and inconvenience vast swathes of the population without spending so much as a night in the slammer.
The Guardian reports that Insulate Britain thought its road-blocking antics would last a maximum of two days. As the time-rich doomsters prepare for another round of irritating the masses in the run-up to COP26, they have admitted that 'they are baffled over why the police have effectively allowed them to keep closing major routes'. For five weeks these agitators for the insulation of homes – vive la révolution! – have been holding up the M25, the Dartford Crossing, Old Street roundabout in London and other major throughways. They've blocked the paths of ambulances, prevented people from visiting poorly relatives, stopped deliverymen from carrying out their essential work. And yet no serious effort has been made by the state to clear the apocalyptic fantasists off the road. We were just 'allowed to continue day after day', says Insulate Britain's bamboozled spokesman.
On one level, it is bewildering that this deeply unpopular political organisation has, in its own words, 'been allowed' to play such havoc with people's working and personal lives. At times it has fallen to Joe Public to do something about the self-righteous eco-nuisances. We've all witnessed, and cheered, the scenes of truck drivers and builders ripping banners from the hands of the road-blockers and then dragging the protesters off the road. 'It's a fucking ambulance, you stupid prick, get out of the road', one of the heroic road-clearers said to Insulate muppets who were holding up the actual emergency services. This working-class revolt against the middle-class disdain and disruption that are so central to the environmentalist outlook was not only stirring – it was essential. The cops were twiddling their thumbs.
Corbynistas and others in the woke graduate set that passes for 'the left' in 21st-century Britain have looked with pearl-clutching disbelief at the manhandling of eco-friendly vicars and other pained, decent people by gruff blokes in paint-spattered tracksuits. 'Someone will get hurt!', they cry, which to be fair is their response to every act of working-class rebellion against the ruling ideologies of our time – recall how equally worried they were that the 'gammon' vote for Brexit would give rise to hate crime and other forms of social mayhem. Yet the truth is that these citizens stepped up only because the state stepped back. Ordinary people had no choice but to take action. The alternative would have been to cede the country's throughways to people so enamoured with their own virtue that they have ceased to care about such trifling matters as other people's right to work or to visit loved ones.
Yes, the authorities did take some action against Insulate Britain, but it was distinctly half-hearted. There were a few arrests. The government took out injunctions preventing the group from blocking certain parts of the M25. The Insulators broke those injunctions. Defying an injunction can lead to a jail sentence, but that very much hasn't happened. The cops have unquestionably treated these eco-agitators with kid gloves. At one of their protests on the M25 near Surrey, an officer could be heard saying to the assembled annoyances: '[If] any of you are in any discomfort or need anything, just let me know and we will try and sort you out in a nice way.' Funny, I don't recall police ever saying that to anti-lockdown protesters. Insulate Britain's baffled spokesman reveals that the police have even 'politely emailed' the group asking for details of its future protests, while also pointing out that it is under no obligation to provide such details. It's surreal.
On another level, though, it feels entirely logical that these disruptors have virtually been given a green light by the powers-that-be. It's because the state, from the political class to the police themselves, agrees with the grim ideology that is motoring this road-blocking movement. For all the radical, existential pretensions of Extinction Rebellion and its various offshoots, of which Insulate Britain is one, in truth these groups are but a more extreme, unsophisticated expression of an utterly mainstream political view: that the planet is doomed and human hubris is the culprit. They are the militant wing of the ruling class, the enforcers of bourgeois ideology masquerading as protesters. Their 'protesting' around COP will be pure pantomime. It won't be a revolt against the Western powers gathered in Glasgow. It will be a noisy, slavish echo of the political prejudices held by those Western powers. It's a form of assistance to the elites – 'Do more, please!' – not a rebellion against them.
The UK criminal-justice system now applies an extraordinary double standard to protests. If your disruptive direct action is in the name of a cause the elites like, you'll generally be okay. If it isn't, you're screwed. Just compare and contrast the way lockdown sceptics were roughly arrested by cops, and tamed with some excessive truncheoning, while Insulate Britain's protesters are politely asked by officers if they are feeling okay. Or witness how Extinction Rebellion has essentially been allowed to block huge swathes of London in recent years. Do you think pro-Brexit agitators would have been allowed to take over Trafalgar Square and block Westminster Bridge? Get real. They'd have been bashed on the head, dragged off the streets, and whisked into court. And the media elites will have cheered. So, funnily enough, would most of the Insulate Britain lot. Ghastly Brexiteers inconveniencing the public? Heavens, no.
What this essentially means is that we now live under a highly politicised police force. The police, and the broader criminal-justice system, now take it upon themselves to judge which protests are valid, and thus require a light touch, and which are too politically awkward and revolting, and thus demand a bit of the old baton-and-shield treatment. We know the police have become increasingly woke, as can be glimpsed in all their rainbow-flag, pronoun-promoting nonsense. And as a consequence, they now play an explicitly political role in controlling and crushing certain forms of political disgruntlement while essentially allowing other forms. This is entirely unacceptable. We cannot allow the police and the courts effectively to determine which political positions it is acceptable to take in public. We need to get the Insulate Britain hysterics off our roads, and get the cops out of politics.
Brendan O'Neill is spiked's chief political writer and host of the spiked podcast, The Brendan O'Neill Show. Subscribe to the podcast here. And find Brendan on Instagram: @burntoakboy
Picture by: Getty.
To enquire about republishing spiked's content, a right to reply or to request a correction, please contact the managing editor, Viv Regan.