The EU is treating Poland like a colony
Brussels is riding roughshod over Polish democracy.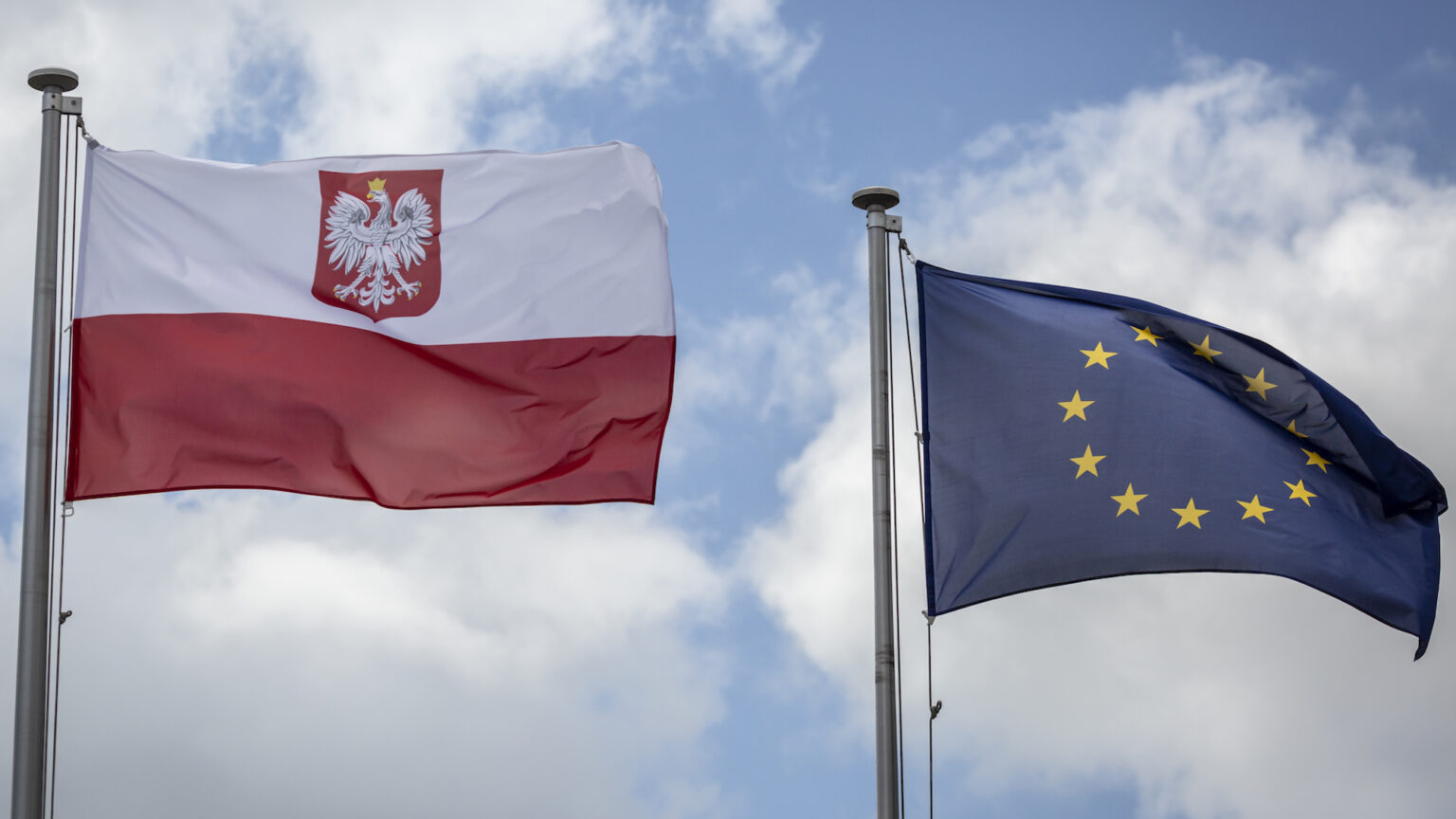 The EU is behaving more and more like some kind of imperial power. Its latest spat with Poland is a case in point.
The row has been rumbling on for several years, ever since Poland's governing Law and Justice Party (PiS) changed the rules for appointing, disciplining and removing Polish judges.
The politics of this has always been murky. PiS maintains that it wants to remove deadwood and prevent corruption, while its opponents accuse it of wanting a pliant bench.
Brussels wants Poland to reverse the changes, arguing that they compromise judicial impartiality. The EU says that this is not merely a domestic matter but a matter of EU law, because a Polish court might one day have to adjudicate on EU citizens' rights. Unsurprisingly, the European courts, which have sensitive political antennae and are always looking to expand the EU's powers, are backing the EU. This has set the stage for a constitutional showdown.
In an attempt to resolve the dispute, Polish premier Mateusz Morawiecki asked the Polish Constitutional Tribunal in Warsaw this question: if push came to shove and EU law were ever to clash with the 1997 Polish constitution, which would prevail? Earlier this month, the tribunal delivered its verdict: it voted 12-2 for the constitution.
This has left the EU establishment reeling. For over 50 years it has been holy writ that EU law always prevails over national law – constitutional or otherwise. European Commission president Ursula von der Leyen repeated the EU line in the European Parliament on Tuesday. She painted any denial of the primacy of EU legislation as an unacceptable attack on the 'rule of law'. And in a major escalation of the row, she warned that if Poland did not fall into line and disown the view of its courts, steps would have to be taken against it. These might include cutting off EU financial support (worth over €13 billion per year) or excluding Poland from the EU's Covid recovery plan (worth nearly €60 billion).
Morawiecki, also addressing the European Parliament, came out fighting in response. He doesn't want Polexit, he said, and nor do the Poles. Poland's membership of the EU, he rightly pointed out, actually benefits the EU enormously by soaking up a lot of German investment. But most importantly, he made clear that the EU has no legal or political business whatsoever interfering in Poland's constitutional affairs. This, he implied, meant the EU was acting as a superstate, which was something no EU member had ever signed up to. For Morawiecki, the EU's threats of financial sanctions were nothing short of blackmail.
His address was clearly intended to scandalise the European Parliament, and it did. It was also clearly directed at Polish voters, as it was delivered in Polish rather than in German or English, both of which Morawiecki speaks fluently.
The main problem for the EU is that, to a large extent, what Morawiecki says is right. Admittedly, this legal dispute is essentially a dialogue of the deaf. Morawiecki and the PiS insist that as far as they are concerned, the Polish courts have the last word about what the law is in Poland. Von der Leyen says that Poland is in the EU and EU law prevails throughout the bloc, and so that's that.
The real question is political, of course. And here, Morawiecki is on pretty firm ground. Brussels wants its expansive and unaccountable courts to have carte blanche in determining what is within the EU's powers, without having to come up against the inconveniences of national constitutions. That is hard to reconcile with the idea – also promoted by Brussels – that the EU is no more than a grouping of sovereign states.
Before the debate in the European Parliament, Morawiecki sent a letter to Brussels. It will no doubt have been a painful read for its recipients. In it, he described a 'gradual transformation of the [EU] into an entity that would cease to be an alliance of free, equal and sovereign states, and would instead become a single, centrally managed organism, run by institutions deprived of democratic control by the citizens of European countries'. Ouch.
So what should the EU do next? It could continue to make noises about withdrawing funds. A number of EU super-loyalists, such as Mark Rutte of the Netherlands and Jean Asselborn of Luxembourg, have urged it to do just that. But others, such as outgoing German chancellor Angela Merkel, have urged caution.
For one thing, bullying of the kind that von der Leyen engaged in on Tuesday is not good for Brussels' reputation, especially in eastern and central Europe. These countries have a long history of occupation by unwelcome regimes – not only by the Soviets after 1945, but also in earlier times by Austria, Russia and the Ottomans. Brussels would do well to remember that Poland and other members of the EU awkward squad, like Hungary and Romania, are proudly independent countries in their own right. They are unlikely to welcome the idea of the EU providing them with money just so long as they do as they are told.
At present, Polish people may be keen pro-Europeans. But if the large cash transfers they currently get from the EU seem to evaporate whenever Brussels doesn't approve of the government they vote in, their keenness for the EU will likely evaporate, too. The last thing the EU needs at this stage is an ill-tempered Polexit to complicate matters even further.
And if Brussels doesn't provide financial help to Poland, there are other powers who are likely to be more accommodating. China, with its Belt and Road Initiative, is already sniffing around Eastern Europe with a view to buying influence there. If you go to Budapest, for instance, you will see a spanking new €1.5 billion campus built by the Fudan University of Shanghai
The EU has a choice. It can try to enforce on its eastern states the kind of conformity it is accustomed to getting from its western members. This would create a lot of trouble for little gain. Alternatively, the EU could be pragmatic and forget about technical matters like the supremacy of EU law. It could leave its central and eastern members, where it still enjoys a good deal of loyalty, with more room to go their own way.
There is little doubt about which is the more sensible course. The question is whether the ideologues in Brussels have the imagination or the humility to back down. I am not betting on it.
Andrew Tettenborn is a professor of commercial law and a former Cambridge admissions officer.
Picture by: Getty.
To enquire about republishing spiked's content, a right to reply or to request a correction, please contact the managing editor, Viv Regan.