The anatomy of a media smear
Why did the media spread falsehoods about those pro-Chappelle counter-protesters?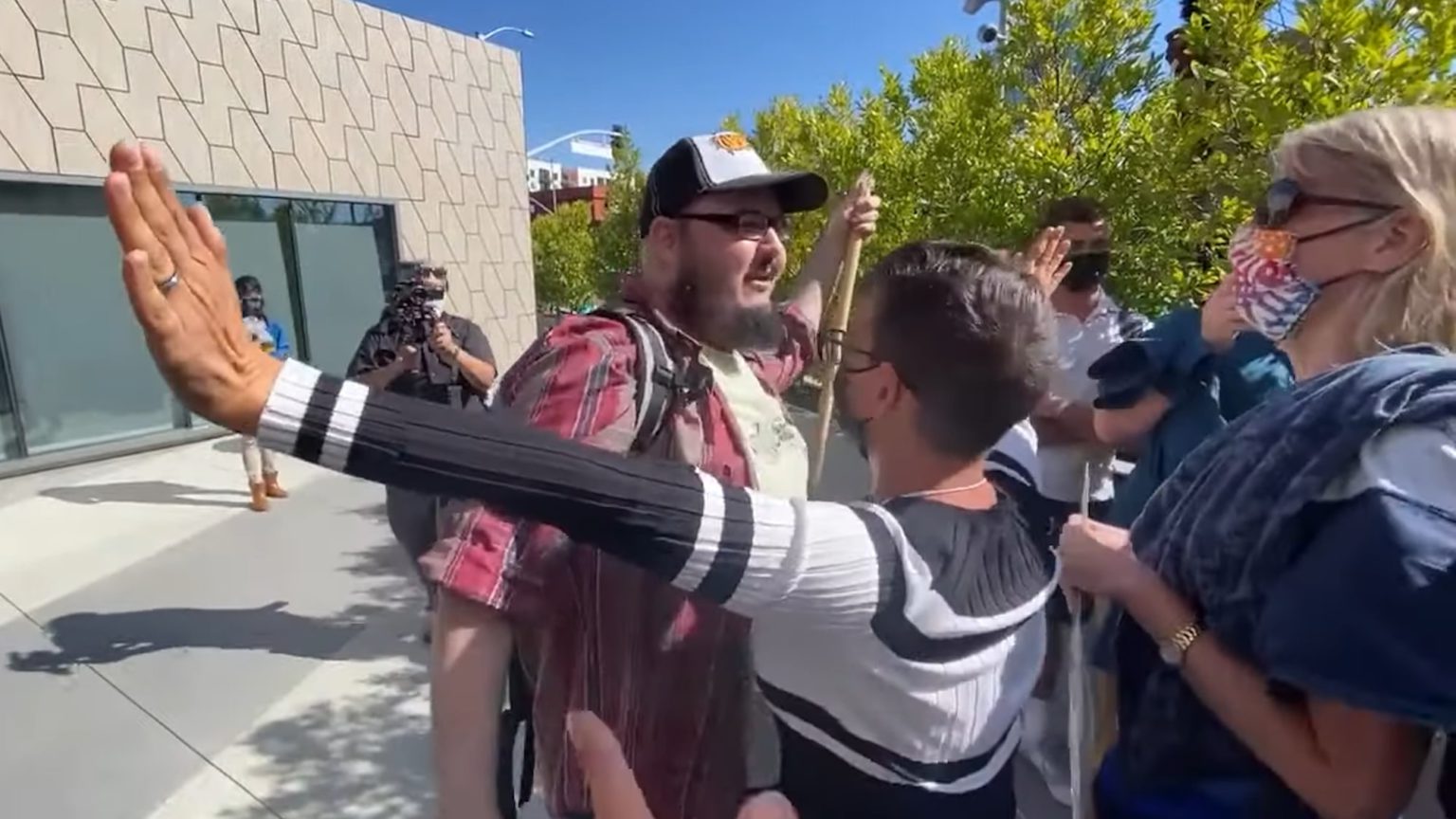 On Wednesday staff at Netflix walked out in protest against Dave Chappelle's new Netflix special, The Closer, which they claim is transphobic. This attempt on the part of Netflix employees and others to censor the streaming giant's output was worrying. But so was what happened next.
Protesters were standing outside Netflix's offices in Los Gatos, California, busily complaining about Chappelle's supposed bigotry, when they were joined by some unexpected guests. Comedians Vito Gesualdi and Dick Masterson turned up with placards that read 'Jokes are funny' and 'We like Dave'.
It was a funny riposte to the censorious fury of the anti-Chappelle set. But not everyone saw it that way – including, it seems, some members of the press.
Videos circulating online show Gesualdi and Masterson holding up their signs and shouting pro-Chappelle slogans, and infuriating the Netflix protesters in the process. It was light-hearted and cheeky.
But that's not how the Associated Press (AP) reported it. Its article about the protest featured a picture showing Gesualdi along with a misleading caption: 'Comedian and vlogger Vito Gesualdi screams profanities as he engages with peaceful protesters begging him to leave.' It was a stock caption, meaning that numerous other sites repeated its content verbatim.
This description of events was partisan and unfair. As writer Jesse Singal has highlighted on Twitter, there is no evidence that Gesualdi was shouting any profanities at the protest. Anyone who has watched the videos of what happened will know that he was not remotely aggressive. All the aggression came from the protesters who, far from 'begging him to leave', were extremely unpleasant towards Gesualdi. One shook a tambourine in his face while shouting 'repent, motherfucker'. Another grabbed and destroyed his 'We like Dave' sign, before handing him back the stick the sign was attached to and accusing him of carrying a 'weapon'.
Following Singal's intervention, AP changed the caption. It now reads: 'Comedian and videographer Vito Gesualdi shouts at people protesting against Dave Chappelle's Netflix special.' Which is still pretty inaccurate, painting Gesualdi as some kind of malicious invader when really he was just having some fun.
It wasn't just AP that engaged in this truth-twisting. Variety tweeted an image of Gesualdi at the protest with the caption: 'At times, the #NetflixWalkout situation threatened to devolve, as counter-protesters pushed against trans speakers.' But Gesualdi was not pushing anyone. He did not use force of any kind. According to Gesualdi, Masterson actually ended up in hospital after having his head smacked against a concrete ball, seemingly after being shoved by one of the Netflix protesters. Variety ended up having to delete the tweet and post a correction.
All news journalists make mistakes from time to time. Sometimes bias creeps in unwittingly. But where the culture war is concerned it seems some outlets have no qualms about making it abundantly clear which side they are on. And then they wonder why people distrust the mainstream news media.
Paddy Hannam is editorial assistant at spiked. Follow him on Twitter: @paddyhannam.
Picture by: YouTube.
To enquire about republishing spiked's content, a right to reply or to request a correction, please contact the managing editor, Viv Regan.