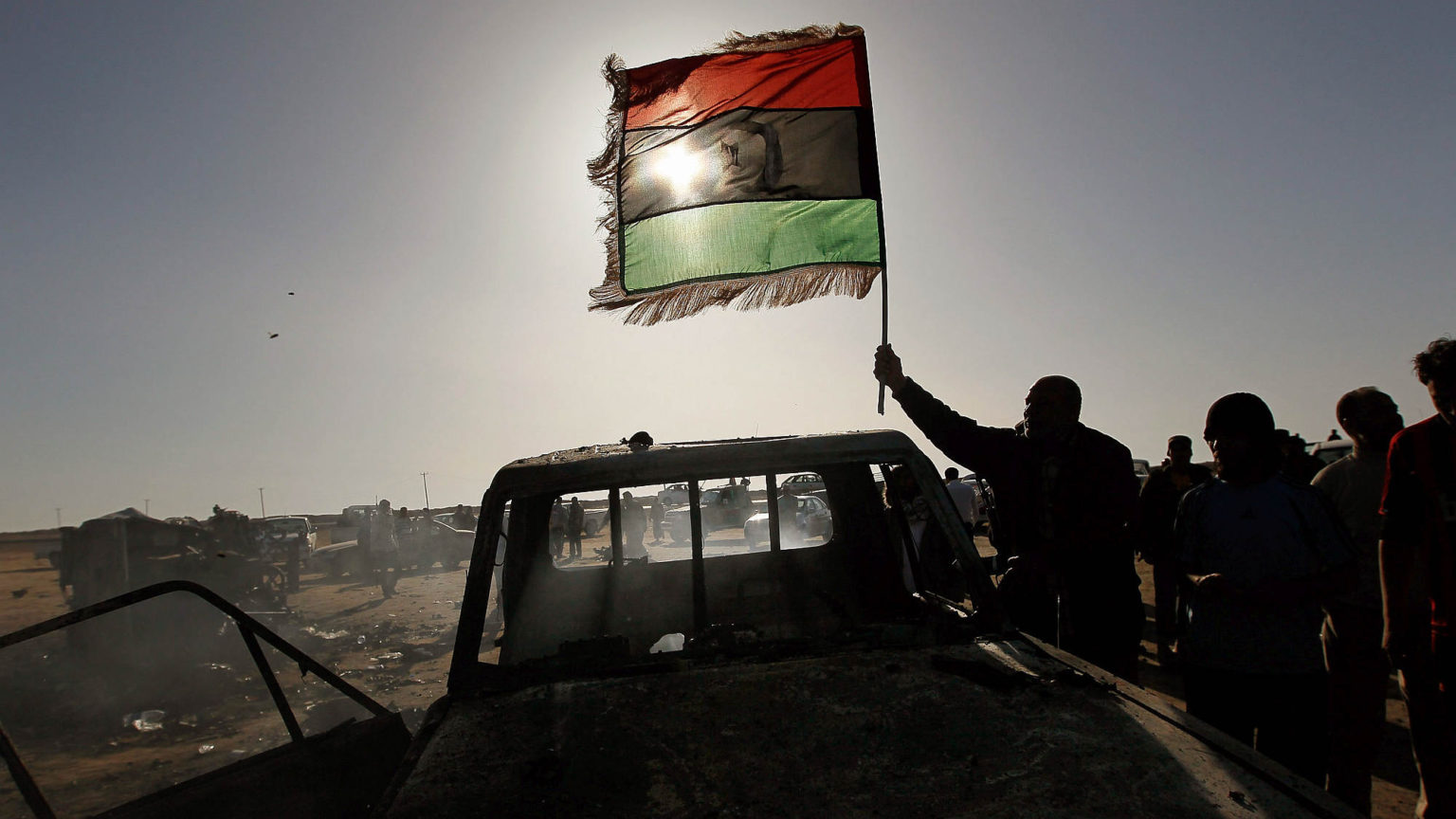 Libya's never-ending nightmare
Ten years on from Gaddafi's death, a revolutionary reflects on his country's struggles.
Ten years ago Libyan dictator Colonel Muammar al-Gaddafi was killed. Libya has been racked by war and instability ever since.
The latest attempt to arrest Libya's slide into the abyss is the Libyan Political Dialogue Forum, a UN body formed to deliver elections this December. However, the process has already been marred by corruption. Rival sides are attempting to delay the election until they can be certain of dominating it.
This has been a long road for Libyans. We hoped that the demise of Gaddafi would bring us freedom, prosperity and an end to Libya's reputation as an international pariah.
In the years before the Libyan revolution in 2011, I turned to rap music to spread the idea of rebellion against Gaddafi among Libyan youth. In the first track I put out under my alias, Ibn Thabit, back in August 2008, I warned that violent uprisings were imminent. In one song I told Gaddafi that 'if we find you, you'll be kicked around like a bitch'. Even back then, I was sure something was coming – that the decades of Gaddafi's rule over Libyan society could not last much longer.
On 20 October 2011 Gaddafi was finally dragged out of a culvert having barely survived a NATO airstrike in his hometown of Sirte. He was then kicked, punched and sodomised with a bayonet before being riddled with bullets by fighters eager to claim credit for his death. Many people, Libyans included, were surprised by the brutality of Gaddafi's captors. But not me.
People's anger towards Gaddafi had built up over decades. Many of us wanted revenge, not justice. I had an acute insight into the minds of those young men. And I had seen enough of what they were capable of before Gaddafi's capture to know what to expect.
I had personally suffered practically nothing from Gaddafi's dictatorship. I grew up in Canada, the son of a political exile. But even before the revolution I used to visit Libya frequently. And in the years before the Arab Spring, I would even drop into Libya armed with my tracks, distributing them to trusted friends.
My only run-in with Gaddafi's security apparatus was a close call at the Ras Jdir border crossing between Libya and Tunisia in August 2010. I was pulled in for questioning in a shipping container. But in the end, I managed to slip away.
When the Arab Spring erupted, I flew halfway around the world to join the rebels in the Nafusa Mountains of north-western Libya. Although I was driven by ideas of freedom, justice and democracy, my greatest motivation was that I simply couldn't stand by and demand from my compatriots something I wasn't willing to do myself. They were prepared to fight and die for their dignity and freedom, and stood to suffer unimaginable consequences if their rebellion failed.
The first thing I noticed on my arrival in the besieged town of Nalut was the emptiness of its streets. Many of the town's residents had fled, including nearly all its women and children. It took just one night to understand why. At sunset every day, Gaddafi's forces would start randomly shelling the town, a strategy intended to unnerve the rebels and make it impossible to rest. Most of the time the shells fell on empty spaces, but the mortar damage to the houses and municipal buildings showed that sometimes they didn't.
There was also the fear of being overrun by Gaddafi's forces, especially in the wake of reports about mass rape in other besieged rebel towns. Many of these reports turned out to be false. But I not only believed them at the time, I also played a role in reinforcing them through my music, which had become popular among many supporters of the uprising.
The problem with this rebel propaganda, which was reinforced and even celebrated by foreign media the world over, was that it immunised us from any criticism when criticism was clearly warranted. I had of course believed the narrative I was helping to create – that we were noble warriors for justice fighting an evil army – until I was shaken out of it by what I saw with my own eyes.
On 28 July 2011, during an assault in which we had captured the towns of Ghazaya and Tikout, I witnessed a prisoner of war being apprehended for the first time. The injured soldier was from my native region of Tarhuna – a largely pro-Gaddafi area. He was lucky to have been captured by some of the more decent fighters on our side. They could barely keep the slapping, grabbing, punching arms of their comrades off him as they helped him into an ambulance to jeering shouts of 'Tarhouni! Tarhouni!'.
This shattered my firmly held belief that we were the good guys. I was now aware that the Libyan 'revolution', if it could even be called that, was not for all Libyans.
In hindsight, I should not have been surprised. I had already experienced this regionalist distrust a few weeks earlier, when trying to board a fishing trawler headed to the besieged rebel town of Misrata. I was denied a spot onboard with the other fighters. One of the reasons was that I was not from Misrata.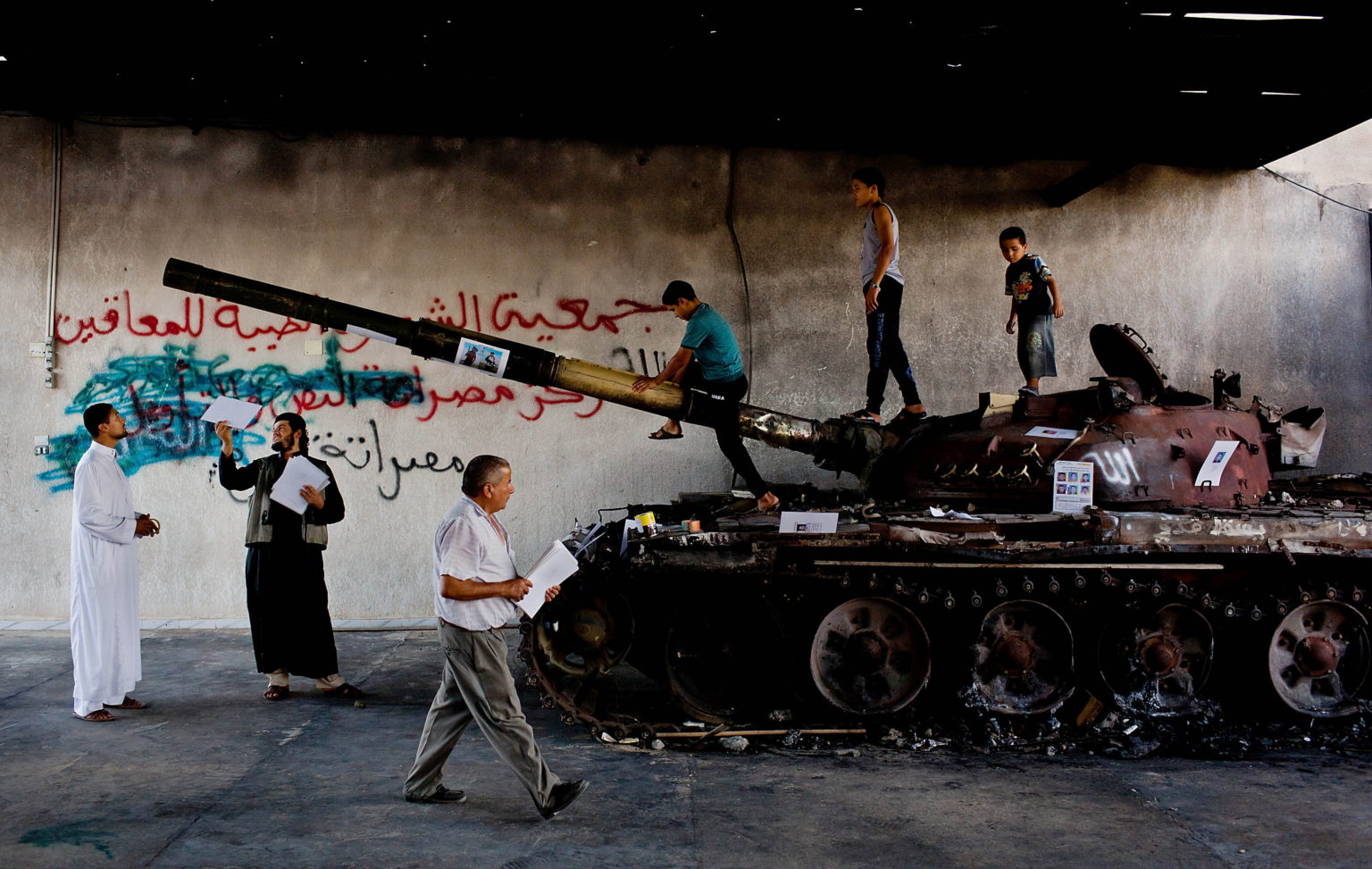 Children play on top of a tank in Misrata, 3 September 2011 .
That wasn't an isolated episode. Being from Tarhuna was akin to a criminal offence in the days following the liberation of Tripoli in late August 2011. At a checkpoint in the town of Janzour, I witnessed a group of revolutionaries open the trunk of a car to reveal a middle-aged man with curly grey hair, his hands and feet tied together as though he was a lamb or goat being transported to a slaughterhouse.
When I stepped out of my car to confront them, they asked me where I was from. I said I was from Tarhuna, and they insinuated that I was upset because I was a 'tohlob' (green fungus, a term used for Gaddafi supporters due to the green colour of the former Libyan flag). It didn't matter that I had grown up in exile, had called for rebellion against Gaddafi for years, and had left the safety and comfort of life in Canada to fight against him. Belonging to a pro-Gaddafi region was criminal enough, something that the entire town of Tawergha would suffer from for years to come.
If regional association was reason enough for collective punishment, actually having served under the Gaddafi regime was a guarantee of abuse and violence. Late in September 2011, my revolutionary comrades were occupying the home of a regime notable in Ain Zara. I found them beating and torturing two captives, both with black hoods on their heads. When I told them what they were doing was wrong, the leader of the group smiled at me and said, 'don't worry, they are azlam' – that is, members of the former regime.
One afternoon in March 2013, only a few hours after the occupation of Libya's foreign ministry by another group of 'thuwar' (revolutionaries, as they liked to call themselves), I confronted the group's leader about his unwarranted closure of the roads surrounding the ministry. 'Move along citizen, this is thuwar business', he said. I snapped back that I was a revolutionary before he or any of his friends. Within seconds I was being mobbed by angry, jeering young hotheads. Finally, one of them got between me and the crowd and pleaded with me to leave.
I discovered that the group occupying the foreign ministry were part of a notorious group of thuwar from Misrata. They had taken up residence in the central Tripoli neighbourhood of Gharghour, from where they had routinely terrorised the residents there and elsewhere in Tripoli ever since its 'liberation' in August 2011.
By this point, in the middle of 2013, it was no secret to many Tripoli residents that being one of the thuwar was a license for impunity. There was growing resentment towards these 'revolutionaries', who spent their time intimidating, kidnapping, carjacking and indulging in violent crimes throughout Libya. These grievances culminated in a major demonstration at the al-Quds roundabout in Tripoli on 15 November 2013 – the day of the infamous Gharghour massacre.
I feared the protesters would be met with violence if they dared march into Gharghour and encountered the thuwar, who by now were known as 'the militias'. And yet, there I stood with hundreds of unarmed, civilian demonstrators, smiling and laughing as speakers on stage, including Tripoli's mayor at the time, jokingly tossed around croissants, poking fun at the perception of Tripoli's residents as soft and buttery.
Then came the march – a slow, suspenseful walk past the crumbled walls of Gaddafi's Bab al-Azizia complex, past the bright, white, low-rise Abu Salim apartment buildings, and into the wide streets and high-walled villas of the Gharghour neighbourhood. Then came the gunfire.
At least 43 people were killed and over 250 were injured. Such is the absence of law and order in Libya that the perpetrators of that massacre, and others like it, have never been held accountable. In fact, the killers received a heroes' welcome upon their return to their home city of Misrata, which has also suffered at the hands of the increasingly lawless militias. For example, in October 2017, Misrata's much-respected mayor, Mohamed Eshtewi, was kidnapped, murdered and dumped on the street. Even the current Government of National Unity's army chief of staff, Mohamed Haddad, could not protect himself from the militias, as he too was kidnapped, roughed up and later dumped in a rural part of Misrata back in the spring of 2018.
Libya is a mystery to most outsiders. In many peoples' minds, the popular image of the freedom-loving revolutionary still abides. That image is not shared by the majority of Libyans actually living in Libya today. They have gone from suffering under Gaddafi to a decade of chaos and lawless violence under myriad 'revolutionaries'. The regional and tribal divisions that have opened up have only further weakened successive governments in the face of Libya's militias.
Time and again, Libyan governments and foreign entities backing different armed groups in Libya have tried to turn these militias into a national army, but all have failed. The reason for this failure is the unwillingness to recognise that the militias and those who sustain and empower them are the problem in Libya, not the solution.
As long as this remains the case, it does not matter what form of government, elections or constitution is agreed upon in the coming months or years – true power in Libya will still come only from the barrel of a gun.
Assem Mihirig is a former revolutionary hip-hop artist, known in Libya as 'Ibn Thabit'.
Pictures by: Getty
To enquire about republishing spiked's content, a right to reply or to request a correction, please contact the managing editor, Viv Regan.