Trans activists cannot hide their misogyny
When did it become progressive to tell women to 'suck my d***'?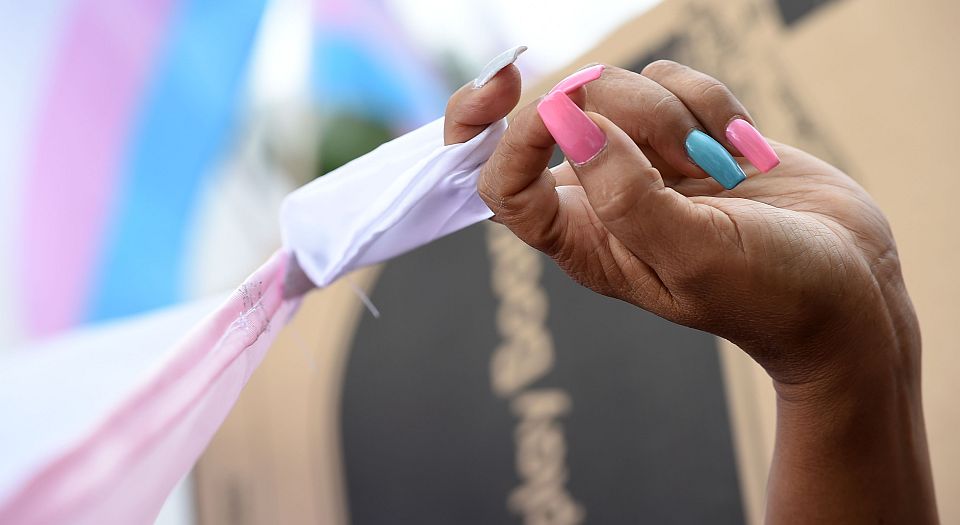 Last weekend, the #BeKind brigade struck again. At a demonstration outside Portsmouth Guildhall, apparently supported by the UK branch of Amnesty International, trans-rights protesters draped themselves in flags and carried placards featuring slogans such as 'suck my dick you transphobic cunt'.
The protest was against FiLiA, a feminist conference which describes itself as 'defending women's human rights'. FiLiA is an opportunity for women, many of them survivors of male violence, to talk about how to tackle issues such as sex trafficking, rape and domestic abuse. It bills itself as the largest annual grassroots feminist conference in Europe.
But FiLiA has been accused by trans-rights activists of platforming so-called TERFs – that is to say, people who believe that to address sexism one must first recognise biological sex. Those protesting the conference seemed unclear about what rights those who identify as transgender lack, or how assembling outside a feminist conference and harassing the women attending made them the good guys.
Indeed, according to reports from FiLiA attendees, protesters were attempting to drown out the speakers, including Ugandan lesbians speaking remotely from Kenya's notorious Kakuma refugee camp. To reiterate: a crowd of people who believe themselves to be left-wing and progressive carried placards inviting feminists to suck their genitals and attempted to drown out the voices of lesbian refugees from a camp where sexual assault and rape are commonplace.
It would be easy to dismiss those protesting at FiLiA as a bunch of misguided students, but their number included at least one local-council official. Councillor Claire Udy, who represents the 'Progressive Portsmouth People Group', helped to organise the protest. She claims that FiLiA 'puts the lives of our trans and non-binary friends in danger'. Over the weekend, the transgender flag was flown from Portsmouth City Council's office building in an apparent passive-aggressive dig at the FiLiA delegates and organisers.
More disturbingly still, many of the placards were produced by Amnesty International. A sign on the day even advertised the protest as an 'Official Amnesty International UK Protest Event'. Amnesty's slogans were not as fruity as some of those held by the nuttier activists. They simply read, 'I am who I say I am', with letters in the colours of the trans flag.
'I am who I say I am' sounds reasonable enough, until one considers what that means in practice. For example, according to the Crown Prosecution Service, 436 'women' were convicted of rape between 2012 and 2018. Given that, under UK law, rape is defined as a crime that can only be committed by a man using his penis, that means 436 male rapists have been recorded as female, because they say they feel they have a female gender identity.
To those who believe that people are who they say they are, each and every one of these male rapists deserves to be imprisoned in the female estate, and anyone questioning their identity is violating these 'women's' human rights. Such people seem less keen, however, on defending the rights of female prisoners now locked up with male rapists. Perhaps addressing the plight of female prisoners doesn't make for catchy slogans.
There is a certain irony in Amnesty believing itself to be an advocate for the rights of marginalised people while supporting the privileged brats who chose to picket a conference of grassroots feminist activists. Those attending the conference were women from all backgrounds, most with left-of-centre views. Speakers included those who have been persecuted for their feminist beliefs – that is, exactly the sort of women on whose behalf you might expect Amnesty to advocate.
At a time when women's rights are more at risk than ever, local councillors and organisations which pride themselves as advocates for human rights have sided with misogynist bullies. It seems that too many have forgotten that women's rights are human rights, too.
Jo Bartosch is a journalist campaigning for the rights of women and girls.
Picture by: Getty.
To enquire about republishing spiked's content, a right to reply or to request a correction, please contact the managing editor, Viv Regan.