Lebanon is in freefall
Blackouts, economic chaos and factional violence are becoming the norm.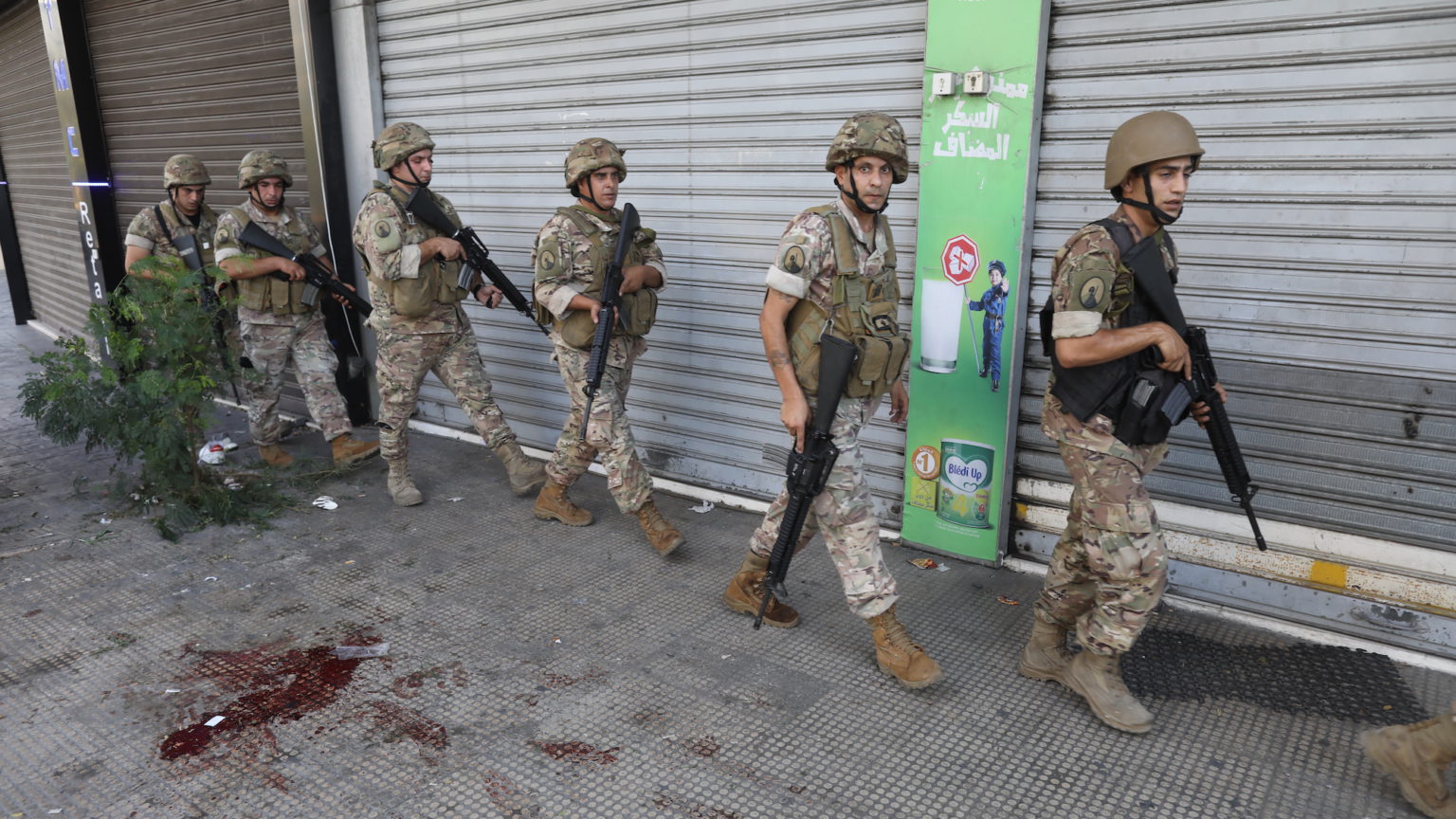 A firefight in Beirut last week claimed the lives of seven people and left hundreds more injured. The echoes of the civil war that wracked Lebanon between 1975 and 1990 are difficult to ignore – right down to the use of rooftop snipers.
This eruption of violence has roots that reach back at least to the devastating port explosion in Beirut last August, which left over 200 dead and parts of the Lebanese capital in ruins. It was Hezbollah leader Hassan Nasrallah's call for the dismissal of Tarek Bitar, the judge in charge of investigating the explosion, that prompted the recent armed protest. This protest was then fired upon by the as yet unidentified gunmen. Hezbollah and its supporters claim the gunmen were members of the Christian faction, the Lebanese Forces, but it has so far denied responsibility.
Why is Hezbollah, the dominant military and political force in Lebanon, so opposed to Bitar? Some have suggested he may have uncovered evidence implicating it in the port explosion. Others argue that it is because Bitar, to the surprise of many, seems intent on holding Lebanon's political class to account for its negligence in the storage of the ammonium nitrate that ignited last summer and devastated Beirut. That, some argue, is a threat to Hezbollah and its political arm, Amal.
So far Bitar has not targeted any past or present Hezbollah officials. But the very fact he has been prepared to interrogate former members of the government sets a precedent that challenges the immunity of Lebanon's political class as a whole. As one expert puts it, Bitar is throwing light on 'the really corrupt political and legal system that essentially shields these high-level officials from accountability'.
More worrying still for Hezbollah and its power-sharing rivals is the fact that Bitar's investigation is said to have popular support. And no wonder. For years Lebanon's corrupt ruling clique has effectively nurtured the economic crisis that now holds Lebanon in a vice-like grip. It grew an economy on credit, aid and overseas largesse – writ large in Lebanon's once heralded, much-inflated financial sector. Government officials lavished money on themselves through ever-increasing state expenditure, greasing the palms of their cronies, without ever feeling the need to provide the Lebanese people with decent public services. And when sources of credit finally dried up, as they did in 2019, the Lebanese state was unable to service a debt burden that was then worth more than 170 per cent of GDP.
In November 2019, the government, in an extraordinary act of desperation, even tried to raise funds by imposing a tax on people's use of WhatsApp. This prompted a wave of unprecedented, cross-sectarian protests, in which people demanded the overthrow of the entire political class – or as the cry at the time had it, 'All of them means all of them'. This anger is only likely to have intensified over the past two years.
Indeed, since 2019, Lebanon's economic descent has been horrifying. The Lebanese pound has now lost 90 per cent of its value, salaries are worthless and people's lifelong savings have evaporated. The World Bank says that Lebanon's financial crisis is set to be among the world's worst since the 1850s.
Everyday life is now a huge struggle for many. The United Nations estimates that 82 per cent of Lebanese people now live below the poverty line. Basic services have broken down – the national grid, such as it is, sometimes provides as little as two hours of electricity a day because fuel has become so expensive.
Many quite rightly hold Lebanon's self-perpetuating political classes responsible. They have lined their own and others' pockets while failing to invest in national infrastructure that is now on the point of disintegration. What's more, while the people suffer, their rulers live comfortably. For instance, Lebanon's new prime minister, Najib Mikati, and central-bank governor Riad Salameh are among the many Lebanese political and financial figures to have squirreled millions of dollars of wealth away in offshore tax havens, as revealed in this month's Pandora Papers.
But there is an international dimension to the conflict that is beginning to erupt in Lebanon. The United States and other Western allies have been pressuring Lebanon's government to conduct a thorough and transparent investigation into the port explosion as a condition for any International Monetary Fund bailout. Bitar's willingness to take on some ex-government officials is perhaps not as surprising as some have suggested. After all, Lebanon's political class in general depends for its survival on overseas aid – if Bitar's investigation secures it a financial lifeline, the sacrifice of a few ex-officials may be deemed worth it.
This may also help to explain Hezbollah's opposition to Bitar. Although part of Lebanon's ruling clique, Hezbollah is politically and financially backed by Iran. Bitar's investigation could allow greater Western involvement in Lebanon – for that is what an IMF bailout with political strings attached will amount to – and that is not in Iran's interests. After all, since Trump's abandonment of the Iran nuclear deal, the US is as antagonistic towards Iran as it has ever been.
Hezbollah has long presented Lebanon's economic meltdown as a product of the US's sanctions regime against, well, Hezbollah. Now it is championing itself and Iran as Lebanon's potential saviours. Last month it even organised the entry of an Iranian cavalcade of fuel tankers into Lebanon, in violation of US sanctions. But then that was the point. It was to show to the Lebanese people that the US is the source of their ills, stopping much needed fuel supplies from entering Lebanon. 'Let the government ask for a sanctions waiver and let the Lebanese companies go and buy [from Iran]', said Hezbollah leader Nasrallah at the time.
As it stands, Lebanon stands at a terrible impasse. The West is willing to bail out an endemically corrupt political class, providing it can show some semblance of efforts to reform itself. And this could push Hezbollah into more overt confrontation. In this context, the US's pledge of $47million in military aid to the Lebanese army looks more and more like a shot across Hezbollah's bows.
While Lebanon's internationally backed factions fight it out, the Lebanese continue to suffer. This is a man-made disaster in brutal slow-motion.
Tim Black is a spiked columnist.
Picture by: Getty.
To enquire about republishing spiked's content, a right to reply or to request a correction, please contact the managing editor, Viv Regan.