Denying David Amess the Last Rites was a dreadful decision
The police refused to allow a Catholic priest to purify Amess's soul. This is the inhumanity of bureaucracy.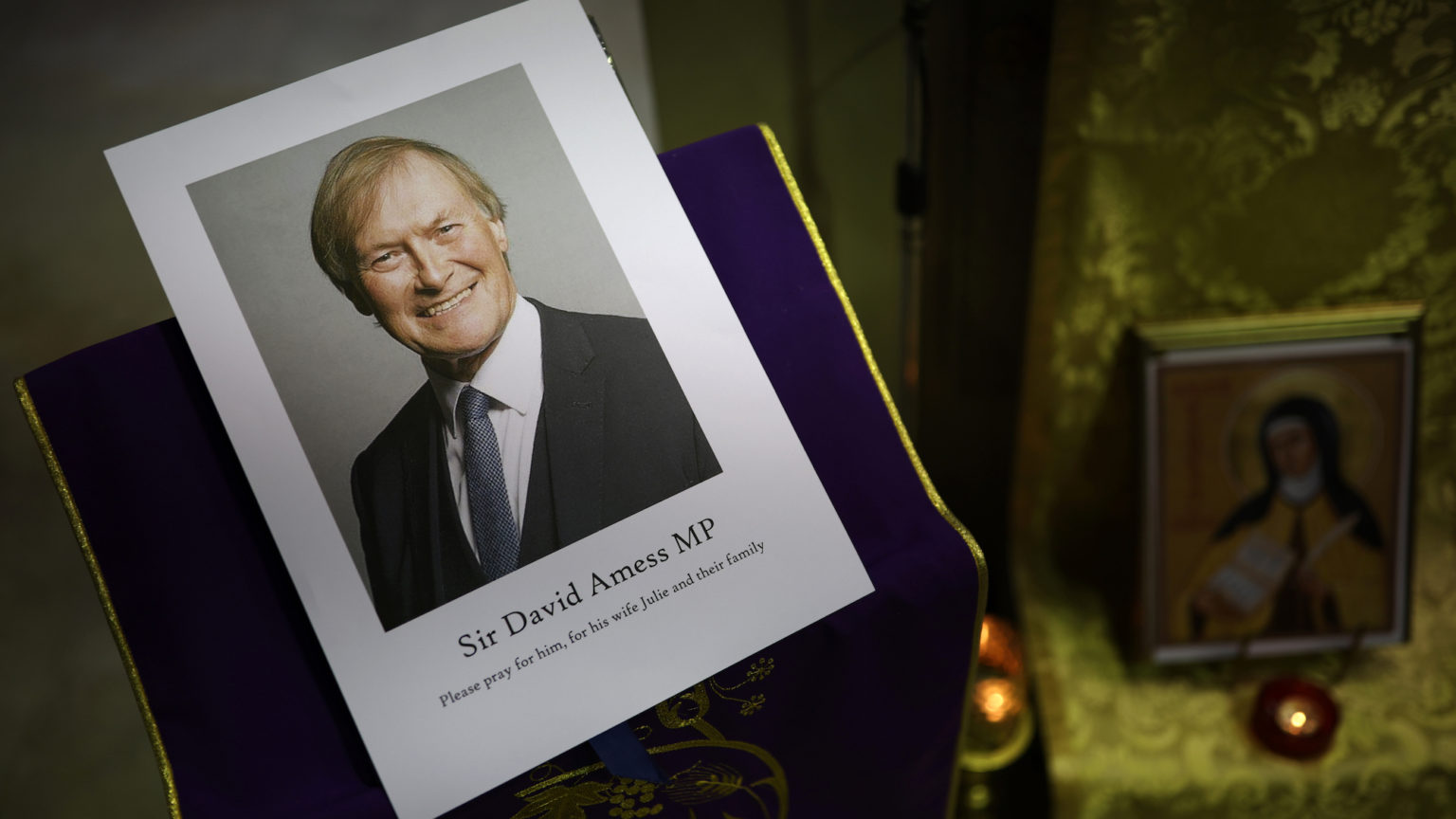 Everything about the murder of David Amess is grim. One detail feels particularly bleak. Amess, a devout Catholic, was denied the Last Rites. A Catholic priest and friend of Amess – Fr Jeff Woolnough – arrived at the scene in Leigh-on-Sea not long after the stabbing took place. He asked to be allowed through so that he could perform the Last Rites ritual. But the police said no. They later said it was important that they 'preserve the integrity of [the] crime scene'. The priest, with his holy oils and his plan to administer the sign of the cross to the dying man, was clearly judged to be a threat to that integrity.
This feels so wrong. It speaks to a staggering lack of religious literacy, or just of cultural sensitivity, on the part of the police and no doubt the broader bureaucracy of 21st-century Britain. 'A Catholic, when they're dying, would want a priest there, and for reasons that only the police know, I was not allowed in', Fr Woolnough told the PA news agency. He had been 'sort of expecting' that he would be waved through, 'to administer the oil of the sick'. But it wasn't to be. The rulebook took precedence over a dying man's spiritual needs. The preservation of every iota of criminal evidence apparently matters more than attending to a man's soul in the final moments of his life on Earth.
As if the killing of Amess wasn't horrific enough, he was then deprived of this ritual which, for a devout Catholic like him, is of the utmost spiritual importance. Non-Catholics might find it difficult to understand how significant the Last Rites are. This is the ritual that provides the final purification of a person's soul in order to prepare that person for entry into the Kingdom of Heaven. I have witnessed the administration of the Last Rites. It is profoundly moving. The dying person has his confession heard, is anointed with oil, and is invited to renew the promises made at his baptism. To a practising Catholic, it is the cleansing that eases his progress to heaven. It is desperately sad that Amess did not receive these rites before drawing his final breath.
No one denies that it was an incredibly difficult situation. Fr Woolnough himself says he respects the police's decision. The police guarding the scene as paramedics attended to Amess will have been under great strain. And yet this sorry, depressing affair does seem to tell a bigger story about the jobsworthian nature of modern Britain. Ours is a society in which the rules must always be rigidly enforced. In which no allowances may be made, no risks taken, no basic humanity exercised. Even when one of our fellow citizens faces serious physical or spiritual harm, still every box must be ticked before anyone is allowed to reach out to help them.
The end result is a society that feels stifled and indifferent. A society in which the fire service did not arrive at the scene of the Manchester Arena bombing in 2017 because 'risk-averse' police officers judged the area to be unsafe. A society in which a man can drown because firefighters were following health-and-safety rules that dictate when it is acceptable to enter water. And a society in which a dying Catholic is kept apart from a priest bearing the holy oils of the Last Rites just in case that priest were to touch or sully something. Back-covering has replaced the making of sensible moral judgements; abiding by the minutiae of every regulation has usurped the exercising of common sense and just plain decency.
There's another disquieting aspect to all of this. The modern British police are obsessed with being PC. They bang the drum of cultural diversity and LGBT inclusion morning, noon and night. They're super-concerned with using the right pronouns, and sometimes they'll even have a stern word with those who fail to do that. And yet they seemed, in this case, not to understand the cultural and spiritual importance of an age-old ritual that Catholics have been practising for centuries. It surely says something about our society that coppers know the words 'ze' and 'zir' but don't know how important the Last Rites are for a significant minority of the British population.
The police have become woke but morally clueless. They have embraced the shallow new religion of correct-think, which means they'll know exactly how to refer to a genderfluid crime victim but won't know what to do when a priest turns up to purify the soul of a man who is halfway between this world and the next one. It strikes me that evidence preservation wasn't the only factor in the decision made by police in Leigh-on-Sea – historical illiteracy, ignorance of religious needs and an embrace of an infantile form of 'cultural diversity' that actually knows little of culture no doubt also played a role in blocking the path of a priest to a man in the most dire need.
Brendan O'Neill is spiked's chief political writer and host of the spiked podcast, The Brendan O'Neill Show. Subscribe to the podcast here. And find Brendan on Instagram: @burntoakboy
Picture by: Getty.
To enquire about republishing spiked's content, a right to reply or to request a correction, please contact the managing editor, Viv Regan.