Rip up the Northern Ireland Protocol
The EU's compromises are good, but there's a bigger question: who rules the UK? Us or them?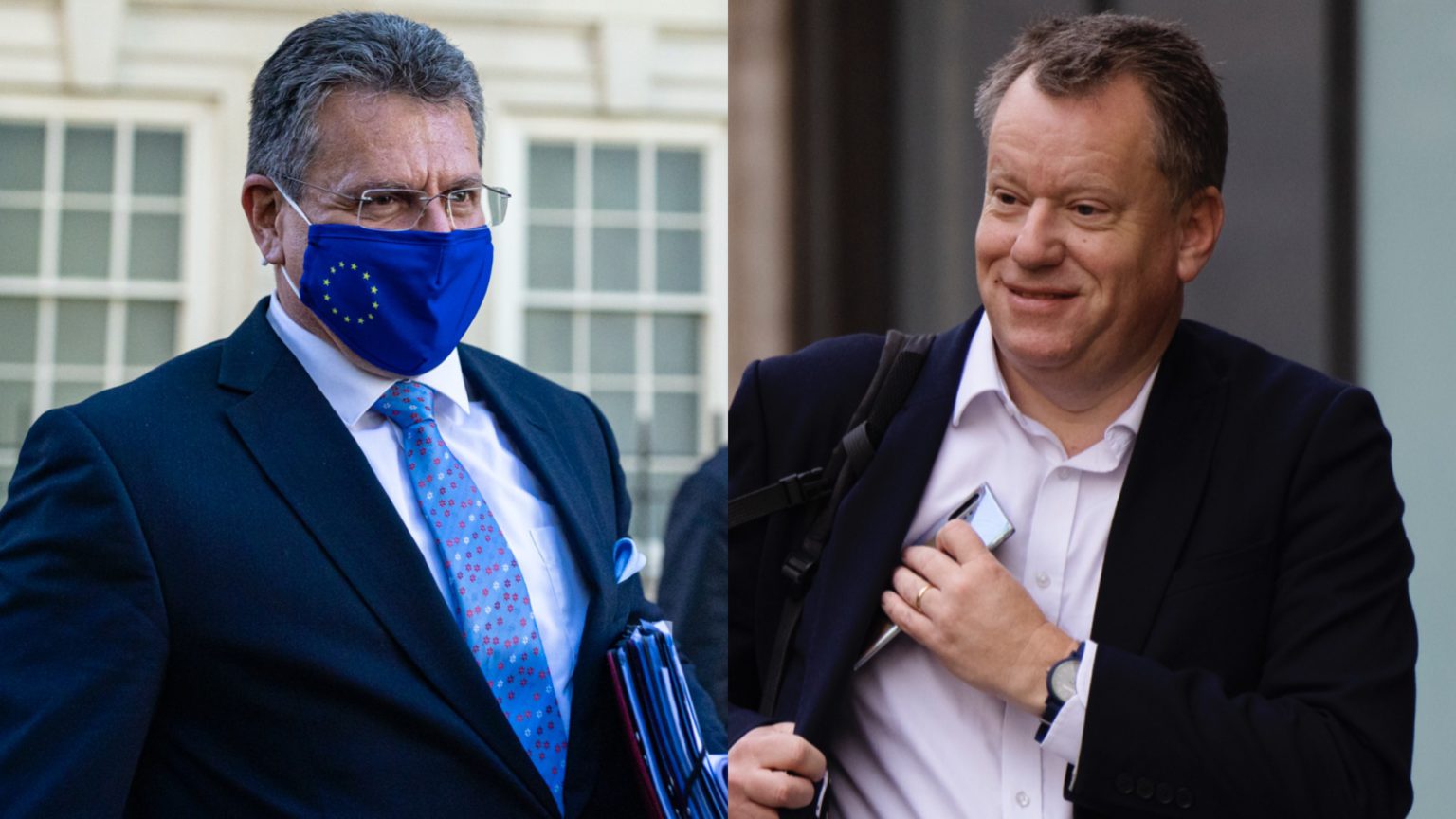 Are the Remainer elites ever right about anything? First, their campaign of Project Fear was exposed as stuff and nonsense. Then their claim that millions of decent folk would vote for 'rejoin' parties and candidates in the 2019 election evaporated into nothing. And now their stern insistence that the Northern Ireland Protocol is unchangeable, and pretty much undiscussable, has likewise been shattered by reality. It turns out that this supposedly pristine, irrefutable international treaty – the treaty that apparently only vile 'Brexshitters' would ever dream of interfering with – is negotiable after all. Another Remainer myth in the bin.
The Northern Ireland Protocol has long been the sticking point of Brexit. Since it came into force in early 2021, it has stoked tensions between London and Brussels and kept alive the clash between Britain's own Brexiteers and Remainers. Which isn't surprising. The protocol is, to my Brexiteer mind, an intolerable treaty. In the name of avoiding the creation of a 'hard border' on the island of Ireland, the protocol keeps Northern Ireland beholden to Single Market rules, in particular on product standards, and even to the jurisdiction of the European Court of Justice if a dispute over products were ever to emerge. In short, a part of the United Kingdom has essentially been siphoned off from the rest of the country on certain trade and legal matters, to keep Dublin and Brussels happy.
To those of us who believe in sovereignty and democracy, this was always unacceptable. In June 2016, 17.4million people – the largest electoral bloc in the history of this kingdom – voted to restore our sovereignty and independence against the unaccountable meddling of the EU elites. And yet, like a one-time colonial nation negotiating with its retreating imperial masters, the UK found itself agreeing to a form of partition, to the drawing of a trade border down the Irish Sea. The EU essentially said, 'Okay, you can leave – but not all of you', and our government, for reasons we will no doubt discuss for years, agreed.
Brexiteers recognised that the protocol represented an explicit weakening of British sovereignty. The simple, brutal fact is this – if any part of your nation is bound by rules and legal judgements drawn up by people you have no democratic command over, then you are not a truly free nation. If any part of your territory can be ruled over by a foreign court, then you are not properly sovereign. That's all there is to it. The Remainer elites, meanwhile, argued that the protocol was the perfect compromise, and that it would be catastrophic – especially for the people of Northern Ireland – if the protocol were ever to be reopened, renegotiated, rethought. It wasn't hard to see why Remainer agitators set so much store by the protocol. It wasn't, as their aching platitudes suggested, because they yearned for 'peace in Northern Ireland' or for 'respect for international law'. Rather, it was because they recognised what a thoroughly useful tool the protocol was for dampening down the thing that has terrified them for the entire post-2016 period – restored, re-energised, pleb-emboldened British sovereignty.
And yet it turns out that rethinking the protocol, tweaking it, loosening its hold on the flow of goods from Britain to Northern Ireland, is not the disaster these people warned it would be. It can be done. The UK, under the admirable guidance of Brexit minister Lord Frost, has successfully milked compromises from the infamously rigid EU. After much to and fro and discussion and argument, the EU has agreed to relax its neo-colonialist demands of Brexit Britain. Around 80 per cent of the checks on goods moving between Britain and Northern Ireland will be removed. There is even talk of setting up 'democratic institutions' to facilitate relations between Belfast and Brussels. (Though why Belfast, a part of the UK, should be 'democratically' engaging with Brussels, a foreign regime we the people have rejected, is very much up for discussion.)
'The EU has offered more than expected on Northern Ireland', even the super-Remain Sky News had to admit. So much for the idea that it was deranged and reckless, virtually a species of fascism, to suggest that an international treaty could be rethought. And yet even as us Brexiteers welcome the softening of bureaucracy across the Irish Sea, and even as we marvel at Remainers being wrong yet again, there are still questions to be asked. Prime among them is this: how did we arrive at a situation where we are meant to feel grateful that a foreign power has agreed to relax the rules of trade and transport within our own democratic borders? And there's this, too: what is the future for Anglo-Irish relations after this period in which Ireland was expressly and ruthlessly weaponised by the new empire – the EU – to try to hamper and emasculate democracy in the UK?
Lord Frost's speech in Lisbon, on Tuesday, contained many good and important points. One of the most pertinent was this: 'There is a widespread feeling in the UK that the EU did try to use Northern Ireland to encourage UK political forces to reverse the referendum result or at least to keep us closely aligned with the EU.' This is right. It seems pretty clear to many of us that Irish grievances were exaggerated and weaponised, both by Dublin and by Brussels, to the end of neutering Britain's radical, unexpected democratic ballot-box uprising against the EU. As an Irish-heritage person, little depresses me more than the Irish elites' willing, foolish subjugation of themselves to Brussels. From the Irish media to the Irish political class, there is a terrifying conformism to EU diktats and the EU ethos, and this meant that Dublin's chattering classes could be swiftly, easily marshalled by Brussels to the cynical, neo-imperial end of clipping the vote for Brexit, and clipping British democracy more broadly. Lord Frost was entirely right to raise the issue of the exploitation of one nation against another to secure the power of the aloof, uncaring EU.
And then there is the possibility that while the EU's compromises may have weakened the bureaucracy across the Irish Sea, they have left untouched the political principles that are at stake in all of this. It is good that certain products will be able to move more easily between Britain and Northern Ireland. That makes for an easier daily existence. But this isn't just about rules and regulations and technology and bureaucracy. It is also about sovereignty. And democracy. What does it matter that the people of Northern Ireland can get a sausage from Leeds a bit more easily, if the broader EU writ of elevating the needs of the Single Market over the democratic desires of the British people still holds? What's more important – an easy life for Brussels bureaucrats, or the fundamental right of the British people (all of us) to determine collectively how our affairs should be arranged?
I'm glad people and companies in Northern Ireland will endure less friction following the EU's compromises. Really, I am. But far deeper, more radical questions linger: Is Britain a democracy, or not? Do we rule ourselves – in our entirety – or not? Are we our own masters, or not? All of this remains unresolved. Technology is being fixed, but principle is not. And Lord Frost knows it. 'If populism means doing what people want – challenging a technocratic consensus – then I am all for it', he said in Lisbon. I couldn't agree more. The populist revolt of the vote for Brexit was a democratic kick in the eye to EU technocracy. And until that democratic revolt has been enacted fully, the EU will still be winning. The next step for the UK is as clear as it might be scary: Ditch the Northern Ireland Protocol. Rip it up. Allow the EU no say whatsoever over any part of our sovereign territory. We rule ourselves, and no other has a say – that's the spirit of 2016.
Brendan O'Neill is spiked's chief political writer and host of the spiked podcast, The Brendan O'Neill Show. Subscribe to the podcast here. And find Brendan on Instagram: @burntoakboy
Picture by: Getty.
To enquire about republishing spiked's content, a right to reply or to request a correction, please contact the managing editor, Viv Regan.