We need to hear less from Carrie Antoinette
The PM's wife is getting too big for her rented Jimmy Choos.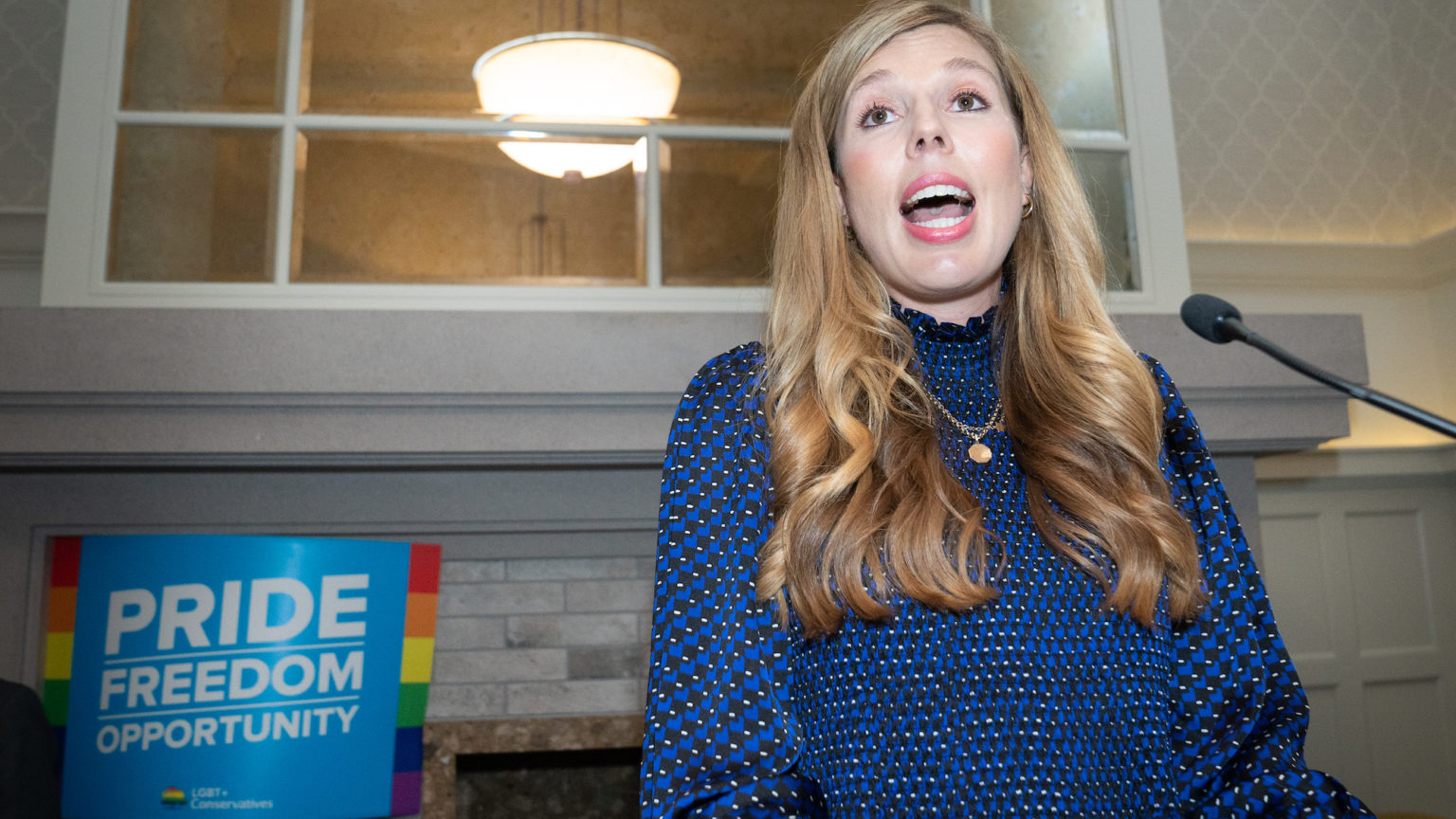 Anyone remember voting for Carrie Johnson? Any Red Wall inhabitants recall being canvassed by this West London New Tory, this granddaughter of a baron, this most plummy of political operators? Anyone recollect the Conservative Party in 2019's General Election not only saying that it would Get Brexit Done but also that it would permit an unelected PR person to stomp around Downing St (allegedly), dishing out 'advice'? I don't. Which is why I'm perplexed that every time I open a newspaper, there she is, Ms Johnson, telling us what she thinks and telling the party of government what it ought to do next. To use a British phrase I'm sure has never invaded Carrie's dainty ears: who are ya?
Boris's wife was back in the limelight yesterday after she gave a speech at the Conservative Party conference on LGBTQIAetcetc issues. It was at an event organised by Stonewall. Anyone who thinks this was accidental is off their rocker. Liz Truss – who, unlike Downing St's chief opinion-haver, is elected – had a tussle with Stonewall earlier this year. She encouraged government departments to pull out of Stonewall's Diversity Champions scheme, and she was dead right to. That scheme dolls itself up as simply an effort to promote LGBT acceptance in the workplace, but it looks to some of us more like a social re-engineering project, designed to reorder how the workforce thinks about sex and gender. In chumming up with Stonewall, Carrie was sending a message to the non-Carrie set in the Tories' inner sanctum: 'We're not on the same side in the culture war.'
Indeed, the whole Carrie-at-conference thing looked more like a party power grab than a traditional speech, more a stern statement to her fellow Tories than an address to the people beyond the conference. Her speech was pretty dull. It was all gay-friendly platitudes and praises for her hubby for once wearing a pink Stetson to Pride. Such fun! It was what wasn't said that was more interesting. In embracing transgender rights in particular, Ms Johnson was letting the anti-woke wing of the party know that she – the person closest to their leader, to the PM himself – is not on their side. As the Guardian aptly summed it up, Carrie's appearance at the LGBT event was 'significant', because the whole thing seemed to bristle, knowingly, against those Tories who have been accused of 'trying to initiate a "culture war" against trans people'. Carrie was essentially behaving as an emissary of wokeness, letting traditionalist Tories know they won't get their way.
It is no surprise that much of the coverage of Carrie's comments has focused on her adoption of the trans cause. It seems there is no upper-middle-class political pastime Ms Johnson hasn't thrown herself into: animal conservation, environmentalism, renting fancy clothes and shoes rather than buying them, and now genderfluidity. These are all this season's ideological must-haves among the high-status crowd. Being seen to indulge in trans-friendly chatter is as important to the west London millennials of the post-trad Tory Party as wearing the right pearls was to their 1950s predecessors. More importantly, the trans issue has become one of the key faultlines in the culture war. It speaks to deeper social tensions over sex, language and truth. Carrie has firmly placed herself – and, by extension, her court at Downing St – on the side that says sex can be changed, language can be rewritten to appease tiny numbers of trans activists, and truth is whatever we say it is.
This is where Ms Johnson's role starts to become problematic, democratically speaking. There isn't much we can be certain about when it comes to today's hollow, divided Tory Party. But we can be cast-iron sure that the voters did not thrust it into power so that it could pursue the petit-bourgeois identitarianism and environmentalism that pass for correct-think in certain circles. Those Red Wall voters who shifted en masse from Labour to Boris's Conservatives wanted a government that would take their concerns and their communities seriously, not a gaggle of posh girls and boys using the political power gifted to the Tories as a platform from which to pronounce their political virtue. There is something a tad nauseating about a daughter of privilege like Carrie riding the wave of millions of hopeful working-class votes to talk bollocks about gender and eco-fashion.
Carrie Antoinette, some call her. Or, less generously, Princess Nut Nut – that was apparently her nickname among Carrie-sceptics like Dominic Cummings in Downing St. She does seem to have a worrying amount of political influence over her husband. Witness his inability yesterday to give a straight answer to the question of whether it's right to say only women have cervixes. 'Biology is very important, but' – but! – 'we've had a system now in our country for many, many years in which people can change gender', he mumbled. I'm sorry, but if you can't answer GCSE-level questions about biology, why should we believe you can run a country as big and complex as the UK? Political and moral fissures are opening up between the Boris set and the working classes who generously, and temporarily, put it into power. And that is in no small part thanks to Carrie Antoinette and the impact she has on her famously flighty ideological chameleon of a husband.
Brendan O'Neill is spiked's chief political writer and host of the spiked podcast, The Brendan O'Neill Show. Subscribe to the podcast here. And find Brendan on Instagram: @burntoakboy
To enquire about republishing spiked's content, a right to reply or to request a correction, please contact the managing editor, Viv Regan.