Women's freedom is more important than your feelings
Disability activists have no right to intervene in women's pregnancies.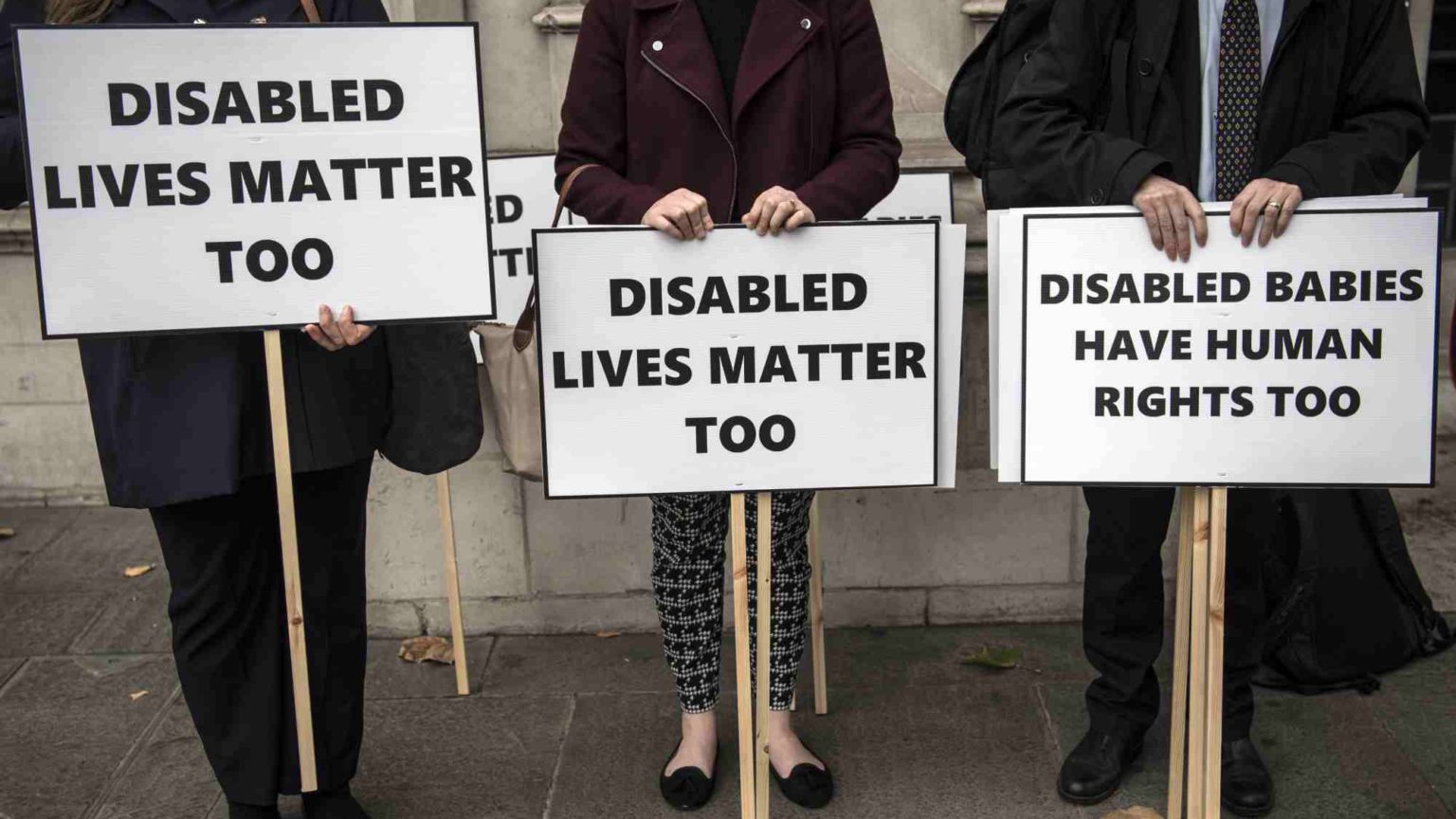 The High Court has this week upheld the right of women to access late-term abortions when the fetus is likely to have a disability.
In their legal challenge, Heidi Carter, who has Down's syndrome, and Máire Lea-Wilson, the mother of a toddler with Down's, argued that UK abortion law discriminates against disabled people. In most cases, abortion is only allowed within the first 24 weeks of pregancy. But when the fetus is disabled, the law allows for abotions to take place beyond that limit, up to birth. Carter and Lea-Wilson sought to ban this practice, citing the Equality Act, which lists disability as a 'protected characteristic' under UK law.
According to Carter and Lea-Wilson's campaign, their main issue with current abortion law is that it 'tells disabled people that their lives are of lesser value and not worth living' because they are not afforded 'the same protection given to everyone else while they are in the womb'. Their campaign points to a 2017 UN Convention on the Rights of Persons with Disabilities, which advised the UK government to 'amend its abortion law', arguing that 'women's rights to reproductive and sexual autonomy should be respected without legalising selective abortion on the ground of fetal deficiency'.
Thankfully, Lord Justice Singh and Mrs Justice Lieven of the High Court ruled that current abortion practice is not unlawfully discriminatory. They also stated that changes to abortion law should not be a matter for the courts, but for parliament, 'which can take account of different interests and viewpoints'. This ruling is good news.
As with all anti-choice activism, Carter and Lea-Wilson's concerns for the 'unborn' completely sideline the needs of pregnant women. The logical outcome of banning abortions in cases of disability is that a woman would be forced to carry a pregnancy to term – and in some instances to have a child that she either does not want or cannot support.
Carter and Lea-Wilson's campaigning goes even further than this. Both are also involved in a campaign called Don't Screen Us Out. This opposes the rollout of national pregnancy-screening programmes because, apparently, they 'have the effect of further reducing the number of babies born with Down's syndrome'.
Since 2018, the NHS has offered Non-Invasive Prenatal Screening Tests (NIPT) to prospective mothers. Most people welcomed the arrival of a less dangerous method of pregnancy screening. Previously, women had to rely on Amniocentesis testing, which can increase the risk of miscarriage. Plus, NIPTs can be performed at an earlier stage in a woman's pregnancy, giving women more time to consider their options if any problems are detected. Don't Screen Us Out claims that these 'screening programmes will have a profound long-term effect on the population of the Down's syndrome community'. Essentially it is arguing that if women are given more knowledge about their pregnancies, this will result in more abortions.
Above all, it is Carter and Lea-Wilson's claims that abortion law 'discriminates' against disabled people that needs to be challenged. In response to the High Court ruling, Carter tweeted: 'The judges might not think it discriminates against me, the government might not think it discriminates against me, but I am telling you I feel discriminated against.'
Essentially, the campaign rests on the absurd assumption that banning abortion in cases of fetal disability is the only way to make disabled people in society feel that they are valued. No doubt this sentiment takes its cue from the demands to criminalise speech to prevent emotional harm, or to remove statues that are perceived as offensive. But the suggestion that an individual's feelings trump women's rights to access an abortion – that feelings of offence should determine the future and freedom of a woman's life – is galling. Abortion campaigners are asking for millions of women to be prevented from making reasoned and rational decisions about their own bodies and futures. They are arguing that women should be forced to become mothers, to make campaigners like Carter and Lea-Wilson feel better.
Having lost in the High Court, Carter and Lea-Wilson are taking their case to appeal. With the legal battle set to rumble on, it's time pro-choice campaigners found their guts and called out this campaign for what it is – an attack on women's freedom. Of course a tolerant society should value disabled people as equals. But there is a very big difference between the public square and a woman's womb. In the public sphere, Carter and Lea-Wilson can voice their views and get a hearing. But when it comes to women making private decisions about their pregnancies, the feelings of activists do not and should not hold any sway. We cannot allow concerns about the feelings of disabled people, however well-meaning, to be weaponised against women's freedom.
To enquire about republishing spiked's content, a right to reply or to request a correction, please contact the managing editor, Viv Regan.