Who's really obsessed with statues?
The plan to move a statue of Thomas Guy due to his slavery connections is a waste of everyone's time.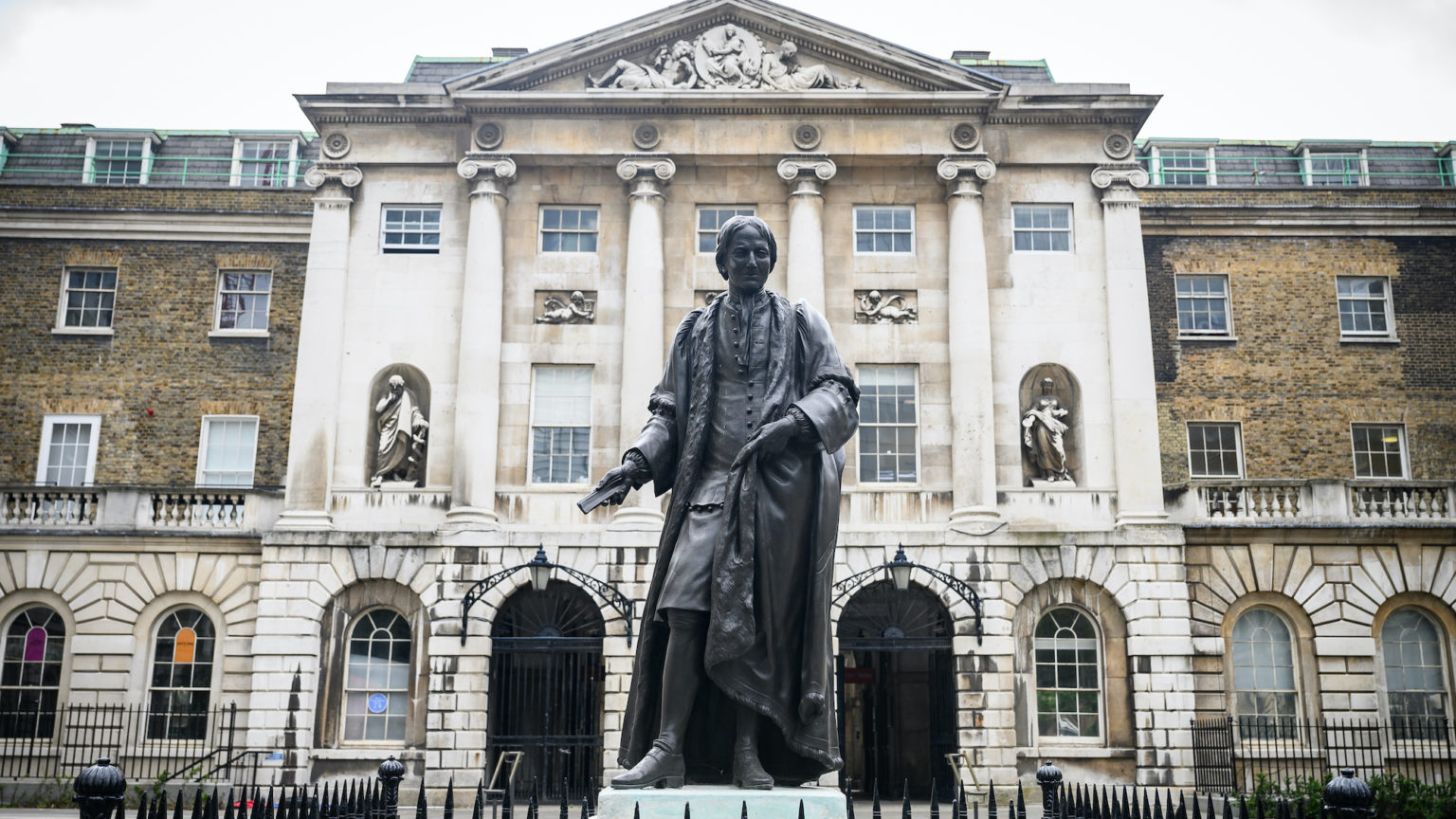 The culture war could be about to claim its latest inanimate victim.
The Guy's and St Thomas' Foundation announced last week that it wants to move its 300-year-old statue of Thomas Guy. The statue currently stands in the main courtyard of Guy's Hospital in London, but the foundation wants to shift it to a less prominent location in the area – all because Guy had links to the slave trade.
Guy was a businessman and member of parliament. He made a profit of £193,000 on his shares in the South Sea Company, which supplied slaves to South American plantations. He is better known to posterity for his philanthropy, however. When he died in 1724, he left over £200,000 to Guy's Hospital – the largest individual charitable donation of the era. Ten years later, his statue went up outside the hospital.
Fast forward to 2020 and the statue was boarded up during the Black Lives Matter protests. The foundation then pledged to consider the statue's future, along with that of a statue of philanthropist Robert Clayton. Clayton's statue is outside St Thomas' hospital, and he also had links to the slave trade.
In a public consultation that the foundation commissioned, 75 per cent of respondents said Guy's statue should stay put. But this has simply been overruled. Clayton's statue will remain where it is, since it is in a less prominent position. But the foundation will move Guy's statue – if it can.
It won't be straightforward. In order to move the Guy statue, the foundation will have to get planning permission, since the statue is listed. The foundation's own legal adviser says this is unlikely to be forthcoming, as ministers will probably intervene and force the decision to a court ruling. That would mean a legal fight.
One source at Guy's and St Thomas' NHS Foundation Trust – which is separate from the foundation itself – told The Times that the foundation is 'signing [itself] up for a ruinously expensive legal battle', which it knows it cannot win, 'just to show how woke' it is. Legal costs will no doubt impact on the charity's budget: 'Any money spent on this fool's endeavour can't be spent on improving patient care, which is what the charity was, of course, supposed to support.' How will the trust's donors feel about it pouring their money down the drain in a no-hope court battle?
Kieron Boyle, the foundation's chief executive, says he wants to ensure that the 'public realm surrounding [the] hospitals is welcoming to everyone'. But people using the hospitals are far more interested in their own welfare or that of a friend or family member than in Guy's connections to the slave trade. They reject the views that people like Guy held, of course, but his statue will not so much as enter the minds of most people who walk past it.
Part of the trust's remit, Boyle says, is 'tackling the health inequalities we see everyday affecting black communities'. But the campaign against the Guy statue has nothing to do with equality. Like the wider war on statues, this is about purging the present of anything that might conceivably make anyone uncomfortable. It's proactive, not reactive – and it ignores public opinion about whether the statue is actually offensive.
'Why are you so obsessed with statues?', culture warriors often ask, with faux bemusement, whenever one of these rows break out. But those of us bemused by this war on inanimate objects aren't obsessed with statues. Until recently, nobody gave a second thought to these centuries-old monuments. It is those who want to pull them down who are obsessed with trivialities.
So, why are people wasting time, energy and money trying to shift a lump of metal a few hundred feet down the road? The Guy's and St Thomas' Foundation needs to get its priorities straight – and leave Guy alone.
Paddy Hannam is editorial assistant at spiked. Follow him on Twitter: @paddyhannam.
To enquire about republishing spiked's content, a right to reply or to request a correction, please contact the managing editor, Viv Regan.