They're all Extinction Rebellion now
Politicians, technocrats and scientists have all signed up to an irrational green agenda.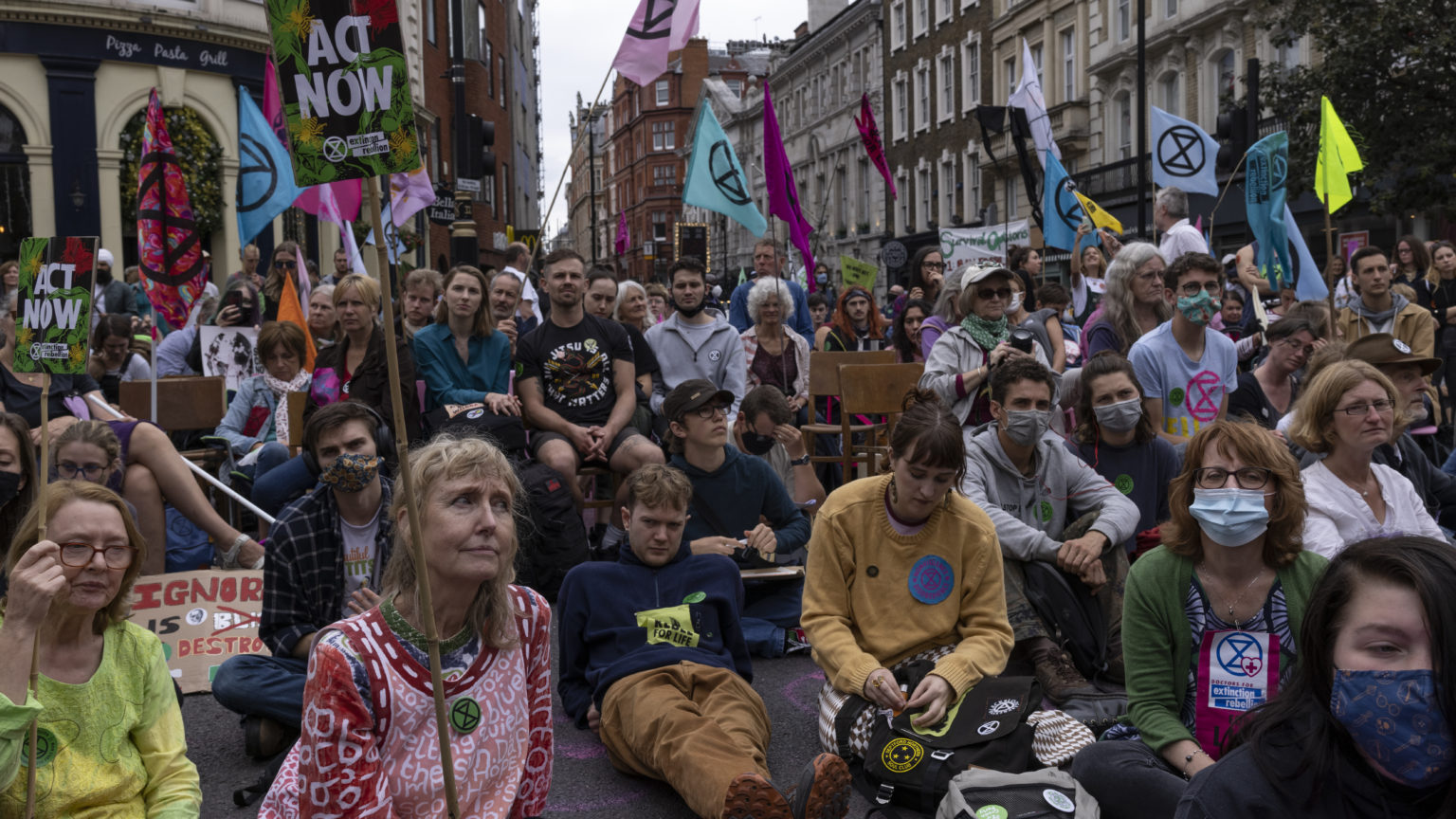 The Extinction Rebellion (XR) protests on London's streets are drawing to a close. As with its earlier protests, XR's trademark stunts these past two weeks have drawn vast amounts of coverage and comment. The mainstream debate has focused almost entirely on XR's tactics and the disruption they cause. XR's claims and its objectives, however, have never seriously been called into question.
The BBC's coverage epitomised this problem. The tone was set before the protests even began by a Newsnight non-debate, which asked: 'Is this form of mass action the best way to change policy?' An XR organiser claimed that 'disruptive protest does work', while the director of the Conservative Environment Network said that XR's tactics were 'counter-productive'. This minor quibble over tactics could not disguise the fact that establishment greens in the Tory Party and eco-protesters essentially want the same green outcome.
That a movement as weird and alarmist as XR is championing the green cause should be a fatal embarrassment to all green-leaning politicians and technocrats. XR's demand of Net Zero by 2025 is manifestly implausible and unreasonable. A world with XR in charge would more likely lead to civil war than green utopia. But environmentalism doesn't become any more sensible as you move from lunatic activists up through the ranks of the political establishment and scientific institutions.
If anything, things become more absurd the higher up you go. Take UN secretary-general António Guterres' declaration that the most recent IPCC report represented 'a code red for humanity'. This was an absurd statement that owed nothing to science. Then there's the absurd sight of world leaders prostrating before teenage truant Greta Thunberg. The UK parliament's virtue-signalling declaration of a 'climate emergency' was also an absurd spectacle. And its passing of a legally binding Net Zero target – setting the political agenda for the next 30 years, after just 90 minutes of non-debate – heaped absurdity on absurdity.
The foundational claim of the climate movement – namely, that civilisation depends on favourable and stable climate – simply does not stand up to scrutiny. In truth, civilisations have existed across a vast range of climatic circumstances, many of them 'extreme' in relative terms. Even in our age of climate change, society has never been less vulnerable to extreme weather or to any other challenge from nature. The industrialisation that is producing those much-hated greenhouse gases has led to a historically unprecedented expansion in human welfare that can be demonstrated by every single metric imaginable. The central proposition of climate advocacy is simply wrong.
But don't count on institutional science to correct this falsehood. Most scientists are either silent or are doing just as much to push the green view. Take the UK's chief scientific adviser, Patrick Vallance. He recently claimed that to tackle climate change 'transformation is required at every level of society'. Climate change, he argued, 'is a whole systems challenge. Tackling it will require a systemic approach.' You only need to wander over to your local XR protest to find exactly the same slogan – 'system change, not climate change' – on banners and t-shirts. Chief scientific advisers, UN secretary-generals, parliaments, governments and XR all talk vaguely of 'system change'. And when this proposed 'system change' is presented as a scientific imperative, it can avoid being subjected to serious debate or democratic scrutiny.
The weird phenomenon that is Extinction Rebellion is what you get when green ideology goes completely unopposed. But while these protesters might be annoying, they are not capable of inflicting as much harm on society as the establishment is. This is who we should be worried about. There is no more sense or rationality to be found in 'respectable' climate advocacy than there is in XR's street theatre.
To enquire about republishing spiked's content, a right to reply or to request a correction, please contact the managing editor, Viv Regan.