Extinction Rebellion doesn't care what you think
These supple-handed sons of privilege aren't remotely interested in winning over ordinary people.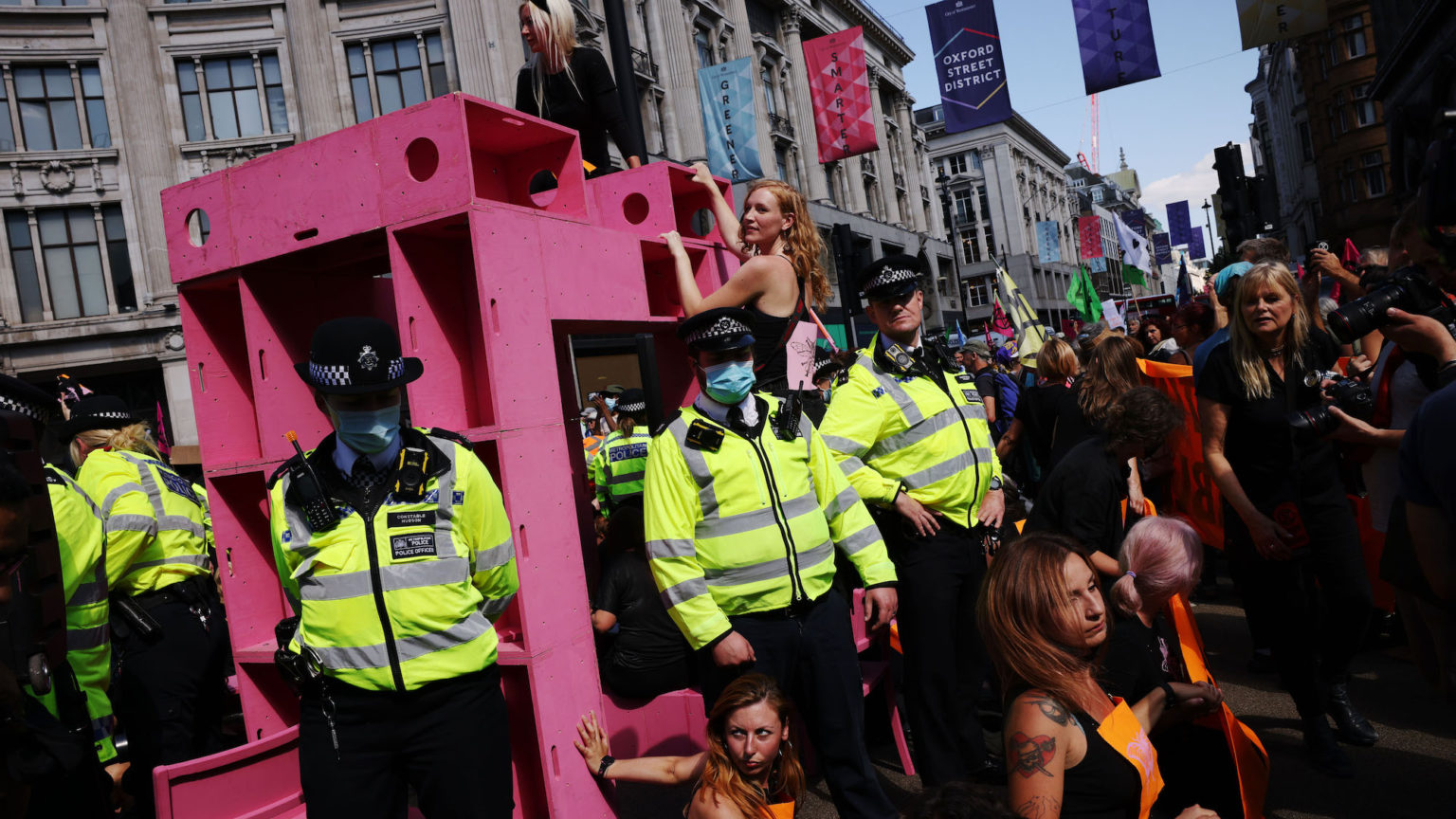 Say what you will about Extinction Rebellion, the ability of this environmentalist group to unite the British bourgeoisie is truly impressive. As XR took to the streets of London again yesterday – for the third day of a planned two weeks of protest and disruption – the white middle- and upper-classes of Britain were represented in all their diversity.
Many XR types are hippies and art-school students, somewhere between protesters and street performers, schooled in the modern arts-and-crafts of protest. (On Monday, they erected a giant pink table in Covent Garden for some reason.) But there's also always a few church types, even the odd vicar, and as many country folk as urbanites. Its celebrity endorsers range from atheist luvvie Stephen Fry to former archbishop of Canterbury Rowan Williams.
It is easy to lampoon Extinction Rebellion – and there's no 'but' coming here. It is piss easy. They are straight out of central casting. Everything you need to know about XR is that it was founded in Stroud, by a failed organic farmer turned PhD student who blames his crop failure on climate change, an academic who this week had to admit she still drives a diesel, and a non-binary descendent of a baronet. Everything else basically flows from there.
Here is a group so shot through with class privilege that even white and posh George Monbiot has said the group is too white and posh. Here is a movement so riddled with eco-hypocrites – people who say we must give up our cheap flights to Spain before jetting off to a psychedelics healing retreat in Costa Rica – that the new line from their media spokespeople is literally 'We're all hypocrites, right?'.
As political movements go, this one seems almost purposefully designed to alienate anyone who doesn't already agree with it. Especially London's working classes, who since XR began blocking bridges and occupying meat markets a few years ago have been bearing the brunt of its antics – sat in traffic or denied business because of these supple-handed sons of privilege. This all came to a glorious head at the Battle of Canning Town in October 2019, when east London commuters dragged two XR protesters off the roof of a Jubilee Line train, sending their banner and pony tail flying.
This class antagonism is precisely why XR could never dream of properly shutting down London, or anywhere else, Winter of Discontent style. For that they'd need support and strikes from the masses of workers – not just from graphic designers, artisan candlemakers and sections of the 'knowledge economy'. (Lockdown made painfully clear which workers are and aren't essential to the wheels of society turning.)
Time and again in recent days Extinction Rebellion activists have been asked if their actions risk alienating people who they need to win over. (Polls from the last time around suggest more than half of Brits disapprove of XR's tactics.) But this fundamentally misunderstands what this group is all about. It doesn't really care what ordinary people think. This is essentially just the cultural elite trying to shame the political elite into enforcing eco-austerity faster than the current timetable.
For all XR's radical pretensions, the government basically already agrees with it. Parliament declared a climate emergency – one of XR's key demands – in May 2019. The government is committed to reaching Net Zero carbon emissions by 2050. In the absence of viable, cheap alternatives to fossil fuels, the cost of this will be borne disproportionately by the working class. XR only differs in demanding that it should be done by 2025. Which no one believes is plausible.
Another part of this is almost spiritual. Whether or not these protesters succeed in their madcap aims, they are doing what any Good person should do and enjoying Being a Part of Something. The amdram theatrics that XR brings to the streets reminds us that, for much of the middle class, protest has become an elaborate form of self-expression, a way to distinguish yourself from the plebs and to act out a fantasy of radicalism.
It is a funny kind of radical who wants poor people to put up with less and doesn't really care what they have to say about it; that thinks society has, if anything, gone too far in trying to provide freedom and plenty for people. But whatever this is, there's nothing progressive about it. The forces of bourgeois reaction have just found a new, somewhat pungent home.
Tom Slater is deputy editor of spiked. Follow him on Twitter: @Tom_Slater_.
To enquire about republishing spiked's content, a right to reply or to request a correction, please contact the managing editor, Viv Regan.