Joe Biden and the American malaise
Biden's speech on Afghanistan was a craven attempt to put a positive spin on moral cowardice.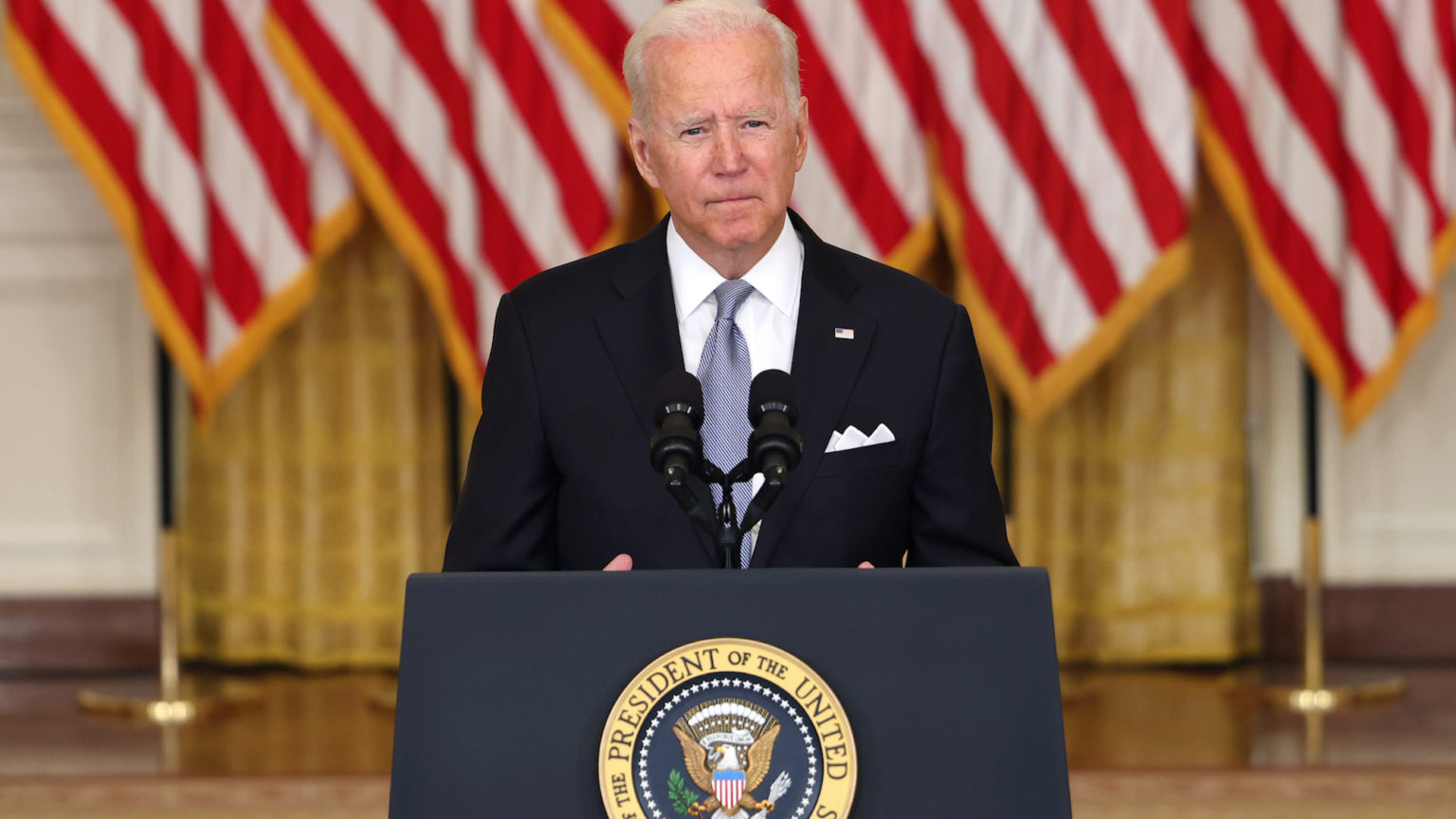 If you want to see how hollowed-out America has become in the 21st century, you could do worse than listen to the speech Joe Biden made about Afghanistan yesterday. This will surely be viewed by future generations as one of the key documents of America's modern malaise, as a blistering if unwitting insight into America's retreat into the cults of safeyism, isolationism and fear. It was an extraordinary speech, though not for the reasons its naive cheerleaders in the anti-war movement claim. It was not a principled statement of America's intention to wind down its regime-change wars, as they fantasise. Rather, it was a declaration of moral retreat, even of moral cowardice, cynically disguised as a clever act of political pragmatism.
It was remarkable to hear an American president speak like this. Following 20 years of American involvement in Afghanistan, trillions of dollars spent on so-called 'nation-building', and the creation of a new Afghan government and military that collapsed like a house of cards the minute the Taliban arrived in Kabul, Biden essentially said it's time to give up. This fight isn't worth it anymore, he insisted. 'How many American lives is it worth?', he asked. He was appealing, not to the principled belief that it is not for the United States to determine the affairs of other nations, but rather to people's feelings of moral exhaustion, to the weariness felt by sections of the media elite in particular towards any kind of firm action on the global stage. His call was not to an anti-war movement putting pressure on Washington to take its hands off Afghanistan – there has never been any such movement in relation to the Afghan venture – but rather to the moral fatigue of the elites, to their faint-hearted preference for isolation from the world's more intractable problems.
This is why Biden emphasised the apparently unacceptable toll that has been inflicted on American soldiers. 'How many more generations of America's daughters and sons would you have me send to fight Afghanistan's civil war…? How many endless rows of headstones at Arlington National Cemetery?' He was seeking to marshal the fear and defeatism of the new establishment, of the contemporary formers of elite consensus who prefer 'safe spaces' to risky missions and home comforts to wracking their minds over foreign calamities. He was calling, not for a big, national discussion of what America's role in the world should be, and whether it should really include intervening in countries like Afghanistan, but rather for America to make good on its culture of fear and trepidation by staying home and never putting Our Boys in harm's way.
His target was not Americans' willingness to think seriously about missions like the Afghan one and how it went so terribly wrong – it was Americans' sense of revulsion towards the ideas of sacrifice and death, their dislike of the images of flag-covered coffins coming back from faraway countries. 'Isn't it terrible when our soldiers die? Shouldn't we stop doing that?' – that is essentially what he was saying. The problem with this appeal to the contemporary turn against taking risks and making sacrifices is twofold. First, it utterly undermines the sacrifices already made by American military forces: 2,300 dead. Was that not worth it, Mr Biden? Will you tell their families that? And secondly, it grates against the virtues of courage and valour that may very well be required in the future, possibly in a mission that makes more sense than the Afghan one. Appealing to the decadent bourgeoisie's gated-community instincts is a recipe for disaster in a nation that will sometimes need to fight for its people and its values.
Biden is also being praised for calling out the notion of 'nation-building'. The Afghan mission was 'never supposed to have been [about] nation-building', he said. The mission should have been 'narrowly focused on counter-terrorism, not counterinsurgency or nation-building', he continued. Oh, now they tell us. The cheering of Biden for these comments, for apparently stating out loud that the US will stop trying to create new regimes in distant countries, is breathtakingly naive. It lets Biden and the rest of the American establishment off the hook for their dishonest insistence that America had successfully built a new nation in Afghanistan. As recently as last month Biden was saying it was 'highly unlikely' that the Taliban would take control of Afghanistan because, as Vanity Fair summed it up, 'the US had prepared government forces in the country'.
Biden went along with the transparently ridiculous myth that the US had helped to create a coherent government in Afghanistan, yet now he is praised for saying 'nation-building' is bullshit. Imagine if Trump had switched in the space of a few weeks from saying 'The New Afghanistan can handle the Taliban' to saying 'It was always a mistake to think we could have created a new government in that country, so let's now leave them to it'. The media would have not let up, not for a minute. Biden, however, gets a free pass. He can praise the new Afghan government and then weeks later laugh at the very idea of America building such governments, and the social-media crowd just laps it up.
It is a grave error for anti-war people to mistake the isolationism of the new elites for a positive objection to Western interference in other states' affairs, far less for a declaration of respect for the principle of national sovereignty. In truth, this desire to cut America off from the world and its problems is motored more by fear and the low goal of self-protection than by any meaningful or energetic engagement with the debates on sovereignty, intervention and the problem of global radical Islam. In a sense, the laptop bombardiers who are always calling for more wars and the isolationists who just want everyone to stay at home share something in common – they never want to put themselves in harm's way; they never want to take a risk for their beliefs. The laptop bombardiers want others to do it for them; the isolationists want nobody to do it, ever.
Wars are often a terrible mistake. The post-9/11 wars, as spiked has argued for 20 years, have led to many grave problems around the world. But the idea that war is never worth it is a problem too, and arguably a larger problem right now. As John Stuart Mill once said, 'War is an ugly thing, but not the ugliest of things: the decayed and degraded state of moral and patriotic feeling which thinks that nothing is worth a war, is much worse.' As of yesterday, we finally know what President Biden stands for – that decayed and degraded state that says let's never take a risk for what we believe is right.
Brendan O'Neill is editor of spiked and host of the spiked podcast, The Brendan O'Neill Show. Subscribe to the podcast here. And find Brendan on Instagram: @burntoakboy
To enquire about republishing spiked's content, a right to reply or to request a correction, please contact the managing editor, Viv Regan.