Oleanna: so much more than a #MeToo polemic
David Mamet's play is just as fascinating now as when it was first performed.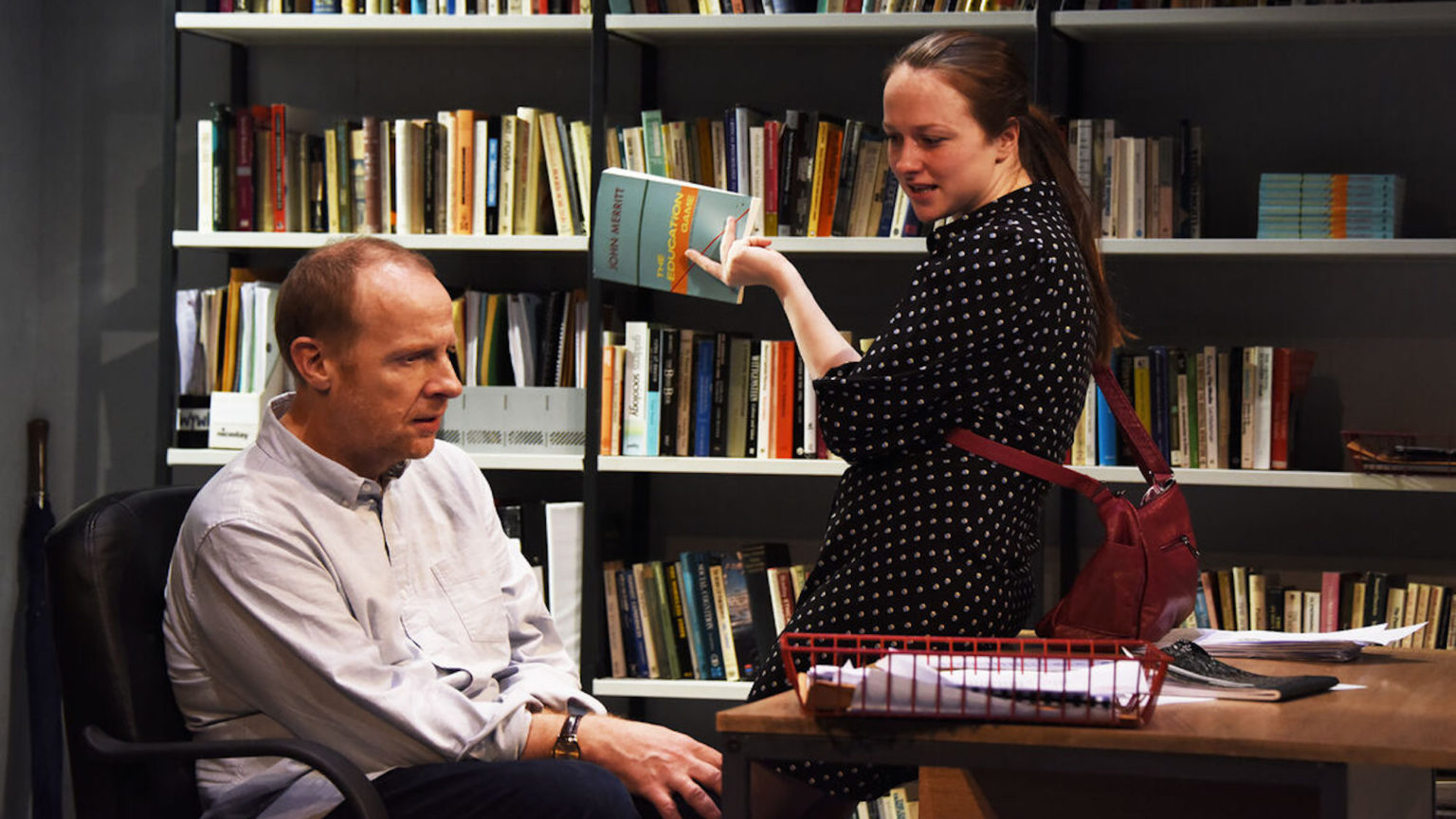 Why aren't more people celebrating the London revival of David Mamet's Oleanna?
It's about a university professor locked in a power struggle with one of his students after she accuses him of sexual misconduct. Directed by Lucy Bailey, famous for her controversial 2014 production of Titus Andronicus at the Globe, Oleanna transferred to the Arts Theatre in London's West End at the end of July, after opening to critical acclaim at the Theatre Royal Bath last December.
Oleanna was explosive when it premiered in 1992. Its portrayal of early campus cancel culture shocked audiences. It immediately gained a reputation for provoking walkouts and stand-up rows in the stalls. Mamet said that he feared someone would attempt to storm the footlights and attack the cast. 'I had never seen reactions like that in a theatre before', he later recalled in an interview. Critics saw the play as a right-wing polemic against political correctness. For the left, Mamet became a symbol of toxic masculinity.
Now, in the wake of the Harvey Weinstein scandal, attitudes towards the play have changed. This latest production is being billed by the theatre as a vindication of #MeToo. Has Bailey changed it or 'was the play's bias always in my head rather than Mamet's?', wonders a critic at The Times. The Evening Standard's critic says 'this production recognises the deeply embedded legacy' of misogyny in society.
Bailey has encouraged this interpretation. In an interview last month, she discussed shifting the presentation of the female character, Carol, from angry aggressor to righteous victim. 'I think we will respond to her in a different way now. They vilified her then. As women we know that anger', she said.
Bailey and Rosie Sheehy, the actor who plays Carol, discussed the play with a university women's officer. 'The officer was such a brilliant woman and we suddenly saw everything from her perspective – which was completely condemning', said Bailey.
Yet, contrary to expectations, Bailey has delivered a brilliant and finely balanced production. It is aided by a masterful performance from Jonathan Slinger as John, and a truly astonishing turn by Sheehy, who is at such a pitch by the final scene that she takes her curtain call still shaking, with tears rolling down her cheeks. There is no sense of flag-waving for either side of the culture wars.
That's partly because Mamet's script was never the polemic it was painted as. In truth, it is a masterpiece of subtle yet fiery writing. It has always had a penetrating insight not only into sexual politics, but also into the nature of education. It is a modern classic operating in the same territory as Arthur Miller's The Crucible and George Bernard Shaw's Pygmalion, and it firmly holds its own alongside them.
Oleanna also contains one of the most impassioned, emphatic portraits of the defence of academic freedom in contemporary theatre. When Carol presents her tutor, John, with the demand that his book must be banned and replaced with a list of alternative works approved by student activists, he replies:
'I want to tell you something. I'm a teacher. I am a teacher. Eh? It's my name on the door, and I teach the class, and that's what I do. I've got a book with my name on it. And my son will see that book someday. No, I'm sorry, I have a responsibility to myself, to my son, to my profession… You're dangerous, you're wrong and it's my job to say no to you. That's my job… You want to ban my book? Go to hell, and they can do whatever they want to me.'
Earlier in the play we learn that the book in question is concerned with what John calls the 'curse of modern education': teaching as 'hazing' and the 'virtual warehousing of the young'. But it makes little impression on Carol. She reads John's book and sits in class diligently making notes, while understanding nothing. She sees education as something that is done to her. When John tries to reveal an alternative vision of university to her, she regards it as a threat and suddenly erupts:
'No. No. There are people out there. People who came here… To be helped. To be helped. So someone would help them… "to get on in the world". How can I do that if I don't, if I fail? But I don't understand… I don't understand what anything means.'
Things aren't black and white. John also embodies the arrogance and paternalism of academia. He won't let Carol finish her sentences and, to him, everything is so much intellectual sport. He has forgotten how it felt 'to be a fuck up', and by the time Carol has reminded him the pair are lost in total miscommunication.
The play shows that if you take an axe to the teach-to-the-test system that has done so much to undermine education, the people caught up in that system will see it as a betrayal. You will become their enemy. Thus, to rid herself of her existential crisis, Carol turns towards the activist group and its intersectional critical theory. The activists' attempt to end John's tenure is marked by a sudden explosion of psychological and physical aggression. This wrenched a loud gasp from the audience at the performance.
Oleanna reveals what happens to education when ordinary speech and relationships are re-interpreted as matters of power, policed by authoritarian ideologues. It paints a vividly frightening picture in which violence seems an inevitable conclusion.
Unlike much of the contemporary debate on these issues, Oleanna takes the competing claims of both women and men seriously and in good faith, subjecting ideas like patriarchy and academic freedom to enquiry. And it never fails to keep human beings – with all their virtues and failings – centre stage.
Gareth Sturdy is a physics adviser and former teacher.
Oleanna is at the Arts Theatre until 23 October.
Picture by: Arts Theatre.
To enquire about republishing spiked's content, a right to reply or to request a correction, please contact the managing editor, Viv Regan.