What the IPCC climate report doesn't tell you
Humans have never been more safe from the impact of extreme weather than they are today.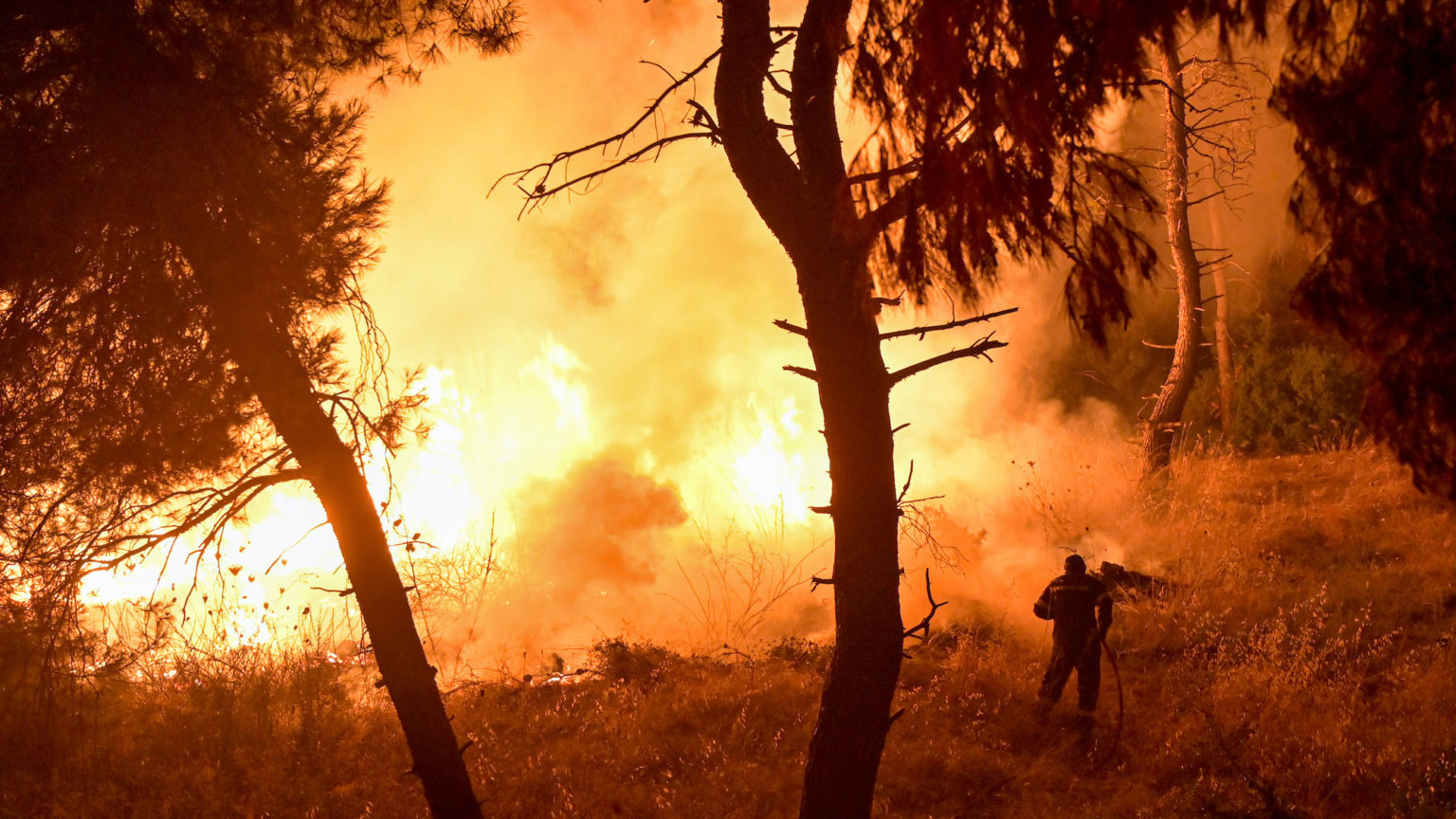 Today, the UN Intergovernmental Panel on Climate Change (IPCC) released the first tranche of its Sixth Assessment Report (AR6). This report, focusing on the 'physical science basis' of climate change, will be followed by other reports on 'adaptation and vulnerability' and climate-change mitigation early next year. Meanwhile, the publication today has ignited predictably excited commentary from politicians, activists and environmental journalists, who all hope that AR6 will refocus world leaders' attention on the upcoming COP26 climate meeting later this year.
This is the IPCC's first Assessment Report for some time, and the coverage has been typically alarmist. 'IPCC report's verdict on climate crimes of humanity: guilty as hell', claims the Guardian. 'IPCC report is "code red for humanity"', claims the BBC. The UK's chief scientific adviser, Patrick Vallance, fresh from saving the country from Covid, has proclaimed that the new report 'makes plain that our goal should be to drastically reduce global temperature rises'.
This is exactly what the great and good said when AR5 and AR4 were published, too. But does the report make any statements that can support such political hyperbole? The main body of AR6 is 3,949 pages long. It is full of dry, technical detail and discussion. It is an unwieldy attempt to distil the available scientific literature on a range of subject areas to establish the strength of scientific evidence and analysis.
For this reason, each of the IPCC's reports consist of three parts. The one receiving the most attention, as always, is the Summary for Policymakers (SPM) – a 40-page digest of the longer analysis. As we would expect from an 'intergovernmental' organisation (the clue is in the name), the SPM is a political document. The IPCC's authors are chosen by governments. The SPM itself is authored according to governments' needs and has to be signed off by them as well.
The only novel information that AR6 contains is a change in methodology over earlier editions. In order to communicate better to policymakers what IPCC authors believe about climate change, the IPCC constructs storylines, representing different scenarios. In AR5, these were known as 'Representative Concentration Pathways' (RCPs). In AR6, RCPs are replaced by 'Shared Socio-economic Pathways' (SSPs), which in turn drive projections of the Earth's temperature and its consequences. As the following graphic from AR6 shows, the most 'optimistic' SSP depicts negative CO2 emissions (ie, the removal of CO2 from the atmosphere), whereas the most alarmist SSP depicts emissions rising three-fold.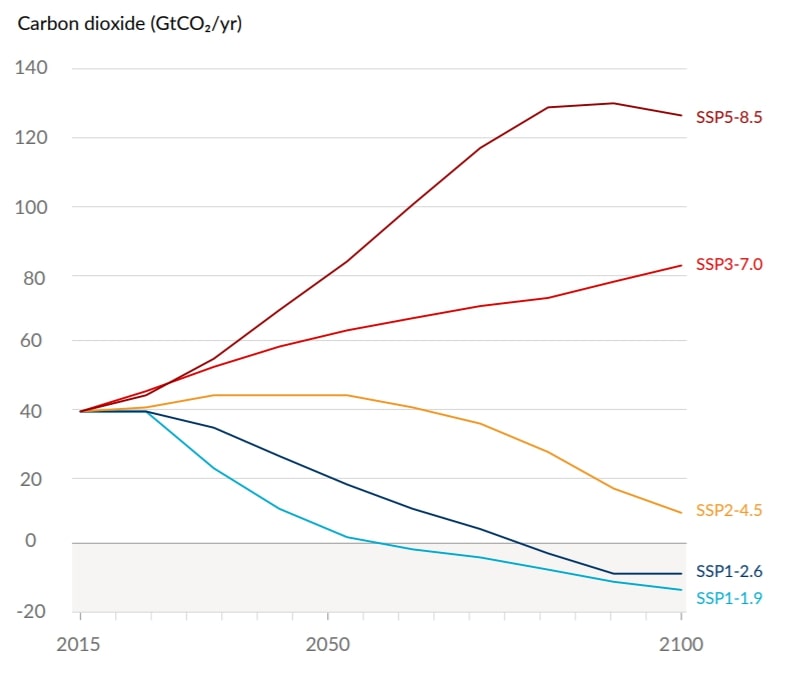 The IPCC claims that it is 'neutral with regard to the assumptions underlying the SSPs' – that is, that it attaches no probability to any particular projection. And so policymakers must make a distinction between projection and prediction. But in practice, this distinction is very easily forgotten. Worst-case scenarios are what end up being presented to the public as scientific fact.
As research on AR5 has revealed, the most extreme scenario used by the IPCC then also happened to be the least plausible. Nevertheless, it drove by far the most debate (both political and scientific) compared to all the other scenarios offered by AR5. In presenting these scenarios, the IPCC arguably enabled alarmist interpretations of climate science to overwhelm objective and rational debate.
In the case of AR5, the most alarmist scenario implied a 600 per cent rise in per-capita coal consumption, while CO2 concentrations were projected to rise to five times their current level. Such claims have no real-world basis. Even one of the authors of this scenario has said that it was 'never meant to be a business-as-usual scenario' – ie, one that could tell us what could realistically happen.
Alarmist scenarios, rather than more plausible projections, are therefore driving policymaking. The IPCC and institutional science more broadly have done very little to address this problem. The worst-case scenario offered by AR6 makes arguably even less plausible projections than the worst-case scenarios of AR5. But these scenarios are still being treated as likely outcomes, and they will continue to be.
The dizzying hyperbole coming from even the most 'trustworthy' sources today owes nothing to concrete science. Most claims that are made about the climate are vague, value-laden statements. Announcing the publication of AR6 at a press conference, Inger Andersen, UN Environment Programme executive director, declared that 'climate change is a problem that is here, now. Nobody is safe. And it is getting worse faster.' These are words that belong in the Guardian. They should not be coming from an organisation that claims to represent humanity's interests.
In the wake of today's IPCC publication, we are now hearing claims that extreme weather can be 'unequivocally' linked to anthropogenic climate change, and that the 'risks' of extreme weather have increased. But projections about the changing climate tell us nothing about how safe we will be in future.
The key fact that is missing from the discussion, as countless analyses from independent researchers demonstrate, is that vastly fewer people in the world now die from extreme weather than at any point in history. Moreover, people live significantly longer, wealthier and healthier lives today than even just a few decades ago. That progress is owed to economic development. It is wealth, not weather, that determines human outcomes. We should therefore be extremely suspicious of any attempt to argue otherwise – that our past, present or future was or is dependent on 'stable' or favourable climate.
To the extent that the IPCC has detected 'risks' of extreme weather increasing in the future, these risk calculations are not owed to any real-world, empirical measurement. As such, AR6 represents the IPCC taking another step away from reality.
Ben Pile blogs at Climate Resistance.
To enquire about republishing spiked's content, a right to reply or to request a correction, please contact the managing editor, Viv Regan.