Do we really need to be protected from 'Allo 'Allo?
Yet another much-loved sitcom has been slapped with a content warning.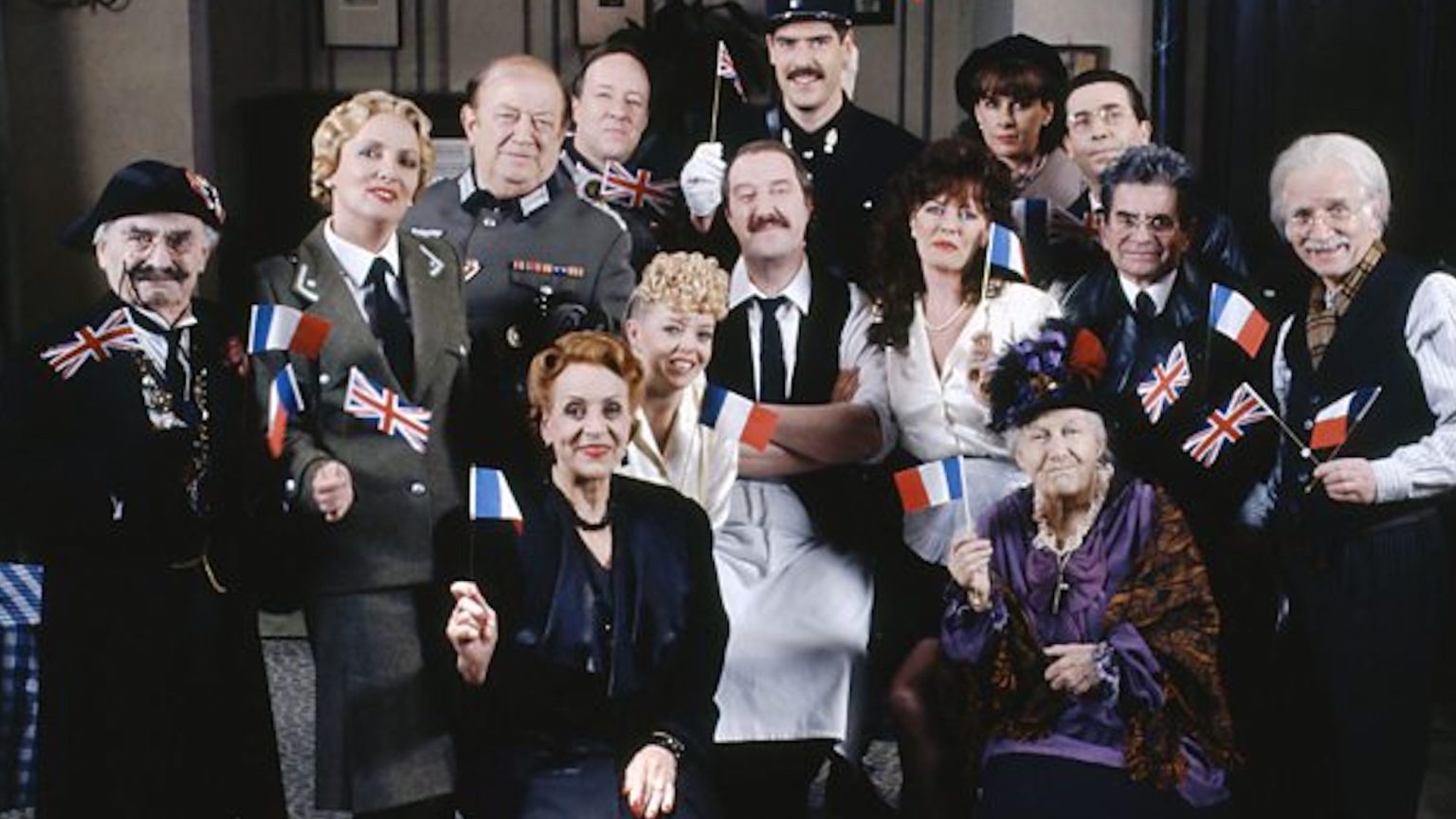 'Allo 'Allo! is on the watchlist. Jeremy Lloyd and David Croft's delightfully daft 1980s farce, centred on the wartime antics of Rene Artois, a reluctant Resistance hero and unlikely sex symbol who runs a café in occupied France, has been slapped with a content warning by streaming service BritBox. It joins a prestigious list of much-loved British comedies now insulted with trigger warnings, including Dad's Army, Fawlty Towers and Blackadder. It seems that the very idea of comedy itself is now considered, by a minority of executives responding to a minority of activists, as somehow dangerous.
I refuse to believe anyone is actually upset by 'Allo 'Allo!. The characters are absurd stereotypes, and the breezy, camp scripts are suffused with wordplay, smut, explosions and ridiculous costumes. This is perfectly calibrated stage farce, turbocharged for television. The catchphrases have entered common circulation, from 'Good moaning' to 'Listen very carefully, I shall say this only once'. As has the central MacGuffin, a painting of The Fallen Madonna with the Big Boobies, which the characters tirelessly pursue – stealing it, forging it and disguising it in knockwurst sausages (complete with little swastikas on the side). 'I used to ring my secretary', co-writer and producer David Croft once said, 'and ask her where the damn sausage was this week'.
It's the type of show you have to buy into to enjoy. There is no political proselytising here, and the content, with its wide demographic appeal, does not stand up to cynical graduate analysis. But to suggest this programme is deeply offensive is ridiculous. As it happens German and French audiences also enjoy 'Allo 'Allo!.
Some argue that we should just brush off these content warnings. But to accept that a sitcom like 'Allo 'Allo! should have a warning in front of it is to accept that it may contain something potentially nasty or corrupting that needs to be flagged.
It is concerning that this kind of broad, populist content is being fenced off. We are getting to the stage where daft comedy – the kind of colourful, playful entertainment often associated with that most nebulous of constructs, 'the British sense of humour' – is off limits. We are saying that comedy itself is outdated – that we cannot have these kind of shows again, because somebody somewhere might be upset.
This makes very little sense, either for audiences or the commercial interests of programme makers. Traditional sitcoms have always netted big audiences, and still do, either in repeats or on the rare occasions we still make them. And they do great international business, too. In the same way that pantomime has always kept theatres afloat (pre-Covid, at least), for many years it was sitcoms which kept the BBC afloat. When people talk about their most-loved characters, they will talk about Basil Fawlty from Fawlty Towers, Captain Mainwaring from Dad's Army and Del Boy from Only Fools and Horses. They will remember Mrs Slocombe's pussy and smile; Victor Meldrew roaring 'I don't believe it!'; Hyacinth Bucket – pronounced 'Bouquet' – terrorising her forlorn neighbour Liz into making a mess with her coffee yet again.
What we need here is creative freedom. I think I was extremely lucky to benefit from the cultural and artistic liberalisation which began in the mid-20th century and, for a few glorious decades, allowed us to enjoy the traditional alongside the avant garde. This freed up creatives to pursue their visions away from the beady eyes of one-time state censor, the Lord Chamberlain's Office. We seem to have come full circle.
It's time to rediscover our commitment to liberalism. The censors should take their hands off The Fallen Madonna. And her big boobies.
Tim Dawson is a writer and journalist. Follow him on twitter @Tim_R_Dawson.
To enquire about republishing spiked's content, a right to reply or to request a correction, please contact the managing editor, Viv Regan.