What the 2011 riots revealed about our nation
That anti-social mayhem was a symptom of a deeper crisis of moral authority.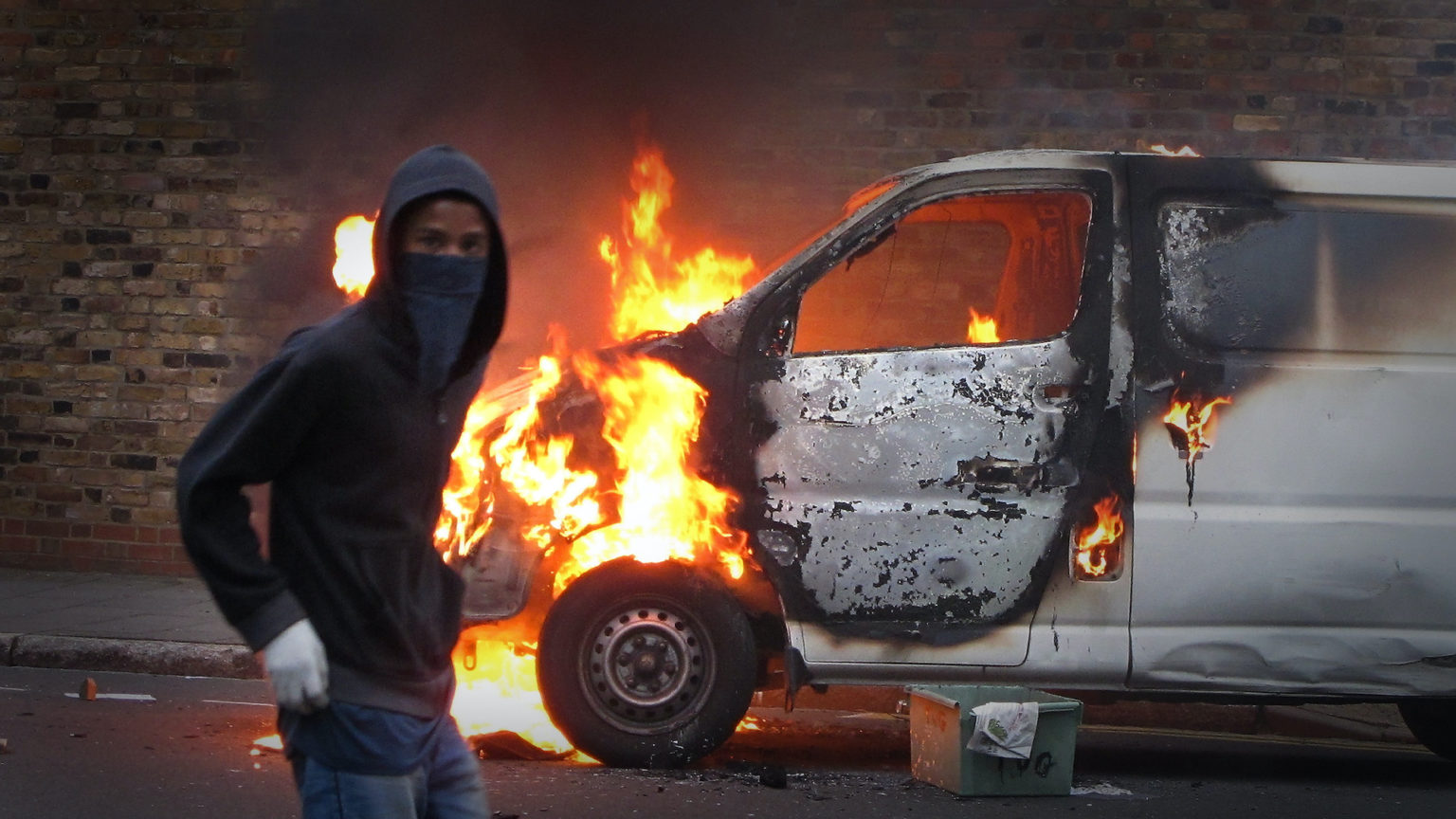 It was a decade ago this week that riots erupted in London and other English towns and cities. In the years since, academic commentators and professional observers have routinely predicted that similar outbursts of violence and looting will occur again. Last week it was the turn of the Guardian, which ran a feature titled: 'The conditions that led to the 2011 riots still exist today, experts warn.'
Such pieces give the deterministic impression that certain social conditions almost inevitably lead to rioting and looting. From this simplistic perspective, otherwise normal – or at least normally dissatisfied – people can be converted into rioters and looters by the conditions they find themselves in. Typically, experts highlight conditions such as poverty, racial discrimination and police harassment. The implication is that if these conditions did not exist, there would be little point in rioting.
Blaming socioeconomic conditions for the eruption of mindless violence and looting is now common. This explanation competes with an alternative view – what some social scientists call the riff-raff theory of rioting. Historically, riff-raff theories pointed the finger of blame at the criminally minded – at depraved and greedy individuals who get a kick out of provoking violence and civil disturbance. It was often claimed that rioters were motivated by greed and jealousy. In recent years, this view has reappeared too, in the claim that looters have been influenced and impacted upon by the culture of consumerism.
These competing explanations have shaped the way the 2011 riots are remembered. Rioting is now perceived either as a response to intolerable conditions or as the fault of bad people. Both of these explanations fail to face up to the deeper problems that have helped to nurture violent and destructive behaviour. Back in 2011, I wrote that 'British society finds it hard to acknowledge the scale of the social and moral disintegration of many of its communities'. Since 2011, the reluctance to face up to the issues raised by the London riots has, if anything, intensified.
In 2011, there was a striking unwillingness on the part of the British cultural establishment even to refer to the London riots as riots. At the outset, the BBC referred to the London rioters as 'protesters'. The use of this word was significant – it consciously framed the disturbances and looting as essentially a political manifestation of anger. At the very least, the language adopted by the BBC and others communicated a neutral tone, one that sought to avoid moral condemnation of the disturbances.
After a storm of criticism the BBC changed tack. Fran Unsworth, then the BBC's head of newsgathering, gave a reluctant semi-apology: 'I think it was probably okay [to use the term protesters] on Saturday, when the whole incident started off in a peaceful protest in Tottenham… But since then, I don't think we should have been using "protesters". Clearly they are looters and rioters and that's how we should have been describing them.' Unsworth said she and her colleagues were trying not to be 'too prescriptive'; that's why they initially avoided the term 'riots'. What she was really saying here was that the BBC did not wish to frame the so-called protests in a negative light.
Since 2011, the Western media have responded in this same fashion to various outbursts of violence and looting. This was evident during the Black Lives Matter disturbances in 2020. Disturbances in the US and the UK were referred to as 'BLM protests', even in cases that involved looting and rioting.
In effect, some sections of the American media helped to sanitise the looting. Craig Melvin, an MSNBC host and co-anchor of the Today show, tweeted: 'While the situation on the ground in Minneapolis is fluid, and there has been violence, it is most accurate at this time to describe what is happening there as protests – not riots.'
Matthew Clair, an assistant professor of sociology at Stanford University, tried to put a positive spin on the looting. He told Time magazine that the negative framing of looting was essentially motivated by racism. Apparently, 'the term is racialised and is often used to condemn political acts that threaten white supremacy and racial capitalism'.
This reluctance to call a riot a riot, or to admit that looting is a sick act of anti-social behaviour, represents a fundamental break from how these events would have been interpreted in the past. Until fairly recently, looting was viewed as a symptom of community decay. It was condemned as destructive and anti-social behaviour. Even those who were sympathetic to the struggles of the people engaged in riots would stop short of supporting looting. Today, things are very different. Some in the cultural elites are not only concerned with trying to explain why rioting and looting sometimes take place – they also extol the virtues of such behaviour.
This shifting response to riots and disorder is significant. It reflects a collapse of moral judgment and a wider loss of moral authority across the Anglo-American world. One important consequence of this is the moral disorientation of community life. In the absence of an authoritative account of what is right and what is wrong, the bonds that hold a community together begin to disintegrate. The consequences of this were evident during the 2011 riots, when rioters committed violent and senseless acts against the infrastructure and buildings of their own communities.
This erosion of moral authority goes hand in hand with other worrying developments. The loss of parental authority and the social distancing between generations means that, even if they are so inclined, adults feel less able to contain the anti-social behaviour of young people. Without adult authority, community control over the behaviour of the young loses its force. That is why, in many parts of England in 2011, adults stood helpless as young rioters casually looted shops in their neighbourhood.
The media response in 2011 was one thing. Even worse was the police response. In some instances the police literally left the streets in order to avoid confronting rioters. For a variety of reasons, the police have become averse to confronting the participants in public disturbances. Rioters and would-be rioters have come to believe, rightly, that the police lack the wherewithal to take control of violent situations.
This is all the inexorable outcome of society's reluctance to tackle the crisis of moral authority. The tendency to avoid being 'prescriptive', as Unsworth put it – that is, to avoid taking a moral stance – means society lacks a language with which to make sense of events like the London riots of 2011. Confronting today's all-pervasive mood of senselessness is the precondition for repairing community solidarity. Developing a contemporary account of moral authority is the first step towards recognising what is to be done.
Frank Furedi's latest book Democracy Under Siege: Don't let Them Lock It Down is published by Zer0 Books.
To enquire about republishing spiked's content, a right to reply or to request a correction, please contact the managing editor, Viv Regan.