The worrying rise of anti-vaxxers
In the US, Republicans who should know better are stirring up suspicion of the Covid vaccine.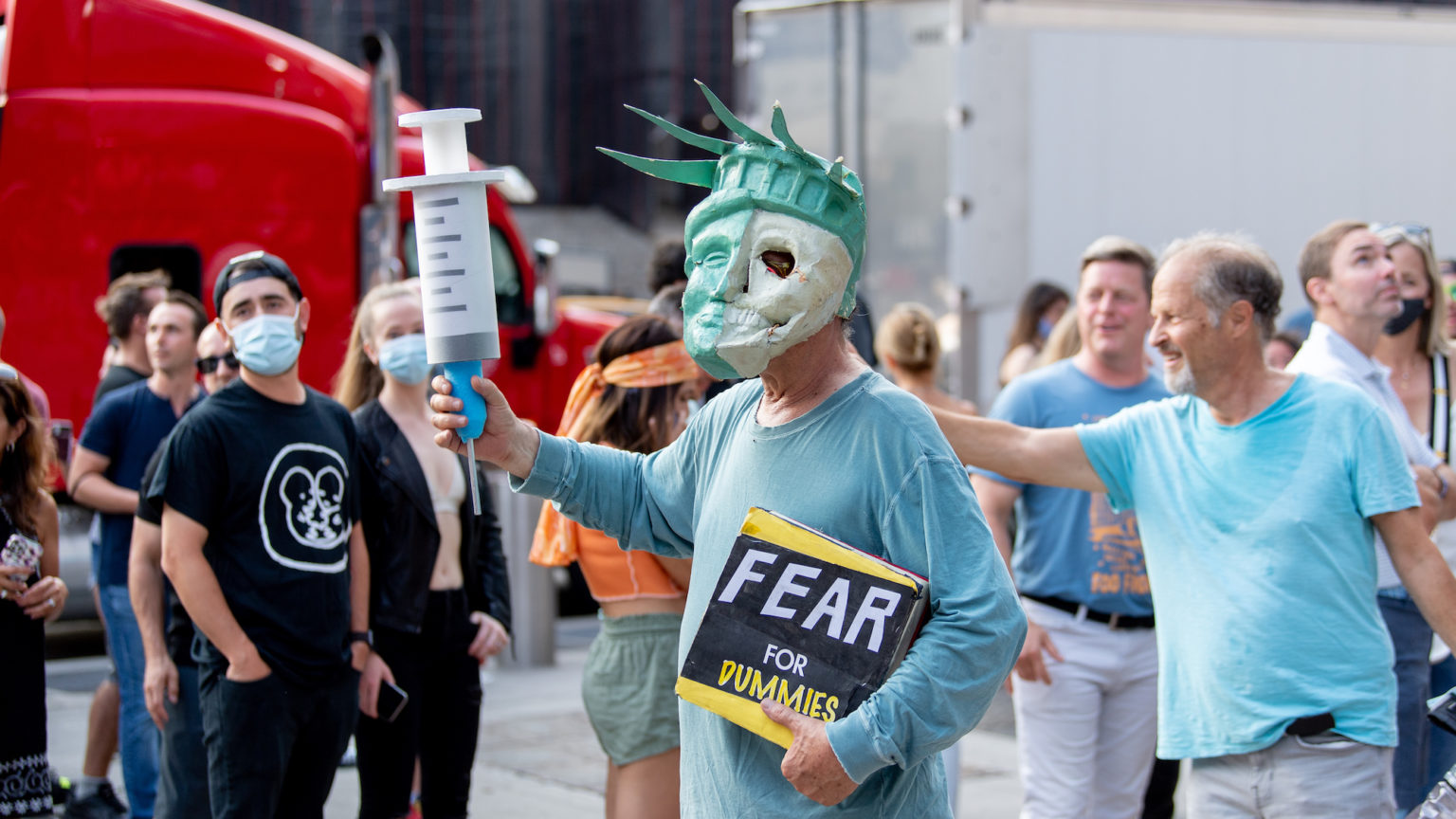 Millions of Americans aren't exactly volunteering to contract and spread Covid, but they might as well be. People in red, south-eastern states where the virulent Delta variant is surging 'are turning down Covid-19 vaccines because they are angry that Donald Trump lost the election', Politico reports. They're also 'sick of Democrats in Washington thinking they know what's best'. Or they believe fairytales about the vaccine's dangers: it's a bioweapon; it will change your DNA; it includes a government-installed microchip; it will magnetise you; it will give you Covid. In this alternate reality, volunteers who knock on your door and offer the vaccine are really after your guns – they're 'brownshirts' and 'needle Nazis'.
Can you blame these anti-vaxxers for their ignorance and gullibility? Maybe. To make excuses for them is to deny them agency. 'Folks [are] supposed to have common sense', Alabama's Republican governor futilely observed, adding that 'it's time to start blaming the unvaccinated folks… It's the unvaccinated folks that are letting us down.' It is increasingly hard not to agree, as many vaccinated people do.
But millions of 'folks' have no common sense, clearly, and they're easy marks for the right-wing demagogues in Congress and the media knowingly feeding them disinformation. Why encourage people not to get vaccinated? The fear, unrest and economic fallout of another viral surge during a Biden presidency will, no doubt, delight their Dear Leader – our malevolent former president – and help ensure victories for his followers in the coming midterms. 'Eighteen more months of chaos and the inability to get stuff done. That's what we want', Republican congressman Chip Roy recently declared. He was celebrating opposition to a stalled bipartisan infrastructure bill: better to let roads continue to crumble, while buildings and bridges fall down, than to give Joe Biden a victory. But Roy's call for chaos also underlies the right-wing drive against vaccinations.
It doesn't enjoy universal Republican support. A few Republican governors have tried hard to persuade people to get vaccinated. A handful of Republicans in Congress have piped up to advocate for vaccines, as the virus surges among their own voters. But they've shied away from assertively contradicting the lies, factoids and general vaccine hysteria spread by influential Trumpists like Tucker Carlson (who I suspect has been vaccinated). They'd rather pander to their most irrational voters than help protect them from disease. Conservative commentator Charlie Sykes aptly accuses the anti-vaxxer propagandists who know better of a 'depraved indifference to human life'.
So here we are, bracing ourselves for another potentially deadly, disabling viral surge and additional opportunities for the emergence of even more dangerous variants. This time it was entirely preventable. This time it was chosen for us by depraved political influencers and people who refuse vaccines to spite Democrats, or on the basis of astonishingly bizarre beliefs. The lunatic fringe is now a lunatic plurality.
How might they be persuaded to save their own lives, and ours? Call it the 'Trump vaccine', as some are beginning to do. Remind people that the former president was vaccinated (though he doesn't publicise the fact). Or rewrite not just recent history but today's news by blaming Democrats for vaccine opposition. 'Serious' people like the Wall Street Journal's Gerald Baker cite then presidential candidate Kamala Harris's stupid expression of distrust of a vaccine developed during the Trump years. Never mind that one dumb remark from the left in a 2020 debate has long been drowned out by disinformation about vaccines emanating from the right. Former White House press secretary, now gubernatorial candidate Sarah Huckabee Sanders, touts the 'Trump vaccine plan', blaming Biden, Harris and, of course, Dr Fauci for vaccine opposition. In the short term we can hope she encourages more people to get vaccinated. But in the long term (which these days means at most a few months), this sort of misinformation contributes to our self-destructive, self-deluded partisan dysfunction and prolongs the reign of cognitive dissonance.
If you're a sane person capable of rational thought, you might wonder why anti-vax red staters would take their cues from the Democrats they despise, and why, if Democratic leaders are responsible for vaccine opposition, support for vaccinations is strong among Democrats and weak among Republicans. You might find it hard to digest claims that vaccine resistance is the Democrats' fault while listening to Fox News stars, like Carlson and Laura Ingraham, spout anti-vax myths. But if the stubborn anti-vaxxers who refuse vaccines in the belief that Biden stole the election were rational, they wouldn't be anti-vaxxers – and wouldn't believe lies about a stolen election or listen to claims by Trumpists that the violent 6 January mob assault on the Capitol (which we saw recorded on video) was a friendly visit by patriotic tourists. In America's fantasy lands today, 2 plus 2 can equal 3 on Monday and 5 on Tuesday. Whatever. Wake me when it's over.
Wendy Kaminer is an author, a lawyer and a former national board member of the American Civil Liberties Union.
To enquire about republishing spiked's content, a right to reply or to request a correction, please contact the managing editor, Viv Regan.