Why the billionaire space race should inspire us all
Bezos, Branson and Musk are expanding our sense of what is possible.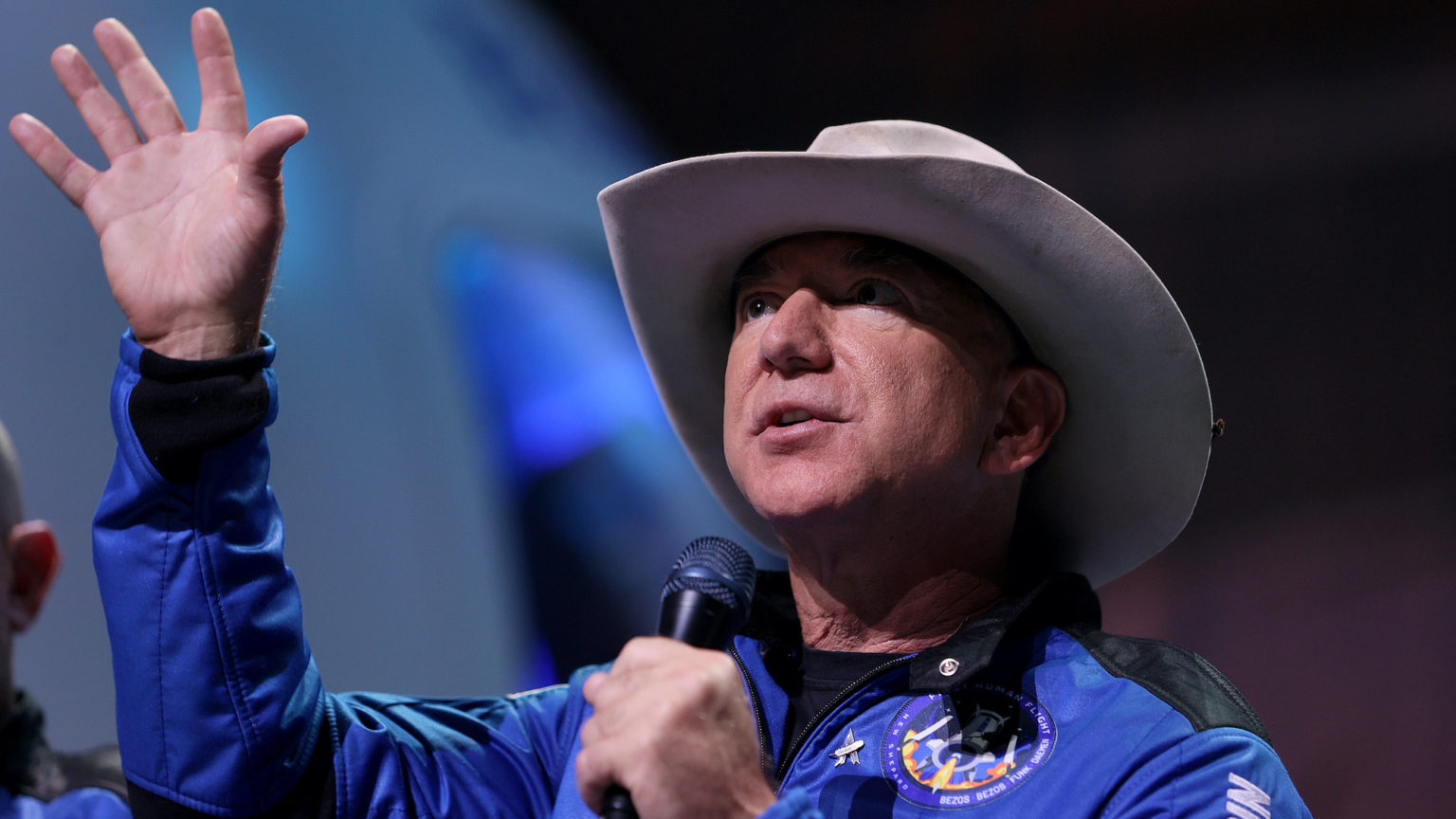 First up was Virgin Group founder Richard Branson, who flew to the edge of space aboard his Virgin Galactic spacecraft two weeks ago. Days later, the world's wealthiest man and Amazon founder, Jeff Bezos, undertook a similar journey on board his Blue Origin craft. The world's second-richest man, Elon Musk, is planning to send tourists into space later this year with SpaceX.
Predictably, the sight of billionaires in space has prompted many politicians and pundits to dismiss space travel as an indulgence for the super-rich. This is not a new criticism. Even during the golden age of NASA in the 1960s, space travel was dismissed as a frivolous pursuit that ignored the real problems on Earth. It's just that now this ire is being directed at wealthy individuals rather than governments.
Bezos has been the main focus of the complaints. 'Am I supposed to be impressed that a billionaire went to space while he's paid zero in federal income taxes some years and the workers at his company struggle to afford their medical bills, rent, and food for their kids?', tweeted Bernie Sanders. Fellow Democrat Alexandria Ocasio-Cortez agreed: 'Yes, Amazon workers did pay for this – with lower wages, union-busting, a frenzied and inhumane workplace, and delivery drivers not having health insurance during a pandemic.'
Similar charges could have been thrown at Branson, too. Rember Virgin Atlantic's refusal to recognise its pilots' union four years ago? Or the decision of a federal court to award Virgin America flight attendants $77million for violations of California's wage-and-hour laws two years ago?
So, yes, these billionaires have made their wealth through the exploitation of their workforces. But that does not make their pioneering journeys into space any less valuable.
For a start, the engineering and computational advances behind these jaunts into space are immense. The rockets being developed, for example, are unlike any other rockets. As Christian Davenport, author of The Space Barons, puts it: 'Traditional rockets were all brawn and no brain, powerful boosters with a single job: to wrest their way out of gravity's grip. They were expendable, falling into a watery grave.' But the new generation of rockets can effectively fly themselves. They are 'guided by computer algorithms, sensors that measure the wind speed, and a GPS system'. And they fall back to Earth until their engines refire close to the ground, slowing them down to land, where they then sit, ready to be reused.
This is important. Reusable rockets will ultimately lower the cost of space flight. And the development of new hardware, fuels and software (particularly artificial intelligence) will allow for greater human exploration and, potentially, exploitation of the universe.
The greatest thing about this billionaire space race is that it is rekindling human ambition at a time when many hold it in contempt. It is challenging our culture of limits, and expanding what we believe is possible. And it demonstrates our capacity, as a species, to imagine, plan and engineer remarkably complex solutions to problems that hitherto might have seemed insurmountable.
The billionaires involved may well be brutally determined, egoistical and self-obsessed. But to achieve great things takes passions and qualities that we might find odious in other circumstances. After all, the meek do not inherit the Earth.
To those who complain that the billions spent on this space race could have been better spent on Earth, we know from experience that the Moon landing, for instance, actually had exceptional benefits for life on Earth. And many of these were never anticipated. Nobody working on America's first satellite missions in the 1950s and 1960s, for example, could have imagined that the Global Positioning System (GPS) they developed would one day keep millions of people from getting lost.
But if the only achievement of this billionaire 'pissing contest' is to rekindle human ambition, particularly in younger generations, every cent spent would still be worth it. Human ambition and knowledge is not a natural resource. It is infinite if we allow it to flourish. Musk, Branson and Bezos, in jetting off to space, have returned human ambition to Earth. All power to their elbows – and their rockets.
Norman Lewis is a writer and managing director of Futures Diagnosis.
To enquire about republishing spiked's content, a right to reply or to request a correction, please contact the managing editor, Viv Regan.