The racism of never criticising Muslims
The identitarian left treats Muslims as children. Progressives should be outraged.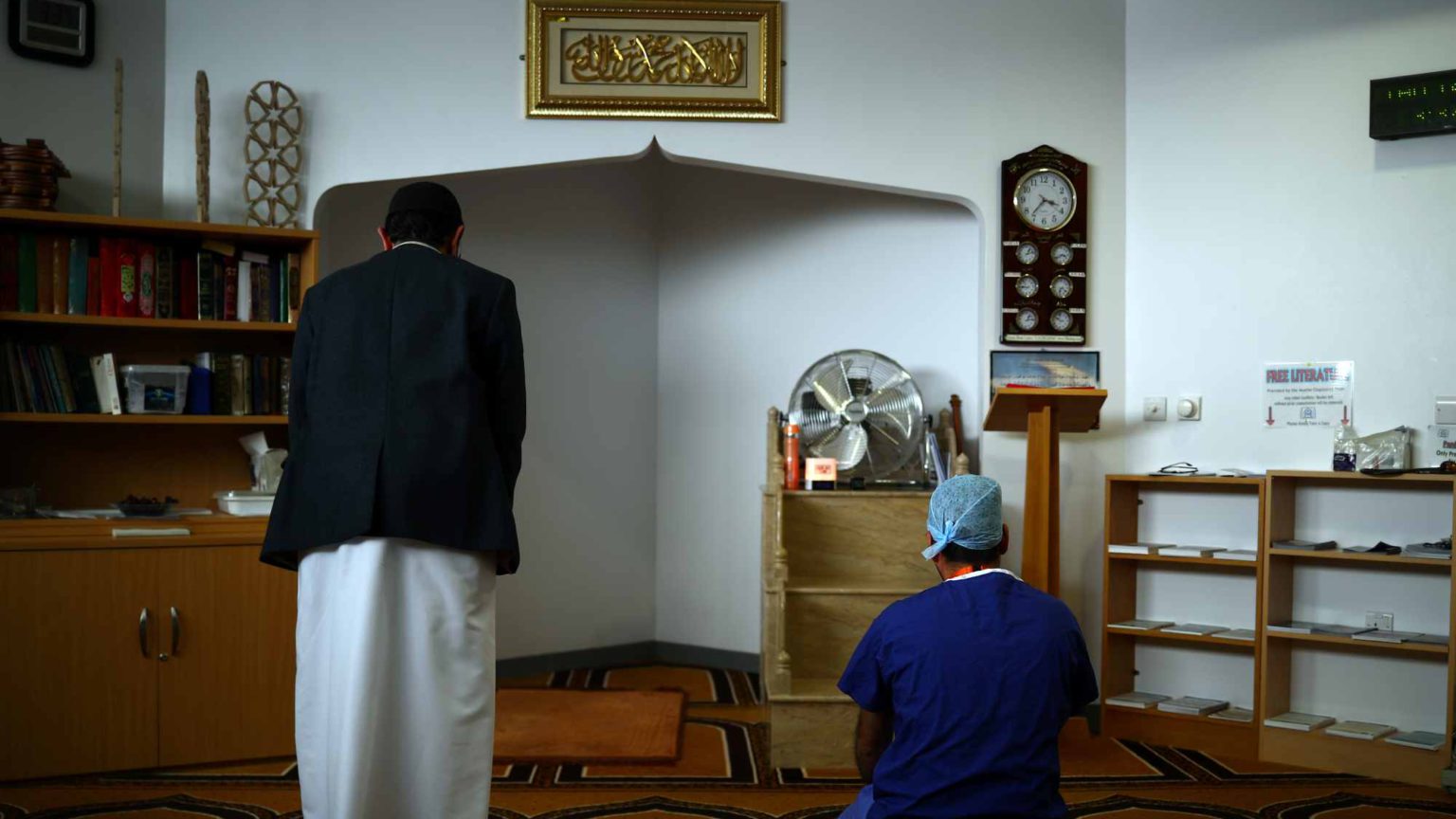 There has been a surge in the racism of low expectations in recent days. It has centred on the Muslim community. It is wrong – 'phobic', no less – to criticise the regressive social views held by some Muslims, left-wing campaigners claim. Any pondering of the possibility that sections of the Muslim community hold less than enlightened views on homosexuality or the rights of Jews to live as free, equal citizens is itself racist, they cry. It's horrible and unfair. They doll up this desire to protect Muslim attitudes from scrutiny in the language of anti-racism, but it is the opposite. It is time we talked about the racism of not criticising the Muslim community, of refusing to subject Muslims to the same kind of social discussion that every other community in an open, democratic society might expect.
It springs from the Batley and Spen by-election. Keir Starmer's crowing about his party's 'fantastic' victory there – Kim Leadbeater won by 323 votes – cannot disguise the fact that Labour's internal woes and tensions have, if anything, intensified off the back of Batley and Spen. The latest Labour infighting is over Muslim voters. Following George Galloway's strong showing among Batley and Spen's Muslim community – he came third, with 8,264 votes – Labour officials and activists are fretting that they might now be losing that community that they (arrogantly) presumed would always vote for them. And the Labour left and the self-elected spokespeople for the Muslim community claim to know why – it's because Labour has refused to take up issues that Muslim voters are interested in (Palestine, Kashmir), and it's because the centrists around Starmer are being too critical in relation to Muslim attitudes.
There was a firestorm when a 'senior Labour official' – anonymously, of course – suggested that some Muslim voters in Batley and Spen were angry with Starmer's Labour because of its efforts to tackle left-wing anti-Semitism in the party. The official said Labour is 'haemorrhaging votes among Muslim voters, and the reason for that is what Keir has been doing on anti-Semitism'. 'Nobody really wants to talk about it', he or she said, 'but that's the main factor'. Another Labour source said the party had 'lost the conservative Muslim vote over gay rights and Palestine', prompting more fury from the identitarian set. 'How dare you suggest that conservative Muslims have a problem with gay rights?!', they were essentially saying, which, when you think about it, is a truly bizarre question.
These critical noises about the attitudes that exist in certain quarters of the Muslim community confirm that some in Britain's political class 'hold Muslims in contempt', said a writer for Jacobin. Ali Milani of the Labour Muslim Network said the Labour media briefings that mentioned Muslim attitudes on homosexuality and anti-Semitism were a 'slap in the face' to Muslim voters. It is 'deeply upsetting', he said, 'for the commentary to be so deeply rooted in Islamophobia'. Mustafa Al-Dabbagh of the Muslim Association of Britain accused Labour officials of 'briefing frankly Islamophobic statements'. The Guardian's Owen Jones said that anyone who suggests Labour is doing badly because Muslims voters are 'bigots' is a racist – 'and they must face the consequences of their racism for the rest of their political lives'. Strewth. Redemption be damned.
Let's leave to one side the eye-swivelling irony that much of the handwringing commentary about the Labour officials who suggested that Labour is losing because some Muslim voters have regressive views is coming from the kind of people who spent the past five years saying that Remain lost because ordinary people have regressive, dumb and racist views. Let's also leave to one side the fact that the Labour officials quoted in the press were expressly not talking about all Muslims but rather about conservative Muslims – who, like conservative Catholics or conservative Jews, are fairly likely to think that two blokes getting it on is a bit iffy, and possibly evil. The more pressing question is this: is it really racist to draw attention to the unenlightened views that lurk in sections of the Muslim community? Couldn't one argue that it is more racist not to talk about these things?
The truth is that surveys suggests that the Muslim community is more likely than other sections of British society to hold regressive views on gay rights and on the scourge of anti-Semitism. A few years ago a survey found that more than half of British Muslims thought homosexuality should be illegal. Fifty-two per cent of Muslim respondents said the legalisation of homosexuality was wrong, compared with just five per cent of non-Muslim respondents. That's a very big difference. Has the woke left forgotten this, and the media discussion it gave rise to? Trevor Phillips expressed his concern that Muslims were becoming a 'nation within a nation'. More recently, a survey overseen by spiked's Rakib Ehsan for the Henry Jackson Society found that 44 per cent of British Muslims buy into anti-Semitic conspiracy theories of one kind or another (compared with 24 per cent of the general population – also depressingly high).
So the Labour officials suggesting that some Muslims are a tad backward on gay rights and the rights of Jews to equal treatment are not wrong. Does this mean Muslims are a problematic community? Absolutely not. First, because the survey findings of recent years are far from uniformly negative. For example, the survey that found that half of Britain's Muslims think homosexuality should be illegal also found that 86 per cent of Britain's Muslims felt a strong sense of belonging in the UK (compared with 83 per cent for the general population), and 88 per cent believed that Britain is a good place for Muslims to live. And secondly because the issue here is not our Muslim citizens. It is not any innate moral failing on the part of Muslims in the UK. No, the problem is the crisis of integration, and the woke elites' active hostility towards the idea of integration, which has the effect of creating cut-off communities with little incentive to join in the more positive, solidarity-based aspects of the British way of life.
In a sense, it is not surprising that some sections of Britain's Muslim community, well into the 21st century, have failed to embrace what I and many others would consider to be core values of modern Britain – the right of gay people and Jewish people and all people to live freely without facing legal sanction or social persecution. It is a consequence of the ideology of multiculturalism, which actively grates against the goal of assimilation and instead implores communities to inhabit their own moral and cultural universes. When all moral ways of life are viewed as 'equally valid', as they are under multiculturalism, can we really be surprised that some people bristle against the cohering national belief in equality – gay equality, racial equality, female equality – and instead think to themselves, 'My view of gays and women and Jews as second-class citizens is fine, and you must never criticise it'? It isn't 'Muslimness' that nurtured ethnic separatism and regressive ideologies in modern Britain – it's multiculturalism.
The woke left's stark unwillingness to grapple with this dilemma of the multicultural ideology shows how wedded it is to multiculturalism's hierarchy of victimhood. That left commentators can claim it is 'Islamophobic' to talk about bigotry in sections of the Muslim community – that is, it's Islamophobic to talk about homophobia, it's Islamophobic to talk about anti-Semitism – confirms that they consider protecting Muslims from offence to be more important than standing up for Jews and even more important than defending gay rights. These are the deals with the devil they have done as part of their conformism to the divisive, destructive politics of grievance that is so central to identitarianism.
Is there a problem of anti-Muslim bigotry in the UK? Unquestionably. This bigotry should be seen as distinct from the idea of 'Islamophobia', a cynical identitarian term that is too often deployed to control and censure any discussion of Islam or of the broader Muslim community. Anti-Muslim bigotry is the belief among certain racist activists that Muslims are the cause of Britain's ills, dragging the nation down into the cesspit of sharia and stupidity. But the refusal of the identitarian set to speak honestly about the Muslim community is a variant of anti-Muslim bigotry too, given that it is motored by a belief that any discussion of Muslim anti-Semitism or Islamic terrorism is by definition offensive to Muslims (what – all Muslims are racists and terrorists?), and given that it is underpinned by a hyper-paternliastic desire to protect Muslims from difficult discussion, as if they were infants and we white, woke, well-educated lefists are the adults. Spare me such racial patricianism.
Labour does indeed need to think about how it engages with Britain's Muslims citizens. But so does the entire political class. Are we going to treat Muslims as a race apart, super-sensitive, in need of the grace and protections of the Guardianista elites, people whose bigotries can be excused or glossed over? Or are we going to treat them as equal citizens who are likely to be as hostile to Islamic terrorism as the rest of us, and who would benefit enormously from becoming full, free, equal citizens of the UK with all the openness and frankness that such equality entails? As firm believers in multiracial equality, spiked opts for the latter vision. We are opposed to the racist bigotry that says Muslims are evil, and we are opposed to the woke bigotry that says Muslims are children who must be protected from offence. Here's a radical idea – how about we view our Muslim citizens and friends in the same way we view every other section of society?
To enquire about republishing spiked's content, a right to reply or to request a correction, please contact the managing editor, Viv Regan.