Why the SNP hates the Tartan Army
It doesn't fit in with its vision of diversity-trained, politically correct Scottishness.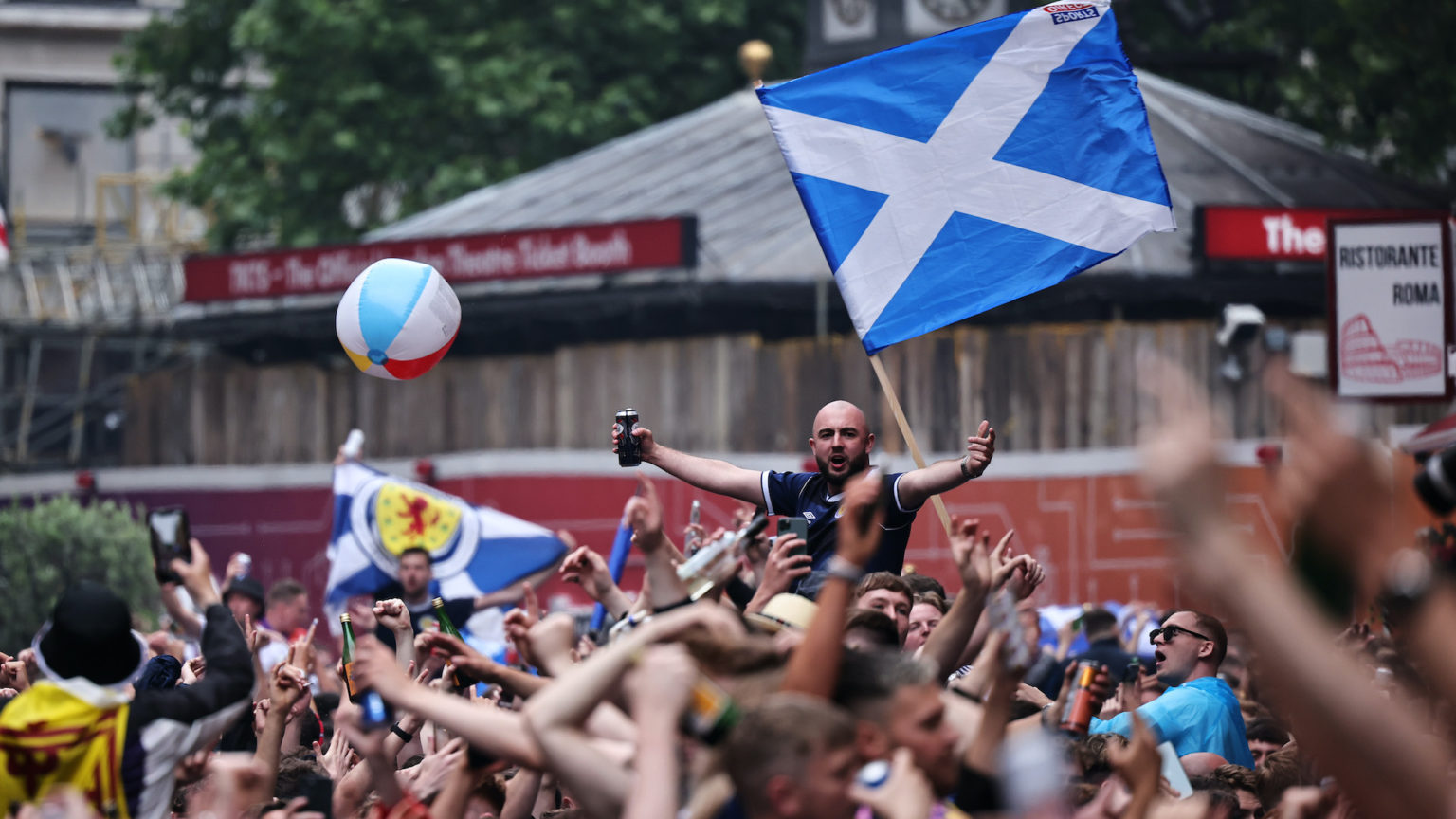 Scotland may have failed on the pitch at Euro 2020, exiting the tournament at the group stage. But, off the pitch, Scottish fans – the so-called Tartan Army – have been a roaring success.
That's because the Tartan Army has shown a tremendous commitment to having a good time. In particular, the impromptu party fans held in Leicester Square, before and after the nil-nil draw with England, was a joy to behold.
Of course, for those of us old enough to remember the last time Scotland qualified for a major tournament – the 1998 World Cup – the sight of drunken, tartan-clad Scots thoroughly enjoying themselves, festooned in saltires and Jimmy wigs, is nothing new.
But the Tartan Army's party in Leicester Square meant more somehow. It felt like a release after so many locked-down months, a celebration of what it meant to be almost human again.
This explains why so many in England were delighted by the Tartan Army's fun-loving antics. Even the usually miserable, pro-lockdown Guardian appreciated it. 'Scottish fans brought an energy to this part of London that is currently eerily lacking', wrote one of its columnists. 'Boisterous noise is usually inescapable in central London; on this afternoon it felt like a welcome relief.'
Tory London Assembly member Emma Best was similarly impressed. 'It's a lovely atmosphere', she told the BBC. 'You could be forgiven for thinking we are not still in the midst of a pandemic.'
But not everyone was as pleased with the Tartan Army. In Scotland especially, many took to social media to condemn fans for their reckless behaviour, and for potentially bringing the dreaded Delta Covid variant back with them on their return.
Scottish first minister and Scottish National Party leader Nicola Sturgeon was also angry at the Tartan Army. But not for violating Covid restrictions, or hastening the spread of the variant du jour. No, what angered Sturgeon was the anti-English tone of the Tartan Army's celebrations. 'I would abhor and condemn unreservedly any anti-English chants', she thundered. 'Just, as Scots, we would not want to hear that coming from fans of any other country. Racism, xenophobia, anything like that, whether it's in a football context or in life generally, is not to be tolerated.'
But what Sturgeon and the SNP more broadly dislike about the Tartan Army is its Scottish patriotism – that is, the patriotism practiced by ordinary Scots. That's because, for Sturgeon, it is the wrong kind of patriotism.
What she doesn't get is that the Tartan Army's supposed anti-Englishness is part of the fun. After all, what is the point in following a football team if you can't insult the opposition? How drab would it be if Scotland fans didn't tell the English to 'stick your fucking England up your arse!' or place the customary symbol of Scottishness – the traffic cone – atop the statue of William Shakespeare in Leicester Square while proudly singing: 'You're just a shite Rabbie Burns'? Irreverence, satire and plenty of booze – Shakespeare and Burns would be proud.
It is striking that those most offended by the Tartan Army's 'anti-English' song book are less the English than Scotland's joyless cultural warriors.
Speaking on BBC Radio 4 on the morning of Scotland's first match, against the Czech Republic, cultural commentator and independence supporter Stuart Cosgrove said that, since devolution, Scotland had far more to be proud of than football. Football, he said, 'was to some extent the big volcano of patriotic fervour'. But post-devolution, 'there are a lot more places now where people can, if you like, display their Scottishness'.
Scotland's football fans, bursting with playful anglophobia and tartan kitsch, are not a part of this new 'Scottishness'. They don't fit in with the diversity workshops of Holyrood, and the SNP-backed identity politics that dominate much of Scottish public life. Ultimately, they're too close to the populist nationalism from which Sturgeon herself is determined to distance the SNP – even to the extent that she once admitted she wished the SNP didn't have 'national' in its name.
That's why she and other members of Scotland's political and cultural elites loathe the Tartan Army – because the Tartan Army is at odds with their vision of Scotland. They resent the Tartan Army's tacky, boorish and comedic characterisation of Scottishness. And, above all, they disdain any expression of patriotic pride in a common Scottish culture, whether that be football or the poetry of Robert Burns. They see it as akin to bigotry.
In many ways, then, the Tartan Army are merely the latest victim in the Scottish elite's ongoing culture war against ordinary Scottish people – a war for which football has frequently been the main battleground.
In May, for instance, an 'utterly disgusted' Sturgeon was quick to call Glasgow Rangers fans, celebrating their first title win over Celtic in 10 years, sectarian, 'anti-Catholic' bigots.
And before that, of course, the SNP introduced its Offensive Behaviour at Football and Threatening Communications Act in 2012, which criminalised sectarian chanting and singing at football matches (and related social-media posts). It may have been repealed in 2018, but it has since served as a template for the more far-reaching and illiberal Hate Crime and Public Order Act 2021.
All this attests to the low regard in which Scotland's political class holds ordinary Scots. They're seen as repositories of outdated attitudes and barely concealed bigotry. Their every public expression of national pride, especially at the football, has become a problem in the eyes of the SNP.
It makes for a telling indictment of Sturgeon's Scotland. The Tartan Army received a far warmer welcome and enjoyed far more freedom in the belly of the English oppressor than they ever could back home.
Carlton Brick is a lecturer in the school of education and social science at the University of the West of Scotland.
To enquire about republishing spiked's content, a right to reply or to request a correction, please contact the managing editor, Viv Regan.