Biden needs to butt out of British politics
It's clearer than ever – the Northern Ireland Protocol is a menace to our democracy.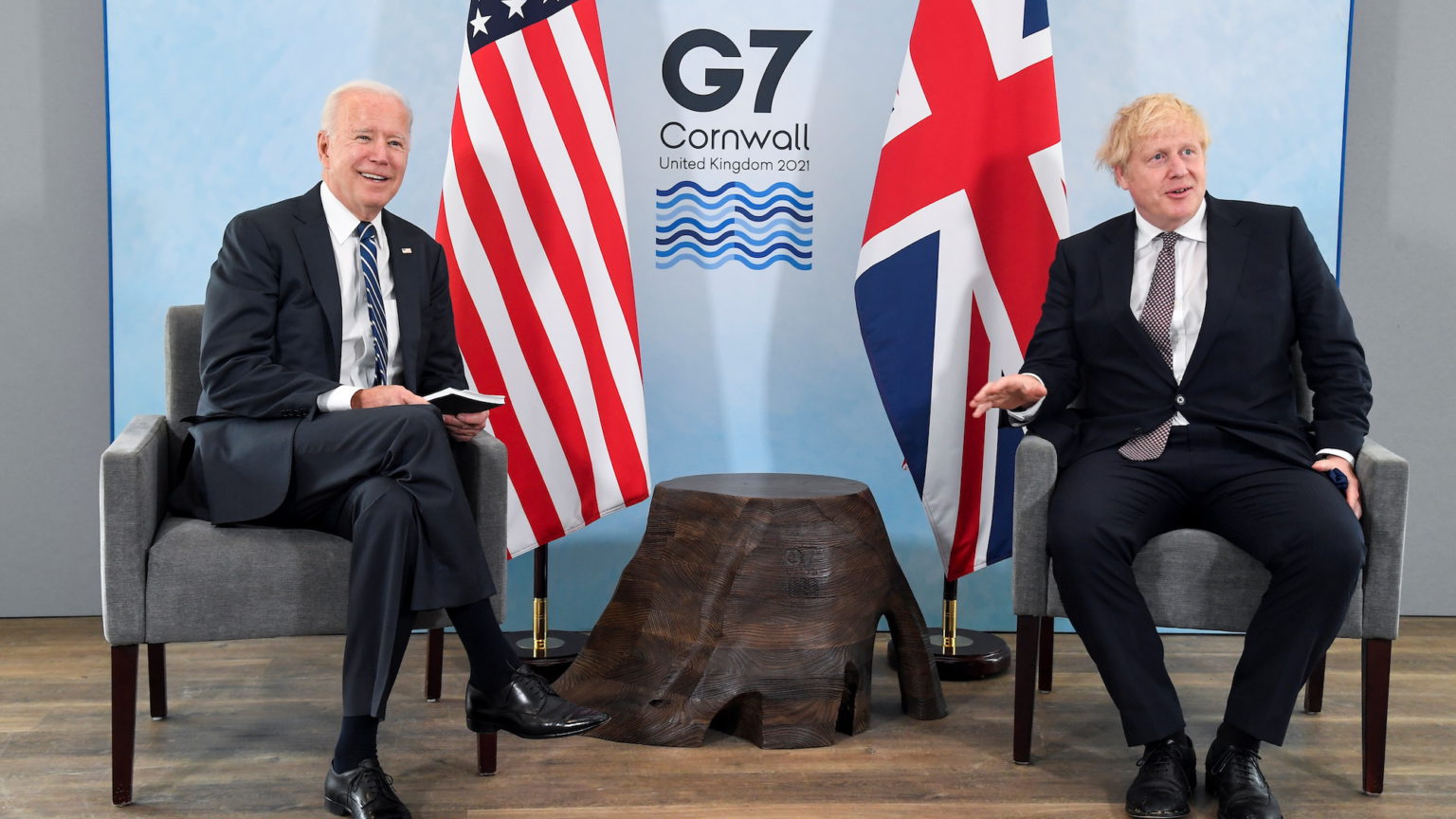 It might have been all elbow-bumps and walks on the beach when the world media went to gawp at Joe Biden and Boris Johnson hanging out at the G7 in Cornwall. But beneath these stiff displays of US-UK friendliness, all is not well. Far from it. A virtually unprecedented crack has appeared in the so-called 'special relationship'.
Last week Biden ordered his officials to issue the UK with a stern diplomatic rebuke. A demarche, as it's called – 'a formal diplomatic reprimand seldom exchanged between allies', as The Times describes it. What did Blighty do to evoke the displeasure of the Empire, to receive this telling-off from the most powerful man on Earth? It dared to push back, a tiny bit, against the Northern Ireland Protocol.
The American rebuke comes in the wake of another flare-up between London and Brussels over the exact workings of the protocol. This is the part of the Brexit Withdrawal Agreement that keeps Northern Ireland beholden to certain EU rules in order to avoid the creation of a 'hard border' in Ireland. It effectively creates a sea border between Britain and Northern Ireland, giving rise to a plethora of checks and regulations on goods moving between these two parts of a supposedly sovereign nation.
UK and EU officials have been clashing over whether there can be any leeway on the protocol, whether we can chill out about certain export rules given we are talking about Britain to Northern Ireland here. For example, even though the EU strictly forbids the importing of chilled meats – they all have to be frozen – surely it's okay for Britain to send chilled meats to Northern Ireland, given a) we are the same country, and b) we've been doing it forever. Britain says 'Of course this is fine, let's all relax'. The EU, as is its wont, says 'Absolutely not. Freeze your sausages before sending them to Belfast or Derry.'
The firmness of European leaders on the protocol, on the importance of enforcing it to the letter, has been extraordinary. 'Nothing [in the protocol] is negotiable', the French president Emmanuel Macron has 'warned' Boris Johnson. Yes, this is where we're at, five years after the vote for Brexit: the leader of a foreign nation is bossing us around on the movement of goods within our own borders. EC president Ursula von der Leyen says the protocol must be implemented 'completely'. And if it isn't, the EU will take 'remedial measures' to 'ensure compliance', possibly including the imposition of trade tariffs on the UK.
Now, the Biden administration has entered the fray, of course on the side of the EU oligarchs. The Times' description of Washington's issuing of the demarche against the UK should chill everyone who believes in sovereignty and democracy. Yael Lempert, America's most senior diplomat in the UK, met Lord Frost, the Brexit minister, on 3 June. She informed him of President Biden's 'great concern' that Britain's caginess about elements of the protocol could be 'inflaming' tensions in Ireland. Apparently she 'slowly and gravely read her instructions [from Washington] aloud'. In short, Frost was given a bollocking. By a foreign power. Over how Britain conducts its domestic affairs. Are you worried yet?
We need to take stock. In a couple of weeks time it will be the fifth anniversary of the historic, magnificent vote for Brexit, when 17.4million Brits issued an instruction of their own – that Britain must withdraw from the EU and 'take back control' of its borders, its trade and its law-making. And yet such control still feels elusive.
Our borders have been rearranged – there's a new invisible one in the Irish Sea – and we don't have full control over them. EU officials have oversight of the bizarre new goods border between Britain and Northern Ireland. Our domestic market has been carved up. Britain is now being threatened with sanctions over how it moves meat and other goods domestically, between its own territories. This isn't the democratic control we voted for in our millions. One starts to feel like Daggett in The Dark Knight Rises when Bane asks him: 'Do you feel in charge?'
We can now see just how troubling, and dangerous, the Northern Ireland Protocol is. This protocol unquestionably compromises British sovereignty. Take the sausages controversy – or the chilled-meats controversy, to give it its proper name. It might seem mad and frivolous. Tabloid headline-writers are certainly having a field day with it. But it is incredibly serious. A nation that cannot freely send an unfrozen sausage from one part of its territory to another is not a free nation. It does not exercise full sovereign control over its internal economic and transportation affairs.
The protocol compromises British sovereignty in two chilling ways. First, it partially annexes a part of the United Kingdom, insisting that this territory should remain subject to the demands and regulations of a foreign power. This weakens Britain's capacity for sovereign decision-making. And secondly, the protocol acts as an open invitation to EU oligarchs, and their ally in the White House, to reprimand Brexit Britain, to chastise it for 'breaking EU rules', to insist that it adhere to the political preferences of Brussels and Washington – or else. Or else there will be consequences.
Over the past five years the EU and Britain's own Remainer elites weaponised Ireland, using 'Irish concerns' to try to weaken Brexit. This cynical, anti-democratic manipulation has now been institutionalised in the Northern Ireland Protocol, which is essentially the concrete form of this weaponisation of 'Irish concerns' to the end of diluting British sovereignty and leaving our elected ministers open to the reprimands and rebukes of disappointed EU and US officials. There is only one solution. It was a mistake to negotiate and sign up to the Northern Ireland Protocol. We must now withdraw from it, completely.
Brendan O'Neill is editor of spiked and host of the spiked podcast, The Brendan O'Neill Show. Subscribe to the podcast here. And find Brendan on Instagram: @burntoakboy
To enquire about republishing spiked's content, a right to reply or to request a correction, please contact the managing editor, Viv Regan.