The madcap plans to stop you from smoking
MPs want to raise the smoking age to 21 and put health warnings on individual cigarettes.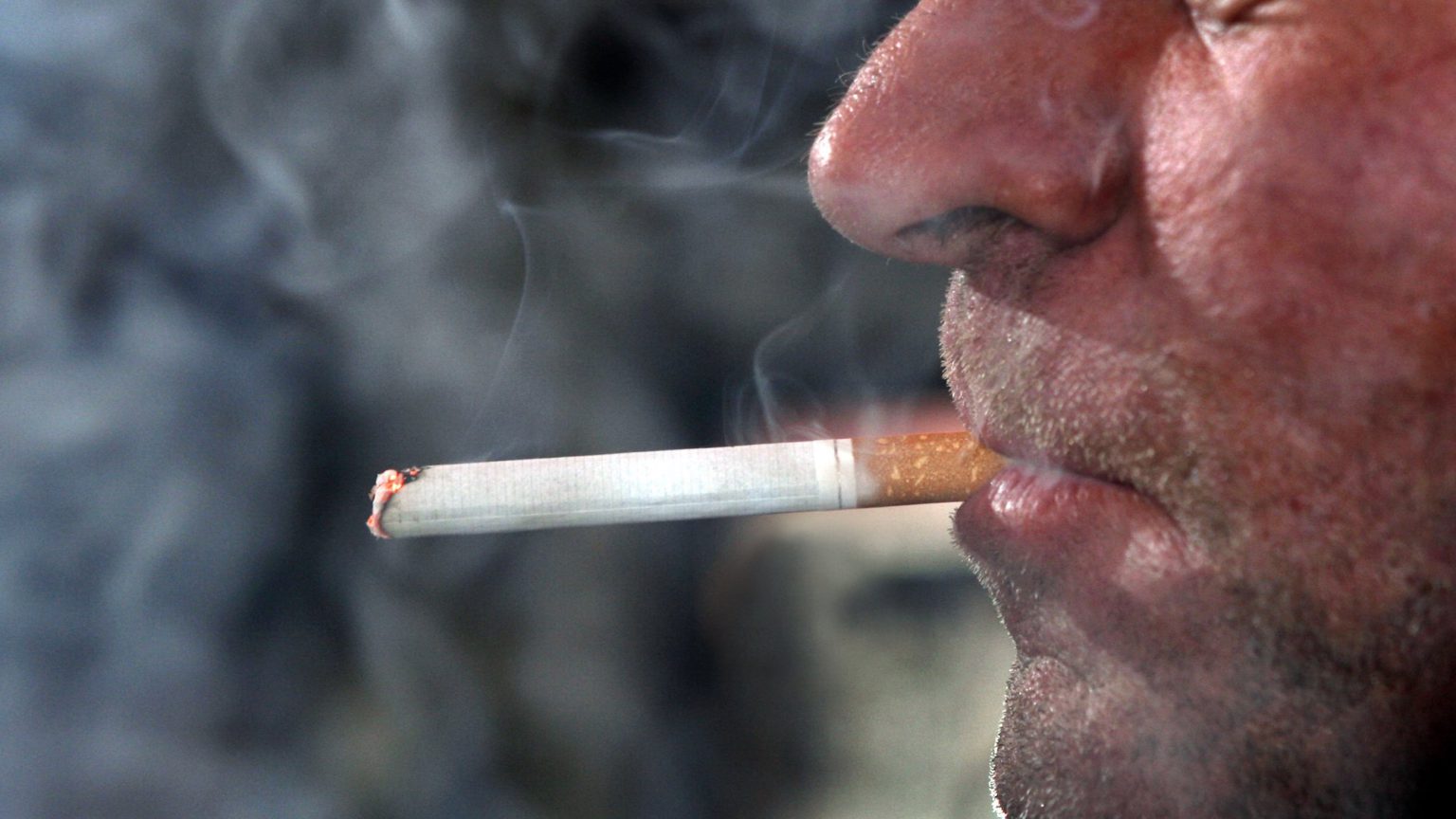 The All-Party Parliamentary Group on Smoking and Health has come up with a 12-point plan to end smoking by 2030. The proposals, which include raising the smoking age to 21, have been reported as being from 'a group of MPs'. A few MPs have indeed put their name to it, but the APPG is really a mouthpiece of the state-funded pressure group Action on Smoking and Health (ASH).
When the group was set up in the 1970s it was called the All-Party Parliamentary Group for Action on Smoking and Health because that's who founded it. ASH has been the group's secretariat ever since and the APPG commissioned ASH to write today's report, which can be found on ASH's website.
ASH has made itself slightly redundant in recent years as a result of governments capitulating to its every whim. Having portrayed cigarette packaging as the one remaining way in which the tobacco industry 'lured' in new customers, the introduction of plain packaging in 2017 made it difficult for them to argue that people picked up the habit for any other reason than that they enjoyed it. Since then, they have resorted to moaning about smoking in reality TV shows and trying to get smoking banned outdoors.
There are two hooks for the new ASH / APPG report. First, when Theresa May was prime minister she set Britain the target of going 'tobacco-free' by 2030. This was barely noticed at the time. She didn't consult anybody about it, let alone smokers, nor did she suggest how it could be achieved. But the target now hangs in the air as if it were a genuine collective commitment.
Secondly, lots of people have just died in an epidemic and ASH is keen to draw a parallel with the 'tobacco epidemic'. The APPG report says: 'We are taking the necessary steps to end the coronavirus pandemic; we must do the same for smoking.' This argument is the flipside to the claim sometimes made by some lockdown 'refuseniks' who say that since the government has not banned smoking, it should not do anything about Covid-19. Neither argument stands up because a highly infectious, potentially fatal disease spreading through the community is a collective-action problem whereas people smoking tabs is not. It really is that simple.
ASH's All-Party Group has a dozen recommendations which it reckons will set the course for a 'Smokefree 2030'. Let me take you through them.
1) 'Legislate to make tobacco manufacturers pay for a Smokefree 2030 Fund to bring an end to smoking'
ASH has been pushing for a windfall tax on tobacco companies for several years, presumably because it expects some of the cash to be funnelled to itself and its friends in 'public health'. It is not clear why the government cannot use the £12 billion it extracts from smokers every year to build a 'smokefree fund', nor is it clear how the British government can impose a windfall tax on companies that are headquartered in Geneva (as two of the biggest, PMI and JTI, are).
George Osborne first mooted a tobacco levy in 2014. Rather like the sugar tax – officially known as the Soft Drinks Industry Levy – the conceit was that the money would come from the industry's profits rather than from consumers, but the idea was dropped after HMRC concluded that the tobacco industry would pass the full cost on to smokers and that 'it would be entirely equivalent to an increase in the specific tax that currently exists on tobacco products'. As such, you might as well just keep raising tobacco duty instead. Which is what the government did.
2) 'Take our place on the world stage as a global leader in tobacco control'
This is waffle. It is not a plan.
3) 'Set interim targets for 2025, and update our strategy if we are not on track to a Smokefree 2030 by then'
Nor is this. It is, at best, a plan for a plan.
4) 'Deliver anti-smoking behaviour change campaigns targeted at routine and manual and unemployed smokers (C2DE)'
The report does not explain how this is to be achieved, except by spending more money on TV advertising.
5) 'Ensure all smokers are advised to quit at least annually and given opt-out referral to Stop Smoking Services'
Smokers are already bombarded with messages to quit, not least on their own cigarette packs. The next few years are likely to be the busiest in the NHS's history. GPs will have better things to do than offer unsolicited advice to people who are fully aware that smoking is bad for their health. NHS Stop Smoking Services are not good value for money and the number of people using them has collapsed since vaping took their place (at zero cost to the taxpayer).
6) 'Target support to give additional help to those living in social housing or with mental-health conditions, who have high rates of smoking'
The 'support' proposed by the APPG amounts to getting medics to pester smokers whenever they encounter them and is therefore covered by Recommendation 5 above.
7) 'Ensure all pregnant smokers are given financial incentives to quit in addition to smoking-cessation support'
The APPG suggests giving £200 to every pregnant woman who quits. How long before all women work out that they should claim to be a smoker at the start of their pregnancy?
8) 'Fund regional programmes to reduce the use of illicit tobacco in deprived communities'
The use of illicit tobacco is directly linked to the price of tobacco, which is artificially high thanks to the endless tax hikes demanded by ASH. The sharp rise in the sale of legal tobacco during the lockdowns, when access to other countries was extremely limited, gave a hint of how big the black market is.
With a pack of snouts now costing a tenner and Brexit curtailing the ability of smokers to buy large quantities of tobacco from abroad, the black market is likely to grow. It is not going to be stopped by 'developing partnerships' and 'engaging frontline workers' (which is what the APPG lamely proposes).
9) 'Legislate to put health warnings on individual cigarettes, quit messaging on pack inserts and close other loopholes in existing regulations'
This is where the mask of sanity starts to slip. Over the years, the preposterous idea of putting health warnings on individual cigarettes has been occasionally put forward by the worst anti-smoking cranks, but has always been treated as a joke. In 2019, it was seriously proposed by Dr Crawford Moodie of Stirling University who also thinks it would be a good idea if cigarette packs played a short audio message when opened. Enough said.
The APPG makes the strange claim that 'the lack of health warnings on cigarettes (and cigarette papers) is an obvious loophole in existing regulations'. Among other supposed 'loopholes' it wants to close are advertisements for Rizlas and shopkeepers putting a piece of paper up saying 'tobacco sold here'.
Did I mention that ASH has been scraping the barrel recently?
10) 'Reduce the appeal and availability of e-cigarettes and other nicotine products to children'
The one issue ASH has been reasonably sensible on in recent years has been e-cigarettes. The APPG report accepts that vaping is not a 'pathway into smoking' and it is dismayed that vaping rates fell in 2019 and 2020 due to 'misperceptions of the risks', but it nevertheless wants standardised packaging for e-cigarette products, thereby sending a message that they are as bad as smoking. They reckon this would have a big effect in deterring children from using e-cigarettes, but would have no effect at all on adults. What luck!
11) 'Make the route to medicinal licensing fit for purpose to allow e-cigarettes to be authorised for NHS prescription'
I have mixed feelings about giving out e-cigarettes on prescription. On one hand, it would certainly be more cost-effective than the NHS's Stop Smoking Services. On the other hand, if you can afford to smoke, you can easily afford to vape and I don't see why taxpayers should have to pay for people's recreational nicotine use. Overall, I am swinging round to the idea for two reasons. First, because it would send a powerful message to governments that are sceptical of vaping if the NHS (may peace be upon it) were to embrace e-cigarettes so explicitly. And secondly because the only companies that could afford the rigmarole of getting their e-cigarettes licensed for medical use would be tobacco companies – and having tobacco companies supplying the NHS would be funny.
12) 'Consult on raising the age of sale for tobacco from 18 to 21'
This is the one the media have picked up on. In December 2019, the United States raised the age at which tobacco products (and vape products) can be purchased to 21. It is less easy to argue against this in the US because Americans treat young adults like babies by banning the sale of alcohol to anyone under 21.
In Britain, however, you become an adult when you're 18. If the APPG wants to change this, it needs to make the case for raising the age at which people can buy alcohol and fireworks, join the police, gamble, get a tattoo, change their gender and vote. Since several MPs on the APPG have actively campaigned for the voting age to be dropped to 16, we must assume that they have no objection to people making important decisions before they reach the age of 21 and that their desire to ban young adults from buying cigarettes stems from an urge to introduce prohibition by increments.
Incidentally, most Americans start drinking before they are 18.
In summary, the ASH / APPG plan is not going to make Britain 'smoke-free' by 2030 (note how quickly the word 'smoke-free' was redefined; it used to refer to indoor public places and now means the whole country). It is not going to come close to achieving that goal because it doubles down on the authoritarian, battering-ram, regressive and supply-side approach that appeals to prohibitionists, but cuts little ice with smokers.
Christopher Snowdon is director of lifestyle economics at the Institute of Economic Affairs. He is also the co-host of Last Orders, spiked's nanny-state podcast.
To enquire about republishing spiked's content, a right to reply or to request a correction, please contact the managing editor, Viv Regan.