The internet isn't working
Outages are becoming commonplace thanks to fundamental flaws in the architecture of the internet.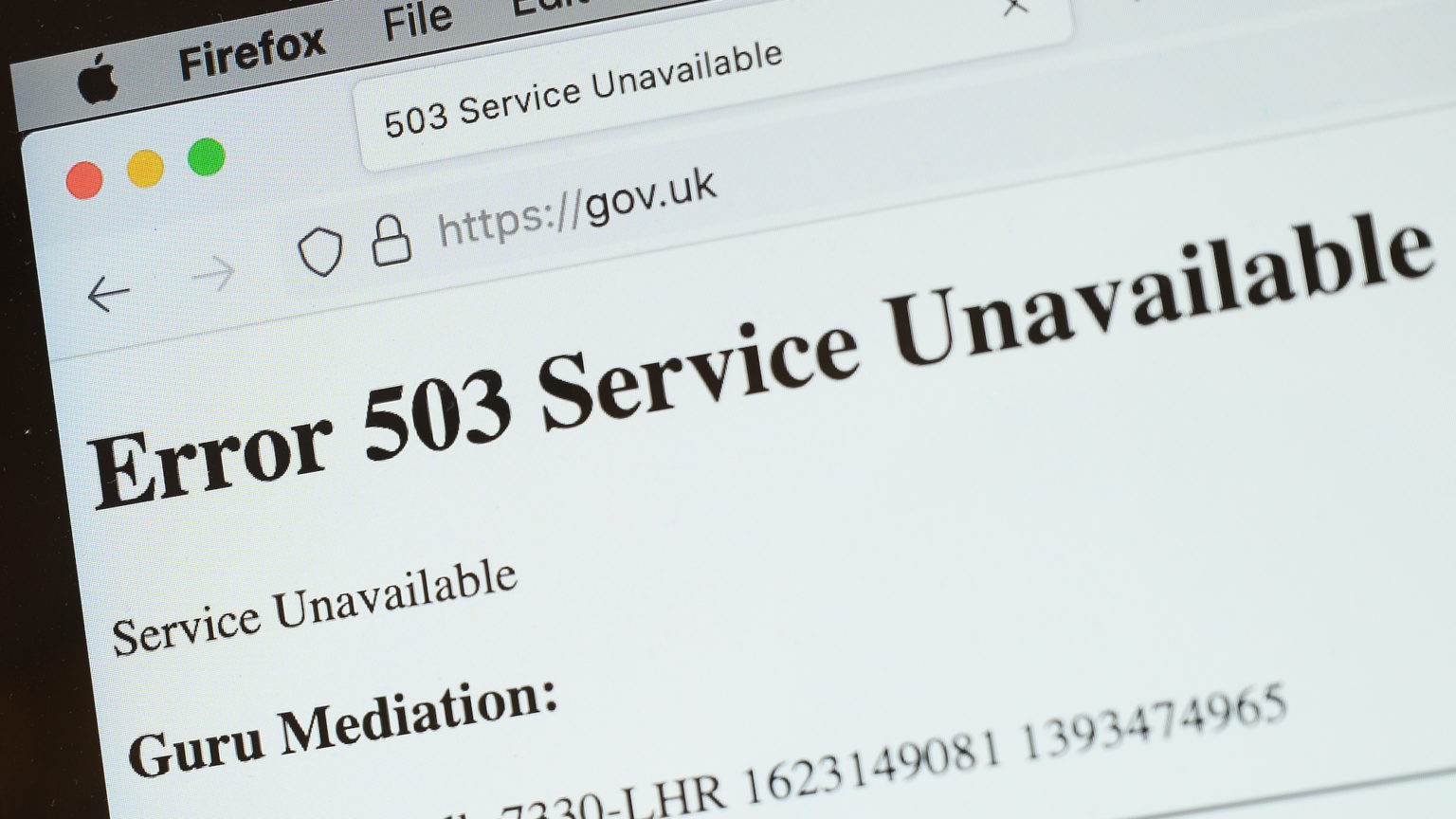 If life ever returns to normal, one thing no one will miss from the lockdown era is the 'TV goldfish'. For over a year, we've watched the disembodied, pixelated faces of contributors to live TV mouth their words out of sync with their audio, gulping away as if in a private fish tank. This isn't the exception for internet video, it's the norm.
Now recall that TV programmes have been conducting smooth, one-on-one video conversations over copper wires for over 20 years – conversations where the audio and video synchronised well. This tells us something. Video 'over internet' is failing to deliver somehow. It is demonstrably worse than video 'over not-internet' used to be, despite us having vastly more bandwidth and computer-processing power today.
This week many popular websites fell over, albeit briefly. Spotify, Reddit, Twitter, media outlets including the BBC and the New York Times, and the official government sites of the UK and the US all faltered or fell down completely. These outages, caused by the failure of a content-delivery network called Fastly, were brief but surprisingly widespread.
In fact, downtime is not unusual. Outages at the better-known cloud giants, Amazon, Microsoft and Google, are now so commonplace they barely make the news anymore.
So what has this got to do with my complaints about internet video being a bit ropey? Surely, one is an endemic performance issue, the other most likely a cockup? They are, in fact, related.
The mythology of the internet valorises frontier heroes: the hero entrepreneur, the hero hacker, even the hero academic and the hero intellectual. This mythology became enshrined in Facebook's company motto for the first decade of its existence – 'move fast and break things'.
But as authors Lee Vinsel and Andrew L Russell argue in The Innovation Delusion, this mythology detracts from the need for maintenance, care and repair. The working-class jobs that maintenance and fixing things creates, Vinsel and Russell argue, have a low social status, but these are vital social and economic roles.
Perhaps realising that 'breaking things' had become a stick to beat it with, in 2014 Facebook tweaked its motto to the clumsy and self-conscious 'Move fast with stable infra' (short for infrastructure). But if only our infrastructure really were more stable. The internet mirrors real life in this department: poor video performance and reliability are deep-level plumbing issues that never seem to get fixed. The internet has suffered from two decades of innovation inertia, and technical proposals to improve the most obvious deficiencies run into indifference or hostility.
John Day is one of the internet's greybeard founding fathers. For a decade he has been advancing a set of improvements to the current mainstream internet protocols. His proposals – called RINA (Recursive Internetwork Architecture) – revisit and build on Louis Pouzin's founding concept of datagrams (data packets). Simplifying these features allowed the original inter-networking protocols (IP) to get out of the door in the 1980s and 1990s, and allowed for the rapid growth of the internet. But the current system we have – TCP/IP – is holding back new innovation.
RINA adds vital quality-of-service guarantees for performance. Both internet video and the firm responsible for yesterday's outage would have benefitted from any kind of quality of service. But outside of Armenia, where RINA is finally being trialled, it seems that nobody wants to know. (The EU contributed some small sums to RINA research projects – but these are dwarfed by the amount the EU has thrown at faddish pursuits like 'gamification'.)
In March 2020, a similar, bottom-up architectural redesign of the internet to add quality and performance floors was advanced to the international standards body, the ITU, by the Chinese. The proposal acknowledged the plumbing is broken. But after Covid-19, anything Chinese is politically dead in the water.
Today, any tweaks to the architecture of the internet are immediately politicised, with changes now policed by lawyers, activists and NGOs. All of these groups hark back to a mythical internet, transposing their Rawlsian theories of 'social justice' on to the pipes and the packets in the name of 'net neutrality'. For the US left, the notion that 'every packet is equal' has become as sacred as climate change. But it is a metaphor that doesn't map on to reality. It has never been true, and internet video wouldn't work if it was ever attempted. Content-delivery networks like Fastly are increasingly in these activists' sights.
Large corporations, governments and activists all see themselves as vanguardistas, defending the internet, and reflecting in its triumphs. But they couldn't seem to care less about the engineering and the practices needed to keep it working. That stuff is too boring for them. Sadly, that means we can all expect more downtime.
Andrew Orlowski is founder of the research network Think of X and a columnist at the Telegraph.
To enquire about republishing spiked's content, a right to reply or to request a correction, please contact the managing editor, Viv Regan.