Sanctions won't help the people of Belarus
How the West could end up hindering the struggle for democracy.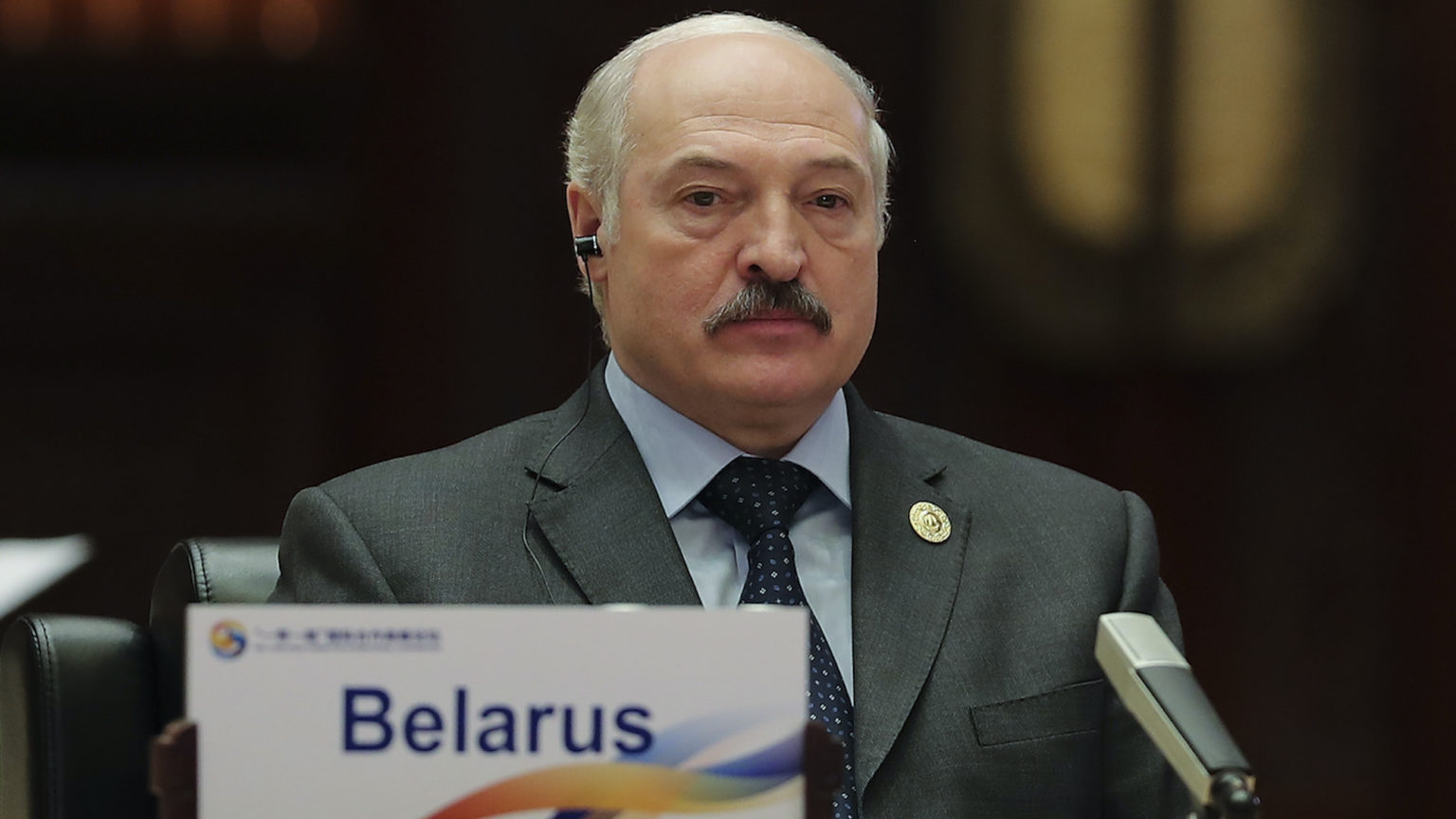 On Sunday evening, Belarus president Alexander Lukashenko sent up an MIG fighter to intercept a Ryanair flight on its way from Greece to Lithuania, and forced it into an unscheduled landing in Minsk. There, as we now know, security forces removed two of the passengers – Roman Protasevich, a journalist critical of Lukashenko's government, and his girlfriend Sofia Sapega – and placed them under arrest on clearly trumped-up charges.
Some called it 'air piracy'. Others an 'act of state terrorism'. Either way, it was certainly an outrageous, authoritarian act. As were the video-recorded 'confessions' that soon followed from Protasevich and Sapega. These merely confirmed observers' worst fears – that, after perfunctory showtrials, this twentysomething journalist and his girlfriend face lengthy prison sentences. That is, if they live that long.
Yet, as shocking as Protasevich's airborne interception was, it is important to remember that this was just the tip of an iceberg of escalating, state-sponsored repression in Belarus. Since mass anti-government protests erupted in August last year, following Lukashenko's sixth consecutive – and most clearly rigged – presidential election victory, human-rights groups estimate that more than 35,000 people have been detained by the state. Police have also raided the offices and homes of anti-government activists. And, as the Financial Times reports, prominent figures in last year's protests, such as opposition leader Maria Kalesnikava, also face the prospect of long jail terms.
What's more, Lukashenko has targeted non-state media in particular. Earlier this month, the Belarus KGB moved on Tut.by, Belarus's largest independent news outlet, and arrested several journalists, this time on suspicion of tax evasion. Their detention followed the decision last November to place the founder of Nexta, an independent Warsaw-based outlet, on the terror watchlist, and the imprisonment in February of two Belsat TV journalists, who, for their sins, had filmed one of the protests against Lukashenko last year.
Lukashenko's response to the growing, popular opposition to his autocratic rule has therefore been typically brutal. Protesters have been tortured and incarcerated, politicians exiled or threatened, and independent media suppressed. Protasevich's detention is part of this broader crackdown on any form of dissent.
Lukashenko's response is in keeping with much of his 27 years in power. Belarus, though nominally a democracy, is effectively a dictatorship. The bicameral parliament, the political plurality, the liberal, democratic gestures — they're all for show. Belarus is an authoritarian state, ruled by an all-powerful president, who has emasculated parliament, rigged elections and silenced opposition.
That he is behaving in such a brazenly authoritarian manner right now, silencing internal critics and plucking dissenters from the sky, is an indication less of his strength than of his political desperation. As shown by last August's protests, which, despite police intimidation, were attended by tens of thousands of people, he faces a mass opposition demanding democratic rights. So the sooner Lukashenko falls, and takes his cronies with him, the better.
Yet the excitable, showboating response to Protasevich's arrest on the part of the US, the UK and especially the EU won't hasten the advent of democracy in Belarus. If anything it will impede it.
At best, the response amounts to moral posturing. The White House described the arrest as 'shameful', and pledged to 'stand with the people of Belarus in their struggle. UK foreign secretary Dominic Raab called for Lukashenko to be 'held to account' for his 'outlandish' actions. And European Commission president Ursula von der Leyen promised that 'the outrageous and illegal behaviour of the regime in Belarus will have consequences'.
But despite the international sound and fury, von der Leyen's 'consequences' sound all too emptily familiar. In other words, more sanctions – sanctions, it should be said, that have been intermittently imposed on Belarus since the 1990s. Indeed, the EU alone sanctioned Belarus in 1996, following a controversy over EU diplomatic residences; in 2004, due to an electoral dispute; in 2010, following a dubious presidential election result; and again last year, following another dubious presidential election result.
While such loudly announced measures may have burnished the EU's reputation among its neoliberal supporters, these attempts to punish the Belarusian government have achieved the square-root of naught in Belarus itself — aside, perhaps, from impoverishing the poorer members of Belarusian society. If anything – and this, as ever, seems to be the West's great fear – sanctions have merely made Belarus more reliant politically and economically on Russia. Which is surely the opposite of what Western elites want.
Yet there is one thing that would be worse than the West's politically ineffective and possibly counterproductive intervention in Belarus — and that would be an effective intervention.
Because make no mistake, there are certainly plenty among the West's political and media elites calling for precisely that — for the West to do something stronger, something which, this time, will really make a difference. As the liberal interventionists' paper of choice, the Guardian, put it: 'The [West's] response must be swift, robust and, for his regime, painful.' Over at the Financial Times, an op-ed announced that, 'It is time to defend international law and order, before it is too late'.
As it stands, it is unclear precisely what such a response or defence would look like. But the intention is there. And that is bad news for the Belarusian people. Not because Lukashenko's fall would not be positive, but because the more the West is involved in Belarus, shaping and directing its political trajectory, the less the people of Belarus will be involved in determining their future. This is the lesson to be drawn from countless previous examples of Western meddling – external intervention turns the future of a nation into an external affair, something to be decided over the heads of the people who live there. And at a moment when popular momentum, shot through with democratic aspiration, is so against Lukashenko, that would be a disaster for Belarus.
Tim Black is a spiked columnist.
To enquire about republishing spiked's content, a right to reply or to request a correction, please contact the managing editor, Viv Regan.