Stop fearmongering about the Indian variant
We must not delay the return to normal without hard evidence of a serious problem.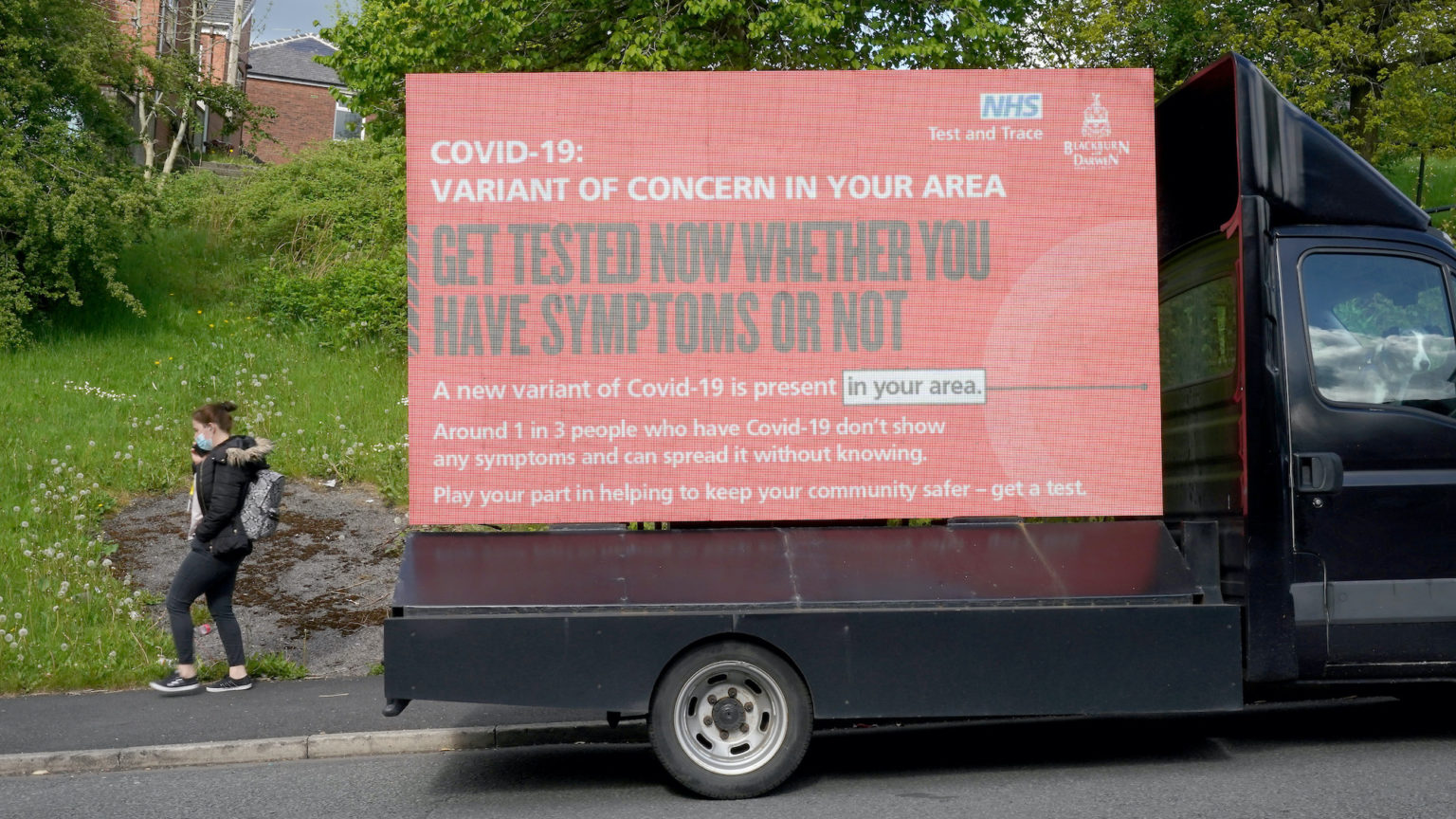 Over the past 15 months of the pandemic, when hopes have been raised and dashed at several points, it seems appropriate to be a bit cautious before declaring 'it's all over'. But in the UK, things are looking very hopeful. So maybe we shouldn't panic at the first sign of potential trouble.
On Thursday, just seven deaths from Covid were reported across the whole country. There were only 894 people in hospital with the disease, down from a peak of 39,249 in mid-January. Of those patients, a mere 122 were on mechanical ventilation, down from a peak of over 4,000. Prevalence of the disease is also very low – less than one person in a thousand in England, according to the latest ONS Infection Survey. It is even lower in Scotland and Wales.
Over 70 per cent of UK adults have had at least one dose of vaccine and most of those first doses (roughly 34million out of 37million) were at least three weeks ago, so those vaccines should be providing a good level of protection by now. Moreover, 40 per cent of adults have now had both doses – including the vast majority of the people most likely to die from the disease. The vaccines remain reasonably effective against all the variants we've discovered so far. On top of all that, there is a significant proportion of the unvaccinated population that has already been infected with Covid over the past year, so there are good grounds for believing that the majority of them are also protected against reinfection.
So we are in a very different situation from December and January. Back then, most of the population was susceptible and a new variant – B.1.1.7, aka the Kent/English variant – was spreading rapidly. After all that has happened, complacency would be foolish. But it is now unlikely that we could get another outbreak as bad as the previous peaks. Moreover, for whatever reason, this disease does seem to be seasonal – if summer 2020 is anything to go by anyway – so that should give us more time to get even more vaccinations done, without there being huge spikes in cases among the still-to-be-jabbed.
Yet some people seem unwilling to embrace this good news. The spread of one sub-variant – B.1.617.2, aka the Indian variant – has got a few alarm bells ringing. In some specific parts of the UK, cases of this variant have been rising quite fast. But this is in the context of low case numbers generally.
According to BBC News, 289 cases had been identified in Bolton, 110 in Blackburn, 99 in Sefton and 69 in Bedford in a week. Not all samples are sequenced to identify which variant is involved, so these are almost certainly underestimates. Health secretary Matt Hancock says there have been at least five cases of the variant in 86 local authority areas.
Most of those cases are from people who recently returned from India and their close contacts. So while some worry that the recent upsurge could indicate that the Indian variant is a lot more transmissible, cases might also flatten out as quickly as they rose. It's probably too early to tell. In the meantime, it would be sensible to focus particular efforts in the affected areas. We should make sure as many people as possible are tested and asked to isolate and make greater efforts to improve vaccination coverage.
What we don't need to do is put the reopening into reverse. The Westminster government has already said it 'cannot be definitive' about a full reopening on 21 June. In Scotland, the serving of alcohol indoors in pubs has been delayed for at least another week in Glasgow because of rising case numbers, including some cases of the Indian variant.
Perhaps the most frustrating thing has been the row back on opening up travel. Foreign travel was supposed to resume this week. While a few countries have been put on a 'green list' with no requirement to quarantine on return (most notably Portugal and Israel), many other popular destinations are still on the 'amber' list. The government now says we should only travel to these 'amber' countries for a 'good reason', even though pre-flight and post-flight testing is required and you need to isolate for 10 days on return.
In an article published this week on the BMJ website, a group of SAGE and Independent SAGE members declared:
'Our assessment is that this new variant of concern has fundamentally changed the risk we face and therefore the government's fourth criterion for moving ahead with the road map has not been met. We consider a pause of a couple of weeks would provide sufficient evidence to inform the decision as to whether increasing indoor mixing can go ahead without risking a third wave. The pause should come with continued financial support for affected businesses and workers. A third wave would harm businesses as well as people – physically and mentally – and put further strain on the NHS, which is already trying to cope with five million people waiting for treatment.'
While caution is no bad thing, there is clearly insufficient evidence to claim that 'the new variant of concern has fundamentally changed the risk'. It might be a serious issue, but before imposing or retaining restrictions – even the current 'looser' restrictions are unprecedented in peacetime – we should surely have better grounds than the possibility that the variant might be more transmissible. This logic could be used to justify maintaining restrictions – or at least, the threat of restrictions – semi-permanently.
Our current situation in the UK is abnormal in a positive way, too: fewer people are dying than usual. Indeed, we may currently be experiencing the lowest rate of mortality since the ONS started tracking mortality rates in 2001. But every time we have some new fly in the ointment, like a new variant, we set back our recovery. Just being in London this past week, it is clear that even with the reopening of hospitality venues indoors, things are busier but they are not exactly buzzing. Society is still very much on the back foot, wary of coming back to life altogether.
The costs of further delaying the return of some kind of normality are considerable. They need to be justified by hard evidence of a serious problem. Instead, the reflex of so many politicians, commentators and scientists is to be overly cautious. Will they ever let the pandemic end?
Rob Lyons is a spiked columnist.
To enquire about republishing spiked's content, a right to reply or to request a correction, please contact the managing editor, Viv Regan.