The left's shameful silence on anti-Semitism
Anti-Jewish hatred is surging and the woke left is looking the other way.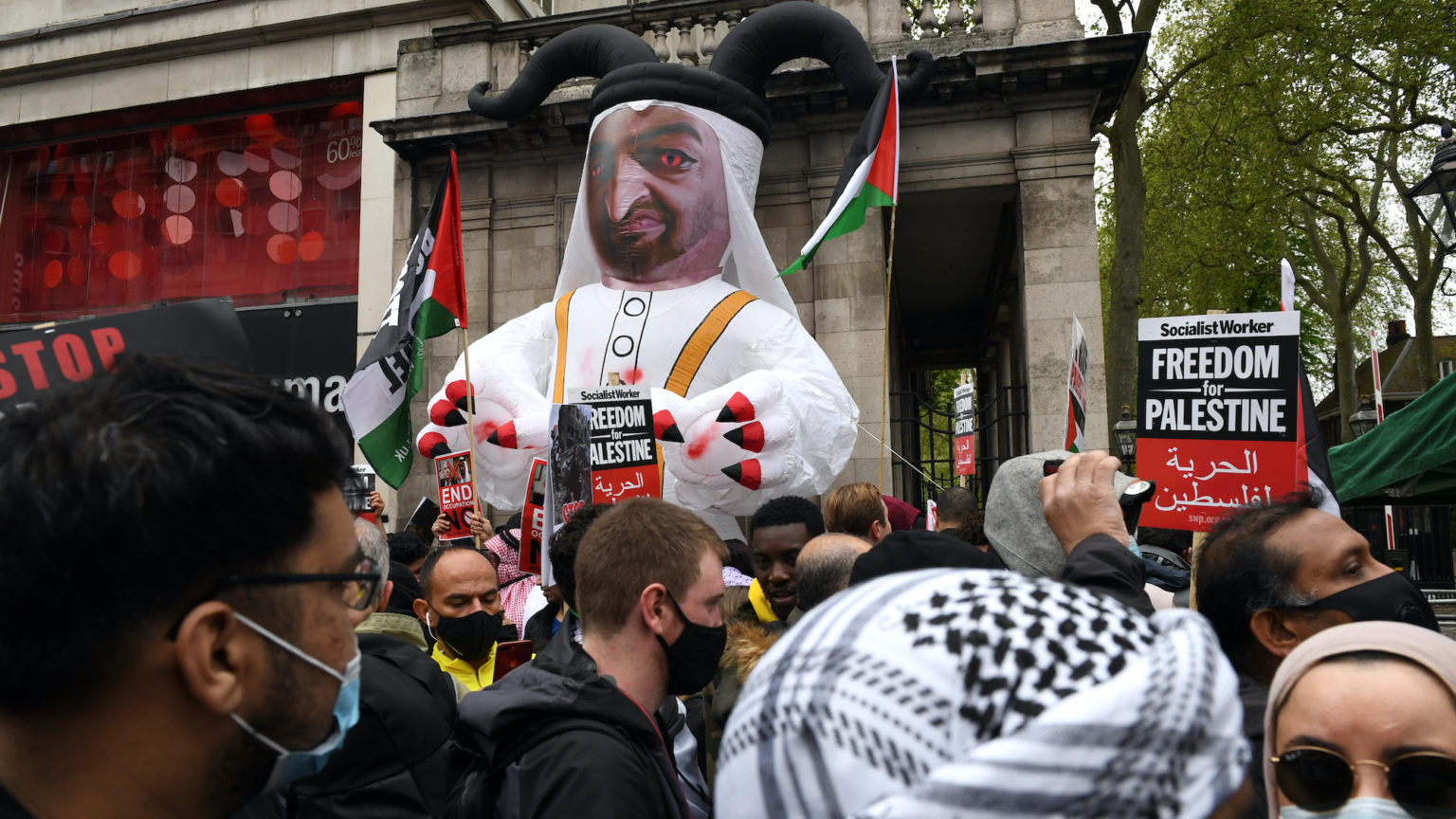 So the 21st-century left refuses to share a platform with feminists who think biological sex is real but they will rub shoulders with protesters who chant about killing Jews? This is the perverse position the woke left now finds itself in. It sees prejudice everywhere except where it actually exists. State a biological fact and they'll brand you transphobic. Criticise the burqa and you're an Islamophobe. Fail to take the knee to Black Lives Matter and its every potty political belief and you'll be called racist. Wear a sombrero and you're cancelled. But chanting death to Jews? No biggie. The woke warriors against racism and hatred will suddenly, magically go deaf. They'll look the other way. 'I didn't hear anything.'
Over the past few days, as the conflict in the Middle East has intensified, there have been explosions of anti-Semitism in many European and American cities and the self-styled anti-racist left has been cravenly, shamefully silent. At a pro-Palestine demo in London a group of protesters chanted, 'Khaybar Khaybar, ya yahud, Jaish Muhammad, sa yahud' – a celebration of the slaughter of Jews by 'Muhammad's Army' in the 7th century. Another protester carried a huge dummy depicting Israel as a caricatured Jew, complete with hook nose, sinister features and horns. This vile racist creation could be seen bobbing up and down close to Jeremy Corbyn as he addressed the crowd. Imagine a mainstream politician speaking at a demo on which someone was likening black people to monkeys. This is as shocking as that. And yet there's silence.
Elsewhere in the UK the words 'Kike Free Palestine', along with a swastika, were daubed on the front door of the Adat Yeshua Synagogue in Norwich. Most disgustingly of all, a convoy of brazen anti-Semites drove along Finchley Road in north London this weekend, waving Palestinian flags from their car windows and screaming through a megaphone: 'Fuck the Jews… Fuck their mothers… Rape their daughters.' Finchley Road runs through Hampstead, Golders Green and other areas that have large Jewish populations. This was a clear attempt to intimidate and terrify London's Jewish population. It has been widely condemned by political leaders. Will the anti-racist left hold a solidarity gathering along Finchley Road? Will footballers take the knee for our Jewish citizens currently suffering extreme racial abuse? I wouldn't hold my breath if I were you.
Depressingly, there's more. Jewish residents of Golders Green are having 'Free Palestine' yelled at them. A rabbi in Chigwell in Essex was brutally assaulted over the weekend, and 'anti-Semitic language was used as he was attacked'. There has been an 'upsurge in anti-Semitism on the streets of London since the start of the latest conflict between Israel and Hamas', reports Jewish News. One London Jewish security officer has suggested Jews should not walk to synagogue alone. There has also been all the usual yet still unsettling stuff: protest placards comparing Israel to the Nazis; 'Hitler was right' trending on Twitter.
It's happening in other countries, too. Pro-Palestine protesters in Belgium taunted Jews by chanting about the Khaybar massacre. In Germany numerous protesters have been arrested for throwing stones at a synagogue in Bonn, for starting a fire on the plaque that commemorates the destruction of the Grand Synagogue in Düsseldorf during Kristallnacht in 1938, and for gathering outside a synagogue in the town of Gelsenkirchen to chant 'Fuck the Jews'. A Jewish man in Toronto was attacked by protesters – they beat him with their Palestine flags. Meanwhile, the Hamas slogan 'From the river to the sea, Palestine will be free' – widely recognised as a hateful call to wipe Israel off the map – is being used more and more by the woke left. British leftists have used it; a New York assemblywoman posted a map inspired by the slogan, only to subsequently take it down.
This all adds up to a very serious rise in racial hatred, to a severe spike in anti-Jewish animus. We need to talk about this. We need to talk about why anti-Israel protesting is so often attended by anti-Jewish sentiment. And we need to talk about why the woke left, the people so obsessed with racism that they see it in everything from old statues to black university students being marked down for bad grammar, seem so incapable, so unwilling, to confront real, clear, horrendous racism against Jewish people.
The modern left's blind spot on anti-Jewish racism is a depressing testament to the confusions and contortions of identity politics. The ideology of wokeness is obsessed with categorising people according to their levels of presumed 'oppression' or 'privilege'. In this eccentric worldview, now being bought into not only by middle-class professional protesters but also by the political class, numerous institutions and the education system, 'whiteness' is a signifier of privilege while 'Muslimness' is an experience of relentless pain. Identity politics has helped to inflame and exacerbate contemporary anti-Semitism through its depiction of Jews as hyper-white, as uber-privileged, and we all know what privileged people deserve, right? Criticism, censure, ridicule, possibly harassment. They definitely cannot be empathised with as victims of racism. That doesn't compute for a woke left that has decreed that Jews are super-white, and therefore super-privileged, and therefore super-suspect.
And it is the woke left's paternalistic pity for the Muslim community, its tendency to infantilise Muslims as perma-victims in desperate need of our moral succour, that makes it reluctant to call out Muslim anti-Semitism in particular. Much of the vile anti-Jewish commentary and behaviour of the past few days, including in London, Bonn and Toronto, has come from Muslim pro-Palestine protesters. The identitarian left turns a blind eye to Muslim anti-Semitism because it doesn't fit into its rigid, racialised narrative. The 'oppressed' being racist to the 'privileged' doesn't add up. So they make a trade-off, wittingly or unwittingly. They decide that Muslim anti-Semitism is not worth talking about, far less condemning, because Muslims deserve the protections of political correctness while Jews do not. Jews are abandoned to preserve the orthodoxies of identitarianism. It is now seen as virtually Islamophobic to talk about anti-Semitism.
And then there's the relationship between anti-Israel agitation and anti-Semitic hatred. This has got to be confronted, honestly and forcefully. Every time there is a rise in anti-Israel protest, it is accompanied by acts of anti-Jewish animus. Why? Everyone who considers himself or herself genuinely progressive, and genuinely committed to tackling racism, should at least attempt to address this question. Left-wing protesters and commentators argue that it is entirely possible to be opposed to Israel's military actions in the Palestinian Territories without being anti-Semitic, and they are absolutely right. But the uncomfortable truth is this: the modern left isn't only opposing Israeli militarism. It is obsessing over it, to a distorted degree. Leftists treat Israel as uniquely barbaric, distinct from every other nation that engages in war. We have to ask ourselves if this hyper-moralisation of the Israel-Palestine conflict, this denouncement of Zionism as a pox on both the Middle East and broader global affairs, contributes to the prejudicial conviction that the Jewish State is the most evil state, and the Jewish people thus a suspect people.
'Silence is compliance', the woke left is fond of saying. So should we take their silence on recent acts of anti-Semitism as a sign of compliance with this hateful ideology? People are setting fire to Jewish monuments in Germany. They're driving through Jewish areas of London calling for the rape of Jewish girls. They're parading through the streets with images of hook-nosed Jews. If this doesn't concern the woke left, then it is clearly even more lost than some of us feared.
Picture by: Getty.
CORRECTION: This article has been updated to reflect that the anti-Semitic inflatable spotted in London appeared to be depicting supporters of Israel, rather than Israel itself.
To enquire about republishing spiked's content, a right to reply or to request a correction, please contact the managing editor, Viv Regan.