Breast-binding has no place in schools
School leaders are failing their pupils by appeasing woke fads.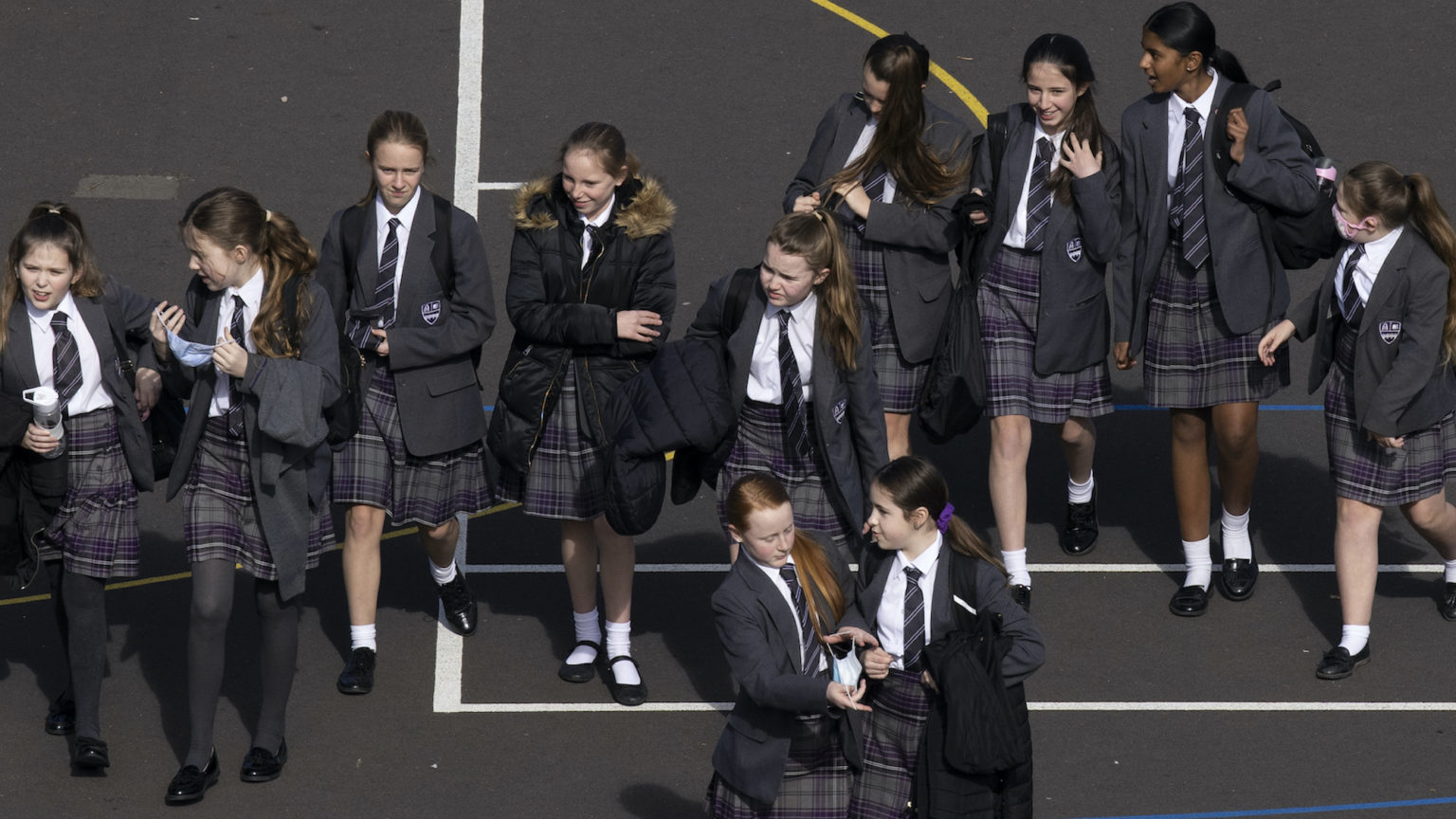 A leading girls' school has allowed pupils to promote breast-binding among students as young as 11 – without the knowledge of their parents. This is the latest shocking example of the woke cultural revolution taking place in education.
At Nonsuch High School for Girls in Surrey, all pupils were recently sent a newsletter written by its LGBT society. It featured a section on breast-binding. According to The Times, the school has now been reported to the Department for Education for violating safeguarding protocols by distributing the newsletter.
Breast-binding compresses and flattens female breasts. It is common among trans teenagers seeking to disguise and restrict the development of their female anatomy. For most of its centuries-long history, however, it has principally been used to oppress women by forcing their bodies into line with archaic notions of the ideal female form. In 17th- and 18th-century China, where large breasts were associated with rural peasant women, breast binding was used to prevent shame falling on noblewomen and their husbands. European aristocrats of the same era used corsets to give women an adolescent-like physique.
Breast-binding can cause real harm. Official NHS guidance says that breast-binding should only be used as a temporary measure – and for many people, should not be used at all. It says, 'Binders may strain the back and distort breast tissue, making surgical reconstruction less successful'. Over 97 per cent of respondents to a recent study reported negative effects from breast-binding. Almost three-quarters said it caused them pain, frequently in the back and chest. Rib fractures and impeded breath were also reported.
Despite this, the Nonsuch newsletter – which had a section titled, 'How do I bind safely?' – was shared with prepubescent girls. It included links to websites explaining that if binding proved painful, surgical procedures that remove breast tissue could be an option to create a 'more masculine' appearance.
We have a right to expect better from our schools. Nonsuch is a prestigious grammar school and a regular fixture in the Top 10 of the school league tables. Admission is by entrance exam and competition for places is fierce across London and the South East. Since its foundation in 1938, Nonsuch has had a reputation for providing young women with qualifications, including in subjects like astronomy and Greek, which have enabled them to compete with men on a level playing field. Former students include Olympic cycling champion Joanna Rowsell Shand, war correspondent Christina Lamb, historian Suzannah Lipscomb, and pop singer Katie Melua.
Tragically, Nonsuch is now letting its girls down. Sixth-formers are naturally rebellious, and often don't know better. Schools should channel and guide their students' defiant energies into something genuinely progressive. But instead school leaders are letting pupils lead them – even when it comes to issues as serious as breast-binding.
In a statement, Nonsuch's leadership defended the newsletter, saying it was intended to 'inform and promote understanding of LGBTQ+ issues' and to 'communicate safety advice to young people who may be considering risky practices'. But in another statement, it apologised for the 'considerable alarm' the newsletter had caused, saying it was not 'in keeping' with Nonsuch's RSE (Relationships and Sex Education) programme.
The number of trans pupils in the school is a small minority. The number of them prepared to bind their breasts must surely be even smaller. It would be responsible to make these pupils aware of the medical risks, in a private and sensitive meeting. Instead, the school allowed breast-binding to appear like a normal lifestyle choice.
The real issue here is a failure of leadership. Perhaps the school acted out of fear. Last October, in the wake of the Black Lives Matter protests, hundreds of pupils demonstrated in the playground and disrupted lessons in a revolt against the school's 'white privilege'. The headteacher was panicked into publicly denying that the school was racist.
By giving way to the fashionable cultural orthodoxies held by students, school leaders believe they will be seen as virtuous and forward-looking. But as the breast-binding incident shows, they can end up doing real harm.
Adam Stevenson is the pseudonym of a former teacher at Nonsuch High School for Girls.
To enquire about republishing spiked's content, a right to reply or to request a correction, please contact the managing editor, Viv Regan.