How LTNs have torn communities apart
The undemocratic imposition of road closures by local councils is a disgrace.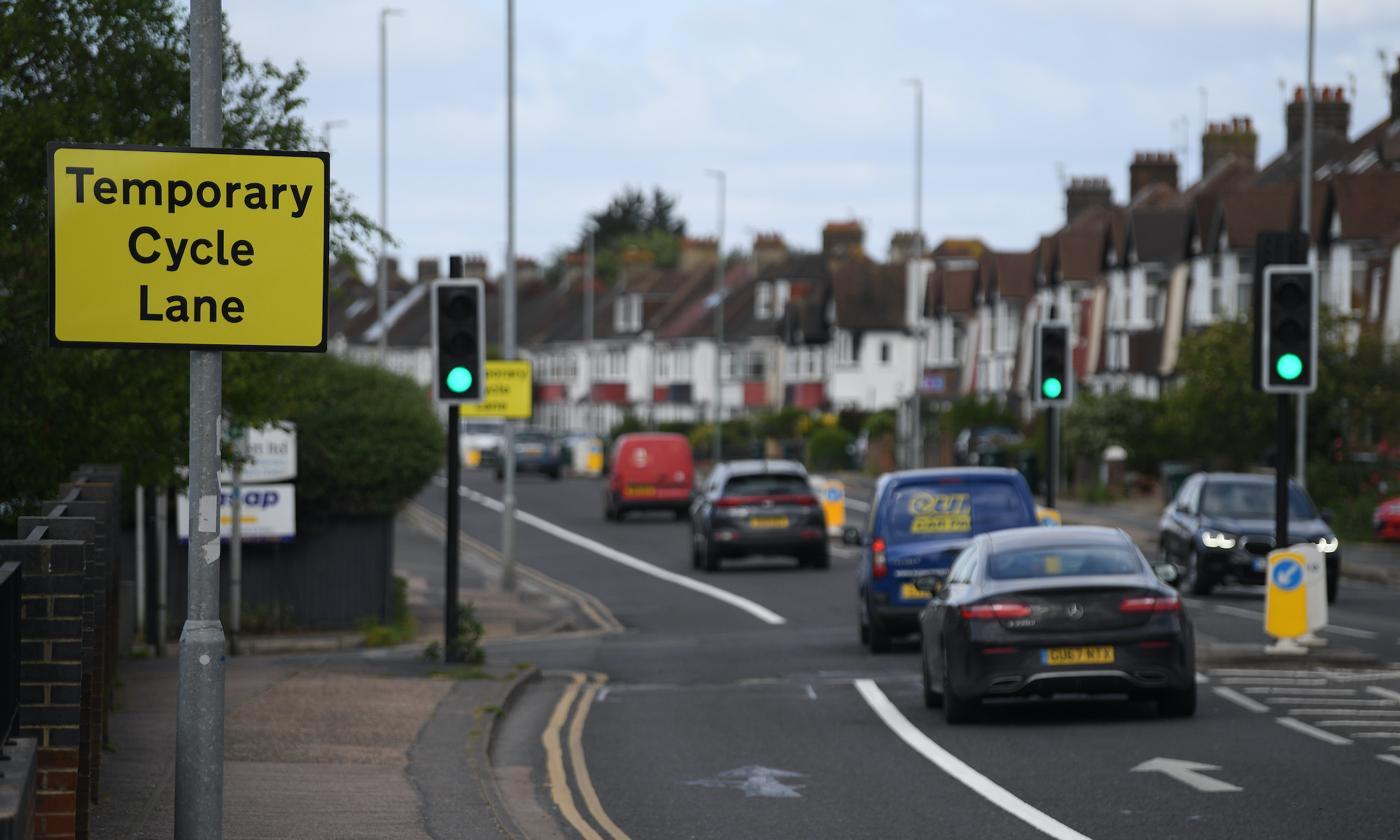 Low Traffic Neighbourhood (LTN). As jargon goes, it sounds innocuous enough. But for those people living in areas in which local councils have imposed LTNs, they are not innocuous. They are the source of considerable and understandable anger, especially in London.
There have been petitions, protests and a vibrant grassroots push-back. Just a week ago, several thousand people marched on Ealing Council headquarters in opposition to the LTN rollout in the West London borough. We have seen opposition flourishing in other London boroughs, too – in Hackney, Islington, Lambeth, Hounslow and Enfield. There's every reason to think LTNs will be a significant flashpoint in this week's local elections.
LTNs originated in the London mayor's so-called mini-Hollands scheme of the early 2010s. This was inspired by Dutch town planning of the 1970s, funded by then mayor Boris Johnson, and pursued by councils in Waltham Forest, Enfield and Kingston from 2014 onwards. Its aims were typically green-hued: to facilitate cycling, reduce traffic and increase pedestrianisation.
LTNs emerged as a specific aspect of this scheme. They involve the cordoning off of a block of residential side-streets from non-residents' vehicles, using physical barriers, such as planters or bollards, with number-plate recognition cameras installed at their boundaries to catch and fine non-residents' vehicles.
Now, the idea of the LTN is problematic in itself. But arguably it was the manner in which LTNs were implemented that has riled so many. In short, local councils simply imposed LTNs on areas early last summer. No prior debate. No consultation. And certainly no votes or referenda. The first many knew that they were living in or near an LTN was when they suddenly found the roads they normally used blocked or closed. It really was that sudden. Many people's everyday lives were disrupted, sometimes severely, with what felt like a few strokes of a councilor's pen on a street map.
To many it even seemed a little sinister. Sure, a handful of LTNs pre-dated the pandemic, but the vast majority were imposed during it, as if local councils were exploiting the lockdown to make a significant change to people's lives while they weren't looking. And that is because councils, in cahoots with central government, were doing precisely that. On 9 May, in the midst of the first lockdown, the government announced a £250million 'emergency active travel fund' to facilitate non-car mobility. 'Measures should be taken', the government stated, 'as swiftly as possible, and in any event within weeks, given the urgent need to change travel habits before the restart takes full effect' (my emphasis).
In other words, the government was encouraging, indeed incentivising, local councils to use the lockdown to try to change people's behaviour, or 'travel habits'. As Niall Crowley, a spiked contributor now standing as a candidate in council byelections in Hoxton East and Shoreditch, told the Guardian, 'If you're going to treat residents as a problem to be managed or nudged, then what kind of democracy is that?'. Quite.
Councils didn't seem to mind, however. More than 50 took the government up on its offer, and set about creating around 200 LTNs – over half of which are in London. Normally councils would have to consult the public before making such a significant change to their lives. But not during lockdown. Not when they could take advantage of new local-authority powers, introduced at the end of May 2020. These enabled them to use 'experimental traffic orders', a legal mechanism newly amended for 'purposes related to coronavirus', to impose road regulations on local residents without consulting them beforehand. In the words of Professor Stephen Glaister, a transport policy expert at Imperial College, 'councils crash[ed] through the normal process of public consultation'. And, shamefully, they used a pandemic to do so.
Is it any wonder that so many people, especially in LTN-riddled London, were so angry so quickly? Their lives were forcibly changed overnight. Journeys that once would have taken, say, 20 minutes suddenly doubled in time. The visit to one's elderly parents. The equipment-heavy commute of the tradesman. The daily round of the caregiver. Thanks to the posturing environmentalism of central government and the London mayor, and the aloof, undemocratic behaviour of local councils, all these car journeys suddenly became much more difficult.
If it seems as if councils failed to think through the consequences of LTNs, that was probably because they hadn't. Disabled people, who might well not be able to get anywhere without a car, were ignored. Emergency services, though officially supportive of the schemes, in some cases, had not been told of the changes. And delivery drivers, increasingly in demand during the pandemic, were blindsided. In their determination to avoid the public, councils imposed measures that failed to take the public into account. Undemocratic policymaking is also bad policymaking.
Not that everyone loathes LTNs. For those now living within one, the disappearance of traffic is no doubt a boon. LTNs are quieter, cleaner and, above all, great for house prices – it is no coincidence that the area with the highest percentage increase in property values since 2010 was Walthamstow in Waltham Forest, which introduced proto LTNs in 2014.
But the extent to which LTNs benefit some, while adversely affecting many others, is a central part of the problem. LTNs are inherently divisive. Traffic is forced out of one area to contribute to congestion in another. One group of people is lifted up, while another is pushed down. As such, they inevitably set one group against another, generating an antagonism on display on social media, local online platforms, and in residential windows and nearby shop fronts. Some critics go so far as to say LTNs will deepen socio-economic inequality, pushing house values up in LTN areas, and therefore pushing out poorer residents. As Mohammad Rakib, a community activist in the borough of Tower Hamlets, told the Guardian, '[LTNs] are more about social cleansing than they are about reducing pollution'. Little wonder that even Adoo-Kissi-Debrah, a prominent clean-air campaigner, is opposed to LTNs on the grounds that they displace pollution rather than reduce it. 'The middle classes are very good at lobbying to get these things', she adds.
LTNs are unfair. They have been foisted on people without consideration or care, to the advantage of some, and the disadvantage of many. The sooner people force their councils to follow the leads of Wandsworth and Harrow, and scrap these democracy-dodging schemes, the better.
Tim Black is a spiked columnist.
To enquire about republishing spiked's content, a right to reply or to request a correction, please contact the managing editor, Viv Regan.