A revolt against road closures
Protesting Londoners have had enough of their councils' war on cars.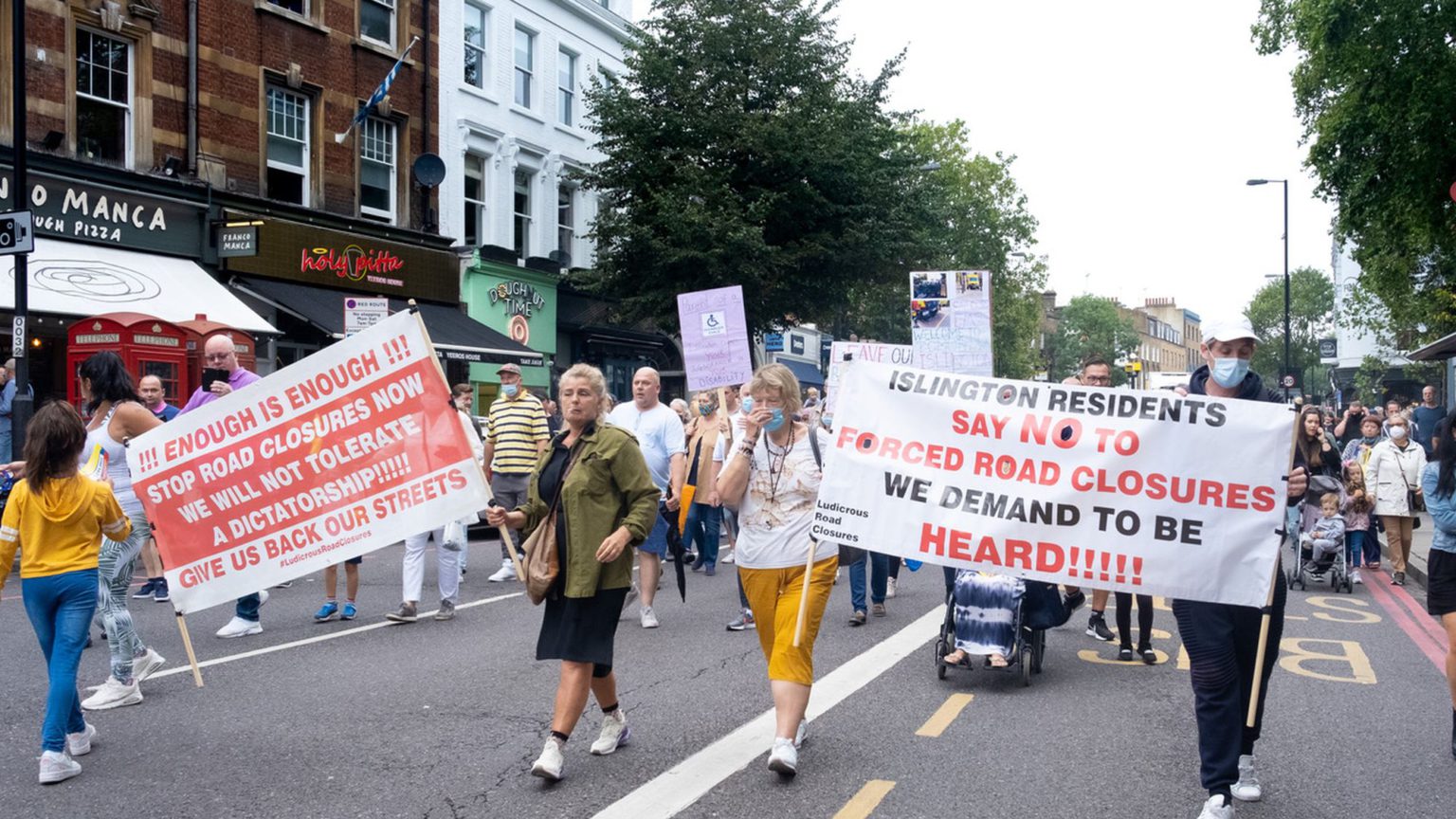 All across London a quiet, little-reported 'war' is raging. Barricades and roadblocks have been erected. Neighbourhoods are hemmed in and cut off. In some neighbourhoods, social and commercial life is grinding to a halt.
Those responsible for the chaos are not young rioters or urban guerrillas. Battles and skirmishes are breaking out between councils and residents, as council officials impose increasingly draconian measures to stop people using their cars.
In Hackney, Camden, Islington and Tower Hamlets, lockdown is being used as a cover to expand and accelerate a programme of road-narrowing (by building cycle lanes), while some roads are closed off to cars completely. As a consequence, traffic is being forced on to fewer and fewer streets. These road closures have been cheered on by the government, cycling advocates, environmentalists and self-styled urbanists. But they are seriously hampering people's ability to get around their city. In Birmingham and Manchester there are also rumbles of disquiet.
As with any war, language and propaganda are essential weapons in the fight. This war is fought in the name of 'Safer Neighbourhoods', 'Living Streets', 'School Streets' and 'Low Traffic Neighbourhoods' (LTNs). The advocates woo their opponents with the promise of idyllic, peaceful neighbourhoods with names like 'Mini Holland' and the 'Oval Triangle'. Impenetrable bureaucratic-speak fosters confusion: they talk of modal filters, filtered permeability, Copenhagen Crossings, and Experimental Traffic Orders. Oblique reports call for local authorities to encourage Active Transport (ie, walking) and welcome the prospect of 'evaporating traffic'.
On Saturday 15 August, in a good-natured and lively show of extreme displeasure, more than a thousand residents marched from Islington Town Hall along Upper Street (Islington's buzzing commercial centre). A mile or so later, at Pentonville Road and Angel junction – the starting point of Britain's longest and oldest road, the A1 – protesters brought a major London artery to a standstill for the second time in two weeks.
'These are our streets', proclaimed organiser Jody Graber at a rally at the end of the protest, 'and we won't be pushed around'. Other speakers included a cancer nurse, who came from the crowd to speak about the increasing difficulties she and her colleagues face when visiting patients. And there was a cry for freedom and a sing-along dedicated to Islington council leader Richard Watts, led by Jennie Matthias, former lead singer of 80s all-girl pop band the Belle Stars.
A handful of local councillors and the Twitterati dismissed the protesters as a bunch of disgruntled, cyclist-hating cabbies, unrepresentative of local opinion. Protesters were also accused of cynically hiding behind the concerns of elderly and disabled people. The wheelchair users on the protest, many of whom were pensioners accompanied by their grandchildren, disagreed.
In fact, many of the protesters were cyclists – the very people the road closures are supposed to benefit. 'We are not anti-cyclist', said Islington-born Elaine, who was on the protest pushing her bike, wearing her cycle helmet. 'We all love bikes in our household', she told me, but car ownership is still essential: 'My husband works in the frontline emergency services, does very unsociable hours and so has to drive, because there is no public transport when he needs it.'
'Born and bred' Londoner Ian McKee explained that recent road closures and restrictions were having a huge impact, both on neighbourhoods like his, and also across the city as a whole. He said he has to drive in and out of London for his job, but the various restrictions on major trunk roads like Euston Road (the main road west out of London) have added 'more than an hour a day to my journey'. 'They're shutting London down', he said, echoing the view of many others on the demo. And closer to home, the Islington anti-car measures were 'making it incredibly difficult to visit and take out my elderly mother'.
There was a very strong sense among protesters that the road closures were really about social class. Jody Graber told the crowd: 'They want the working class booted out.' 'The council is displacing traffic from the nice houses and streets and putting it into the [areas with] council housing', Elaine continued.
According to Private Eye, Graber is right. A recent article said that measures such as Low Traffic Neighbourhoods adversely affect poorer people. 'In the borough of Lewisham, the Lee Green LTN displaces traffic from wealthier east Hither Green to the less affluent, more racially diverse west side. Several formerly quiet west Hither Green residential streets now endure more air pollution and congestion', it explains.
There is certainly an element of class snobbery in the measures. The urban middle classes, who have been busy colonising working-class areas of London over the past couple of decades, have long since fallen out of love with the car. But for many working-class Londoners, and Britons more widely, owning your own car, with all the freedom and convenience it can bring, is still very much an important part of their lives (around 77 per cent of households in the UK own a car). Car ownership is not a luxury but a necessity for many people – for busy parents, those with long commutes, for elderly people, disabled people and other groups.
Many of those who are pushing through and cheering on these changes to our neighbourhoods seem oblivious to the differing needs of others. Everyone is told they need to conform to a lifestyle which is pedal-powered, locally sourced, green and artisanal. There seems to be no scope for tolerance, for figuring out how people with different needs and desires can live together. For the anti-car brigade, it's 'my way or the cycleway'.
Many of the changes over the past few years have enriched our neighbourhoods, especially in parts of London that were incredibly run down. London is all the better for new and innovative businesses, bars, bistros, cafes, bakeries and so on. And of course, cycling and walking are great ways of getting around the neighbourhood. We should certainly strive to make cycling a safer activity.
But rather than promoting 'Active Transport', where we are forced into making predetermined choices, we need Active Citizenship, where we all have a say and play a part in how our communities and neighbourhoods work. We need to be prepared to tolerate other people's choices, even if we don't agree with them. We need a real shake-up of local democracy, and perhaps even some new faces and parties to carry out our wishes. At the very least, those in power in our town halls should be reminded that they are elected to represent us. Citizens are not simply an inconvenience to be 'nudged' and pushed around.
In short, we need a revolution in local democracy.
Niall Crowley is a writer based in London.
Picture by: Niall Crowley.
To enquire about republishing spiked's content, a right to reply or to request a correction, please contact the managing editor, Viv Regan.