Revealing the hidden Hemingway
Two new collections of letters and early writing bring a different Hemingway into focus.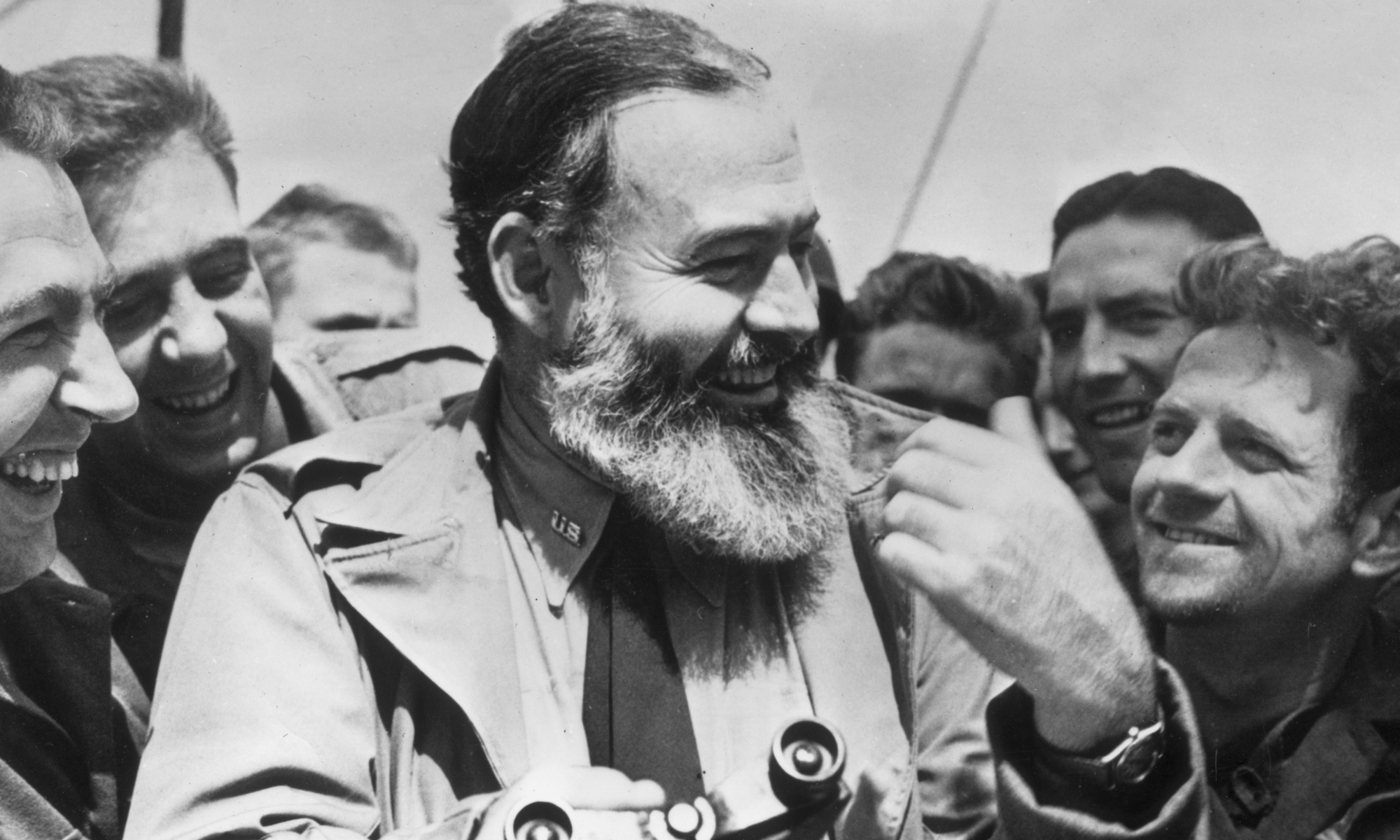 In the cycle of a fiction writer, there is a pattern: youthful works, reviews/articles and fiction during the author's lifetime; then posthumously comes unpublished fiction, journals, collected articles and – finally – letters.
Letters are the most fugitive of literary texts. They are distributed between numerous recipients and their descendants, sold to collectors, lost, forgotten, destroyed. But they allow us to experience life events from the perspective of the author.
So it is with Ernest Hemingway (1899-1961). In The Letters of Ernest Hemingway, Volume 5: 1932-1934, we spend time with him in the Florida Keys, a period when Vanity Fair featured a full-page, full-colour Ernest Hemingway paper doll, captioned 'Ernest Hemingway, America's own literary cave man; hard-drinking, hard-fighting, hard-loving – all for art's sake'. The paper costumes were Neanderthal, soldier, boulevardier, fisherman and bullfighter. By this point, Hemingway was already working to maintain a macho reputation he himself had promoted: a proper man's man, but with the sensitivity of a poet and the avant-garde technique of a literary Picasso.
Hemingway was notorious for exaggerating his masculine achievements, but he had real prowess as a sports fisherman. He held records and won numerous competitions for fishing. Key West was adjacent to fishing grounds for tarpon and marlin, and Hemingway spent time in them, on his 38-foot cabin cruiser Pilar. Running counts of catches is a leitmotif throughout this volume. 'We've caught 14 marlin and two sailfish – one sailfish a 74 pounder – eight feet four inches – marlin from eight feet six, to nine feet – 23 dolphin.'
Key West was also a town where Prohibition never applied and bars served alcohol openly. The rum, sun and fishing were big draws for Hemingway.
The recipients of Hemingway's letters form a roll-call of American artists and writers, including John Dos Passos, F Scott Fitzgerald, Ford Madox Ford and Ezra Pound. A volume of correspondence between Hemingway and American artist Gerald Murphy, and his wife Sara, has already been published.
Gertrude Stein was an early supporter of Hemingway and opened doors to him as a creative writer. However, there was a break between them in 1925. ('She lost all taste and judgement', he writes to a friend. 'She quarrelled with Picasso, with me, with André Masson and would have with Juan Gris if he hadn't died.') Irked by Stein's dismissive statements about him, Hemingway replied by paraphrasing Stein's famous line, 'a rose is a rose is a rose' — 'a bitch is a bitch is a bitch'. Not Hemingway's finest hour.
Other correspondents include family members, old friends and editors, particularly Maxwell Perkins at Scribner's. Hemingway recounts his ailments (including illnesses and numerous injuries sustained during his outdoor activities) to these correspondents in some detail. And he discusses his family, including his young children. There are even letters on editing matters and payments. It is a thorough collection.
But then one would expect it to be. This is volume five of an estimated 17 volumes, which will contain all three-million words of Hemingway's 6,000 surviving letters, postcards and telegrams. This volume includes 393 letters, postcards and telegrams, 85 per cent of which are previously unpublished. Extensive footnotes help explain tangential references, nicknames and provide quotes from the replies of correspondents. An introduction explains what was happening in the author's life and a chronology allows us to locate the author. This is necessary because the only serious omission is the location from where Hemingway was writing. This leaves readers attempting to ascertain if Hemingway is at home or away at the time of the writing of a letter.
Ernest Hemingway: The Sun Also Rises and Other Writings, 1918-1926 is a collection of Hemingway's early writing from the Library of America. The Library of America volume features Hemingway's first five books, including In Our Time (1925), a collection of thematically diverse short stories; The Torrents of Spring (1926), a slight romantic novella set in Michigan, parodying Sherwood Anderson; and The Sun Also Rises (1926), a novel describing a group of expatriates travelling to Pamplona for the annual bull-running.
One of the most welcome and refreshing parts of Ernest Hemingway is a selection of short articles Hemingway wrote for the Toronto Star Weekly, between 1920 and 1923. It shows Hemingway pioneering his stripped-down style (derived, in part, from that of Sherwood Anderson), while reporting from the field and imparting information, all directed towards the newspaper reader. He interviews Detroit liquor smugglers, and writes that police officers barely enforced Prohibition in Chicago. 'So much for police enforcement… Of course there are shakedowns. Every bartender who runs openly has to pay his bit for police protection, and that keeps the price of liquor up.'
Hemingway provides a sketch of the finances of the so-called lost generation of ex-pats from the New World, living on remittances in interwar Paris. He recounts adventurous eating, including beaver, possum, porcupine, mule, and Yorkshire pudding (which he disliked). And he describes the flight of expelled Greeks during the Greco-Turkish War, which prompts a vivid description of the shocked masses with their pitiful worldly goods.
Interestingly, Hemingway interviewed Mussolini in 1922, four months before he attained power, for a tantalisingly brief article. 'He is not the monster he has been pictured. His face is intellectual…' In a later article, Hemingway called il Duce 'a bluff', with a 'genius for clothing small ideas in big words'. He wrote that during a conference, the press were invited to regard the great leader deep in thought, so lost in a book that he remained oblivious to the reporters. 'I tiptoed over behind him to see what the book was he was reading with such avid interest. It was a French-English dictionary – held upside down.' Is such a wonderful story true? We have only Hemingway's word for it. We do know Hemingway could lie or misremember advantageously. One footnote reads, 'In reality, [bullfighter] Maera died of tuberculosis and not in the ring.'
Nevertheless, both these books shed light on Hemingway, bringing into view aspects of his writing and his handling of celebrity hitherto obscured. They mark valuable contributions to our understanding of one of the 20th century's greatest writers.
Alexander Adams is a writer and artist. His latest book is Iconoclasm, Identity Politics and the Erasure of History (Societas, 2020). His website is here.
The Letters of Ernest Hemingway, Volume 5: 1932-1934, by Ernest Hemingway, and edited by Sandra Spanier, Miriam B Mandel, is published by Cambridge University Press. (Order this book from Amazon(UK).)
The Sun Also Rises & Other Writings 1918-1926, by Ernest Hemingway, is published by the Library of America. (Order this book from Amazon(UK).)
To enquire about republishing spiked's content, a right to reply or to request a correction, please contact the managing editor, Viv Regan.