Why are children still forced to wear face masks?
Yet another 'time-limited' measure risks becoming permanent – unless we stand up to it.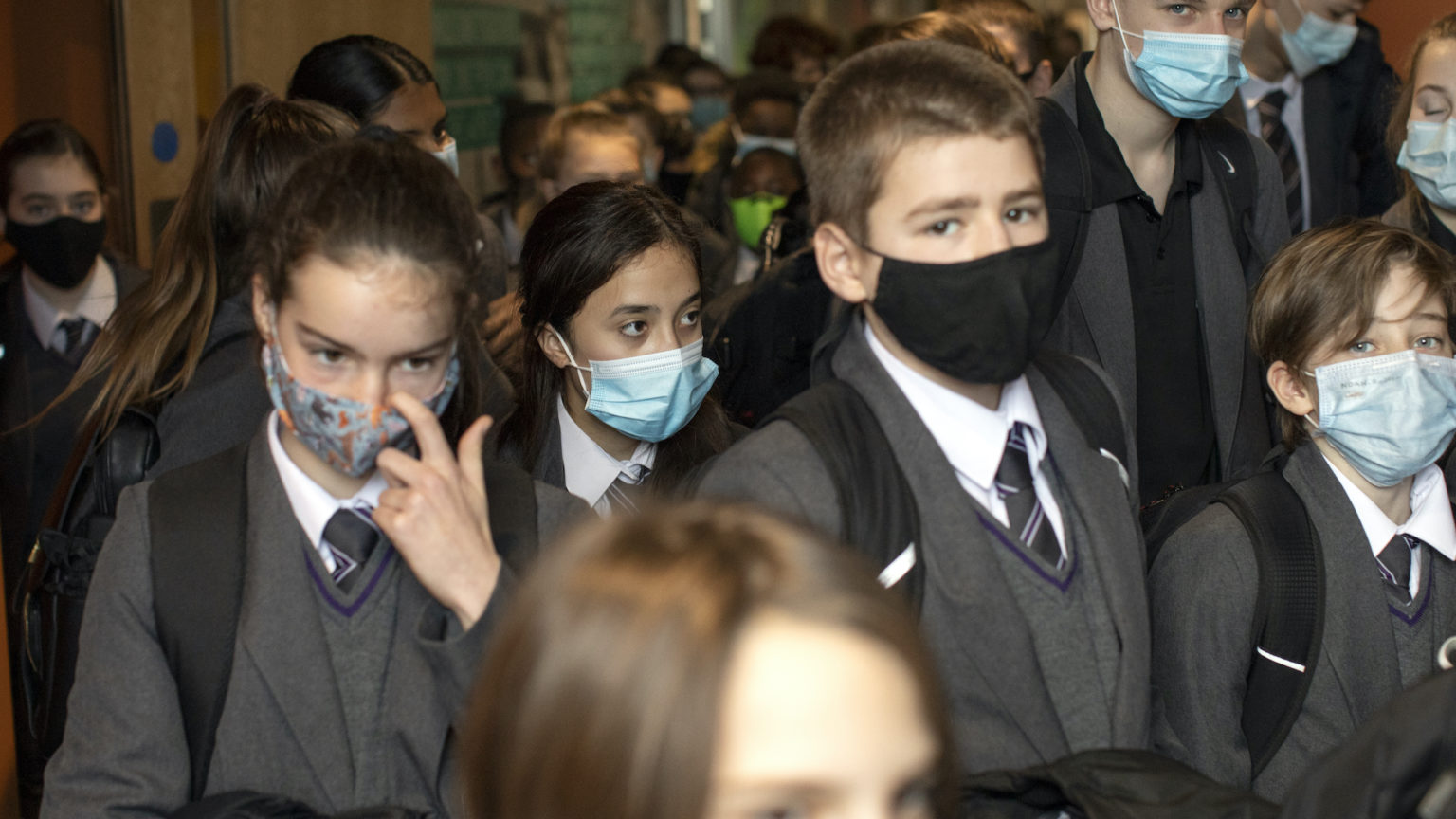 In March 2020, schools closed to millions of children in the UK. This 'temporary' measure marked the beginning of almost 12 months of disruption, isolation and lost learning for the most vulnerable members of our society. Following the second period of school closure this January, children finally returned on 8 March.
Yet hopes of any return to semi-normality for secondary-school children were dashed as the government introduced the 'recommendation' for them to wear face masks not only in corridors and communal areas but also in classrooms. For many children, this meant periods of more than seven hours a day wearing a face covering with only a short break to eat lunch. This is far more than we expect for most adults.
The Department for Education presented no new scientific evidence for its decision to make children wear masks. In January, before u-turning and closing schools, the prime minister stated that schools were 'safe'. The new mask mandate relied on a recommendation from Public Health England, highlighting that face coverings 'may' be beneficial. 'May', as always, does a lot of heavy lifting in these matters. The timing for this intervention seemed particularly odd, given that we were (and still are) in a far better position than we were when schools closed in January. The rollout of the vaccination programme had, by that stage, already protected millions of the most vulnerable people and caused cases and deaths to plummet.
The government has become accustomed to boiling frogs slowly over the past year. It sold the mask guidance to parents and children as a 'time-limited' measure that would be in place only until Easter, and then reviewed. It was infuriating, but hardly surprising, that the DfE went ahead and extended the measure this week. These 'temporary' tactics have a habit of becoming permanent in the New Normal of opaque policymaking.
True to form, teaching unions had earlier called for the mandate to be retained, until there was evidence to support lifting it. But it's quite difficult to provide this 'proof' when the authorities have provided no new data for the measure to be instigated or for it to be extended. The extension has now tied the lifting of the masks recommendation to Stage 3 of the lockdown-exit roadmap, on 17 May. But the government has not published any results of its promised review.
On 23 March, UsforThem – a campaign group I co-founded – issued a pre-action letter to the government, raising our concerns about the basis for its original decision. Despite the extension being announced this week, we have still, as of the time of writing, received no response. Importantly, we wanted to challenge the troubling lack of any assessment of the impacts and harms of children wearing face coverings for long periods. There is a persistent, baffling misconception in government that non-pharmaceutical interventions like masks in schools cannot be harmful. At UsforThem, we have heard many worrying reports first-hand from parents, citing headaches, nausea, dizziness and lack of concentration among their children.
In fact, the prime minister previously said it would be 'clearly nonsensical' for schoolchildren to wear masks in the classroom, because of the detrimental impact on learning and communication. But now, children are required to learn foreign languages, take drama and music lessons, and sit their exam assessments while wearing face masks. There are clearly many profound equality implications, too. There have been multiple examples of children who are exempt from wearing face masks for health reasons who have been segregated from peers at the back of the classroom. This would have been unthinkable a year ago – and it should still be unthinkable now.
The reasoning for extending the mask measure appears to be in line with the precautionary principle – 'just in case'. But it isn't cautious to keep a measure in place when it is damaging to children's education, and their physical and mental wellbeing, while having no clearly articulated benefits. There's nothing prudent about failing to consider the evidence. Public Health England might have used the three weeks before the Easter holidays to randomise schools into mask-wearing and non-mask-wearing cohorts and gather data on the impact on transmission. It seems to have not even considered the range of harms it might cause. The lack of concern and due diligence for interventions involving children is chilling. The reality is that based on the government's past performance, we can have zero confidence that the mask requirement will be lifted – or even properly reviewed.
There has been a great deal of noise lately from the government about the sacrifices young people have made and the need to put children first. This talk increasingly seems like lip service. Thankfully, there are people who can typically be relied on to prioritise children – their parents. Fellow parents, if you have been quietly going along with this policy on the basis that it was 'temporary', then I have a bridge to sell you. Now is the time for parents to stand up for children – and say, 'No'. If we don't act and speak out now, our children will be 'temporarily' wearing face masks in class into the next academic year and beyond.
Liz Cole is co-founder of the campaign group UsForThem.
To enquire about republishing spiked's content, a right to reply or to request a correction, please contact the managing editor, Viv Regan.