Left-wingers for Enoch Powell
The old Tory's racist worldview has been embraced by the woke left.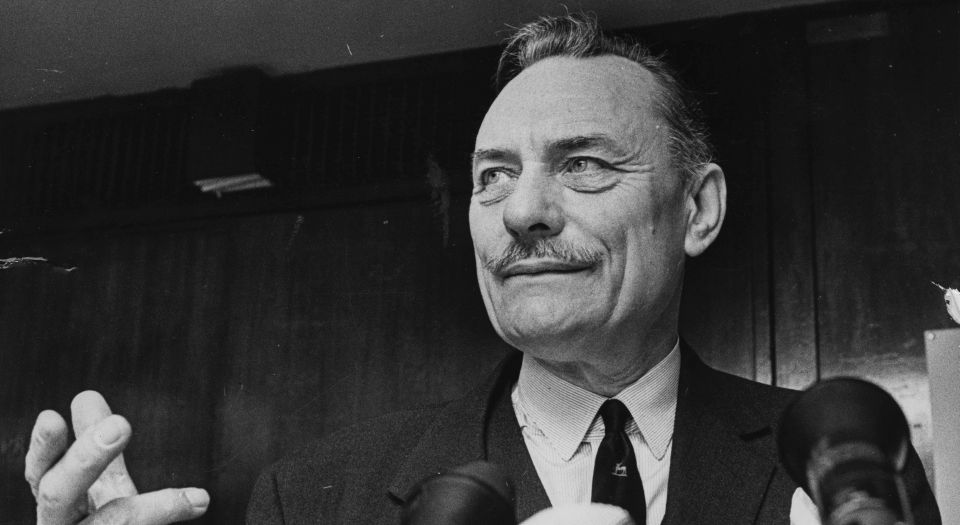 As the Labour Party falls a staggering 10 per cent behind the Tories in recent opinion polls, Labour-supporting left-wing journalist Paul Mason offered a 10-point 'plan of action' on Twitter. It's a manifesto for radical social democrats done in 280 characters.
But those expecting Mason to address Labour's key problem – namely, its turn against the working class, its core historical constituency – will be disappointed. Because, if anything, he doubles down on it. He claims that Britain is now in thrall to a 'mass plebeian movement of racists and violent misogynists. They are dictating the agenda.'
This isn't a wine-fuelled 1am rant. This is Mason's actual view of Britain. He seems convinced that, since the 2016 EU referendum, Britain has been held hostage by a far-right underclass. He once even drew a parallel between Brexit voters and 1970s football hooligans, saying both represented a 'fake revolt of the underclass'.
Mason's talk of a 'mass plebeian movement of racists and violent misogynists' may sound absurd. But it's of a piece with broader sentiment in the Labour Party. Last summer, for example, former Labour minister Lord Adonis claimed that voters in the Red Wall constituencies Labour lost at the 2019 General Election have always been transfixed by the racism of Enoch Powell.
It's not only Labourites who think this. Former Conservative MP and Times columnist Matthew Parris claimed in one anti-Brexit diatribe that Conservatives only pandered to racism in the 1970s and 80s because they were chasing reactionary working-class voters. That's a bit rich coming from a supporter of the party that invented the ideas of race and empire.
In some ways, Parris's view of the backwardness of the electorate is entirely consistent with a traditional conservative outlook. After all, ever since the late 18th century, conservatives have claimed that the masses were morally and intellectually inferior, and could not be trusted to make informed democratic choices. That's why Parris instinctively warms to woke politics. He understands it as a recalibrated version of old-fashioned, aristocratic elitism.
And tellingly, he also, like Adonis and Mason, invokes the spectre of Enoch Powell as a precursor of Brexit.
The irony here is that woke politics has more in common with Powellism than Brexit does. The woke conviction that racism is everywhere, and the woke elite's automatic assumption of the worst in white Britons, revives Powell's own disdain for the British people. That, after all, lay at the heart of his infamous 1968 'Rivers of Blood' speech. This has become shorthand for inflammatory racism, but it was directed as much against white voters as it was against black immigrants. Although Powell falsely claimed he was merely speaking up for his working-class constituents in Wolverhampton, he was really speaking against them.
Like a Victorian-era anthropologist, Powell described the white working class as 'natives', whose atavistic 'fear' of immigration 'must be dealt with', or the nation will be 'busily engaged in heaping up its own funeral pyre'. The implication was clear. Powell was suggesting that hundreds of thousands of ordinary white people were about to burn Britain's cities down to protest against 'coloured' immigration. As Powell said of this imaginary threat: 'I simply do not have the right to shrug my shoulders and think about something else.'
Powell's fear of the plebeian mob, of their racist violence against black migrants, has been revived by left and right elitists alike. The concern of Mason, Adonis and Parris over the masses' innate racism reveals that woke politics is an expression of elitism dressed up in social-justice garb. They believe that the masses are so potentially violent, reactionary and dangerous that safeguards must be put in place to maintain order.
The presence of such a worldview on the left is particularly striking. Those holding it are not promoting social solidarity and fighting against social inequalities. Rather, they are bitterly demarcating themselves as a 'progressive' elite against the racist and 'violently misogynistic' throng. Given this disdain for ordinary people, it's no wonder Labour is so far behind in the opinion polls.
Neil Davenport is a writer based in London.
To enquire about republishing spiked's content, a right to reply or to request a correction, please contact the managing editor, Viv Regan.