End the lockdown on protest
Plans to retain restrictions on protest show we have to fight for our liberties all over again.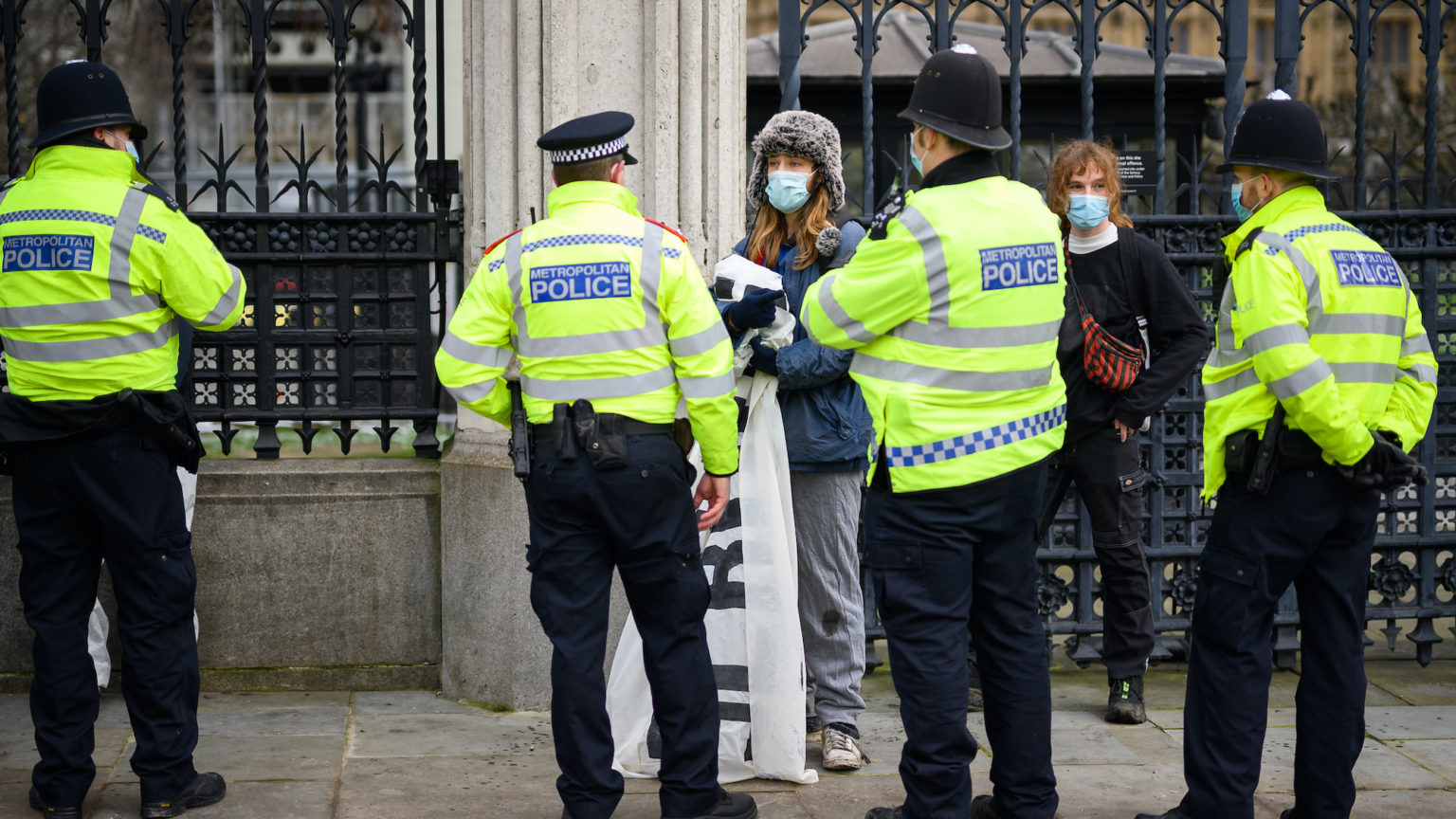 What do you call a country in which you are banned from seeing loved ones, from going to the pub, from even leaving your house without a 'reasonable excuse', and also banned from protesting against this unprecedented state of affairs? Britain in 2021, and much of 2020.
Among the things people are looking forward to doing again (at least legally) once lockdown ends, going on a demonstration is unlikely to make many people's Top 10. So extensive has the curtailing of our freedoms been, we are now almost grateful for the prospect of an al fresco pint.
But the lockdown on protest is among the most chilling, and enduring, restrictions of the past year. Under England's 'Tier 4' lockdown, gatherings of more than two are prohibited in almost all circumstances, there is no exception for attending protests, and organising one risks a £10,000 fine.
As human-rights lawyer Adam Wagner has pointed out, protest wasn't explicitly permitted until September 2020, before which it was unclear whether even just attending one counted as a 'reasonable excuse'. That exemption was then removed ahead of the November lockdown.
Stranger still, some protests seemed to go ahead untouched last summer where others did not. Anti-lockdown activist and conspiracy theorist Piers Corbyn was handed a £10,000 fine for organising an anti-lockdown rally in August, following much larger Black Lives Matter protests.
Such double standards are probably why the left has barely raised a peep of criticism about the lockdown on protest. But a report in the Observer yesterday, suggesting that home secretary Priti Patel intends to restrict protest even after lockdown, reminds us that we defend the right to protest for all, or for none at all.
In September, Patel wrote a letter to HM Inspectorate of Constabulary and Fire and Rescue Services, asking to know what powers police need to ensure future protests do not impact on 'the rights of others to go about their daily business'. This has prompted a review by the inspectorate.
This appears to be part of Patel's plans for a new bill to restrict where protests can be staged – particularly around parliament, newspaper distribution centres and judicial hearings. This was spurred on by an Extinction Rebellion blockade of newspaper printing sites last year.
It was reported in December that Patel wanted a new law to 'curb protests which threaten the tenets of democracy', rather missing the fact that the right to protest is itself a tenet of democracy, however anti-democratic or illiberal some protesters (hello XR) obviously are in their tactics and intent.
Patel seems to be acting as if it was a free-for-all before Covid. But as Gracie Mae Bradley, the interim director of Liberty, argues, police already enjoyed 'extremely wide-ranging powers to control or ban protests, and to arrest those who stray from conditions the police impose'.
Potential new restrictions around parliament are particularly alarming — given Westminster is obviously the focus of much protest. Commons speaker Sir Lindsay Hoyle has apparently been calling for 'buffer zones' of 10 to 50 metres around the main entrances to the Palace of Westminster.
When this bill finally raises its head, leftists will hopefully have snapped out of their bizarre comfort with the Tory police state we've been living under this past year. But given the at-least four-month roadmap out of lockdown, the corona laws will keep a lid on protest for a good while yet.
Indeed, we must fight to ensure that lockdown-era curbs on protest do not survive in one form or another when this pandemic is behind us. History shows us that emergency measures and restrictions on fundamental liberties have a habit of living on long after the threat has passed.
Even genuine crises cannot mean liberties being suspended indefinitely. Nor should the exploits of fringe groups be used to justify restrictions on all our rights. It seems we need to fight for the right to protest all over again, but the capitulation of this past year will make that much harder.
Tom Slater is deputy editor at spiked. Follow him on Twitter: @Tom_Slater_
Picture by: Getty.
To enquire about republishing spiked's content, a right to reply or to request a correction, please contact the managing editor, Viv Regan.