Dare to love
If we can't even risk being offended, how will we cope with the risk of intimacy?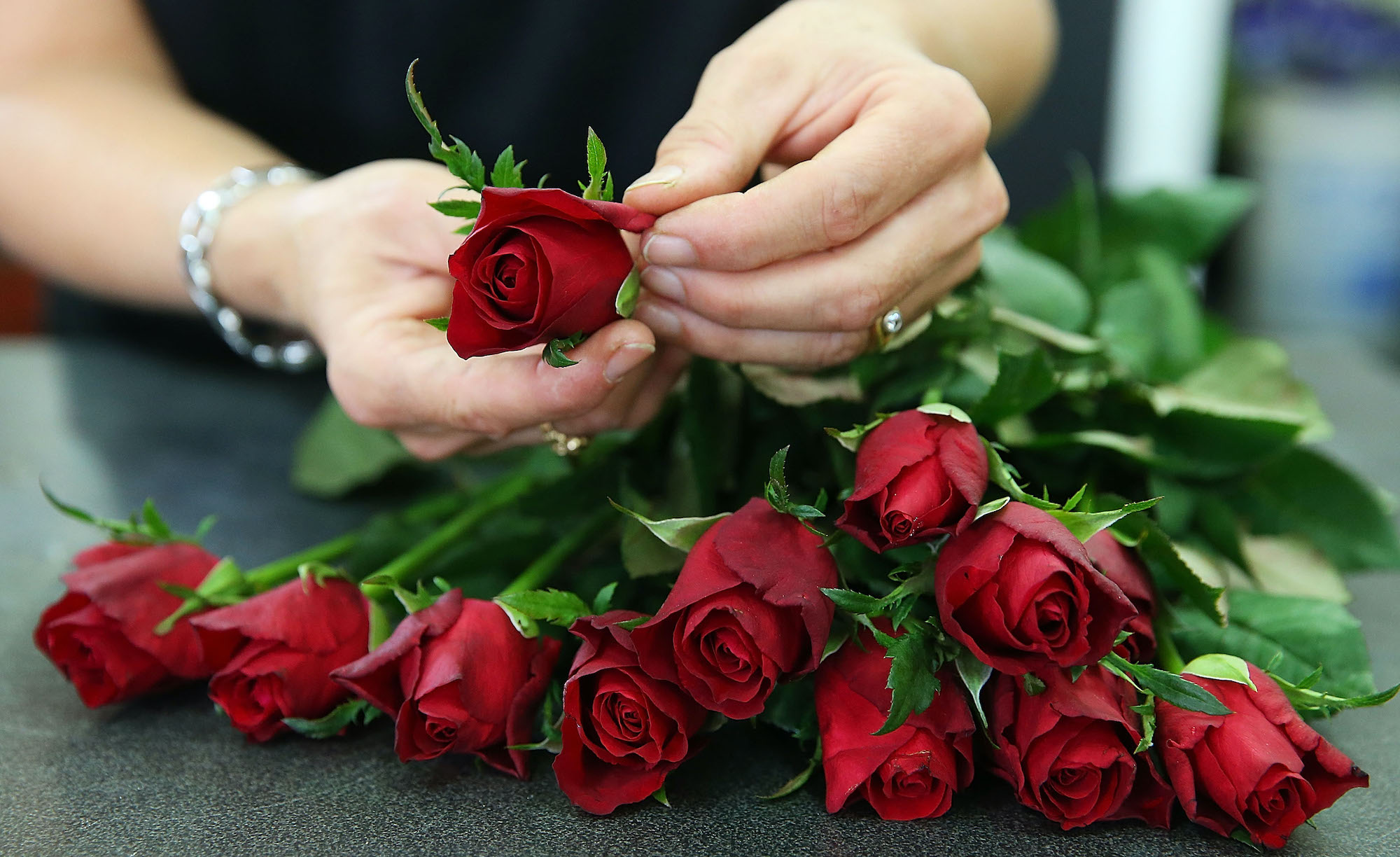 Valentine's Day just isn't the same without flowers and chocolates. But at least the usual handwringing over something causing offence is still around this year. Police and crime commissioner for the Sussex police, Katy Bourne, sparked a discussion this week about inappropriate romance when she asked the company Etsy to remove Valentine's cards joking about stalkers. The offending items feature illustrations of Penn Badgley, the stalking star of hit Nextflix series You. Bourne said they should be taken off sale because we should 'not use stalking as a form of joke'.
Clearly, Bourne has never listened to The Police. Sure, the world is a weird place – searching for 'true crime cards' on Etsy pulls up a whole host of Ted Bundy-themed birthday cards, a Richard Ramirez 'I would kill for you' option, and Jeffrey Dahmer-themed jokes about eating you up. It's funny that Bourne would pick the one card that was based on a fictional representation of stalking to get so het up about.
Inevitably, the subject was debated on Radio 4's Woman's Hour, among other places, and the familiar noises were made about how the offending cards show how relevant the #MeToo movement is, how rife sexism still is, and how careful we should all be when it comes to expressing our love.
Stalking is a terrible crime. But the idea that joking about it, or even mentioning it, could be so dangerous as to invoke the wrath of a police commissioner tells us something about our approach to love in our modern, safety-first society. Intimacy is one of the most dangerous things to get involved in. Never mind jumping out of airplanes, racing cars, weekend benders or even pandemics, opening yourself up to love is a terrifying and, sometimes, life-changing experience.
There are some who argue that our approach to love has shifted. Stats show that young people are less likely to be intimate in the flesh, preferring instead to express their amorous feelings via sexts. On the other hand, any trip to a village-hall disco in the south west, or clubs like Tiger Tiger in Leicester Square, will cure you of doubts as to whether young people are still necking in public. While sexual attraction and intimacy might be dangerous, it's what people – young and old – have pursued for centuries.
But while the act of getting it on might be relatively unscathed by modern political shifts, there are some obvious ways in which our approach to intimacy has changed. The rise in the influence and political power of contemporary feminism has fuelled campaigns like Everyday Sexism, discussions about lad culture and, most recently, the #MeToo movement, which have reframed past notions about sex and dating between heterosexual couples as 'problematic'. Being approached, flirted with or – god forbid – chatted up without prior consent is seen by some as an affront to one's sexual freedom. Consent classes have been instituted at universities to teach young people how to have consensual sex. Experimentation is frowned upon – even criminalised.
Has all of this made men more afraid of charging up to women at bars? It depends how brave you thought men were before feminism erased all the grey areas in love and attraction. As social spaces like pubs, clubs and community halls are shut down, late licenses to nightclubs are being denied, and the political class reveals its pathological hatred of people getting tipsy (Joe Biden asserting that drunk sex is rape comes to mind), the spaces in which the sparks of intimacy were previously encouraged to fly have been dwindling. Out of necessity, many men and women, gay and straight, have turned to dating apps to try to recreate the opportunities they might once have had in the bar.
Then there is the pandemic. In which intimacy of all sorts has been, for good reason, somewhat restricted as a means of protecting each other from the spread of Covid-19. But what has been most interesting about the criminalising of intimacy in the past year or so is how flippant we've all been about it. That politicians and commentators are so blasé about the pursuit of love and companionship being put on hold tells us something about how intimacy has been devalued.
What intimacy is really about is opening yourself up to the scrutiny of someone else. This is why it can feel dangerous. It's risky. And in today's political climate, which prioritises the safety of the self and protection from harm above all else, being open and intimate with another is seen as too dangerous to be worth it.
A billboard at the end of my road in Dalston by dating company Badoo depicts a woman with her hands down her knickers. It celebrates self-love as a patriotic act during the pandemic. Putting my prudish initial reaction aside, the growth of interest in all forms of self-love (from masturbation to 'self care' days of preening and pampering) is a concerning sociological shift. The notion of self-love, of being intimate with yourself, is about being your own judge, your own company, your own critic. External judgement and criticism have become dirty, and are discouraged in everything from education to art to political viewpoints. It's no wonder we've become more interested in nurturing a vulnerability within ourselves, and less interested in being vulnerable with another person.
Adam Curtis's new documentary series, Can't Get You Out of My Head, has a fascinating insight. He argues that the increase in a politics of individualism – where it becomes more desirable to change the self than society – has led to the empty, hollow sensation many of us have come to feel in contemporary society. This feeling has been exacerbated through the pandemic. Curtis is hitting on a very true and sore point – risk-taking is verboten in all aspects of politics because the prospect of harm has become so inflated. In the world of love and intimacy, time-immemorial fears of being dumped, rejected or spurned have been given an extra potency. In a world in which the self is so fragile and so important, threats or insults to it in the form of failed attempts at intimacy are simply too much to bear.
There's nothing particularly clever about buying stalker-themed cards, but the prospect of banning them for fear of offence is to concede to the idea that love, and public life, should be sanitised. We must defend the idea that to be intimate is to be truly vulnerable – and celebrate that fact. It's why coming home is such a wonderful feeling, because your family knows things about you that no one else does. It's why love is so devastatingly difficult – with the lead-up to it feeling like psychological torture and the achievement of it fraught with doubts. It's what makes the pursuit of intimacy feel so engaging, so human.
In Wuthering Heights, perhaps the greatest love story ever written, Cathy tells Nelly that her 'love for Heathcliff resembles the eternal rocks beneath: a source of little visible delight, but necessary'. She also describes him as her 'own being'. Protecting oneself from harm or change seems to be the goal of the modern age, in which censorship protects us from harmful words and the state protects us from harming ourselves. But the only way to understand what love really means is to open ourselves up to risk, pain, heartache and danger. And, most importantly, it is about accepting the fact that love might change us forever, even destroy the sense of self we once had before we opened ourselves up to another.
Perhaps this Valentine's Day we'd all be better off ignoring romantic advice from police commissioners. Instead, let's look forward to the days, post-pandemic, when the true spirit of love and intimacy can come alive again.
Ella Whelan is a spiked columnist and the author of What Women Want: Fun, Freedom and an End to Feminism.
To enquire about republishing spiked's content, a right to reply or to request a correction, please contact the managing editor, Viv Regan.