Why is the ONS promoting trans ideas?
Encouraging people to 'self-identify' in the national census is completely daft.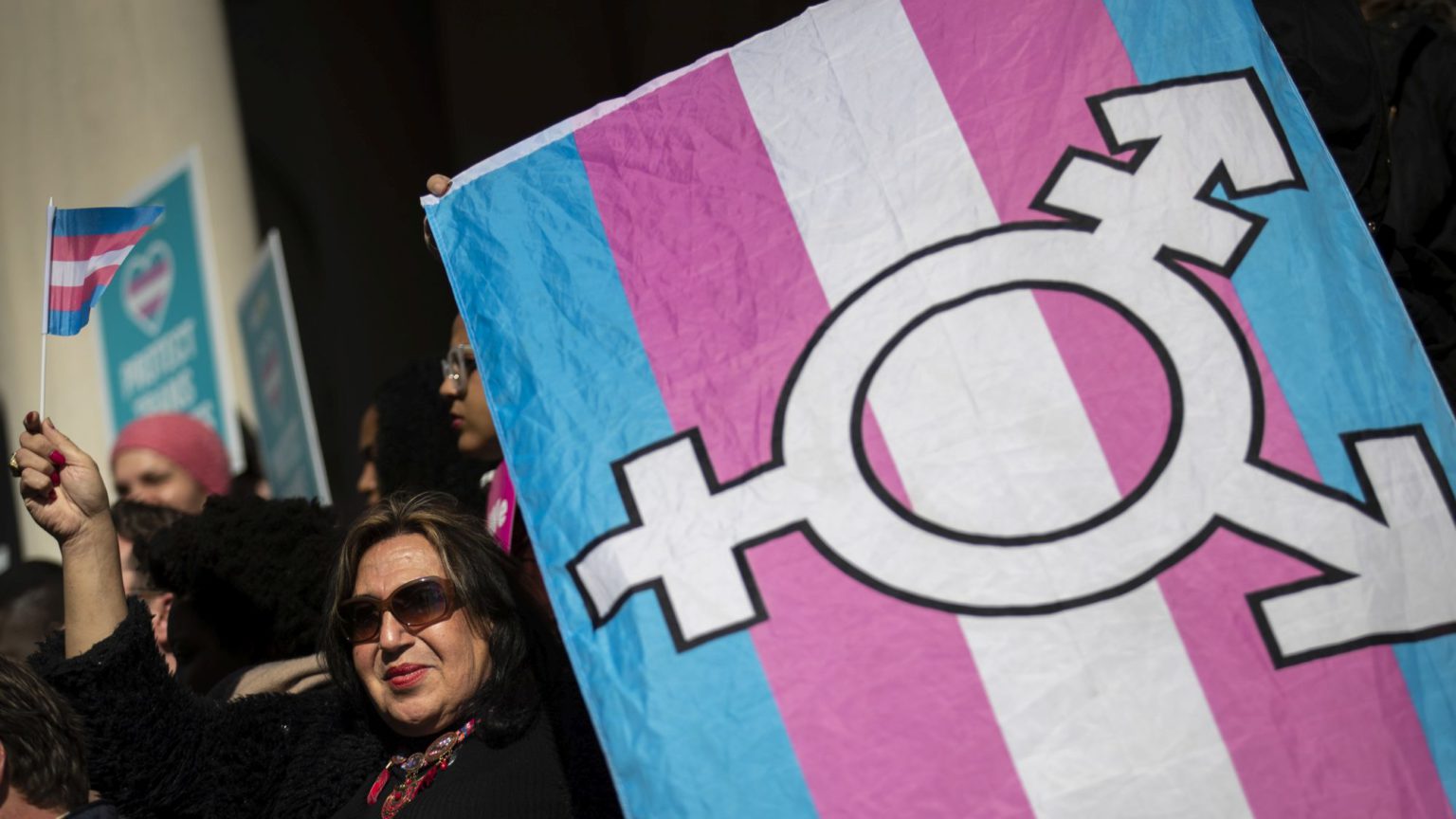 If you want to illustrate the scale of the capture of UK public institutions by woke ideology, a good place to start is our Office of National Statistics. For this organisation, which exists to maintain data integrity and fact-based information about our population, now thinks that sex is 'assigned at birth'. It says 'gender is increasingly understood as not binary but on a spectrum'. And it tells us that 'growing numbers of people are identifying as somewhere along a continuum between man and woman, or as non-gendered (neither man nor woman)'.
The ONS gets this information from the small but bizarrely powerful trans lobby which seems to think that bodily dissociation is the ultimate form of self-realisation and expression of freedom. Never mind the collateral damage along the way, as teenagers, pursuing the transgender dream, progress from puberty blockers, to cross-sex hormones, to invasive surgery, to potential sterilisation and lack of sexual function. Or the elimination of women's single-sex spaces, sports and wider opportunities. The ONS even directs us to organisations which exist to promote the dream, for example Gender Spectrum, based in the US.
However, last weekend, newspapers reported that the ONS is having a change of heart. For the forthcoming Census 2021, the ONS planned to allow us to self-identify our sex. Now it has been decided that we will have to report our biological sex, or, alternatively, our 'legal sex' if we hold a gender-recognition certificate (GRC).
It is hard to overstate the importance of this change of heart. Think about it. Sex is probably the most binary and immutable thing about us. If we can self-identify our sex in the census, then why shouldn't we live the dream and self-identify our responses to every question? But, if we're all going to 'live the dream' why collect fact-based statistics at all?
However, it is too soon to celebrate. Undoing the damage done by gender ideology has hardly begun in the ONS, let alone everywhere else across our public sector. As above, the ONS continues to promote gender ideology on its website and therefore, presumably, incorporate it into its wider remit, which extends well beyond the census. And sadly, even within the census the roll-out of gender ideology will continue.
First, the sex question will still allow those with a GRC to report their 'legal sex'. This is despite the fact that the law in the UK is clear that there are circumstances where biological sex matters, even when you hold a GRC. WomansPlaceUK sought a legal opinion on this matter. Here is a small extract:
'Although the collation (and potentially the disclosure) of information and data about people's private lives (which would include details such as their name, age, sex,… sexual orientation, sexual history, gender identity, health records,… criminal record…) may be said to engage the rights protected by Article 8 ECHR, it will not constitute (unlawful) interference with those rights provided that the collation and/or disclosure is done in accordance with law and separately may be said to be "necessary" within the context of the proportionality test: that is to say that the collation and/or disclosure must involve the least interference with the right to respect for private and family life which is required for the achievement of the legitimate aim pursued.'
But what is of greater concern is that the 2021 census plans to ask a voluntary question about 'gender identity'. Right there, halfway through the process of tedious compulsory form-filling, every adult in England and Wales will come across this: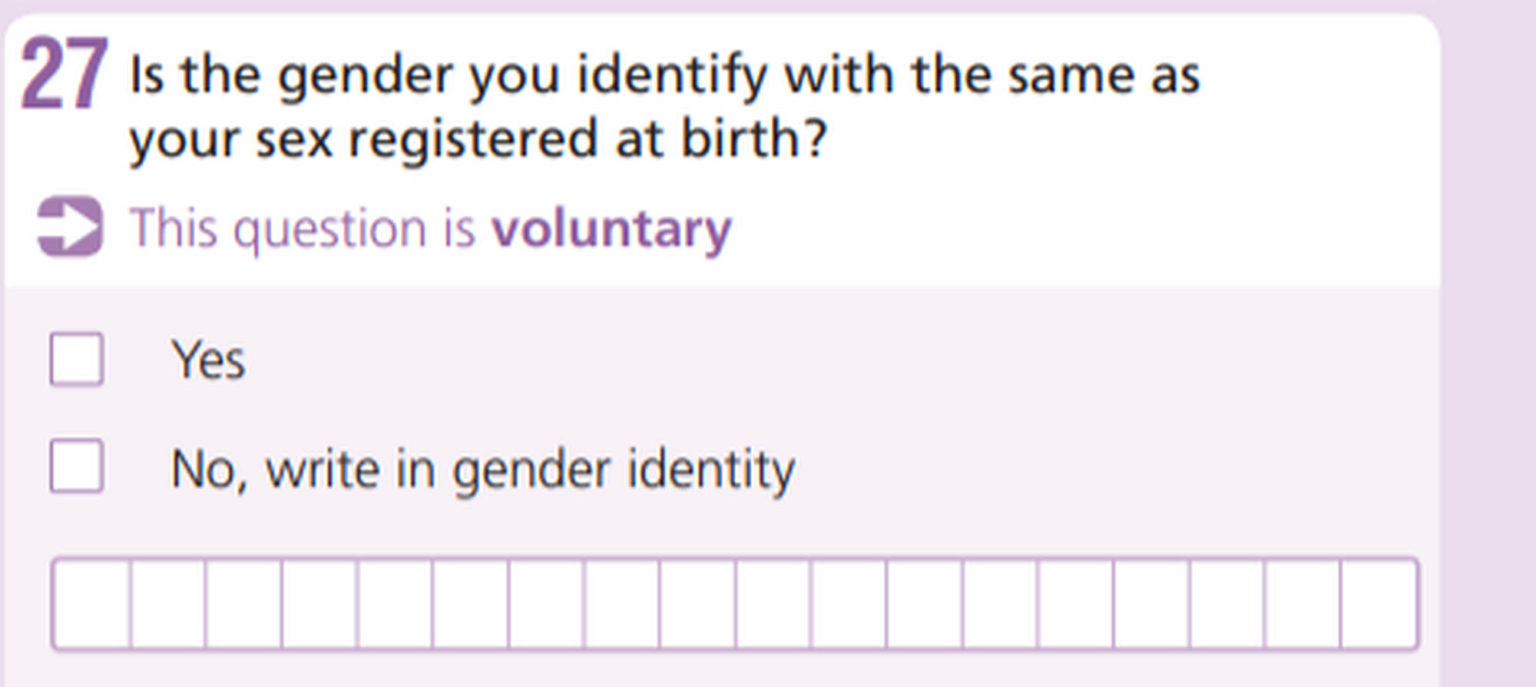 The ONS is so steeped in gender ideology that it forgets that for the vast majority of people, living outside Woke Central, this question makes no sense. Isn't gender just another word for sex – that's how it's been used for decades. What is with the implied distinction? What does the ONS mean by 'identify with'? Is that like 'feel sympathy for'? What is the meaning of 'sex registered at birth'? Is that my biological sex? I guess so… What fresh hell is this?
At least the question is voluntary. But, still, it's right there, bang in the middle of a complex compulsory form. You read it to see if you should answer it. It comes after a question about sexual orientation, and before a question about whether you have ever completed an apprenticeship 'trade, advanced, foundation, modern'.
So here is the UK government, rolling out a reality-denying ideology to every household in the land. An ideology that persuades vulnerable teenagers to believe they have an inner-gendered soul, in which resides their truth and happiness. It's their messy and bloody human body that is letting them down. Perhaps they'll be happier if they bring their body into line with this essence. That's certainly what a friend of a friend's lesbian daughter thinks – she is having her breasts removed later this February.
This is an ideology that seeks to eliminate the boundaries between men and women. It wants to allow men into women's single-sex spaces, and boys into girls' changing rooms. And in doing so, it violates the distance, dignity and privacy of both sexes – and endangers women and girls.
But it is also an ideology that undermines common law and democracy. Both of these rely on our recognition of our commonality, and on a belief in a shared reasonableness that we can use to assess and judge each other's actions and situations fairly.
Gender ideology wants to do away with the concepts of reasonableness and commonality and defer instead to the 'lived experience' of oppressed groups. No wonder everyone wants to count themselves among the oppressed these days. Because what happens when my lived experience contradicts yours? That of the 'marginalised' must be centred. And what if we're both marginalised? There's a ranking system… Who will be on top? Let us not wait to find out…
If you think I exaggerate, I don't. Here, already, is the Law Commission (via its own steeping in gender ideology) recommending that we do away with the reasonable person test when assessing the seriousness of a 'communications offence'. It's explicit. Let's take the example of someone's testimony of their 'lived pain' because they have been 'misgendered' in a passing tweet by a complete stranger with two followers. Do we want to invoke reasonableness? A sense of proportion? Appeal to long-standing language and science? Well, you can see the risks in that! No, for 'self-identification', for 'lived experience', for 'felt pain', to stand, reasonableness and commonality must go.
It's imperative we keep fighting back. While we still can.
Caroline Ffiske is a writer.
Picture by: Getty.
To enquire about republishing spiked's content, a right to reply or to request a correction, please contact the managing editor, Viv Regan.