Now woke politics is screwing up the vaccination programme
How our race-obsessed elites have caused black people and Muslims to fear vaccination.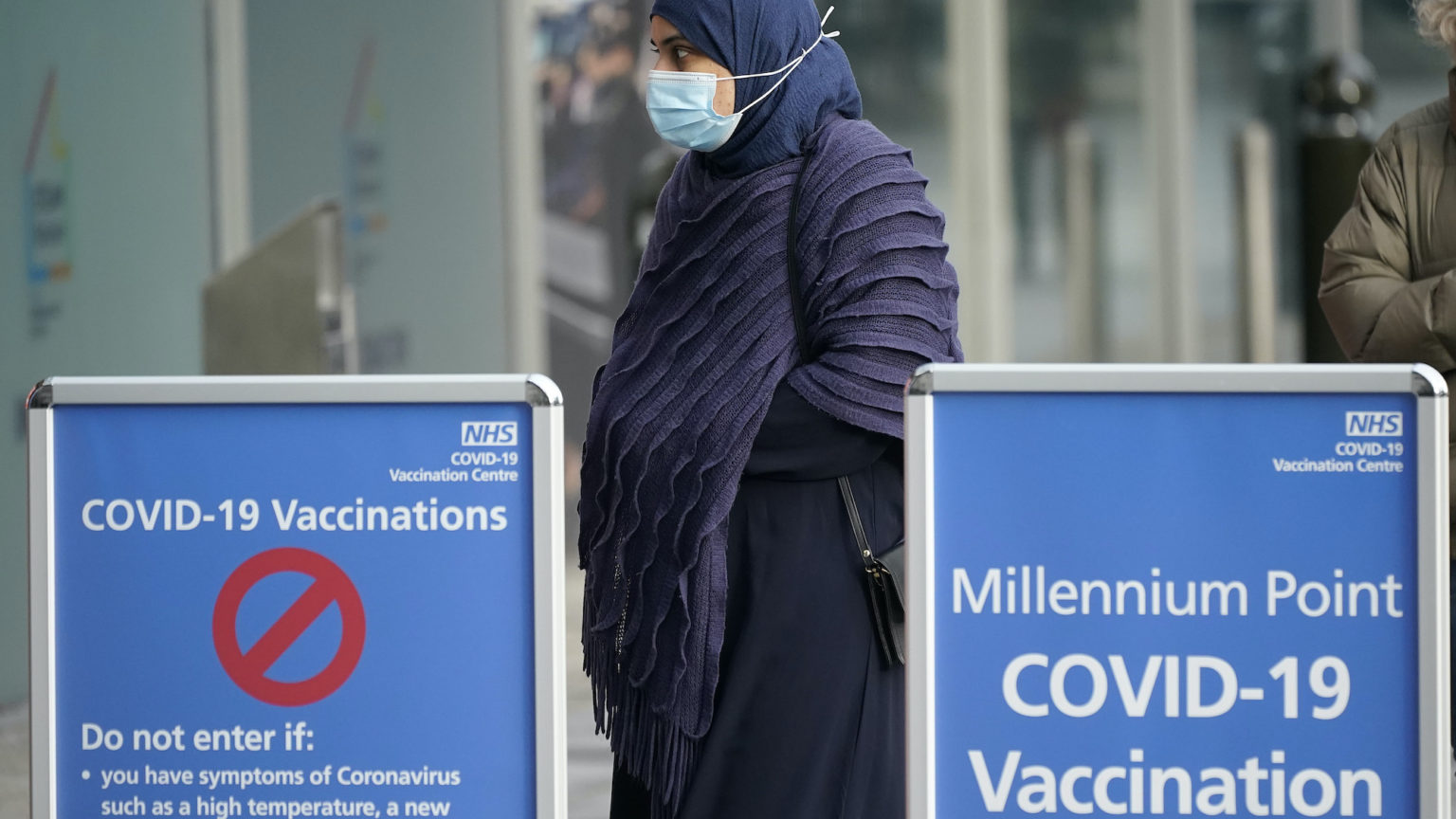 We are now reaping the whirlwind of the politics of grievance. The tragic news that many black Britons are cagey about the Covid vaccine is proof, surely, of what happens when you tell a section of society over and over again that they live in an institutionally racist country that loathes them and wants to harm them. You give rise to distrust, to suspicion, to a situation where some members of that section of society come to fear all institutions, even medical ones.
There is much handwringing over wariness of the vaccine among ethnic-minority groups in the UK. Various studies have found that black people in particular say they are probably not going to agree to vaccination. One survey found that a depressing 72 per cent of black Brits said they were 'unlikely' to be vaccinated.
The impact of this wariness is already being felt. A survey carried out by Oxford University and the London School of Hygiene and Medicine found that up to 13 January, just 21 per cent of black people over the age of 80 had been vaccinated. And only 30 per cent of Bangladeshi and Pakistani over-80s had been vaccinated. This compares with 43 per cent of white over-80s.
Of course there could be many reasons for this disparity, including problems of communication between the healthcare sector and certain communities, and people in difficult socioeconomic circumstances finding it harder to make or attend vaccination appointments. But the broader suspicion of vaccination among some ethnic-minority groups certainly seems to be playing a role.
There is something very striking in the survey findings about ethnic-minority attitudes to vaccination. They seem to suggest that the better integrated a community is, the more likely it is to view vaccination positively. So an Understanding Society survey found that black communities and Pakistani- and Bangladeshi-heritage communities are significantly less likely to agree to vaccination than Indian-heritage communities.
More than 70 per cent of black respondents to the survey said they were unlikely or very unlikely to be vaccinated. More than 40 per cent of Pakistani or Bangladeshi respondents said the same. Among Indian respondents, however, only around 20 per cent said they were unlikely or very unlikely to be vaccinated. Which is very close to the response of white British people, around 15 per cent of whom expressed wariness of vaccination.
There are no doubt numerous, complex factors for these disparities in enthusiasm for vaccination. But an important one would seem to be levels of integration and attitudes towards society. It is not a coincidence, surely, that two communities that are constantly told by the identitarian elites that mainstream society and mainstream institutions are antagonistic towards them – that is, the black community and the Muslim community – should arrive at a view that it is not safe to allow the medical establishment to inject something into their arms.
2020 wasn't only the year of Covid. It was also the year in which the politics of identity and the politics of grievance exploded like never before. In the post-George Floyd moment, the idea that Britain is an inherently racist country, stained and warped by the sins of Empire and slavery, took hold. This view of Britain as indelibly racist, as permanently prejudiced, had been growing for a long time, of course, everywhere from the academy to Guardian newspaper columns to the rump of the old left and the Labour Party. But in 2020, it went mainstream. The message we received constantly – from the political class, from figures in popular culture and from established cultural institutions – is that Britain treats its black population unfairly and horribly and probably always will. It's in the British gene.
Anyone who questioned the truth of this, anyone who pointed to the huge decline in racist attitudes in recent decades and the wonderful successes of many ethnic-minority communities in terms of education and comparative pay, was shouted down. No message was allowed other than the one saying Britain is a hotbed of racism. Imagine the impact this has on certain communities' view of themselves and their place in society. It nurtures victimhood, fear, trepidation, the vast majority of which is unwarranted. Vaccine scepticism seems to me to be the most tangible and destructive consequence of the woke elite's fact-lite narratives of institutional racism and widespread hatred.
Why wouldn't many black people and Pakistani and Bangladeshi people be wary of a mass-vaccination effort being led by Boris Johnson's government? After all, they've been told, many, many times, that the government is racist, British institutions are racist, Islamophobia is rampant, and Brexit Britain is a country with a renewed loathing of its minority communities. We are now witnessing the toxic consequences of this neo-racialism, of this cynical divisiveness promoted by woke campaigners, rich identitarians and the new elites.
We need the nation to pull together right now, to ensure that as many people as possible consent to vaccination. But pulling together is clearly very difficult in a time when communities are played off against one another and when various parties, groups and influential individuals have a vested interest in maintaining a view of Britain as a hateful, dangerous country for black people and Muslims in particular. Again we are seeing how terribly the identitarian ideology grates against social solidarity and national unity. We might discover very soon that wokeness isn't only irritating and censorious – it possibly also kills.
To enquire about republishing spiked's content, a right to reply or to request a correction, please contact the managing editor, Viv Regan.