The West's Russian folly continues
US and EU interventions in Russian domestic politics will help no one - least of all Alexei Navalny.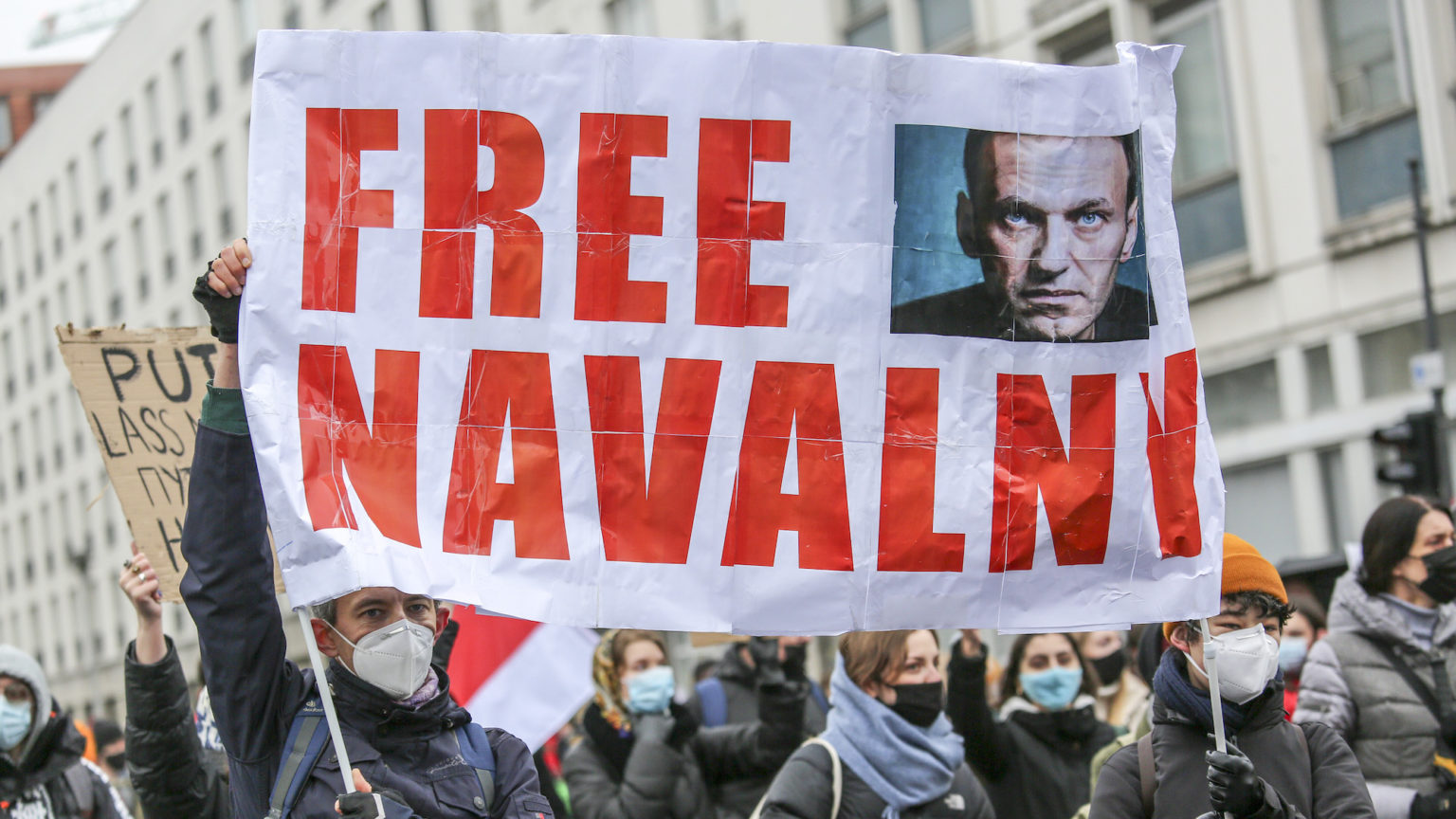 Alexei Navalny's ability to galvanise anti-government sentiment in Russia is impressive.
After his arrest and detention in Moscow last week, his associates released a two-hour long video report, alleging that President Vladimir Putin had spent $1 billion of state funds on a coastal palatial compound, complete with an underground ice-hockey rink. While allegations of large-scale kleptocratic goings-on and general municipal and state-level corruption have been Navalny's stock-in-trade for the best part of a decade, this particular exposé clearly struck a nerve – within 24 hours of its release on 19 January it had been viewed over 70million times.
What is more, it was released amid calls from Navalny and his aides for nationwide protests against Putin's rule on Saturday. And a significant minority were more than ready to respond. Not only in the expected garrisons of Navalny support in Moscow and St Petersburg, where tens of thousands turned out, but also across Russia, from the island of Sakhalin, just north of Japan, to Russia's urban centres in the west. Indeed, such was the turnout of protesters and, of course, Russian security forces, that, according to one activist group, over 3,100 people had been arrested in 109 Russian cities – a sign both of the prevalence of dissent, and the Russian state's intolerant approach to it.
With Russia's parliamentary elections looming in September, the protests look set to continue, especially as the weather and pandemic abate. As Leonid Volkov, one of Navalny's closest associates, put it, 'Without a doubt this whole story is just beginning'.
And no doubt that is true. Navalny's investigative broadsides, highlighting the corruption of Russia's ruling elites, have reached and helped cultivate a significant domestic audience. And his plight, from the arbitrary arrests and suspicious sentences to his near death at the hands of a Soviet-era nerve agent in August, have turned him into something of a hero.
But only for some. For it is important to remember that Navalny's appeal is to specific sections of Russian society – to the largely urban young and to middle-class professionals. He has channelled and given shape to their reservations about, and grievances against, Putin. And he has substantiated, with detailed allegations, the sense that Russia's elites have, effectively, stolen their wealth from the Russian people. He has shown them that Putin et al are the reason why Russians' lives are not better. That this 'mafia state' is the obstacle to a prosperous future. Hence many protesters were chanting 'Putin is a thief!' outside government buildings, while passing traffic honked their horns in support. Navalny plays the role of the figurehead here, the vector for anti-government, anti-Putin sentiment.
But Navalny is not what too many Western leaders and a largely anti-Russian Western media are now desperately turning him into. He is not the 'opposition leader' in any organisational or party-political sense. Nor is he the leader of an overwhelmingly popular revolt. Certainly not yet.
So, while his simple anti-corruption message commands the support of a sizable minority, many in Russia, although far from hardcore Putin supporters, are largely indifferent towards Navalny – someone Russian state media has only recently started referring to by name. Indeed, an indication of how Navalny is perceived by Russians was given in a survey conducted by the independent Levada Centre late last year. It showed that not only did few Russians believe the Kremlin was behind Navalny's poisoning (with the Russian state media blaming a foreign conspiracy), but also most Russians did not care either way, or believed the entire poisoning was staged. Navalny's cause matters a lot, then, but, as it stands, only for some.
Yet, such is the anti-Putin myopia of Western leaders that they seem keen not only to anoint Navalny as the official opposition, but also to throw their weight behind him. Incredibly, Joe Biden's new US administration, ushered in under armed guard only days ago, condemned Russian 'restrictions on civil society and fundamental freedoms', and announced it 'will stand shoulder-to-shoulder with our allies and partners in defence of human rights – whether in Russia or wherever they come under threat'. Which certainly sounded like it was pledging its support for Navalny.
Likewise, Manfred Weber, the leader of the largest bloc in the European Parliament, condemned the arrest of Navalny and the crackdown on this weekend's protests, and called for the EU to hit 'the Putin system' 'where it really hurts' – 'and that's the money'. In other words, more sanctions against Putin. French foreign minister Jean-Yves Le Drian backed Weber's call for sanctions, and described the arrests of protesters as a 'slide towards authoritarianism'.
The problem here is not that the criticism is inaccurate. It is not. The Russian state is often authoritarian, as its treatment of political dissent and protest frequently shows. No, the problem is that Western interference in Russian political affairs is no answer.
For a start there is the irony that those pushing it from the opinion pages and parliaments of the Western public sphere are precisely those who have complained loudest about supposed Russian interference in Western politics over the past four years. More importantly, there is the simple fact that, if anything, such interventions help their nemesis Putin himself, providing the Kremlin with proof that Navalny really is backed by foreign forces. That then becomes a justification for a further crackdown not just on Navalny, but on any opposition to Putin. Which is precisely what Russia's UK embassy tweeted about the pro-Navalny protests: 'This is a professionally prepared provocation, encouraged by embassies of Western countries.'
Moreover, by effectively seeking to create political instability in Russia from without, backing and supporting those opposed to Putin, what do Western powers hope to achieve? Nothing concrete exactly. No, it seems that, right now, they're content with the anti-Putin posture. They enjoy venting against the bad guy. They enjoy slamming the evil mastermind behind a thousand anti-Western plots, from Brexit to Trump. And they enjoy conjuring Russia up as the authoritarian antithesis to Western liberalism and democracy.
But their actions, from EU-led sanctions to NATO's looming presence in Russia's neighbouring states, are not merely postures. They have real-world effects, fomenting conflict both within Russia and without. If Putin really is to be ousted at some point in the near future, it can only happen because Russians want it, not because Western powers wish it.
Tim Black is a spiked columnist.
Picture by: Getty.
To enquire about republishing spiked's content, a right to reply or to request a correction, please contact the managing editor, Viv Regan.