The witch-hunting of lockdown sceptics
The demonisation of dissenters has reached hysterical proportions.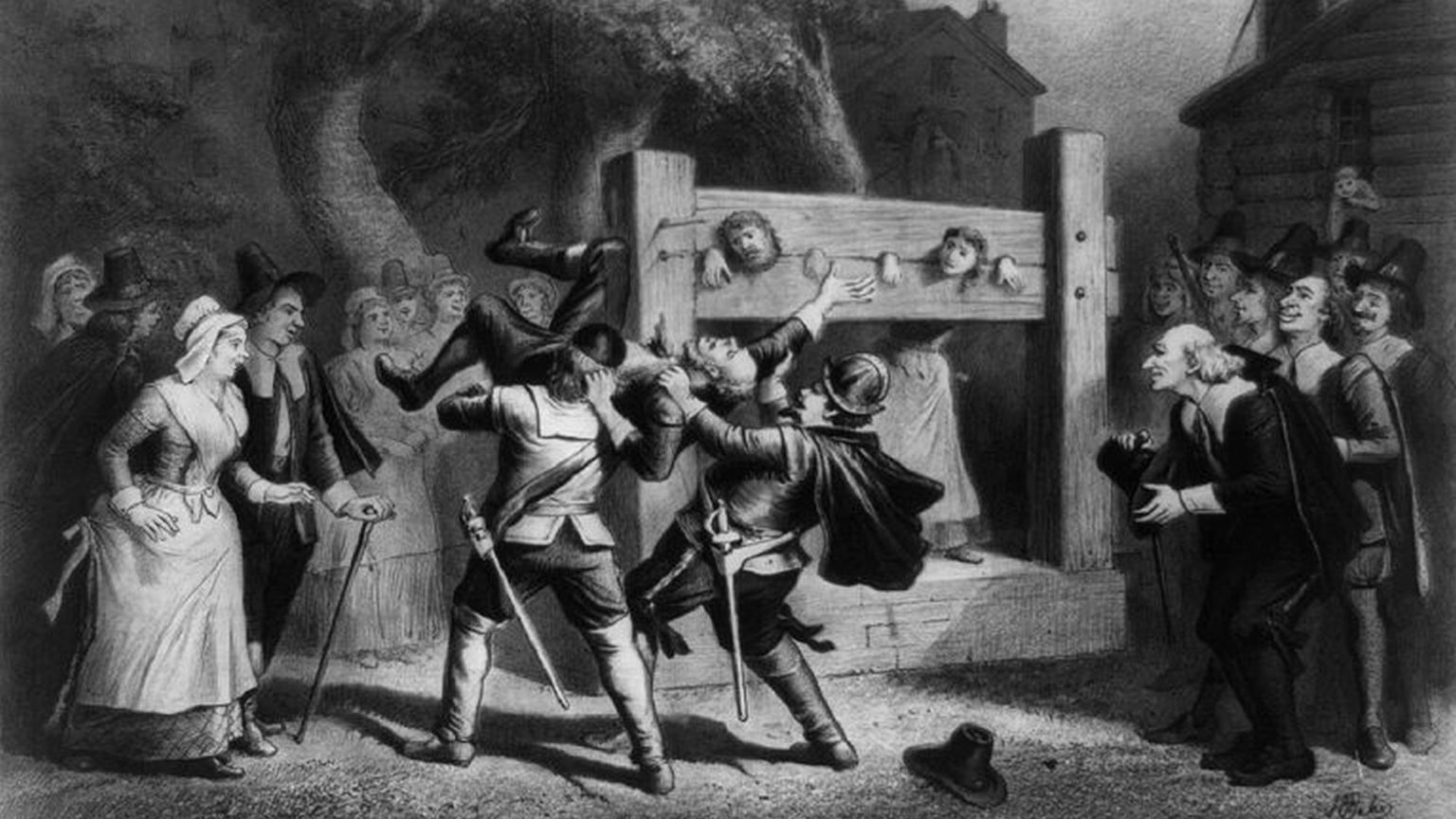 We have entered a new era of demonology. The hunt is on for heretics and witches who might be held responsible for our current predicament, for the plague of Covid. As in pre-modern times, sinful speakers and thinkers, those who dare to bristle against the political or scientific consensus, are being demonised and publicly shamed as assistants of the plague, as Covid's willing helpers. They have 'blood on their hands', the lockdown fanatics cry, blissfully unaware of how similar they sound to those who in earlier times of disease would drag eccentrics to the stocks in the warped belief that those eccentrics either brought the plague or at least aided its spread.
It is hard to think of any other political constituency in recent times who have been as thoroughly demonised as lockdown sceptics. Climate-change sceptics are up there, of course. Deniers of the cult of genderfluidity have had a severe hammering, too. But that all pales, if not into insignificance then at least into the background, in comparison with the war of barbs and defamation against anyone who questions whether lockdown is the right response to Covid-19.
These people are branded 'Covid deniers'. They are 'dangerous'. Their words kill. They have blood on their hands. They have a 'hell of a lot to answer for', says chief demonologist Neil O'Brien, Tory MP for Harborough, inflaming the idea that these people and their sinful speech benefit the plague and directly help to cause injury and death.
So successful has been the campaign of demonisation against lockdown sceptics that even that title – lockdown sceptic – has been sullied beyond recognition. It is now taken to include not only thoughtful people who question the policy of complete shutdowns, but also those who doubt the existence of Covid-19 and anti-vaxxers who think the Covid jab will come with a microchip so that Bill Gates can monitor our every move for the rest of time.
This lumping together of everyone from Oxford scientists Sunetra Gupta and Carl Heneghan to the anonymous bloke on Twitter who swears blind he knows five people who have been made gravely ill by the vaccine confirms that the aim here is to vilify scepticism across the board. Raise so much as a peep of criticism of the current Covid strategy and you're as bad as the morons who say Covid isn't real.
The demonisation of lockdown sceptics intensifies daily. They are branded 'agents of disinformation' (the Observer) who are 'dangerous' (the New Statesman). They are killing people, we are told. The reason Covid-19 is spreading again, and killing large numbers, is 'because this metropolitan clique of elites put forth falsehoods and misinterpretations', says one columnist (my italics).
This is, to be frank, unhinged. It is unreasonable in the extreme to blame the spread of Covid on sceptics who have very little influence in public discussion. Virtually the entire political establishment, the vast bulk of the media and every online 'influencer' favours lockdown. The message we receive constantly – on TV, online, in the press – is to stay home, be good, don't kill people. It is a fantasy to believe that the voices of isolated and demonised sceptics are cutting through this conformist fog and inspiring people to recklessly spread the plague.
But then, that's the point – we are now in the realm of fantasy, or at least of pre-modern fear and panic, not the realm of reason. The shaming of lockdown sceptics as friends of the plague eerily echoes past outbursts of hysteria during times of transmissible illness. Witchcraft panics exploded during times of plague. As one historical study of witch-hunts in the 1500s and 1600s says, it was often 'the profound dislocation and mortality produced by the plague' which created the social conditions for witch-hunting. Plague provided 'the essential background for the growth [of witch-hunts]' (1).
The terror and confusions unleashed by plagues led to a climate of finger-pointing, a demented search for those whose warped beliefs and actions might be held responsible for the plague's spread. Where today's sinful speakers are judged to be 'agents of disinformation', witches and demonic individuals in earlier eras of plague were denounced as 'agents of the kingdom of evil'. As one historian says: 'The sheer, massive terror induced by the plague grounded the notion that absolutely anyone… could be an agent of the kingdom of evil.' (2)
Indeed, witch-hunts often ran side by side with 'plague-spreader panics'. These panics, especially prevalent in urban areas, were fuelled by a conviction that certain people, usually those possessed of incorrect, non-Christian beliefs, were assisting the plague. Either through the use of plague-diseased ointments or treatments that didn't work (disinformation?), these evil forces were said to be the footsoldiers of sickness: 'Their prosecution resembled that of witches, for a visitation of the plague could trigger a plague-spreader panic, in which a large number of engraisseurs [plague-spreaders] were accused and tried.' (3)
Heresy itself came to be viewed as a kind of plague. The 1645 pamphlet Heresiography branded heresy an 'infectious and contagious malady'. Heresy was seen as a worse problem than disease itself. 'The plague of Heresie is greater', Heresiography declared, 'and you are now in more danger than when you buried five thousand a week'. This chillingly prefigured Britain in early 2021: over 5,000 died from Covid last week and yet the most intense focus among the media and political elites has been on lockdown sceptics and their 'dangerous' words. The plague of heresy is greater….
The impulse back then was to try to offset the terror of the plague with ritualistic denunciations and in some cases executions of plague-assisters. A similar impulse has gripped the UK today. The seemingly out-of-control nature of Covid-19, the patent failure of three lockdowns to 'flatten the curve', has generated instability and even flashes of hysteria in the mainstream. They need someone or something to blame. They need demons. They need engraisseurs. The witch-hunt, once again, becomes a displacing function of the fearful, morally disarrayed governors of society.
One commentator – Paul Mason at the New Statesman – has taken the heresy hysteria to its logical conclusion. He has fantasised about which circles of hell lockdown sceptics will be placed in. '[T]he final circle has to be reserved for prominent lockdown sceptics… celebrity right-wing opinion-formers with no scientific credentials… It is thanks to them, and their media backers, that the Tory handling of the pandemic has lurched from incompetence and hubris to catastrophic mismanagement.' In short, their heresy kills, and they must be silenced. Pure medievalism. Stalinism meets Dante.
This demonisation of sceptics must stop. The majority of us who question the policy of lockdown accept that Covid is real and dangerous. spiked has described the Covid pandemic as a very significant health challenge from the very beginning. We also accept that restrictions on everyday life will be necessary. What we question is the policy of blanket lockdowns, the use of the politics of terror to scare the population into complying, and the war on dissent. It is perfectly legitimate – essential, in fact – to question these things.
You want to talk about sin? Okay. It is a far greater sin to crush dissenting opinion than it is to say things about Covid-19 that later prove to be wrong. The destruction of free discussion harms society far more than incorrect opinion or predictions do, because it limits the space for critical interrogation of public policy and for entertaining the possibility that what we are doing is wrong. That is what spiked wants: the entertainment of possibilities, the cherishing of open and rigorous inquiry, and the flourishing of heresy. Time will tell if lockdown was wrong, but we know right now that the campaign of demonology is wrong.
Brendan O'Neill is editor of spiked and host of the spiked podcast, The Brendan O'Neill Show. Subscribe to the podcast here. And find Brendan on Instagram: @burntoakboy
The Witch-Hunts: A History of the Witch Persecutions in Europe and North America, Robert Thurston, Routledge, 2006.
The Witch-Hunts: A History of the Witch Persecutions in Europe and North America, Robert Thurston, Routledge, 2006.
The Witch-Hunt in Early Modern Europe, Brian P Levack, Routledge, 2006.
Picture by: Getty.
To enquire about republishing spiked's content, a right to reply or to request a correction, please contact the managing editor, Viv Regan.