Inside the Capitol siege
Jeremy Lee Quinn on what he witnessed during the chaos at the Capitol.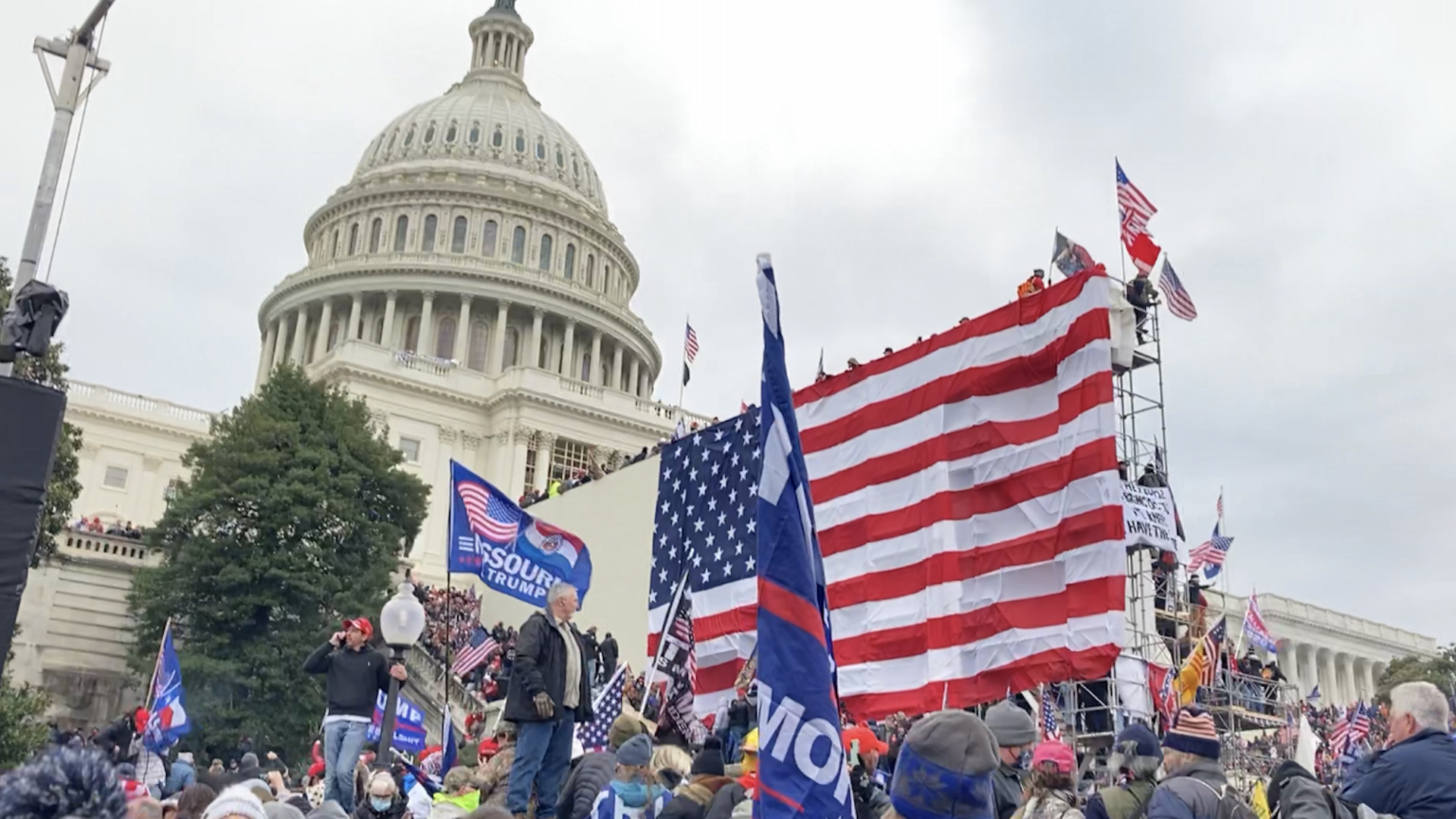 Chaotic scenes from the US Capitol flooded newsreels around the world on 6 January. A pro-Trump mob stormed the building and the ensuing violence, which led to five deaths, has now led to the second impeachment of Donald Trump. Jeremy Lee Quinn is a photojournalist who was present at the Capitol when the riot took place, filming what he saw. spiked caught up with him to find out more.
spiked: What were you expecting to find when you went to Washington, DC?
Jeremy Lee Quinn: I expected street clashes in the evening, because that's what happened at the last two big rallies when Trump supporters came into Washington. The 6 January rally, had it followed the previous patterns, would have meant peaceful protests during the day at the Supreme Court, the Washington Monument or whatever DC landmark was chosen to be the site of the protest. After that I would have expected clashes with Antifa-aligned groups. I left my gas mask in my car, because I did not expect the daytime protest to lead to rioting. There is a pattern, and I would think that law enforcement would have known that pattern too – that the clashes happen at night.
This time, things changed. The focus was on the Capitol. And the rhetoric varied. There was a 'storm the Capitol' flyer. There was supposed to be a protest at the Supreme Court as well, right after the protest at the Capitol. Obviously, that did not happen.
This was a massive crowd of tens of thousands of people. To get to the front, you had to push through, and you came to dead end after dead end. People were scaling the rafters – not just taking the stairs within the scaffolding, but doing monkey bars, climbing all the way up towards the top.
I thought this protest could be a little rowdy. But as I inched my way forward and as tear gas plumes shot up into the air, I could see that this crowd was extremely aggrieved.
I spoke to two people who call themselves the Praying Grandmas, who got into the Capitol. They were hugging and saying, 'We did it, we made it in!'. I also saw a black Trump supporter whose face was sprayed with tear gas. He recounted how he was almost crushed. I talked to a journalist who was next to Roseanne Boyland when she was fatally injured. He described a scene with tear gas flying everywhere and people getting crushed up against the walls.
A man with a grizzly beard came up to me, wearing the American flag as a cape. He asked me, 'You want the story of your life?'. He led me in through the back of the building to document what they were doing. They were tearing furniture apart, trying to create barricades. It was chaos.
The next day, I interviewed a guy who identified as an extremist on the right. He said he was at the Capitol the day before. He said he'd studied hundreds of hours of footage of leftist agitation and had come to use the same tactics 'in a Sun Tzu fashion'.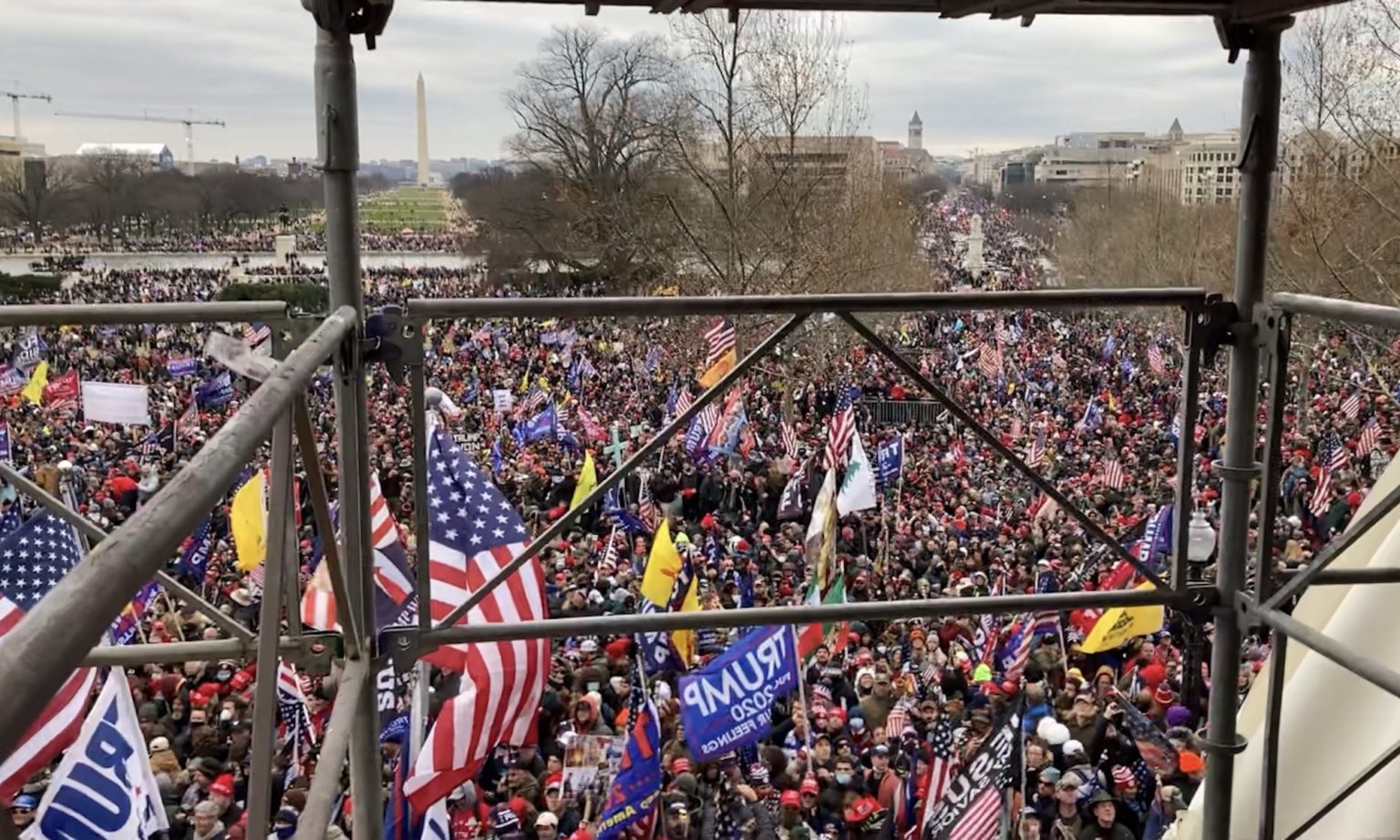 spiked: What do you make of the media's reaction to the events?
Lee Quinn: Nobody talks about what the crowd's grievances were. 'Stop the Steal' is the aspect that everybody likes to focus on because it is widely considered bogus. But there are other underlying issues that make a crowd gravitate towards a simplistic unifying call like that.
Anti-globalisation was hugely important. People were railing against Big Tech and against being censored, which we are seeing even more since the events of 6 January.
Are we safer if we send millions of people to corners of the internet, to encrypted chat rooms instead of being out and organising publicly like they do on Parler or Facebook or Twitter? Those are questions that I think we should be asking right now. The problem is, our media are not asking those questions. The narrative of the day's events was set in motion before anybody in the media had even talked to anybody on the ground. I would call out every single publication and ask how many Trump supporters on the ground they spoke to for their story.
The people in the crowd did not feel represented. And that's easy to prove if you go to CNN's coverage or that of any other mainstream media outlet – they didn't interview the people who were there.
An activist journalist, who was not present at the protest, tweeted that if it had been Black Lives Matter supporters breaching the barricades, they would have been shot with live rounds. I saw that tweet retweeted by a USA Today reporter – a publication which is supposed to offer neutral coverage. He was all the way at the back of the crowd, and I was all the way up at the front. When I got to that tweet, I had already heard that a woman had been shot and killed. The activist keyboard warriors tried to make everything about race. But something in our gut says this wasn't about race.
Trump is fully responsible for sending his followers in an agitated state under a bogus rallying call, even though they have some very legitimate grievances. But to understand them takes more than just reading what the mainstream outlets – who have profited since 2016 on this division – have to say about it.
spiked: Had your past reporting prepared you for this kind of reaction?
Lee Quinn: We can't take the racial lens to everything and insist on it permanently without evaluating the evidence on the ground. When I went to Tulsa, Oklahoma on 20 June, I reported on pro-Trump activism. These were not neo-Nazi or ethno-nationalist groups like we saw in Charlottesville, Virginia in 2017. I combed the crowd for two days and the only thing I found was one guy who had an '88' tattoo, which is code for 'Heil Hitler'. Does one person with an offensive coded tattoo in a large crowd make an entire movement racist?
I learned then not to do what everybody is still doing now – taking the person with the Confederate flag at the Capitol, say, and judging everyone from that. These things need to be interpreted within the context of the person and what they mean.
But we don't have that nuance on the left, because we are not even talking to those people. We have already judged them. We have decided that they are not worth talking to. The narrative is in, and we all have to get on the 'right side of history'.
Jeremy Lee Quinn was speaking to Paddy Hannam. Visit Jeremy's website or Twitter profile for his video reports from 6 June.
Pictures by: Jeremy Lee Quinn.
To enquire about republishing spiked's content, a right to reply or to request a correction, please contact the managing editor, Viv Regan.